As you look at buying smart lights for your home or office, consider your home and its design, and how smart light strips can create an atmosphere to reflect your style and sensibility. A smart light strip that we found to enhance the look of your space is Koogeek Wi-Fi Enabled Smart LED Light Strips, creating a subtle and sophisticated look in our home.

GearBrain recently tested the Koogeek Smart LED Light Strips, and was impressed with how well they performed. We placed the lights behind the sofa, beneath the TV and even used them as an illuminating element for our photos and artwork. Koogeek delivered.
What is Koogeek Smart LED Light Strip?
Koogeek Wi-Fi Enabled Smart LED Light Strip is an indoor-only 78-inch-long LED light strip which you can conveniently control via the Apple HomeKit app. If you're more of a "shout out directions" type of tech user, you can pair these with both Google Assistant or Amazon Alexa voice assistants.
The tiny lights along the strip are spectacular; they can change into 16 million colors (yes, million). Plus, they are dimmable and wireless. If 78-inches isn't enough spread for your space, you can link together additional strips to extend virtually endlessly.
Along with smart lights, the brand also sells a well-rounded line of smart plugs, plus additional kinds of smart lights which can also connect to the strip, to add extra functionality to any room.
The one device Koogeek doesn't need is a USB power source. Instead, you need to plug the LED light strip into a USB power supply, which is included. So make sure to have one if you plan to buy these for your home.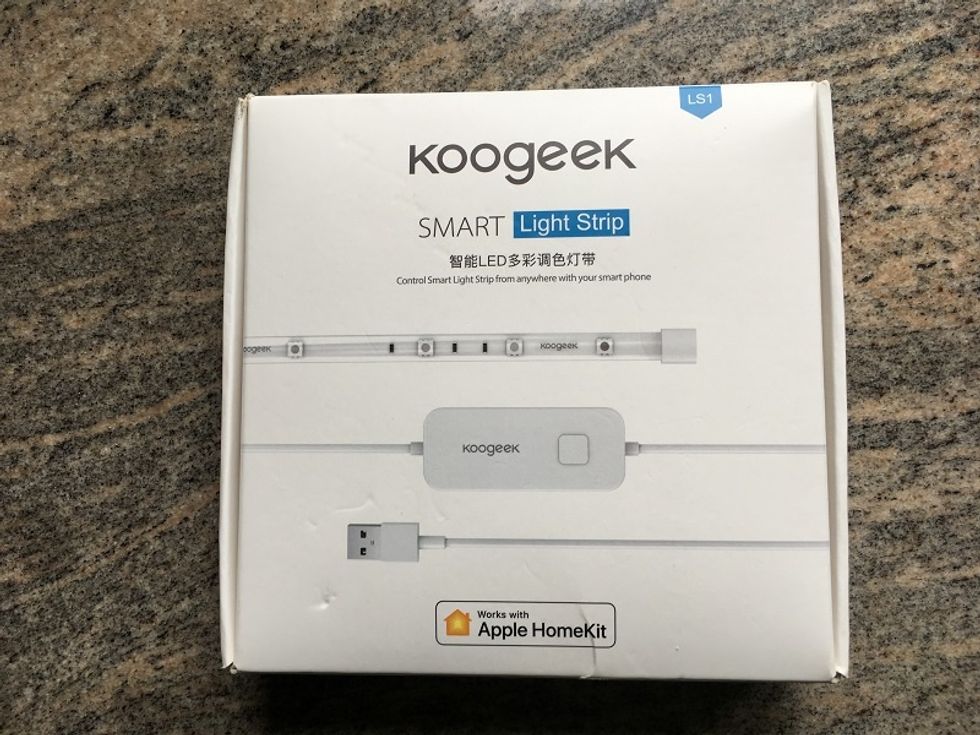 Koogeek Light Strip that works with Apple HomeKitGearBrain
What wireless protocol?

Koogeek Smart Light Strip works with a 2.4GHz Wi-Fi connection — so if you have a dual band router, make sure you set your settings to 2.4GHz and not 5GHz. Koogeek connects its light strips and other devices to Apple HomeKit's platform over Wi-Fi. There are other devices from the company that work on both the Z-Wave or ZigBee wireless protocol, if you have products that function on these wireless connections too.
How do you install it?
Installation is relatively simple. First download the Koogeek Home app from the iTunes (iOS) or Google Play (Android) store. The app is conveniently available in eight different languages including Spanish, German, French, Italian, and Mandarin.
Instructions to set up the lights are well-mapped out in the app, but you'll need the User Guide if you want to pair the light strip to Apple HomeKit — the Apple HomeKit code to pair the light strip is inside. So don't toss that away until your setup is complete. The app is also where you'll pair the smart lights to your home Wi-Fi network.
Once paired, you can now control your light strip in the Koogeek home app or through the Apple HomeKit app. If you don't have an Apple TV and want to access your light switch remotely, you will need to get a second app, Koogeek Smart Life.
Smart home integrations
Koogeek works with quite a number of platforms. You can run the smart lights through Apple HomeKit and on Amazon Alexa's voice platform using the Koogeek Skill. If you own a Google Assistant-enabled device like Google Home Hub or Google Home Mini, you can also connect Koogeek light strips in the Google Assistant app, and then create routines. Koogeek also has a very robust and diverse line of other smart home devices, including health and fitness products, smart plugs, and wall switches which you can integrate to build a smart home.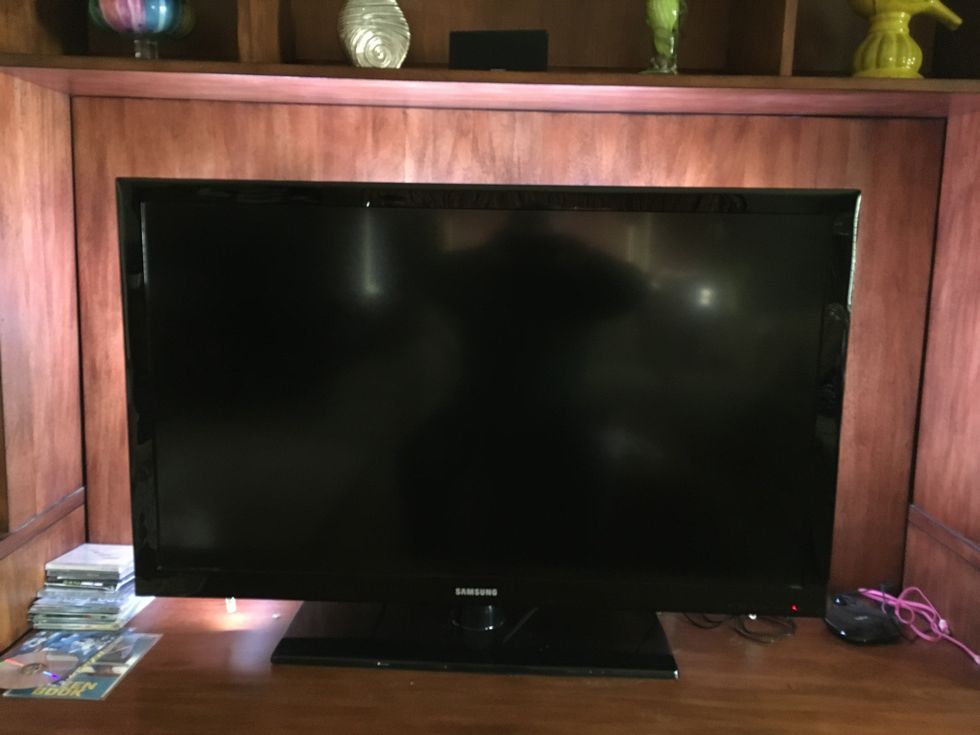 Can place Koogeek smart light strip behind your TV for a different look in your entertainment roomGearBrain
How well does it do?

After testing Koogeek Smart LED Light Strip in a real home with a normal internet connection, we found the setup and pairing to be a cinch.
Once installed, the lights worked well, just as promised. Since most people hide light strips in their home, the look was secondary to how well the device illuminated. The light given off from the strip was perfect. Because the strip is bendable, and has an adhesive back, any arrangement was doable, leaving room for creativity in where we placed them in our test home.
Along with its smart light strip, we were impressed with how many connected devices Koogeek (a TomTop.com brand) makes, including the following Wi-Fi products:

smart plugs
smart power strips
door and window sensors
smart LED bulbs
smart health scale
smart light wall dimmer switches
wearable smart baby monitor
FDA-approved blood pressure device
smart fitness trackers.
Though we haven't tested many of these devices, it's good to know that the company makes a broad line of compatible products if and when you're ready to expand your smart home.
Cost

Each Koogeek Wi-Fi Enabled Smart LED Light Strip costs $39.99, can be purchased on Amazon.
Summary
If you have an iPhone or are someone who uses Apple HomeKit in your house, you'll likely appreciate these smart lights strips — and you'll also feel comfortable using the Koogeek app, which looks and functions much like the Apple HomeKit app. There are a few additional tabs, with one that leads to the Koogeek store where you can find its line of smart devices for your smart home.
Ultimately we found Koogeek to be a solid, inexpensive light strip, easily added to other connected devices. We also liked how you can control these lights through voice commands including Amazon Alexa or Google Assistant-enabled devices, and how you can link additional strips together if you need more length. Overall, the lights performed on par with other smart light strips we have tested previously.
If you have existing Koogeek products in your home, or are looking for an inexpensive, solid-performing smart light strip to pair with Google Assistant, Siri and Amazon Alexa or Apple's HomeKit, this is a light source definitely worth considering. Android users may want to look elsewhere, unless they're comfortable running the lights through Google Assistant.
(Check out The GearBrain, our smart home compatibility checker to see the other compatible products that work with Google Home and Home Mini as well as Amazon Alexa enabled devices.)
Specs:

Certificate - CE-RED, FCC ID, MIC, RoHS, Wi-Fi
Material - 5050 SMD LED + 3M adhesive tape
Interface - USB connector
Input - DC 5V / 2A (Max)
Rated power - 10W
LED quantity - 60 * light emitting diodes
LED type -RGB SMD 5050 LED
Luminous flux - 500lm (Max)
Rated lifetime - 25,000 hours (22.8 years -- based on 3 hours use per day)
Operating temperature - -10°C to 65°C (14°F to 149°F)
Works on Home Wi-Fi - 802.11b/g/n (2.4 GHz ONLY)
LED light strip length: Approx. 6.6 ft / 2m
LED light strip width: Approx. 0.39 in / 10 mm
LED light strip height: Approx. 0.12 in / 3 mm
Total length: Approx. 8.2ft / 2.5m
Weight: Approx. 3.61oz / 102g
Pros:
Price
Easy to install
Works with voice assistants including Google Assistant, Amazon's Alexa and Apple's Siri
Cons:
Not ideal for Android users, as the device is geared more for the Apple environment
Needs a USB power source, which is not included
Need to keep the User Guide to find the Apple HomeKit code
How to Create a Smart Dorm Room Part 1 - Smart Lights www.youtube.com