Like GearBrain on Facebook
Cora, one of the two autonomous flying taxi projects owned by Google co-founder and Alphabet boss Larry Page, has partnered with the airline Air New Zealand.
The startup has completed over 700 test flights of its electric vehicle — with plans for it to fly autonomously, picking passengers up who hail it using a smartphone app. The goal is to offer environmentally friendly air transport which relieves congestion from the roads below.
Read More:
Cora aims to be "the first ever air taxi service," but admits that "we have a long way to go," even with the new Air New Zealand partnership helping the company move towards that goal.
The Cora aircraft is operated by Zephyr Airworks, a division of Kitty Hawk, which is owned by Page. The company also produces the Flyer, a one-seat aircraft intended for short journeys, and skimming just 10 feet off the ground.
By comparison, Cora is designed to carry two passengers and fly at an altitude of between 500 and 3,000 feet, hoping to one day have a range of around 62 miles and a top speed of 110 mph.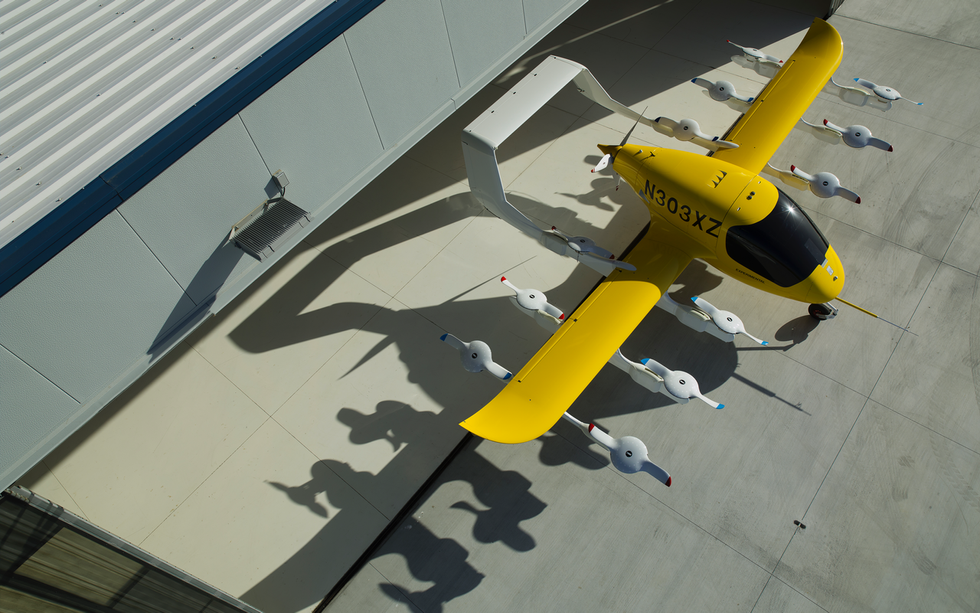 The company opened a hangar in New Zealand earlier this yearCora
Cora takes-off vertically with 12 downward-facing propellers, then flies forward with an additional propeller at the rear of the fuselage.

As of this week, Zephyr Airworks has entered into "an agreement with Air New Zealand - a partnership to one day bring the first ever air taxi service to the sky," the company said in a blog post, adding: "We are incredibly excited about the potential of what we can achieve together."
By partnering with the airline, Cora hopes to "shape a complete experience that takes you from app to arrival, the next step in bringing the freedom of flight to your life."
Cora adds that the partnership is "a commitment to jointly explore the development and design of an electric, autonomous air taxi service."
It is likely that the airline will be able to help Cora navigate the complex regulatory processes associated with building a new aircraft — especially one which is intended to be autonomous. Although startups and regulators alike are venturing into the unknown as far as autonomous flight is concerned, having an airline on side should help Cora take its development in the right direction.
Cora recently opened its first hangar in New Zealand, to serve as the company's "first base of operations" where the aircraft fleet will grow and "build towards the world's first electric, autonomous air taxi service."

The company says test flights began in 2017, but it is yet to say when the public will be able to use Cora aircraft for themselves.
Of course, Cora is far from the only company working on the future of flight. Uber Elevate and Chinese startup Ehang share a similar goal, while firms like Pal-V and AeroMobil are already taking deposits for their 'flying cars' which can be driven on the road and flown through the sky.
Carmakers including Aston Martin, Audi and Porsche are also interested in the future of flight, along with existing industry giants like Rolls-Royce, Boeing and Airbus.
From Your Site Articles
Related Articles Around the Web
Like GearBrain on Facebook