Just a few short years ago, the idea of hailing an electric, autonomous flying vehicle via a smartphone app, like an Uber, then have it whisk you over congested city streets, dropping you at your location a few minutes later, sounded like pure science fiction.
But what was once considered preposterous is edging closer to reality, as companies large and small, new and old, race to be the first. Startups like Lilium and Uber are competing against aviation giants like Boeing and Airbus, as well as car makers like Audi and Aston Martin
Here is a quick look at the biggest players in the industry, and the vehicles they hope will unlock a whole new transportation sector - one which Morgan Stanley claimed in 2018 could be worth $1.5 trillion a year by 2040.
Lillium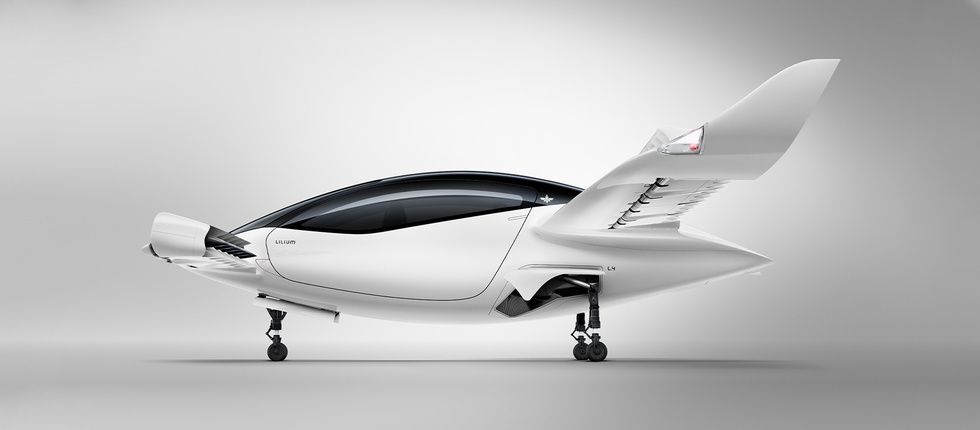 The Lilium Jet is powered by 36 electric motors Lilium
Perhaps the most high-profile startup in the air taxi industry, Lilium was founded in Germany in 2015 and is working on an aircraft called the Jet. In its latest guise, shown off in May 2019, the Jet is powered by 36 electric motors and can fly as far as 300 km (186 miles) in as little as 60 minutes.

It is hoped the aircraft will be used to replace cross-city taxi journeys, with Lilium claiming it will eventually cost about the same, as a taxi, but complete journeys four times as quickly.
Like many of the aircraft featured in this article, the Lilium Jet is a VTOL, which stands for vertical takeoff and landing. It can do this because its rotors rotate, pointing down while taking off and landing, and backwards when flying.
Lilium hopes to have a commercial service running by 2025, and completed its first test flight on May 4 this year.
Read More:
Uber Air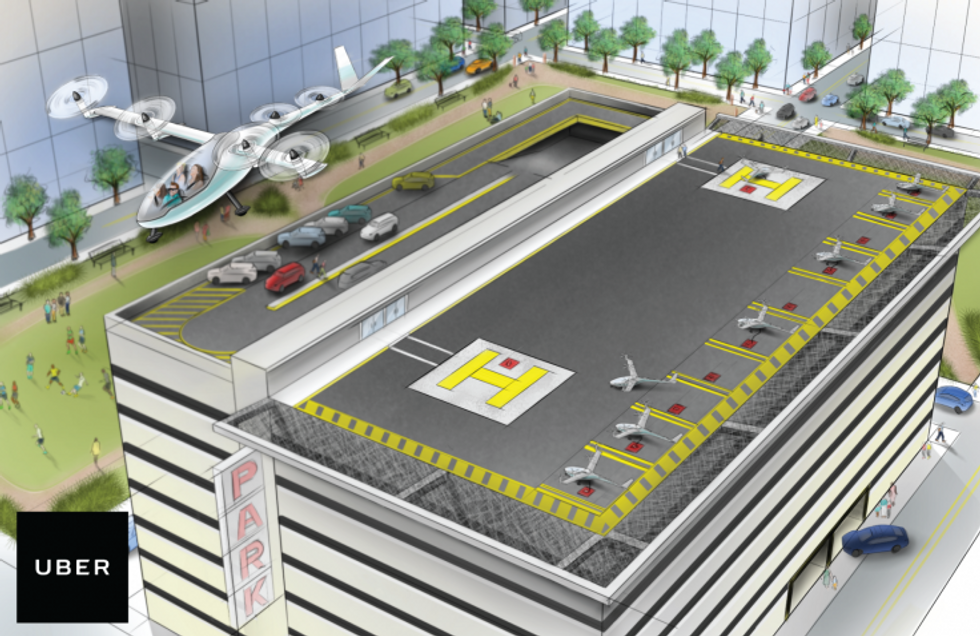 Uber boss says flying taxis will be commercial reality within a decade Uber
Uber chief executive Dara Khosrowshahi said in early 2018 that he believes flying cars will be commercially available in the US within the next ten years.

Not to be confused with helicopters, the vehicles Uber and others have in mind more closely resemble drones. A capsule large enough for two or three passengers - plus a pilot, at least initially - is flown through the air by a number of downward-facing propellers, powered by electric motors.
Khosrowshahi has previously said how flying autonomous vehicles make more sense than driverless cars when it comes to relieving pressure from congested city streets. Additionally, flying vehicles do not have to deal with the complexities of gridlocked roads, complicated junctions and unpredictable pedestrians.
Uber also hopes to launch drone delivery services by 2021.
Read more:
Ehang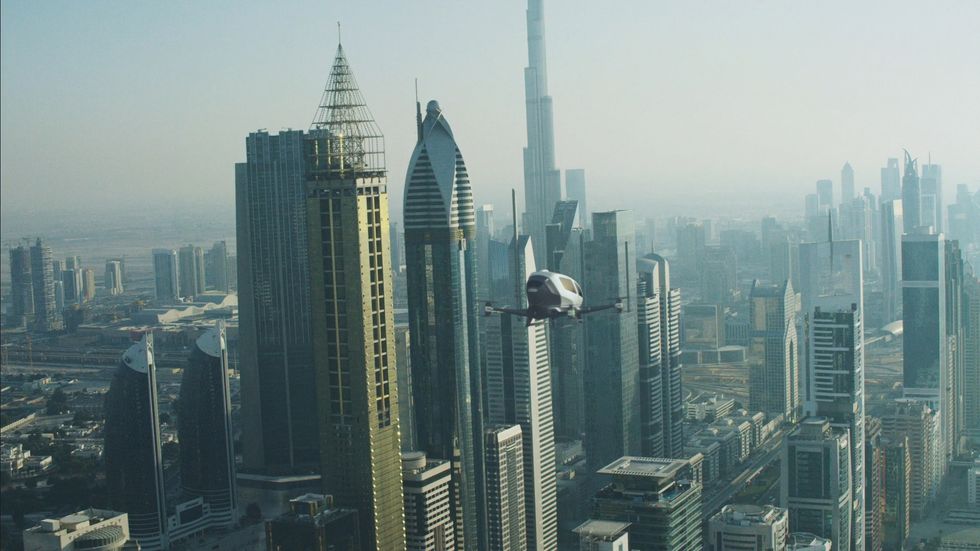 Ehang wants to operate a flying taxi service in DubaiEhang
Chinese company Ehang caused a stir when it unveiled a huge drone at the CES technology show in early 2016. Looking similar to the kind of drone you might buy in Walmart, the electric Ehang 184 was actually designed to carry humans. The company said the drone would cost between $200,000 and $300,000, and be capable of carrying a single passenger weighing up to 260 pounds for 23 minutes.

Soon after, Dubai expressed interest in bringing the drones to its skies, where they could autonomously shuttle tourists for around 20 minutes at a time, beating the city traffic below.
The Ehang 184 completed its first human test flights in rural China in February 2018, after which the company said the drone can fly safely at up to 130 km/h (80 mph) "in force seven typhoon conditions."
Rolls-Royce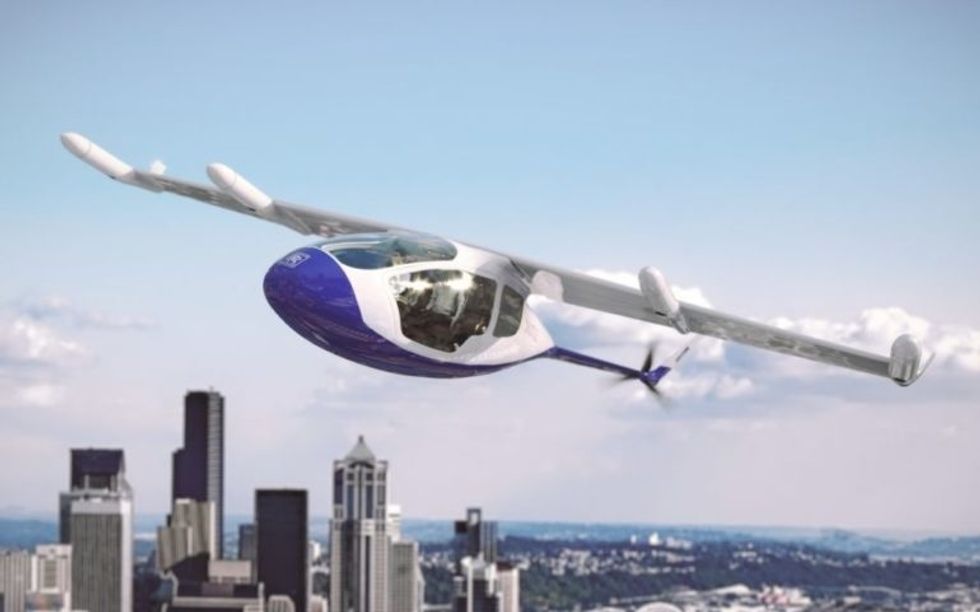 Rolls-Royce claims a huge range of 500 miles is possible from its gas turbine-powered flying machine Rolls-Royce
Not to be confused with the luxury car maker of the same name (they used to be the same company), Rolls-Royce the engine manufacturer wants to join the flying taxi party. The company revealed concept images of a 250 mph flying machine with a claimed range of 500 miles - far greater than most of its rivals.

The concept is designed to carry four or five people, and its wings can rotate 90 degrees to enable vertical take-off and landing. Instead of batteries, the Rolls-Royce air taxi is designed to be powered by gas turbines, which produce electricity that drives six electric propulsors.
Rolls-Royce says "We believe that given the work we are doing today to develop hybrid electric propulsion capabilities, this model could be available by the early to mid 2020s, provided that a viable commercial model for its introduction can be created."
Of course, this is one of the two big headaches surrounding air taxis - if they can be made commercially viable, and if legislation can be created to allow them to operate in the first place.
Read More:
Boeing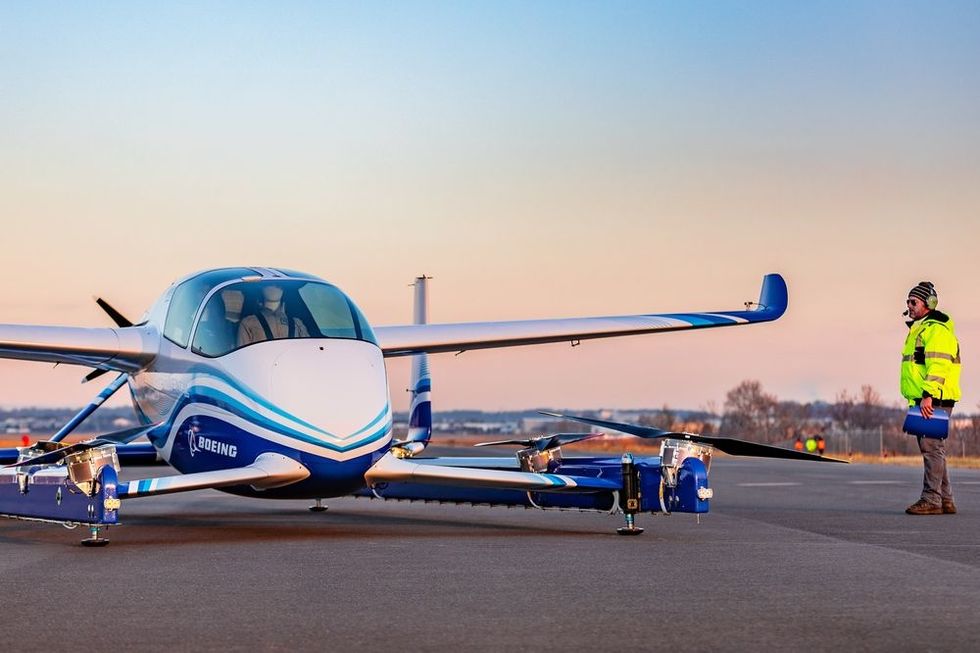 Boeing's prototype has already complete its first test flight Boeing
The air taxi industry is not just a playground for blue-sky-thinking startups seeking investor cash. Aircraft giant Boeing is also in the race with what it calls a PAV, or passenger air vehicle. The vehicle completed its first test flight in January 2019 at an airfield in Manassas, Virginia.

Boeing says the electric aircraft will eventually fly fully autonomously with no pilot at the controls, and cover a range of 50 miles before needing its batteries charging.
Boeing's efforts took off in 2017 when it acquired Aurora Flight Sciences, a company which is helping Uber with the development of its own flying vehicles.
The Boeing aircraft is 30 feet long, has a wingspan of 28 feet, and is a combination of helicopter, drone and fixed-wing airplane. The company is looking to build two versions initially, one capable of carrying two passengers and one for four people. A third version designed to carry freight weighing up to 500 pounds will follow after, assuming they are a technological and commercial success.
Read More:
Airbus and Audi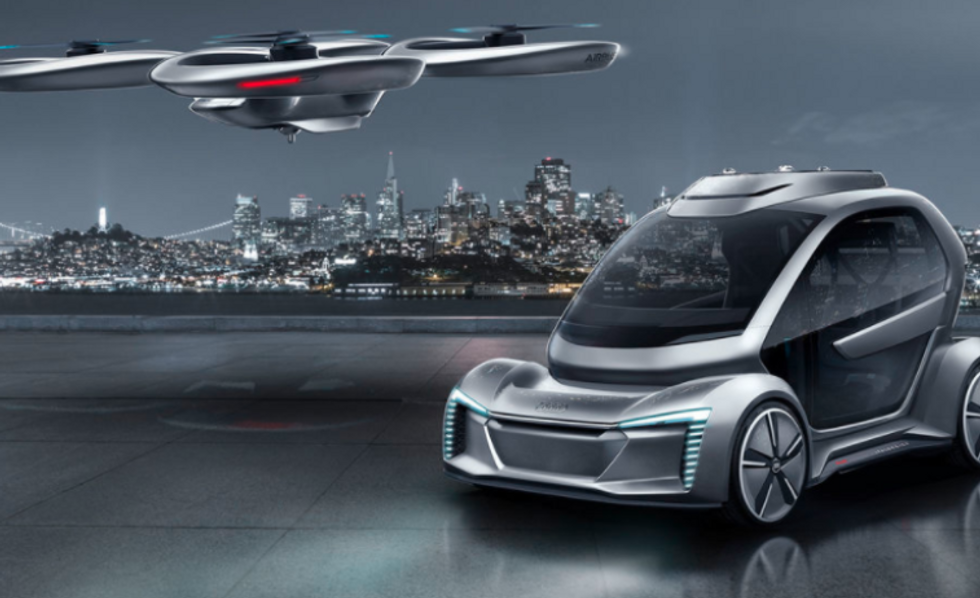 The Pop-Up Next is part-car, part-aircraft, but fully autonomous Audi / Airbus
As a sign of how invested major companies are in the concept of private flight, Audi and Airbus announced at the 2018 Geneva Motor Show that they are jointly working on a flying vehicle, called Pop.Up Next.

Unlike some of their rivals in this space, Audi and Airbus see a future where a two-person pod can either be flown autonomously by a detachable drone, or drive itself on the roads by attaching to an electric rolling chassis. Inside, passengers are entertained by a huge 49-inch touchscreen which wraps itself across the entire width of the cabin.
There are no details yet on speed, altitude or range, but the very fact companies like Audi and Airbus are making such prototypes says a lot about their position on these vehicles.
Read More:
Aston Martin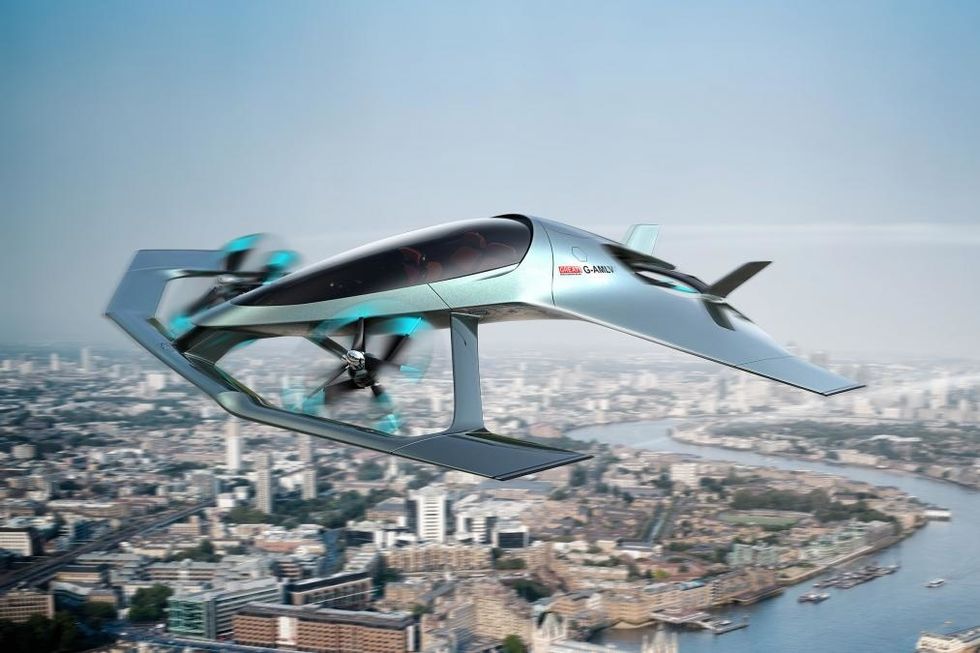 Volante Vision is a luxury take on the flying car formula Aston Martin
One of the more surprising entries in this article, British sports car maker Aston Martin revealed a flying concept called the Volante Vision in July 2018. The company has partnered with Rolls-Royce (the engine maker) and the UK's Cranfield University to design the autonomous aircraft.

The Volante Vision offers space for three in its leather cabin, with one person sat in front of the other two and a jet fighter-style canopy above. Power comes from a gas turbine hybrid propulsion system developed by Rolls-Royce.
Aston Martin claims the vehicle could travel from London to Paris in about an hour - a journey which currently takes two hours and 15 minutes by train or an hour less by plane.
Read More:
Volocopter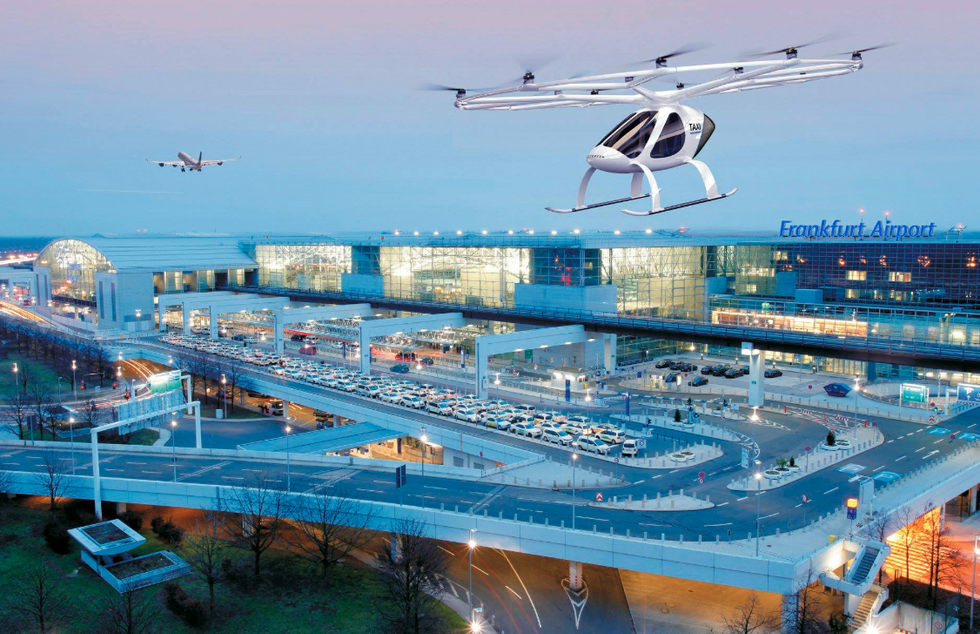 The German startup wants to offer autonomous airport transfersVolocopter
Taking a manned instead of autonomous approach (at least for now), the Volocopter uses 18 quiet electric motors to carry a payload of up to 160 kg a maximum distance of 17 miles at 43 mph.

The two-seat aircraft, which resembles a helicopter with many more rotors, has a claimed top speed of 62 mph and is designed to fly no higher than 2,500 meters.
A white paper published by Volocopter in June 2019 claims the aircraft creates a sound of about 76 decibels when landing 100 feet away, only slightly more than the average of 73 decibels created by New York traffic.
Airport transfers could be big business for Volocopter, which points out that 70 percent of city centers have an airport within 12.5 miles, and 93 percent are no more than 18.5 miles from the nearest airport - a distance the electric aircraft should be able to manage. To that end, Volocopter has partnered with Frankfurt Airport to work on "developing concepts that allow for the connection of airports with urban transport infrastructure through air taxi services," the company says.
Investors who have pumped money into Volocopter include Daimler, parent of Mercedes-Benz, and Intel.
Kitty Hawk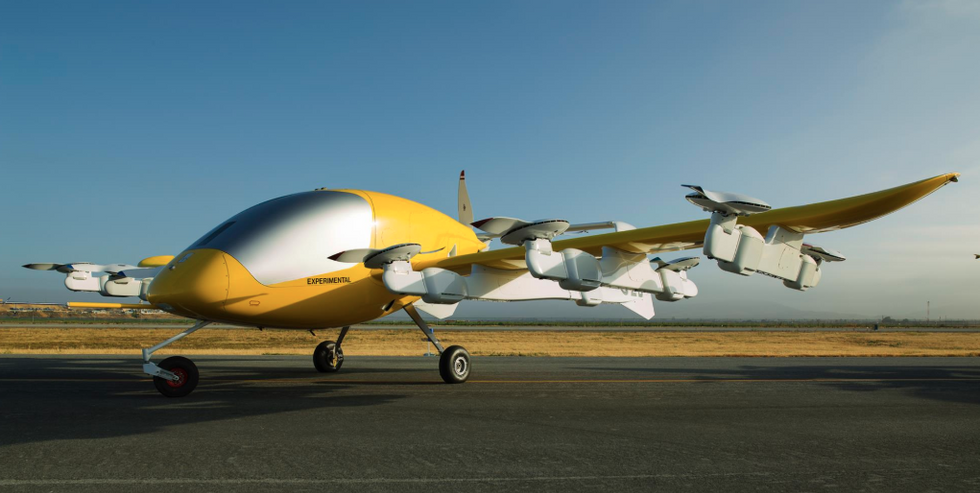 Larry Page-owned Kitty Hawk has a partnership with a New Zealand airlineKitty Hawk
Backed by Google co-founder Larry Page, Kitty Hawk is a transportation startup with two aircraft in the works, the Cora and the Flyer.

A bid to "free people from traffic", Kitty Hawk says the Cora is "an air taxi for everyday life…[which] has the potential to transform spaces like rooftops and parking lots into places to take off right from your neighborhood."
Flying somewhat below the radar, so to speak, the Cora had already completed 700 test flights by October 2018, and struck a deal with Air New Zealand, an airline which will work with Kitty Hawk to make flying electric taxis a reality.
The Cora aircraft is operated by Zephyr Airworks, a division of Kitty Hawk, which is owned by Page. The company also produces the Flyer, a one-seat aircraft intended for short journeys, and skimming just 10 feet off the ground.
By comparison, Cora is designed to carry two passengers and fly at an altitude of between 500 and 3,000 feet, hoping to one day have a range of around 62 miles and a top speed of 110 mph.
Read More:
BlackFly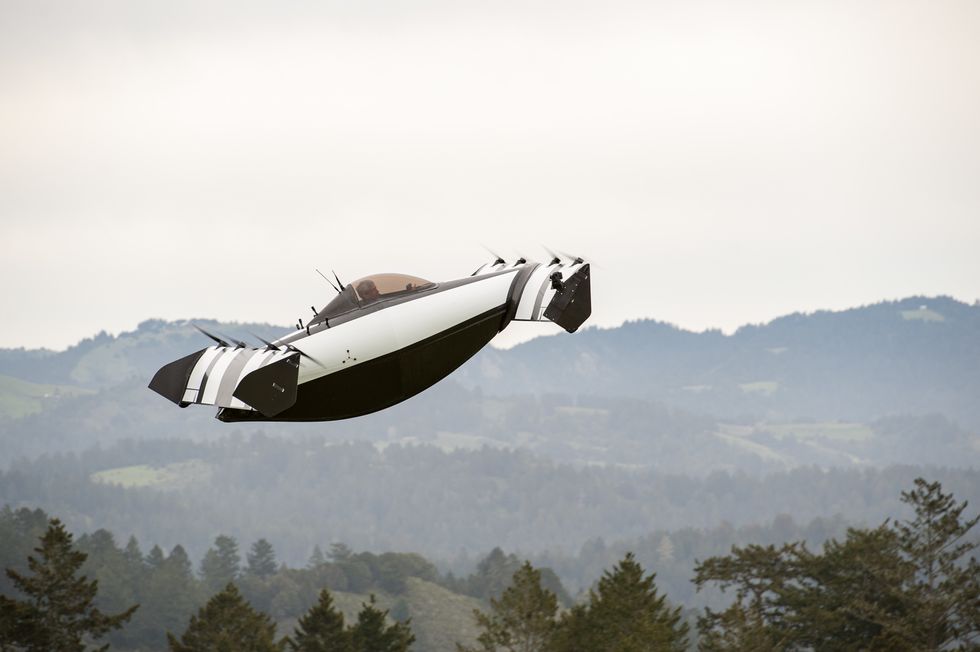 BlackFly is another flying taxi startup owned by Larry PageBlackFly
Built by a Canadian startup called Opener (and owned by Google co-founder Larry Page), the BlackFly's unique selling point is how it can be flown without a pilot's license — or so the company claims.

The strange looking machine can reportedly fly for 25 miles at speeds of up to 62 mph. It can carry one person, is fully electric with a charge time of 30 minutes, and has a fixed-wing VTOL design.
Opener claims to have already conducted over 1,000 test flights and flown more than 10,000 miles while developing the BlackFly. The flying machine has an automated return-to-home function that lets the pilot get back to their start point, and there will be an optional "ballistic parachute" for added peace-of-mind.
Echoing that of others in this space, the company's long-term goal is "to integrate these highly-efficient vehicles into a rural/urban commuting network. These networks would be powered by renewable energy sources requiring only a fraction of the transportation energy used currently."
GearBrain Road Trip Gadget Guide www.youtube.com