Like GearBrain on Facebook
Digital frames are growing in size, and no longer relegated to a bedroom night stand or the mantle in a living room. Some are now wall-sized and able to show not just photos of the family but art work as well. Two of these include the Lenovo Smart Frame and also Netgear's Meural Canvas II. Here are how the two compare, and differ, so you can decide which may be best for your needs at home.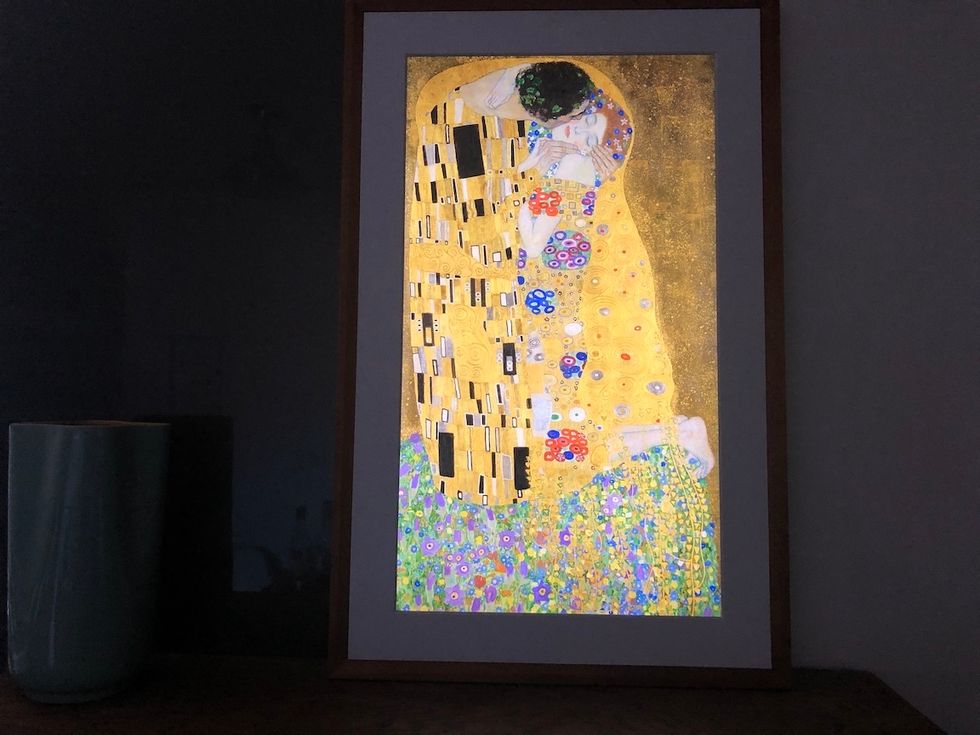 The Meural Canvas can be hung on the wall, and taps into thousands of images from fine art to contemporary pieces GearBrain
Design

Netgear's Meural Canvas II can rotate, showing images both horizontally and vertically. And it has a cable which comes from the screen, down the wall and into an outlet. In terms of a mount, Netgear actually lets you select between a standard mount, which is included in the price, which will keep the Meural Canvas II in one orientation, or a swivel mount for another $49.95 which will allow you to move the orientation and show different images.
The device comes in one of four frames, a black or white option are free, while you'll pay more for a light or dark wood selection.
Lenovo has just the one swivel mount, which is included which allows you to do turn the frame on the wall show you can show off horizontal or vertical images. It too has a cable which comes from the screen to an outlet, and so that will be something to keep in mind when selecting where to place it.Ge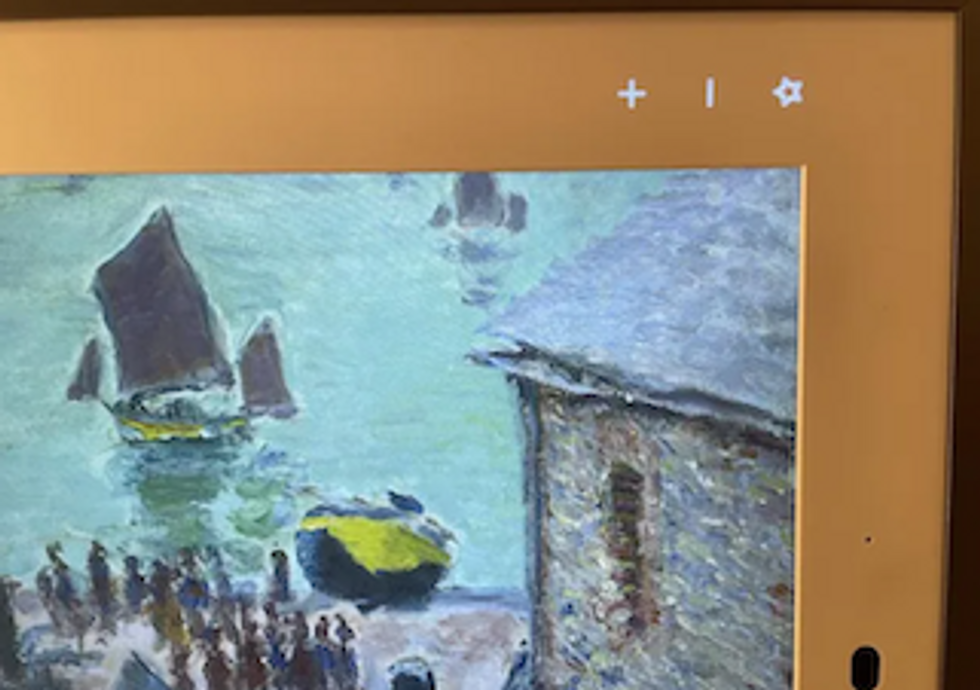 Gesture controls pop up on the Lenovo Smart Frame in the cornerGearBrain
Controls

You can control the Meural Canvas II through the Meural app, and also through gesture control. There is a sensor on the frame, and with that you can move through images and also pull up the menu just by moving your hand.
The Lenovo Smart Frame also has hand gesture control via a sensor, as well as an app to manage which images you want to show on the screen.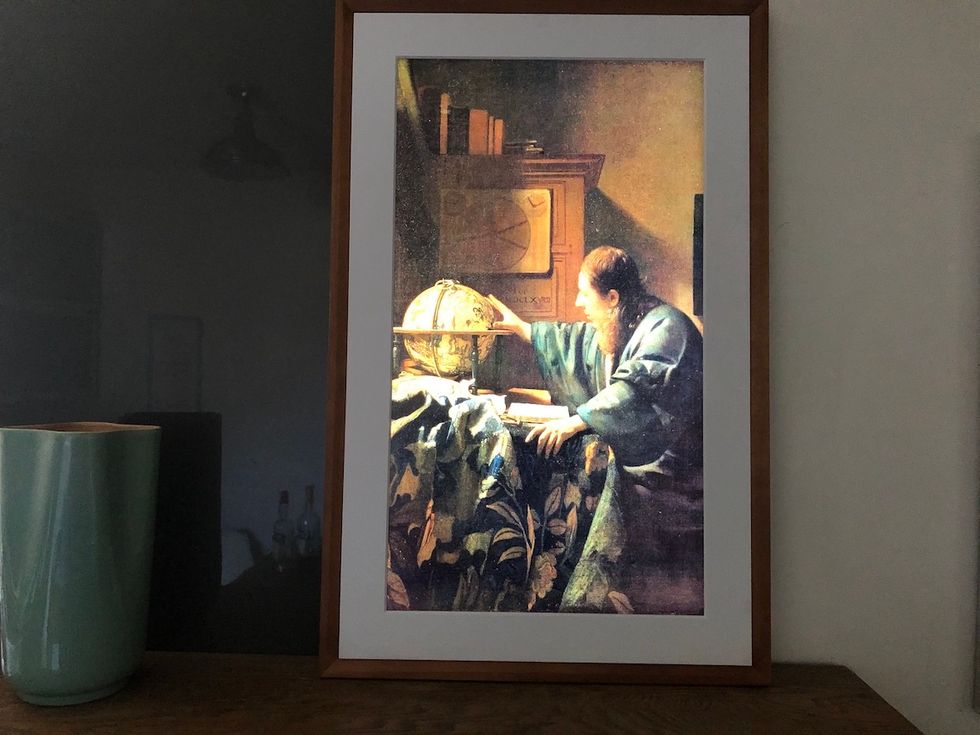 You can pick from more than 30,000 images with a Meural membership GearBrain
Gallery

Lenovo relies on someone's Google Photos for personal images, and then also allows people to select from a gallery of art work. The images are in the hundreds, and include paintings that lean heavily on Impressionism. There are also some images of clocks that are dynamic in that they actually keep time, and are anchored to the person's time zone. These options are all free to use, and can be accessed through the app.
The Meural Canvas II can pull images from your Apple photo library and also Google Photo, but also has a wider variety of options, more than 30,000 images. Some of these are more classic selections, which includes Johannes Vermeer's "Girl With a Pearl Earring," to more modern pieces including Jackson Pollock's "Alchemy."
Users get about 100 images for free and then pay for additional collections of images, through a membership which starts at $8.95 a month or $69.95 a year. These options are extensive and include imagery from National Geographic to The New York Public Library and even themed collections tied to TV shows.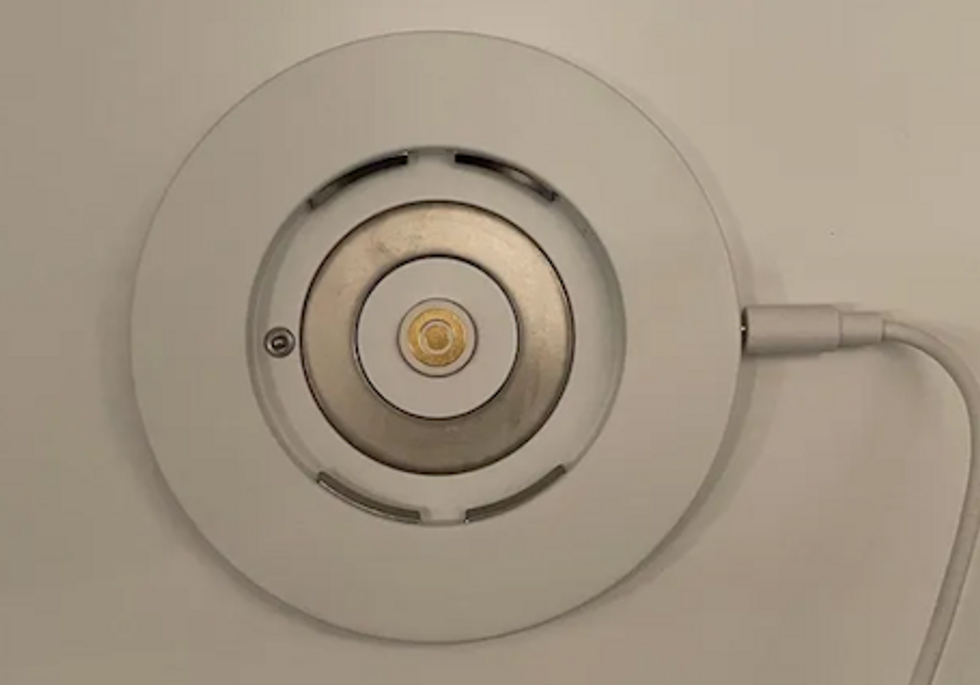 The Lenovo Smart Frame comes with swivel mount, included in the priceGearBrain
Screen

The Meural Canvas II has a 1080p AHVA LCD display which also makes use of anti-glare tech. There's also an ambient light sensor so the screen begins to darken and lighten depending on the light around it.
With the Lenovo Smart Frame, you'll adjust the brightness in the app for the FHD screen, which also features anti-glare technology.
Price

Depending on the size you pick for the Meural Canvas II, you'll pay $399.95 for a 16 x 24-inch option, and the standard price for the 19 x 29-inch size is $599.95. Although Netgear has priced these lower on their site at times, and also sometimes throws in a free year's membership.
The Lenovo Smart Frame is priced at $399.99 for a 15 x 24-inch model, although we've seen this priced lower on the site.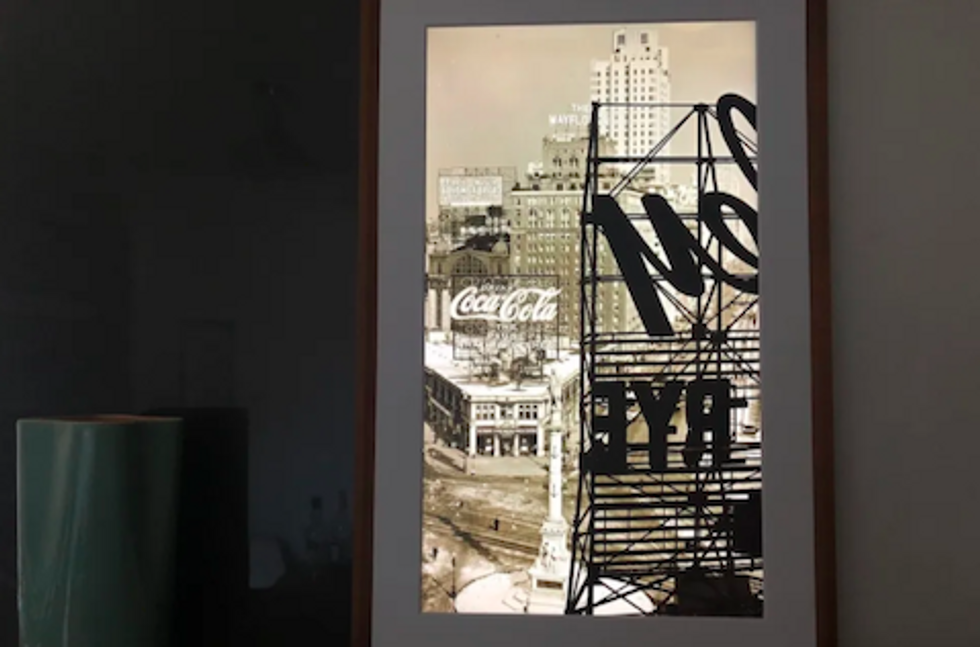 The Meural Canvas II can display personal images as well as those from its gallery GearBrain
Which is right for you?

If you're willing to pay extra for a membership, the Meural Canvas II is a nice option as it opens the door to an extensive number — more than 30,000 — of images. It's also priced a bit less than the Lenovo, but again that's without the membership fee, which is the access to more than the standard amount of images.
The Lenovo Smart Frame does include a swivel mount for free, something you need to pay extra for with the Meural, and includes a number of the same features as the Meural including gesture control. You really do need to be invested in Google Photos to know you can share your own photos as well. The selection of images is fewer with the Lenovo Smart Frame. But again, it's about the same as the Meural Canvas II's free option as well — and some of the Lenovo free selections include dynamic clocks.
The choice is really based on need, and since both are priced about the same for about the same sized frame, this is a decision based on whether you're willing to spend more for a wider selection of images, or whether you're really looking for a frame that leans more into Google Photos for your home.
Like GearBrain on Facebook