Like GearBrain on Facebook
There's an image in one of the Meural Canvas sampler packs, a black and white photo of Columbus Circle in Manhattan, 1938, with a large Coca-Cola sign mid-center along with its former slogan, The Pause That Refreshes. It's a slogan that encapsulates my take on the Canvas II as well: a rotating, digital art museum that, during a global lockdown, lets you take a pause from the current pandemic. Whether you're looking at New York from 80 years ago, or a Van Gogh — the images do what art is meant to do, take you out of yourself. And all this from your living room.
Canvas II is the latest from Netgear, a digital frame that pushes images to a screen. It's framed like a canvas, and the screen even has that matte view, like a canvas. But it's a piece of technology, and the cable snaking down the wall really won't let you forget that. Still, with museums shut down, with our main access to the outside world through computer, smartphone and TV screens, the Canvas II became something I would pause in front of as I wandered past it every day in my living room.
Netgear sent us one to test, and here's the experience I had using the Canvas II in my home.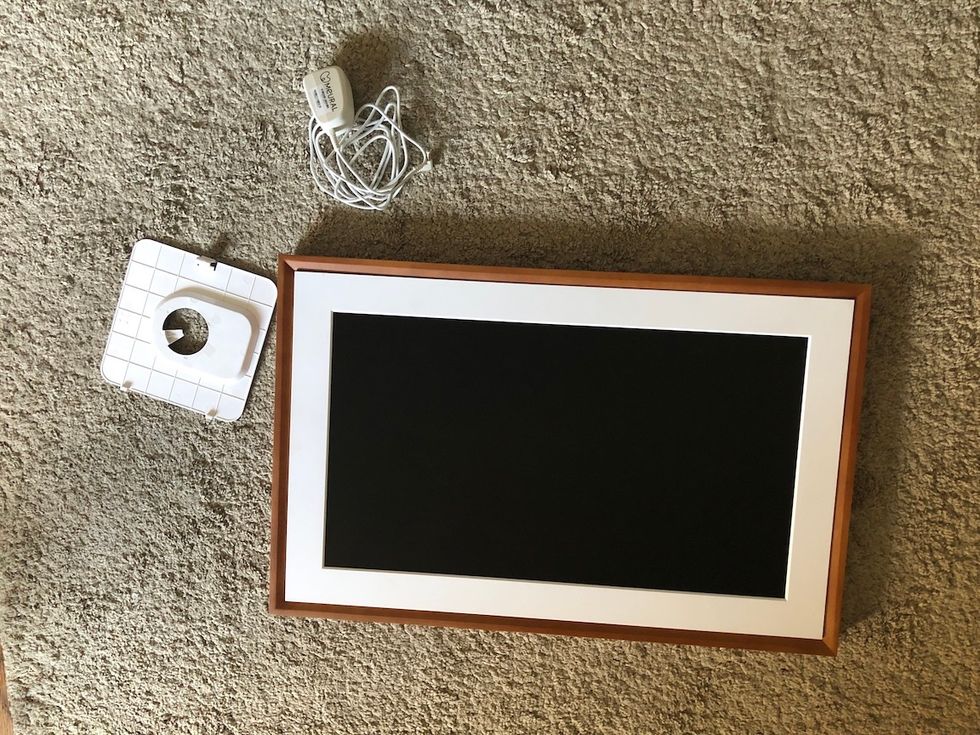 The Meural Canvas II comes with the frame and screen, a cable, and multiple anchors and screws to attach to the wallGearBrain
Getting started

To be honest, we had a rough start with the Meural Canvas II. The entire frame works — primarily — on gesture control. A sensor at the bottom of the frame (when vertical) picks up on your hand movement to scroll through images and the menu. I needed — truthfully — a tutorial to get that to work. It's a persnickety device, one that really wants you to move your hand, and even hold you hand, in a specific way: Open, fingers forward, and small gestures directly at mid-point of the bottom of the screen.
That took about three minutes to master, but before that I was a wild gesturing fool. Help yourself, and use this video to get started. You're also going to need to download the Meural app, link your Canvas II to the app, and the app to Meural's own WiFi just to get up and running. This set of instructions is pretty clear — and as long as you've mastered the hand controls first, you should be fine.
The frame really needs to be hung on the wall to properly use it — and this is a very heavy object. Take some time to consider where you're going to hang it, and know that it needs anchors and screws to fasten this to the wall. You can lean this on an easel, and that is certainly an option if punching holes in the wall is not.
Also, the Canvas II also needs to be plugged into an outlet to run. This doesn't have a battery option, and once you unplug it, the screen goes dark. That takes a way quite a bit from the aesthetics. It's harder to get lost in Gustav Klimt's "The Kiss" when a long white cord is snaking from the back.
Certainly you can try and hide the cord — and you could run an outlet into the middle of your wall to make this really appear like a true framed art piece. But just know, the cord is something that needs to be managed.
You can adjust the brightness of the screen, and change the orientation from vertical to horizontalGearBrain
Create a custom museum

The selling point with Meural are the images you can push to your screen of great art. Many of the packages are free, and called samplers, and there are about 100 images in all, including painting to photographs. You can chose from classic selections, which includes Johannes Vermeer's "Girl With a Pearl Earring," to more modern pieces including Jackson Pollock's "Alchemy." We liked them all.
But these are just the launch point into Meural's gallery. There are more than 30,000 pieces you can actually push out to your frame, single images to collections, and they include specific artists to curated groups.
Images play to really any viewer, from those that are more graphic and colorful in nature, perfect for a child's bedroom, to playlists designed for fans, like the curated set focused on HBO's "Game of Thrones." There are also images from National Geographic, The New York Public Library and even Magnum Photos, which reps famous photographers. These start at just a few dollars and upwards to about $30 for a package. You can also purchase a membership for $8.95 a month of $69.95 a year — on top of the price of the Canvas II — to get discounted rates on some packages as well.
Membership vs non-membership

The membership, to us, seems key to really enjoying the Canvas II at its best. Without one, you can still upload your own art work, photographs and even videos — and that's a big deal. But you can already do most of that with most smart TVs, pushing your photos to rotate as a screensaver.
But with the membership you not only get discounts on packages, but you increase the storage you can hold on your own Canvas II from 4 GB to 20 GB, and gives you access to 24/7 customer support forever, essentially, unlike the first 90 days you get without a membership. That seems a bit tight to us, though. Customer support really shouldn't be something that's a perk.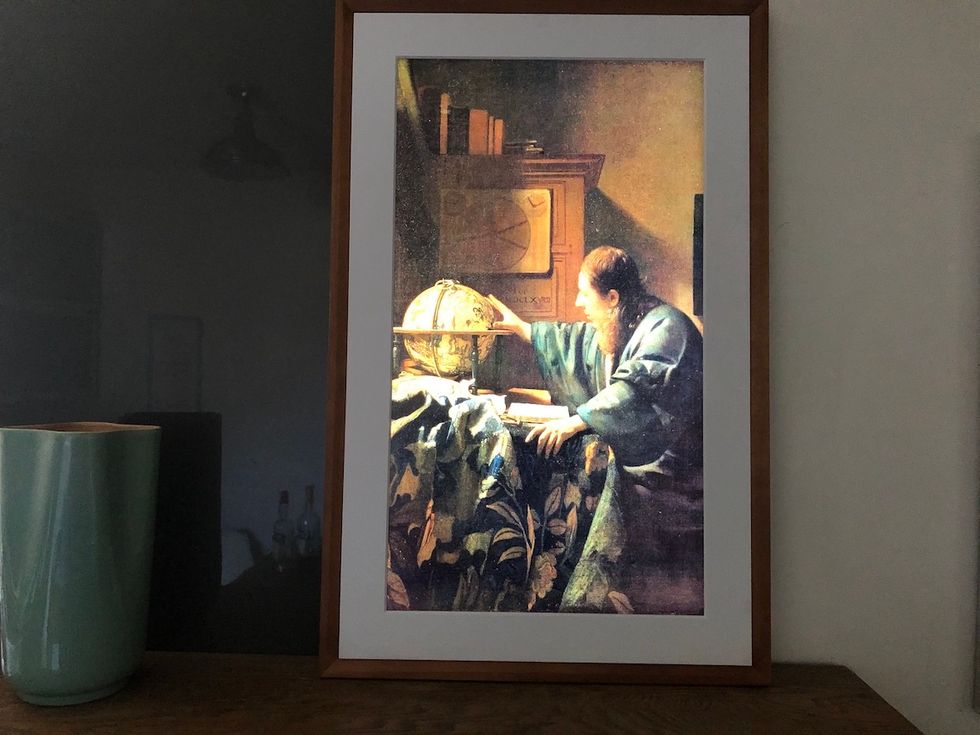 To view more than the basic sample images, you need to subscribe to the Meural's membership programGearBrain
Using Meural Canvas II

We found Canvas II — once we mastered the hand gestures — pretty simple. While you can pull up images and move through the menu from the frame itself, the app was really where we did most of that heavy lifting. Moving your hand up and down? That's a bit awkward when you can quickly open your smartphone and make adjustments there.
In the settings, you can pick images, of course. But you can also select the way you want to position the Canvas II. Images can be displayed both in a horizontal and vertical format — and you can tell Meural that you only want to see images shown if they fit that format. If you choose this setting, though, be aware that you'll see a black screen when a piece of art designed for a horizontal setting comes up, and you've oriented the frame vertically.
You can also change the intensity of the brightness, which somehow takes a way a bit from the conceit that this is actual art you're viewing. But there's also an ambient light sensor which takes into account the room's brightness and adjusts the images to that. (This is also one of the main upgrades between the Canvas II and the Canvas I.) There's also a way to adjust how long you want to hold on an image before it cycles on to the next.
The experience is actually kind of fun. Getting to choose your own images, curate a playlist of art work, is a nice diversion — at least I found it so.
Price
The Meural Canvas II starts at $399.99 for the 16 x 24-inch screen, and goes up to $599.99 for the 19 x 29-inch screen. That's significant. You can buy an entire TV set for less than the lowest price screen, hang that on the wall, and push images of art work to that instead.
Are you then paying for the curation of images? The ability to cycle through art work automatically and pick up more images to suit your taste? Maybe. It's a hefty price, we agree. And to really gain the most from your device you're also going to want to get a membership — on top of the frame. This is not a toss-away purchase, particularly today.
You can also choose between four different kinds of frames, with wooden options, which we reviewed, adding another $100 to your price.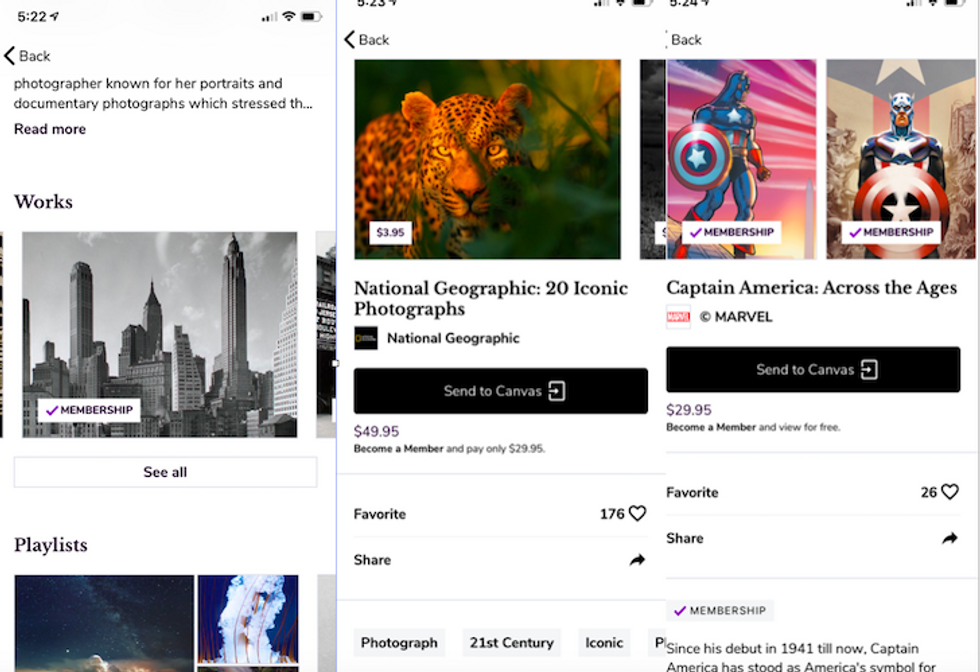 You can find additional images to both buy or rent through the Meural membershipGearBrain
Worth buying?

The Meural Canvas II is one of those connected devices that's a joy to have. It does one thing — send images, mostly art, into your home — and it does that very well. It's pretty simple to set up, it's easy to use, and it evolves; You can get new art frequently, and change up what you see. The frame itself is also simple, and innocuous. It wasn't to our taste exactly (I like thinner frames) but it's fine.
The price is a real drawback. While you can get a Canvas II for just about $400, you're really not going to get the full use of it unless you tack on a membership, which will set you back at minimum $70 a year. Yes, you can enjoy some sample images, and certainly upload your own. But you can do the latter with your own smart TV.
Still, if you can swing it, given the isolation many feel today, and the joy of having art pushed into your home, we think the Meural Canvas II is a great thing to own. And a device we feel comfortable recommending.
Pros:
You get art you can hang on your wall
Simple to use
Can mix in your own images, video and photography
Cons:
Price
You need to pay for a membership to take advantage of full features
Needs to be plugged into an outlet to work
Meural Canvas II – The Smart Art Frame with 21.5 in. HD Digital Canvas That Renders Images and Photography in Lifelike Detail | 16X24 Light Wood Frame | WiFi-Connected | Powered by NETGEAR (MC321LW)
From Your Site Articles
Related Articles Around the Web
Like GearBrain on Facebook