Like GearBrain on Facebook
We first saw the Lenovo Smart Frame back at CES 2020, a large photo screen designed to highlight family photos, and like the Meural Canvas II, acts as a digital art gallery for your wall. The images rotate about twice a minute — and you can change that duration — making it a nice way to have a rotating gallery on your wall. Lenovo sent one to us to try, and this is what we found after playing with it for a bit of time.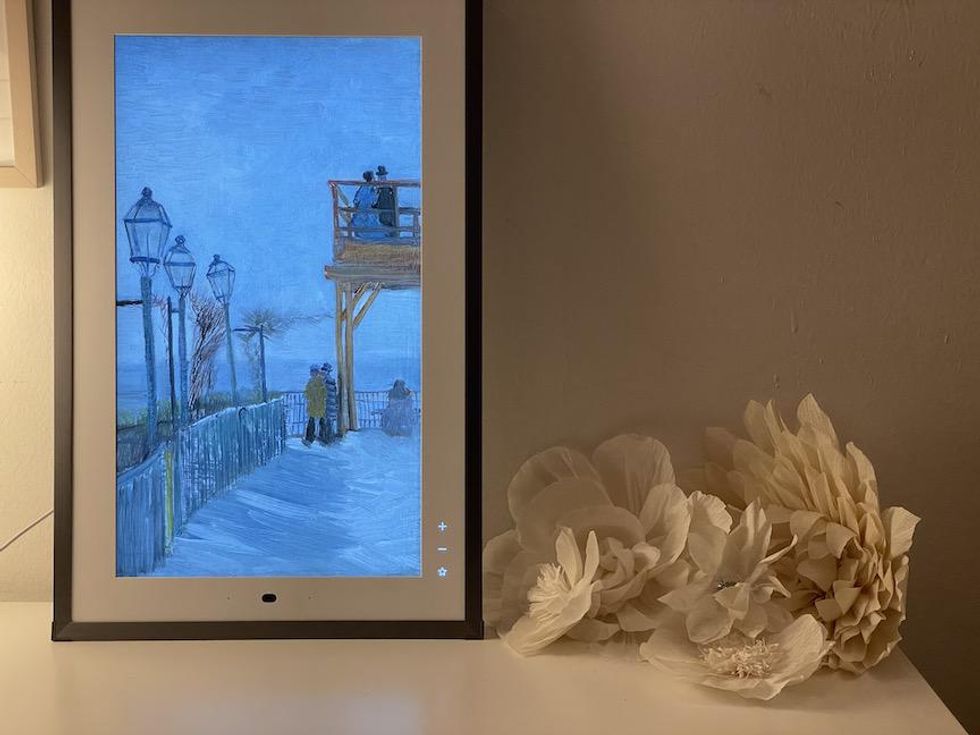 The Lenovo Smart Frame is an HD matte display that can adjust its brightnessLauren Barack
Setting up

Setting up the Lenovo Smart Frame takes honestly about five minutes, short of installing it on the wall. You unpack the frame from the box, plug in a power cord to the back of the frame, and then put that into an outlet. Your next step is to download the Lenovo smart frame app for either your iOS or Android device, and set up an account with Lenovo or just log into your existing Lenovo account. You're going to be asked to link the app to your Google Photo account, which is a big key here. Without a Google Photo account you're not going to be able to push any photos to the Smart Frame. Something to consider.
You get an external frame which can dress up the main photo frame a bit. Ours came with a gray metal one, which could not be more simple to attach. It's a bit weighty, and the 21-inch frame a bit big, so you may want to enlist some help to add this piece to the Smart Frame. Essentially, though the exterior frame snaps over the display itself, over plastic clips on the display, and it removes as easily.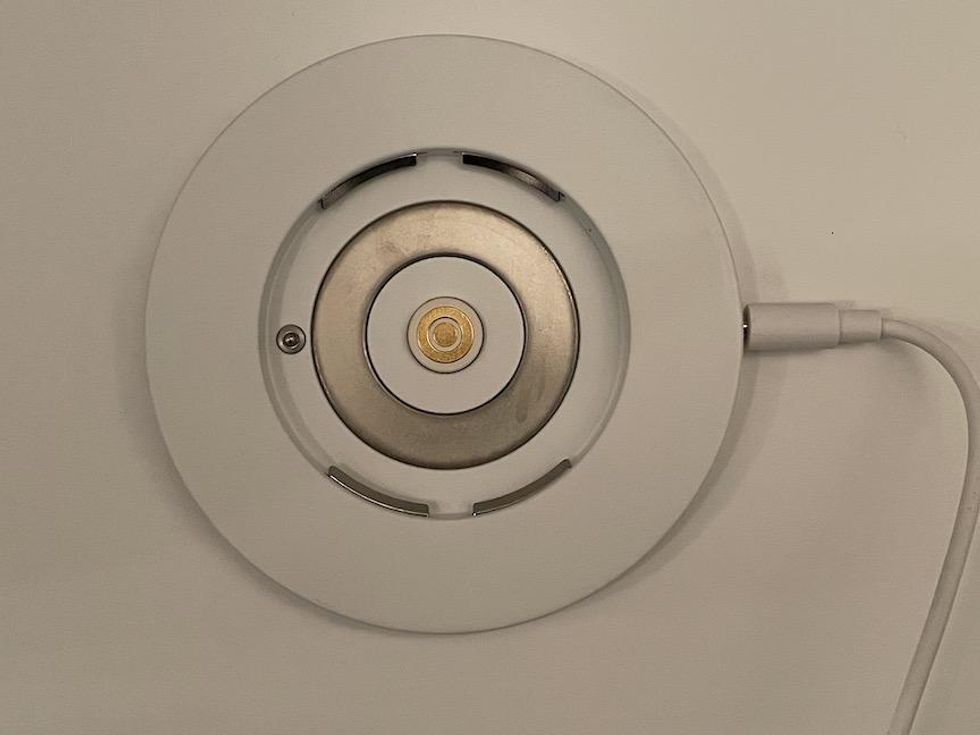 A mount for the Lenovo Smart Frame allows you to turn the frame easily from horizontal to verticalLauren Barack
Installing it into the wall is a step we didn't take for our review. But the Smart Frame comes with a unique round mount, and this is secured into your wall. From there, you'd snap the display into that mount which supports the frame and also allows you, extremely simply, to rotate the frame 90 degrees in either direction, both horizontally and vertically.

You can lean this on an easel if you choose, and in fact that's one way we saw it displayed at CES, but note that it's not wireless and you're going to have a power cord snaking down a wall, or behind an easel no matter how you choose to use this.
Using the Lenovo Smart Frame
The 21-inch smart frame is lovely, an HD, matte screen that really casts images in a great light. You can tap into the free art gallery — and there are quite a few images to select there, mostly from what I saw, Impressionist pieces. Lenovo says there are hundreds, although we did not see that many options in the app, but over time we would expect this gallery to grow. Again, without a Google Photo account you're not going to be able to push images to the frame, and the art gallery is basically what you'll be using.
This mean in short, you're going to want to either have a Google Photo account if you're planning to buy the frame, and grant the Lenovo Smart Frame app permission to access them, or pass.
You certainly can also open a Google Photos account, and if you're an Apple user, and have your images in iPhone, there are even ways to move images off iCloud on to Google Photos fairly easily. (And you may want to do this even if you're not an Android user to just build back up of your images on to another system.)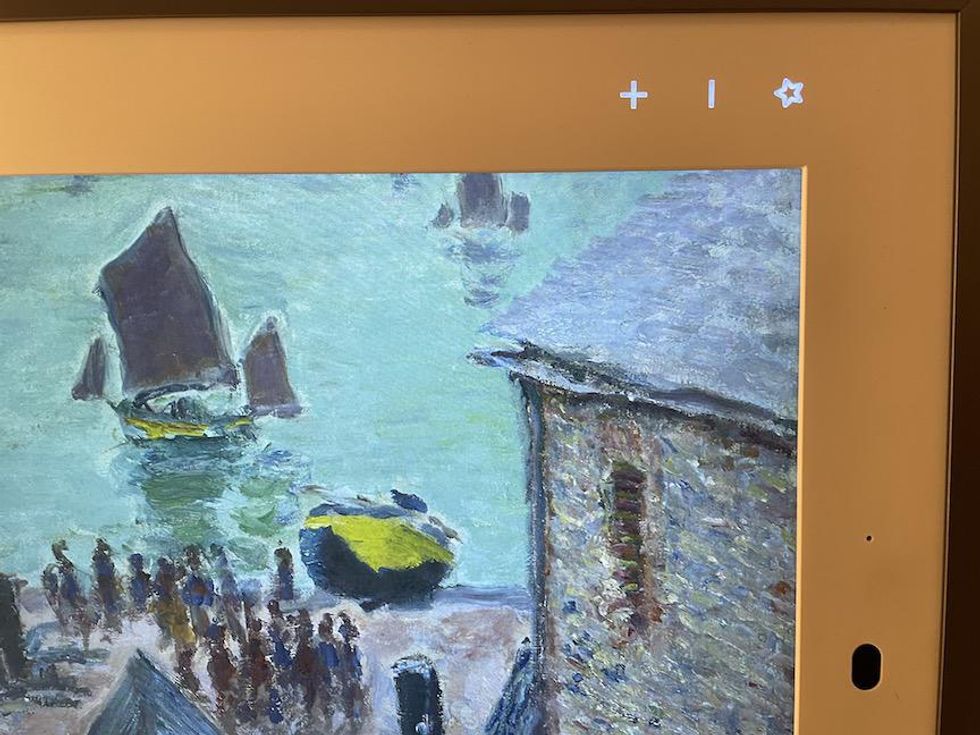 Controls virtually appear on the frame, and you can also advance images through gesture controlLauren Barack
The frame is designed, as we mentioned, to work in both portrait and landscape mode. You can choose the option you want in the app, and you can also control the images — in other words scroll through them quickly — from three digitally highlighted buttons on the frame itself. One is a plus sign, one is a minus sign and one is a star. These work to either advance to the next picture, or return to the before. Those highlighted buttons can disappear quickly, but you can bring them back up again just by touching the corner of the frame. And you can also use gesture control, by swiping your hand close to the frame — but without touching it — to advance and reverse images as well.

And in the app as well, you can adjust the brightness of the screen too, so if you're in a darker space or a room that's brightly lit, you can tune the display to meet your needsThe app is really where the entire frame sort of lives you can also increase the brightness and that's an option if you're in a dark space or if you're in a room that's more brightly lit with a lot of windows.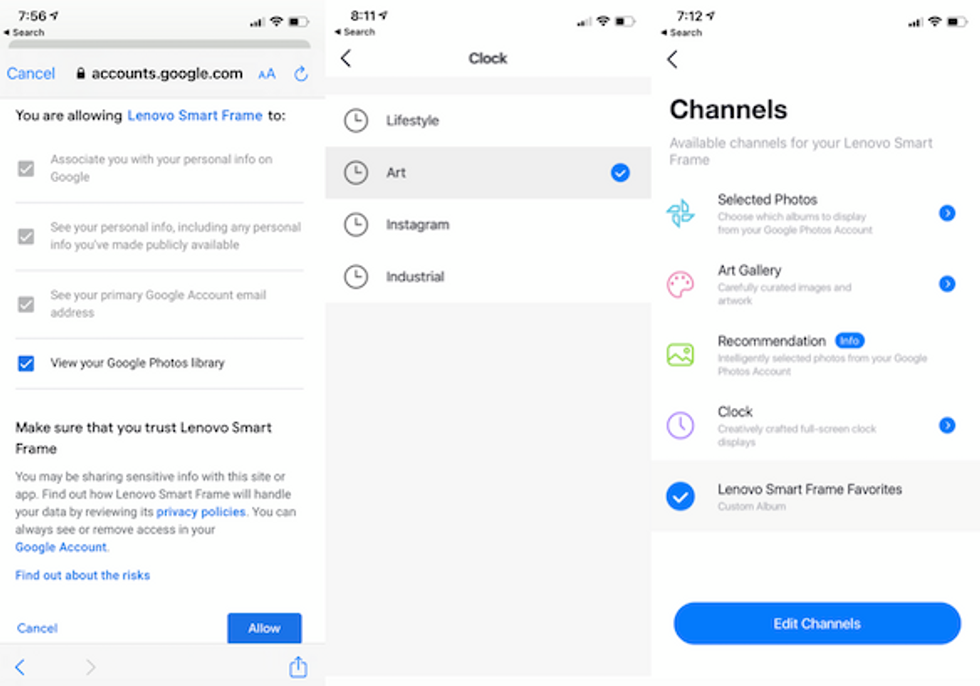 You can choose what you'd like to display from the app, and even how quickly you want them to rotateLauren Barack
Depending on the portrait or landscape mode you'll get served up images that are a bit different. It's been awhile since my art history classes in college but I spied a bunch of Van Gogh in landscape and what looked like some Degas in Portrait.

There are also clocks that you can display, some that have an artistic flair, and all show the current time where you are. Images are very clean, and I found them actually a nice option.
Price
The Lenovo Smart Frame can be purchased from Lenovo's site for $399.99, and is certainly more affordable than comparable smart frames of a similar size including the Meural. Then again, Meural offers a wealth of displays and images in terms of its gallery. You do have to pay for some of these selections, but that option isn't even one that's available currently with Lenovo's frame.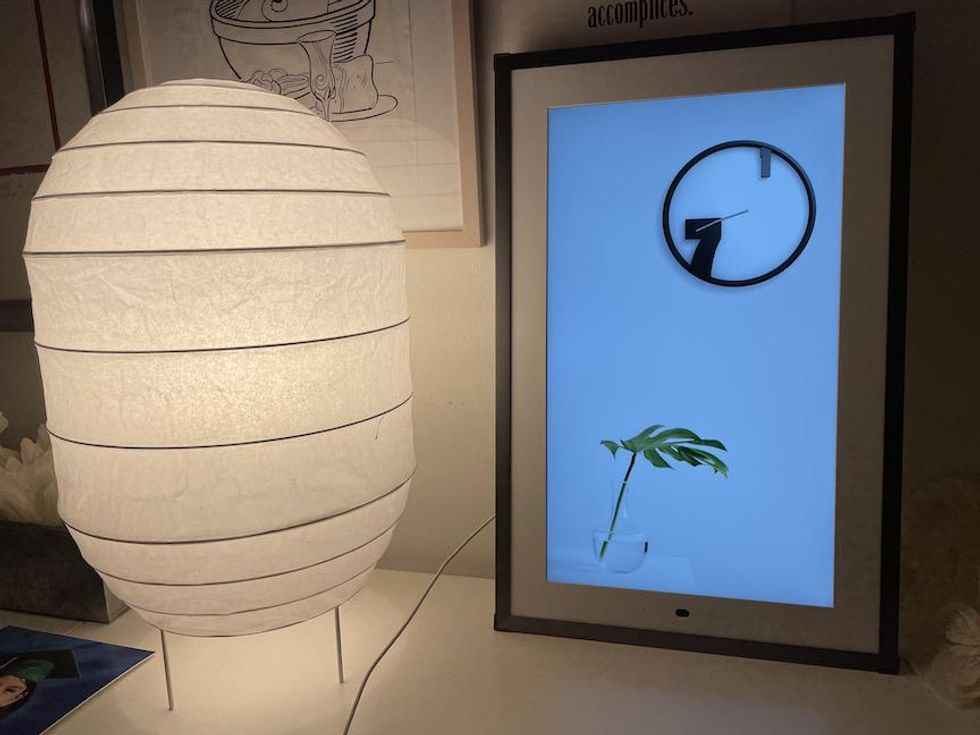 You can choose various clock faces for the Lenovo Smart Frame Lauren Barack
Worth buying

The Lenovo Smart Frame is an odd duck, one that's nice if you're a Google Photo user, but really not if you're not. If you are, it's certainly a gorgeous screen and one that will likely turn some of those family snapshots into a lovely display. But without that account, or a willingness to open a Google Photo account, you're going to have few items to choose from for the Smart Frame itself.
You can also use other devices to showcase Google Photos such as a Nest Hub smart display, and pay quite a bit less — and without needing to install anything on the wall too. It's all a matter of design. The Lenovo Smart Frame is a lovely item, a great screen and a fun decorating element for your home, to show off photos, and a few artistic options, on your wall. But without a Google Photos account, it may not be right for you.
Pros:
Outer frame can be customized
Price
HD and matte display is beautiful
Cons:
Ties into Google's photo album only, and not other programs
Art gallery selections are limited
Need to consider where to display this with the visible power cord
Lenovo Smart Frame 21.5" on Amazon
Like GearBrain on Facebook