Not everyone lives near a coast line, and even fewer of us have the opportunity to take a deep dive into those deep blue waters. These seven cams bring that unique world right to your screen — desktop or smartphone — with live views of an underwater world from the Pacific Ocean to the Cayman Islands. A few are from inside some of the better known aquariums in the world — where the action is almost always guaranteed.
Like live webcam views of wildlife, you may need to have some patience while watching these streams. Some are always live, and some occasionally show highlights — and while you may be lucky enough to catch a bald eagle with its chicks, and other times you may be staring at ocean vegetation swaying in the water — which can be just as wonderful.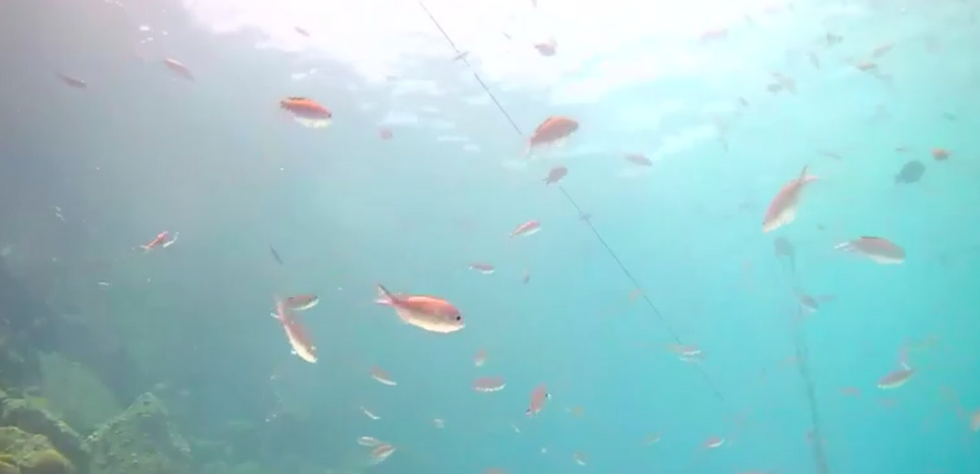 Schools of orange fish dart through crystal blue water, 15 meters below the surface Bonaire
Bonaire Underwater Webcam

You may never make it to the Netherlands, so make use of the Bonaire Underwater Webcam for a taste of ocean life 15 meters deep, right off the drop off at the "Something Special" dive site. There are schools of beautiful fish to follow from afar.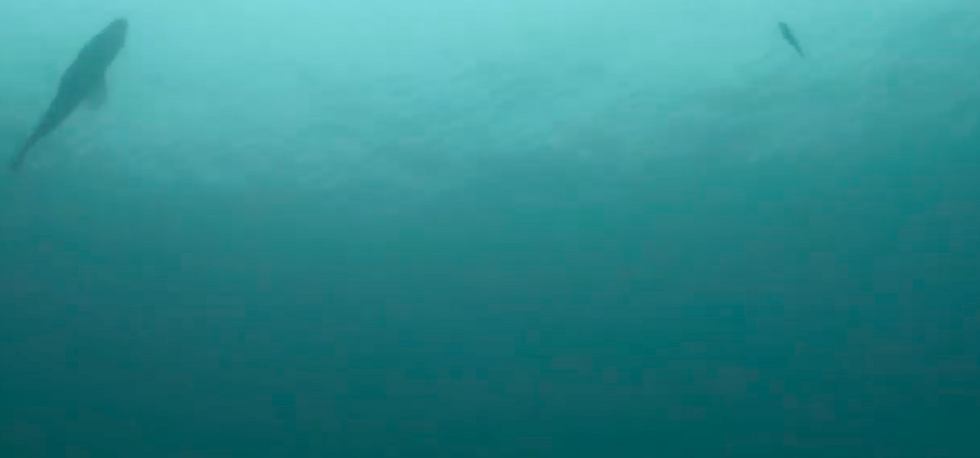 You might see ocean life, and you may see vegetation, but both are peaceful and meditative Wrigley Catalina Marine Reserve
USC Wrigley Catalina Marine Reserve

At Big Fisherman Cove, on Catalina Island off the coast of California is an ocean cam for those who love watching marine life of all sizes. You may spy some tiny orange fish darting their way across the screen, or you may spy a larger creatures skimming the bottom. We spent a nice 10 minutes just watching vegetation swaying in the greenish water at the USC Wrigley Catalina Marine Reserve, and there's nothing bad about that.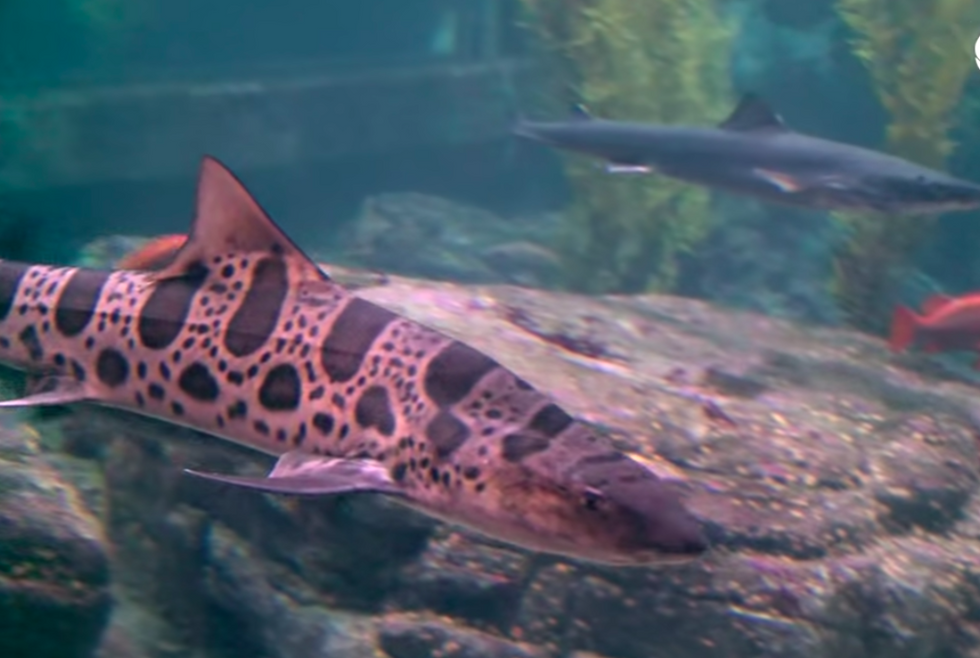 Catch live views of rockfish, sea bass and other hefty fish from the Monterey Bay AquariumMonterey Bay Aquarium
Monterey Bay Aquarium Shark Cam

You shouldn't get close to sharks when you swim unless you know what you're doing. But thanks to the Monterey Bay Aquarium Shark Cam, you can view these amazing creatures from home…a lot safer. Also see rays and other fish like sturgeon, rockfish, sea bass, and flatfish. You'll be mesmerized for far more than a few minutes. Note: This camera is only live from 7am to 5pm PST.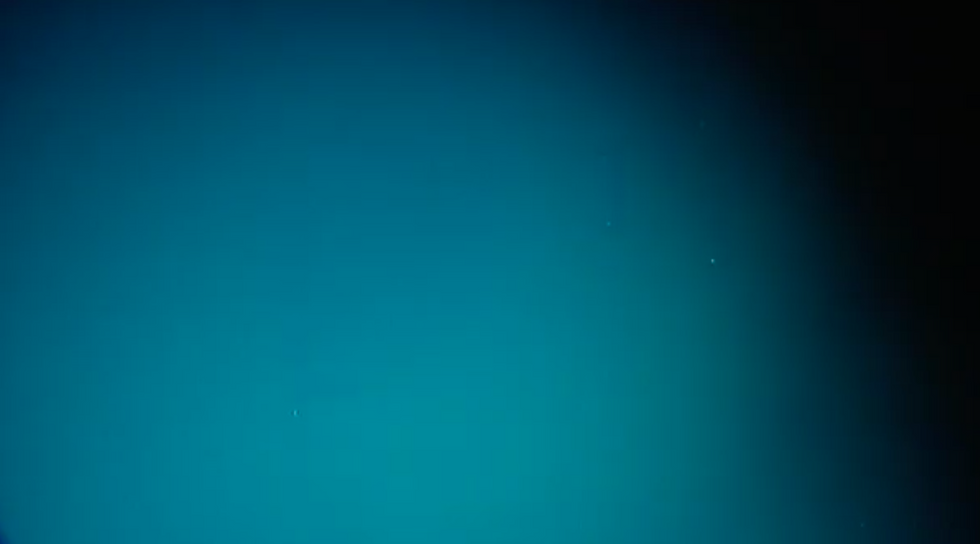 As the Nautilus Live floats through the Eastern Pacific Ocean, spy flotsam and jetsam through the deepOcean Exploration Trust
Nautilus Live

Follow this expedition of the Ocean Exploration Trust which is led by Dr. Robert Ballard, who re-discovered the RMS Titanic. This cam is connected to the Nautilus, a vessel moving through the Eastern Pacific Oceans and currently headed towards Kingman Reef, Palmyra Atoll, and Jarvis Island. Nautilus Live will be traveling through mid-October making its way eventually to the Monterey Bay National Marine Sanctuary. This is a live cam that may be better as a blue undulating screen saver, perfect for meditative lunch hours.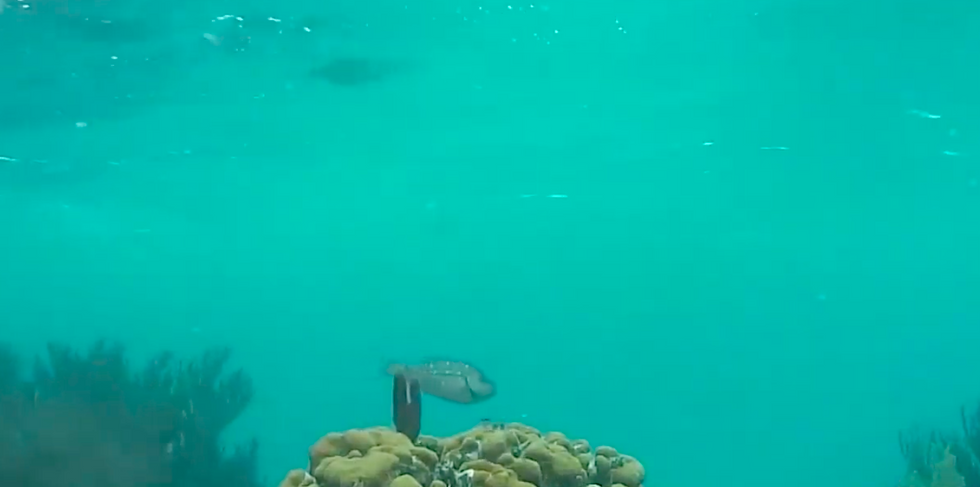 This live cam streams from the Cayman IslandsCayman Reef Cam
Cayman Reef Cam

The Cayman Islands are beautiful, so imagine what lurks beneath the reef. The Cayman Reef Cam is at the East End of Grand Cayman, offering a live look of sea creatures of all sizes. You may catch the camera streaming live, and you may catch just the highlights. But the turquoise blue water is magnificent in itself.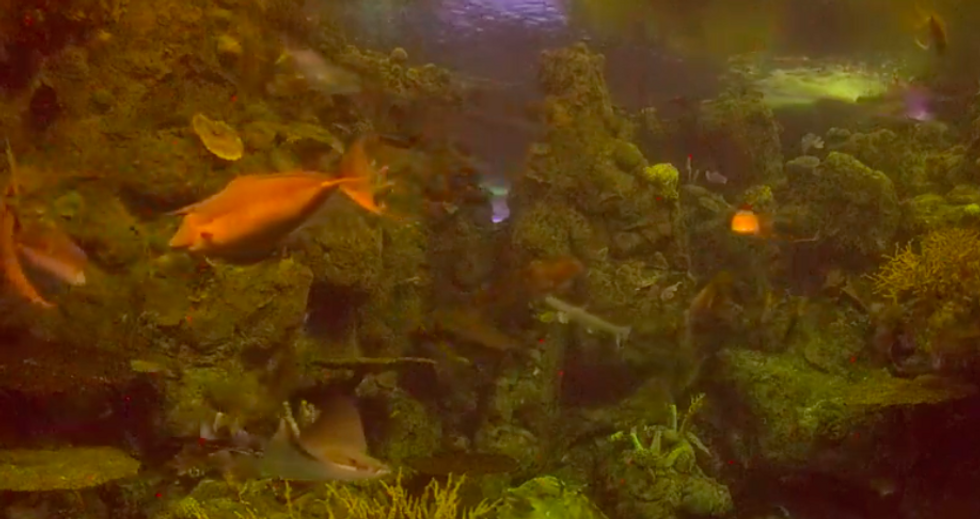 You may catch a diver swimming while watching the camera at the Aquarium of the PacificTropical Reef Aquarium
Tropical Reef Aquarium Cam

Long Beach, California is home to more than 1,000 animals, making this tropical reef habitat the largest in the Aquarium of the Pacific. The Tropical Reef Aquarium Cam captures it all, from marine life to man…yes, you may just see a diver doing their thing.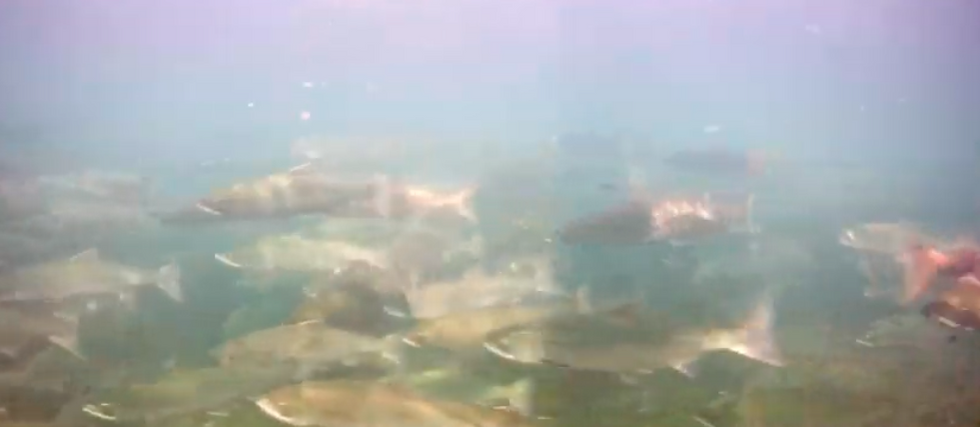 The water is thick with salmon on the Katmai National Park camera in Alaska Katmai National Park
Underwater Salmon Cam

In Katmai National Park in Alaska, you can see the school of salmon under the water. It's murky down here, so don't expect the crystal blue water you may see on other cams. But if you want to see what's happening above the water, you can check out the brown bears at Brooks Falls, also in the park, as they watch the spectacle and grab a snack or two in process.