Adding a smart lock boosts the protection of your home, and even helps you keep tabs on your overall security. But sometimes you're trading looks for this convenience, forced to pick from a small selection of smart lock designs. Some smart locks only force you to trade one side of your lock, while keeping another. But with Level Bolt, you can keep both sides, an invisible solution that not only lets you decide how your front door locks, but installs in just minutes. We got a chance to test in a real home, and here's what we found.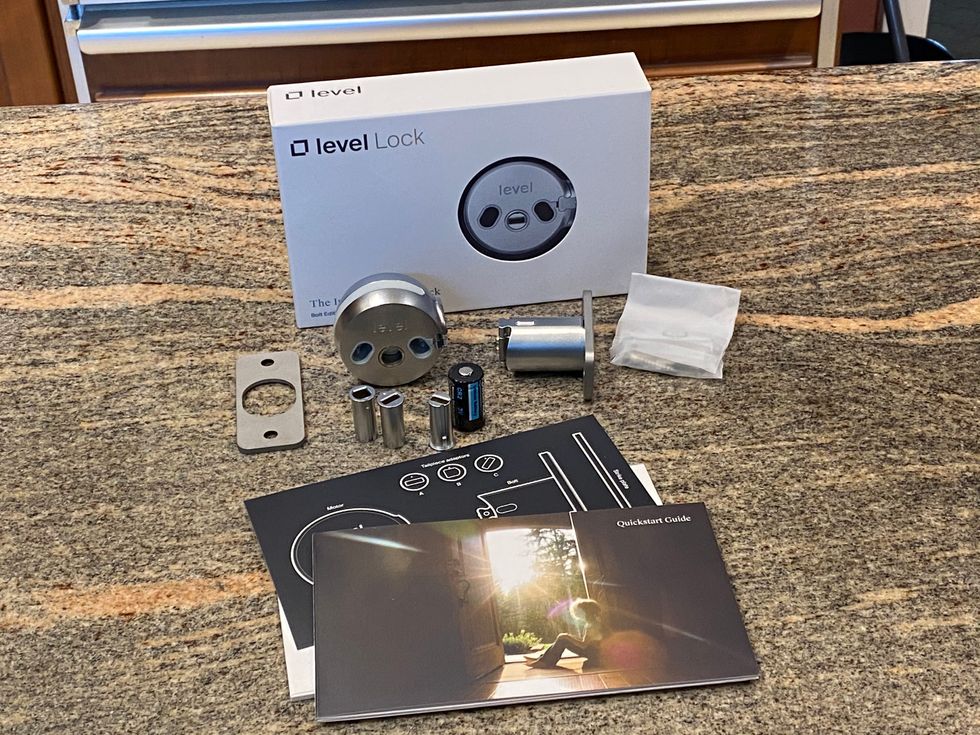 Level Lock unboxedGearBrain
What is Level Bolt Lock?
Unlike other smart locks, Level Lock doesn't come with a lot of hardware and screws, but instead is basically the guts of a deadbolt lock. Installed inside the exterior of a lock, you can then use iOS and Android devices to control your lock through a Bluetooth connection. The Level Lock app is free, and can be shared with friends so they can enter your home as well. Through the app, you'll also get notifications when friends arrive, be able to track the lock's battery life, auto lock and unlock your door, and also setup automations or scheduled routines using the Apple HomeKit app.
Installing Level Lock is pretty easy, although we recommend downloading the Level Lock app first, and then follow installation instructions. There is also a decent video you can watch prior to setup on their site that shows you how to set the device up too. Plus, we've created a video below to show simple steps for putting the lock to use in your home.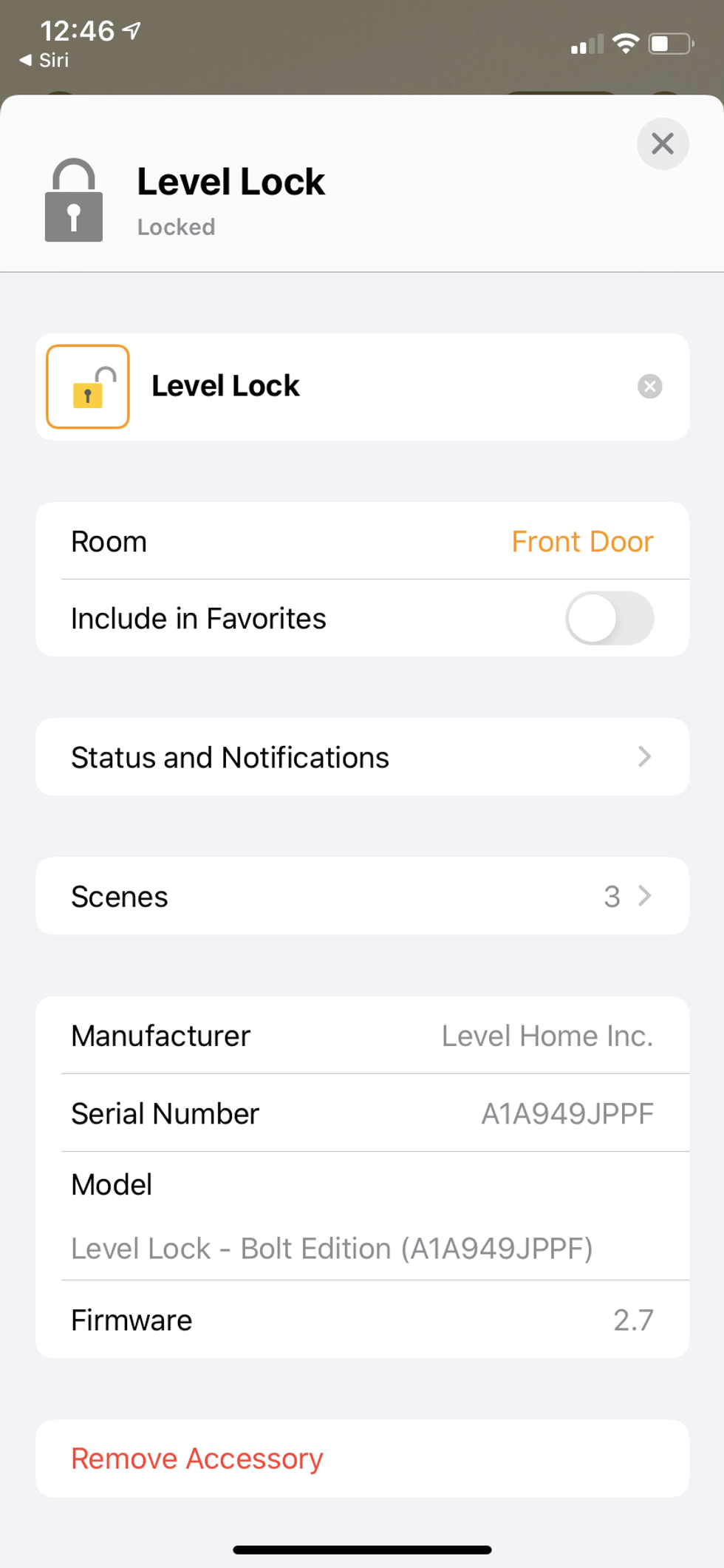 Setup scenes and automations using Apple HomeKit appGearBrain
Features

Inside Level Lock is a six-stage, stainless, steel gear box, powered by a CR2 battery, which can run an entire year on just one charge. The lock is designed to fit inside any standard single cylinder deadlock lock, works on a Bluetooth connection and you can operate it remotely through a HomeKit Hub, such as an Apple TV or HomePod. We tested the lock on Apple HomeKit using an iPad running iOS 10 — and you need this version of iOS or later for a device to work as a hub.
One feature that stands out is Level Lock's backup plan, which you need in case your smart lock loses power or its connection, and you get locked out of your apartment or house. With Level Lock, you simply unlock your door the mechanical way with the door's existing key.
Level Lock also stands out for adding a smart lock system inside an existing lock. For renters, this is a great feature: you don't, then, need permission from a landlord to switch out a lock. Your super can still use the key to access your apartment, but you can actually monitor that activity, and keep track of anyone entering or leaving your space.
Price

Level costs $199 and is available on the company's website as well as Amazon, Best Buy or Walmart.
Installation of Level Lock
Here is a quick video on how to install Level Lock on your door.
YouTube youtu.be
A few points to keep in mind when installing your Level Lock:

First, the only tools you are going to need are a Philips screwdriver and your smartphone running iOS or Android.
Next, before inserting Level Lock inside the door hole, make sure you know where the little screw is on the Level Lock. You need to align this screw hole on the lock with the screw hole on the deadbolt unit inside the door hole.
Finally, you will need to insert a Tailpiece adapter into Level Lock. Before installing the Level Lock, we recommend you select the Tailpiece adapter that works with your existing lock. If you need help with installation or finding the correct tailpiece adapter, you can refer to the help section in the app.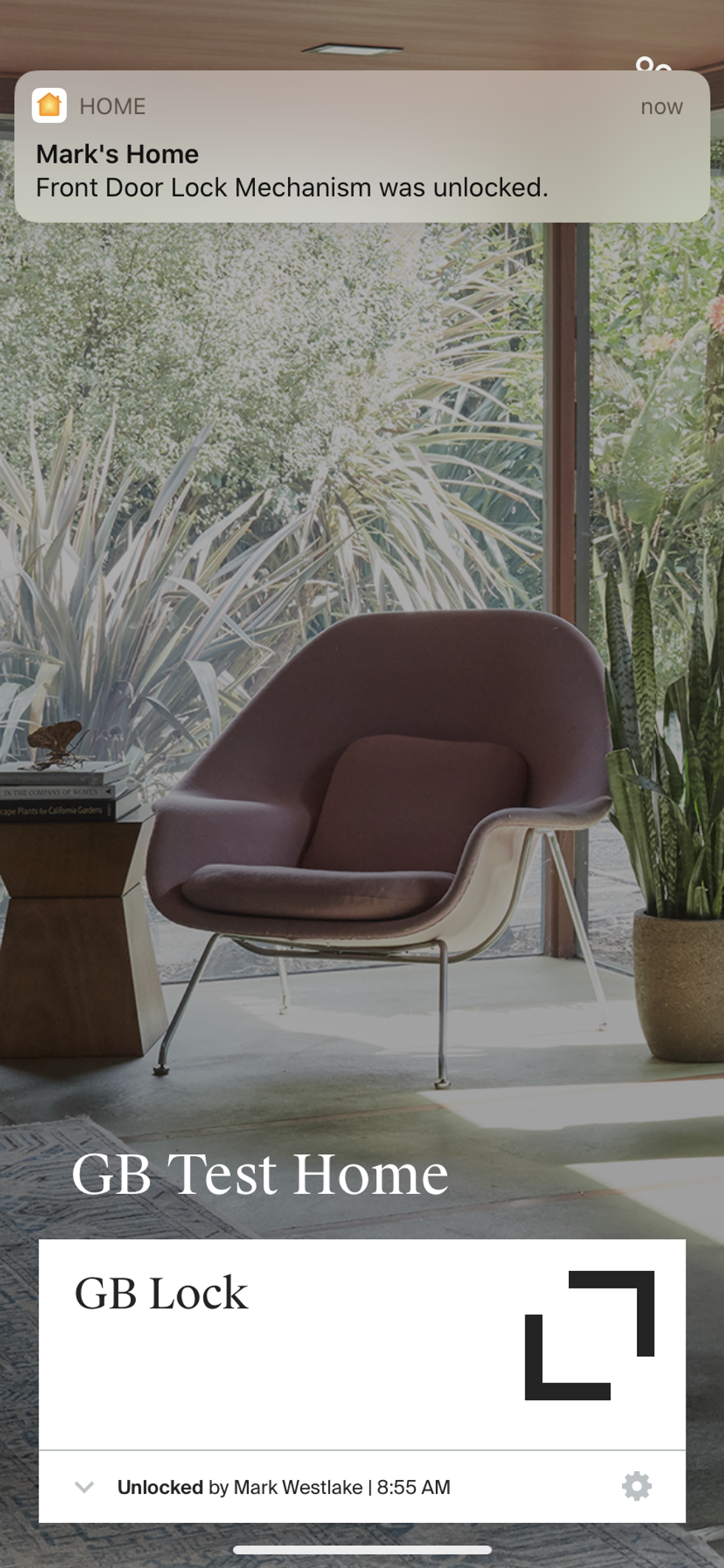 Unlocking Level Lock using Level Home app and HomeKit app.GearBrain
Performance

Level Lock reminded us of testing August Smart Lock and Danalock. These two smart locks were among the first to let people keep the outside portion of their existing locks, and only change the interior portion. Both took very little time to install, but you still have no control over the design and look of the interior portion of the lock. Level Lock lets you keep both sides, a definite step up for those who are design-conscious.
As for integrating with smart home assistants and systems, Level Lock is a bit limited. You can only connect the device to Apple HomeKit. But luckily that ecosystem is not that small. Plus there are several automations you can setup as long as you have HomeKit compatible devices connected to your Apple HomeKit Hub, which as we mentioned can be an Apple TV or even an iPad. These automations can then be controlled with voice commands using Siri or the Apple HomeKit app. And you should know that if you have an Android device, you will be limited on automations.

If you decide not to connect your Level Lock to an Apple HomeKit Hub, you can still access with your Level Lock wirelessly using Bluetooth but you will need to be within close proximity of your lock. Level told us you need to be within 20-30 feet of the lock for you to control the lock using Bluetooth. We tested it and found around 20 feet the connection started to get spotty. Sometimes it worked and others it didn't. We would recommend using Apple HomeKit hub if possible for remote access more than 20 feet.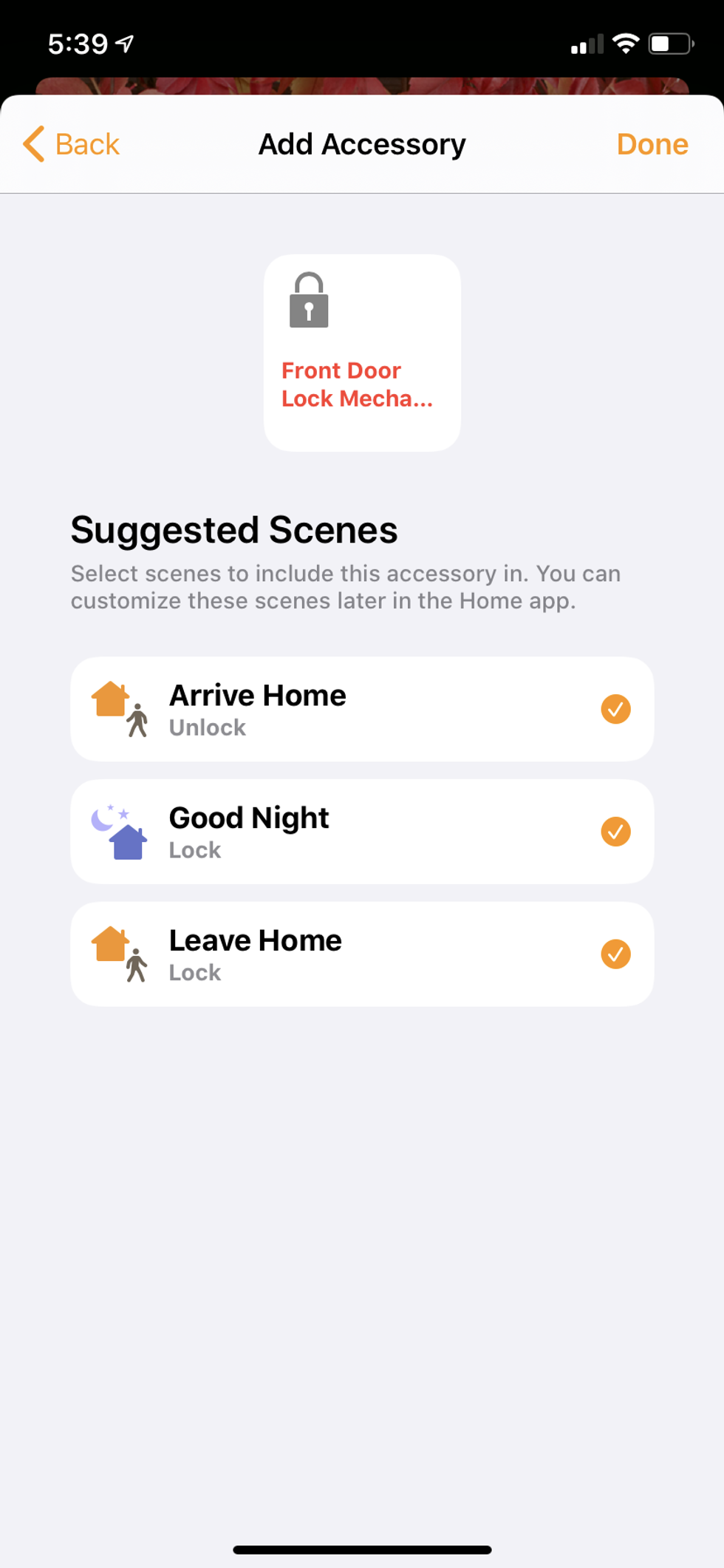 Use Apple HomeKit app to create scenes for your Level LockGearBrain
Summary

Level Bolt is a unique smart lock available today. Besides being easy to install, it works on both iOS and Android devices, and has a simple backup solution — using your own key. However, its best feature, and one that will likely win over design-conscious home owners is the ability to keep existing hardware on your door lock — basically turning a dumb lock into a smart lock in minutes.
True, Level Bolt is new to the market and has a small list of compatible devices it works with today. But we expect this list to grow rather quickly, and Apple HomeKit is a decent ecosystem for its launch. Many other smart lock manufacturers, like Yale and Schlage, started off with smart locks that were Bluetooth and HomeKit compatible as well, eventually adding Z-Wave and Zigbee compatible smart locks to their lineup. Level, too, said that these integrations, along with Amazon Alexa and Google Assistant, are in the works.

If you live in apartment or a house, want to be able to monitor a door with a deadbolt lock, are an Apple or HomeKit user, and want to retain the look of your existing lock, we recommend you consider Level Lock. Keep in mind that the lock is not cheap, and is still a very new product on the market. But we like where Level is heading and how it can become an effective device to help secure your smart home.
Pros:
Keep the look of existing door lock hardware
Easy to install
Solid smart lock for apartments
Cons
Price
Limited smart home integrations
Needs Apple HomeKit Hub for remote access