Luci Smart Light + Speaker is another of the solar-powered lights from MPowerd, a company that is focused on products that tap into reusable power sources. We recently reviewed the Luci Connect, a lantern that's water proof and solar-powered that we really liked. So we decided to test its Explore, a light that's more streamlined in shape and works as both a light and speaker.
How to get started
This is a very easy light to get working, much like the Connect. In the box is a USB cable and the light. You don't get a plug, so take the cable and use a plug at home, and start charging the light.
The light itself is nicely shaped, a small rounded dome with just one button, one to turn the power on and off. You also have a USB port (as we mentioned above for charging), a solar panel, and a light indicator which tells you the level of power. That's a nice perk as you can actually see how much longer the light should last with green indicating it's at 56 percent or above charged, yellowfins indicating it's between that and 11 percent, and red indicating you're about out.
Luci Connect Smart Solar Light & Mobile Charger with Phone App to Control Lighting Bundle with a Lumintrail Keychain Light
The solar panel on the bottom is how you recharge the device through sunlight. To be honest, this is not a fast process. But if you're out camping for days, this option is priceless, and certainly doable. Just be aware that the higher the UV light at the time, the faster the light should charge. We took this photo, for example, in a rainy day — which was, as we knew, not going to charge the light quickly.
But this solar panelling is a main selling point for the Brooklyn, New York-based Mpowerd, which can see its lights used in areas where it's not easy to get access to affordable electricity.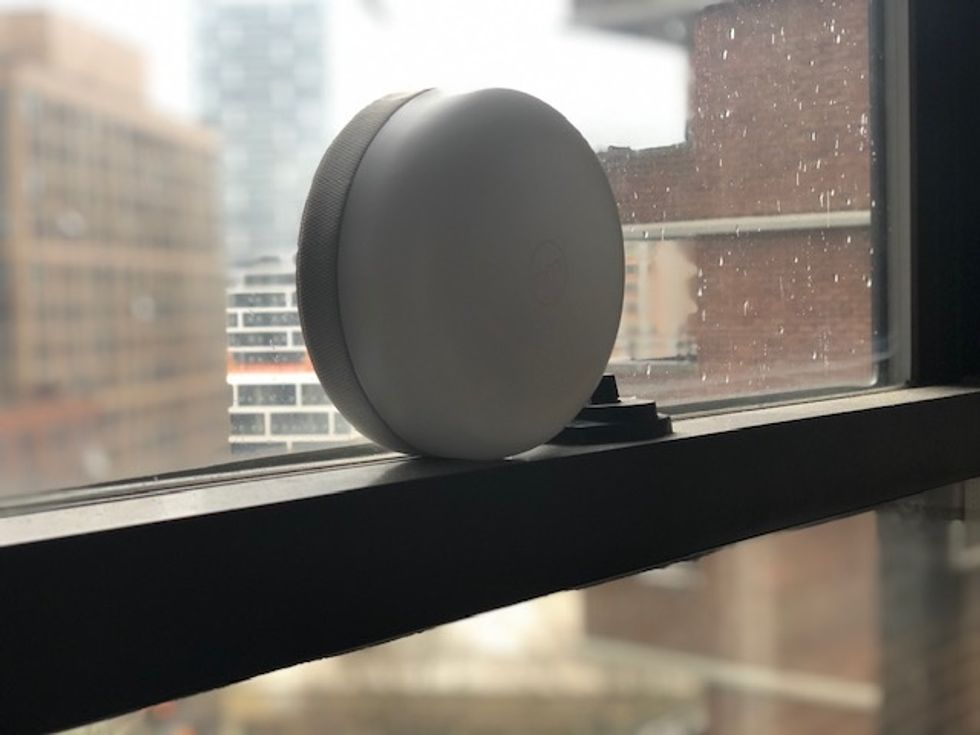 The Mpowerd Luci Explore Connect light can be recharged via solar powerGearBrain
How Luci Explore worked

Luci Explore worked as well as the Luci Connect. It's very durable, water-resistant, and after fully charged, the light stayed on for — we found — more than 24 hours while lit. This was a bit longer than the Luci Connect, for us.
We were able to cycle through tons of different colors, which we selected through the app. The Mpowerd app works on both iOS and Android devices, and connects to the light through Bluetooth.
There's a nice option with the lamp where you can set it as a wake-up device. It starts to light very gently.
But one of the main points for the Luci Explore is it also doubles as a speaker, which comes from the edges of the light, towards the solar panel.
MPOWERD Luci Explore Solar Smart Light with Speaker
To get the speaker feature working, you need to go into your music app on your smartphone, and make sure you see the Luci Explore as an option. I actually had to turn the Bluetooth on and off on my smartphone — and reconnect to the Luci Explore in my settings — before I could get my music app to acknowledge and select the light as my speaker.

I should note: you're not getting professional speaker quality here, nor even the level of a Google Home or Amazon Echo device. The sound was actually flatter than the sound I get from my iPhone X through headphones, quite muted. But as a speaker that others can listen to as well, it's a fairly nice option to have. You're certainly going to find much better wireless, portable speakers out there on the market, but not at this price point, in a device that also double as a light source — and can be charged by the sun. When you're out in the park for a picnic, you'd likely bring a better speaker. When you're camping for a week (or four) and backpacking, the Luci Explore could be a really nice thing to have stowed with you.
Price
The Luci Explore is $74.95. But Mpowerd is currently offering a 25 percent discount on the light, putting it at $56.21 — still within the price for free shipping. You can also currently donate one for just $10 on the site. These lamps go to Mpowerd's partners and are distributed where they choose. (And keep in mind that your gift is not tax deductible….)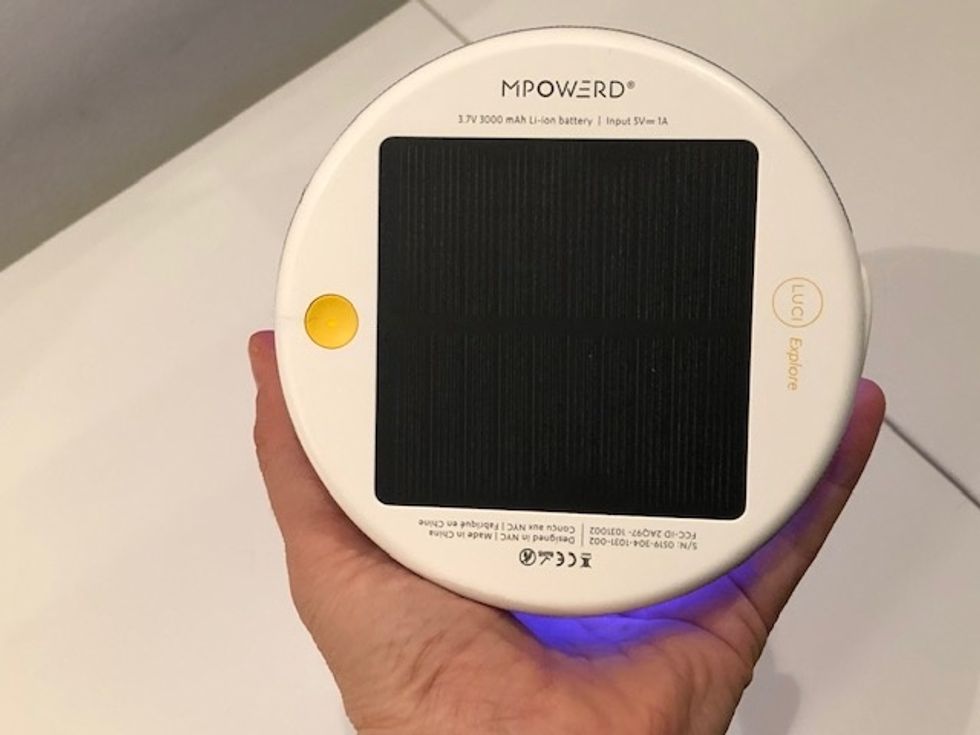 The solar panel on the Mpowerd Luci Explore light is on the backGearBrain
Buy one or not?

I'm a definite fans of Luci, even at the price tag. Because, yes, you can find other solar-powered lamps for much lower prices. I like Luci, though, because it is controllable via an app. While not everyone likes using apps, an app means there are fewer parts to Luci, and a way to change the color, the brightness, and even set this up as a wake up lamp.
However, the speaker was not a plus in my mind. If I were planning a long camping trip (which, yes, I've done), I would consider adding this to my pack, knowing full well the music would be just okay. But honestly I actually prefer the look of the Luci Connect, which you can blow up to look like a lantern, and take apart for easy staying and carrying. The Luci Connect is also a lower price point — at $64.95 — and you can also get 25 percent off that lamp as well on the site, bringing the price down to $48.71.
The Luci Explore is better designed, with a more stable construction, made of harder material, which if used outside, is a solid plus as it's less likely to get punctured and thus have a longer life span.
Ultimately the Luci Explore is a rock-solid light. If you're looking for a light and speaker combo, it might not be your best, first choice.
Pros:
Well-constructed and durable
Water resistant
Can work as a light and a music speaker
Cons:
Price
Speaker lacks in fullness of sound
Charges very slowly via the sun
MPOWERD Luci Explore Solar Smart Light with Speaker