Like GearBrain on Facebook
The $64.95 Luci Connect is a lantern designed for flexibility — you can bring it anywhere, boost the battery power from the light of the sun, and run the lamp from buttons along the bottom, or through a Bluetooth connected app. The lamp is lightweight, shrinks down to a disk and in short is one of those fun add-ons for a camping expedition, or an evening dinner in the backyard.
Read More:
What is Luci?
Luci is a series of devices designed by Brooklyn, New York-based company Mpowered, from a small portable solar lantern to one that doubles as a light and speaker. While solar-powered lanterns are fun gadgets to have, when there's an overcast day, you're going to have a hard time getting these lamps fully juiced. That's one reason why the Luci Connect, a portable lantern, comes with two options: solar-power and also a USB cord that, when attached to a power source, can top up the battery rapidly.
Getting the Luci Connect up and running takes no more than an hour, if you're connected to a power source with the USB cord. If you're charging the battery by sun, you'll need at least several hours of direct sunlight hitting the solar panel on the bottom of the light. Mpowered actually suggests you take a look at the UV index in your area: the higher the UV, the more quickly the lantern should charge.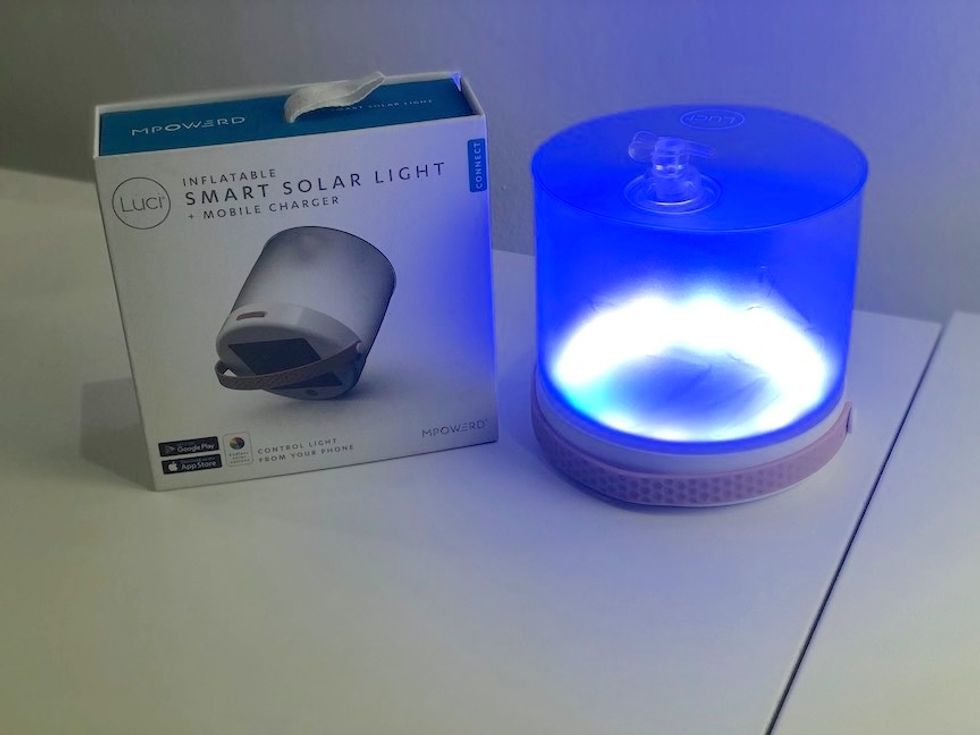 The Luci Connect lamp is portable and lightweight GearBrain
Luci Connect also comes flat, requiring you to expand it before using. You do this by just blowing up the lantern as you would a beach ball, and it takes even less effort than that.

Finally, to run this lamp at its best, you'll want to download the app — which works on both iOS and Android devices — and then connect, via Bluetooth. You don't need to create an account to operate the lamp, which frankly was a relief. The app found the lamp in seconds, and from there was able to control the brightness, the color, and also adjust the lighting based on something called Mood, which either amps up the brightness and color, or brings it down quite a bit. You can also easily schedule the lamp, having it turn on or off at certain times.
How Luci worked
One thing we noticed, quickly, is how fast the battery drains on the Luci Connect. In the app, you can track the full strength of the battery, and within about an hour, we saw the battery was down from 100 percent to about 72 percent when the light was pushing out a color on full brightness. That was fine, but it does mean that Luci needs to be tended to daily if used often. Just something to keep in mind.
The Bluetooth connection worked as long as my iPhone was within 30 feet of Luci, which is typical. That's probably the normal way you'll use the lantern. But, for example, if you set a number of these outside during a party, and are moving in and out of a home — or you're leaving them near a camp site and hiking outside that range, the light will stay lit, but you wouldn't be able to turn it off, or change the colors if you're too far from the lamp.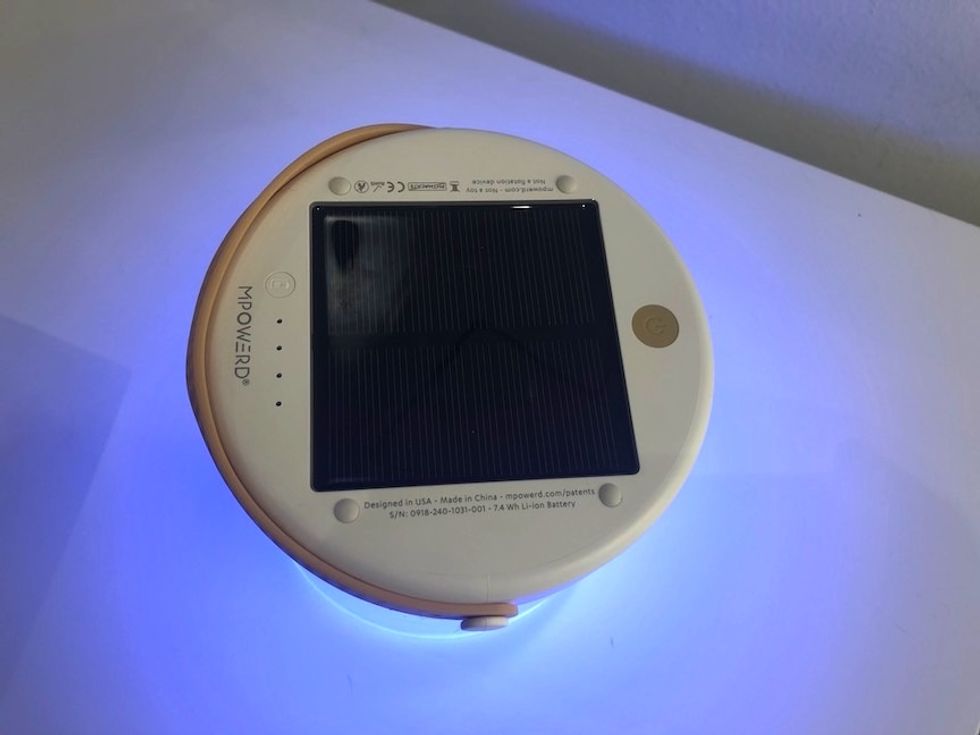 The Luci Connect lamp can be charged quickly via USB or over several hours through direct sunlightGearBrain
The lamp is also waterproof, and will float — staying upright in a pool, for example, if using it as decoration. We put Luci in the closest thing we had to a pool in our apartment — a sink — and it stayed upright and lit. In fact, the effect was quite beautiful and we could see this as a wonderful way to light up an evening event outside with a pool or fountain.

Scheduling was extremely simple. We tried Luci Connect as a wake up lamp for the morning, and was even able to have the lamp gently come up to full brightness over 10 seconds. Honestly it was a nice addition to my alarm, which sometimes makes me want to chuck my phone across the room. The lamp light woke me up without feeling jarred.
Doing good
A plus for those looking to do more with their money when buying things for their home, Mpowered collects donations for its products — you can give $10 to get a Luci to another group — gives them to partners, including search and rescue parties.
Cost
Luci Connect is priced on Mpowered's site for $64.95. We did find other solar-powered lanterns for less than half that price, but they didn't come with an app that allowed you to control the lamp through a smart device.
Worth buying?
Luci Connect is a solid solar-powered lantern, one that can make you feel you're doing a bit of good while also adding some fun to your lighting options. The problem? There are solar-powered lanterns you can pick up for half the price. The difference, however, is that Luci has an app, which adds quite a bit of flexibility to the way the lantern can be used, from adjusting the brightness, choosing more color options and even scheduling the lamp to be used as a wake-up light, for example.
Those features, plus knowing you're subsidizing others who can use the lamp — from students who live without electricity, to businesses that can stay open after dark — do help boost the Lumi Connect to a product many will feel is more than just a helpful, or fun, add-on but something they can share with others.
Pros:
App lets you change the color, brightness, schedule the light to come on and off and monitor the battery
Waterproof
Can charge via sunlight and through a USB cable to a power source
Cons:
Battery depletes fairly quickly, in less than four hours, when in full use
Charging via solar power can take more than a day in full sunlight
Price
From Your Site Articles
Related Articles Around the Web
Like GearBrain on Facebook