Like GearBrain on Facebook
Magic Leap, the mysterious augmented reality headset teased for several years — but never shown in public — has finally been revealed. The company claims a 'creator edition' of its Magic Leap One device will begin shipping sometime in 2018, although an exact date or even month has not been given.
The secretive firm has so far raised billions of dollars in investor funding, including a recent injection of $500M, despite never publicly demonstrating what the device can do.
What is known, is that Magic Leap's technology falls somewhere between virtual reality (VR) and augmented reality (AR), in a space Magic Leap (and Microsoft) calls mixed reality (MR).
Magic Leap is understood to work in a similar way to the Microsoft HoloLens, blending virtual objects with the real world. Magic Leap is claimed to offer a wide field of view — something the HoloLens has been criticized for — and a clearer image.
The system, revealed for the first time in a series of press images on December 20, consists of a headset with a lens over each eye, a puck-shaped computer called a Lightpack which is clipped to the users waistband, and a hand controller.
Voice commands, gestures, head poses and eye tracking are all used to control the device. Similar in execution to the HoloLens, the Magic Leap provides a location-based augmented reality experience. Virtual objects are placed into the real world - as seen by the wearer of the headset - and remain in place. For example, the company explains how you can "place a virtual TV on the wall over your fireplace and when you return later, the TV will be right where you left it."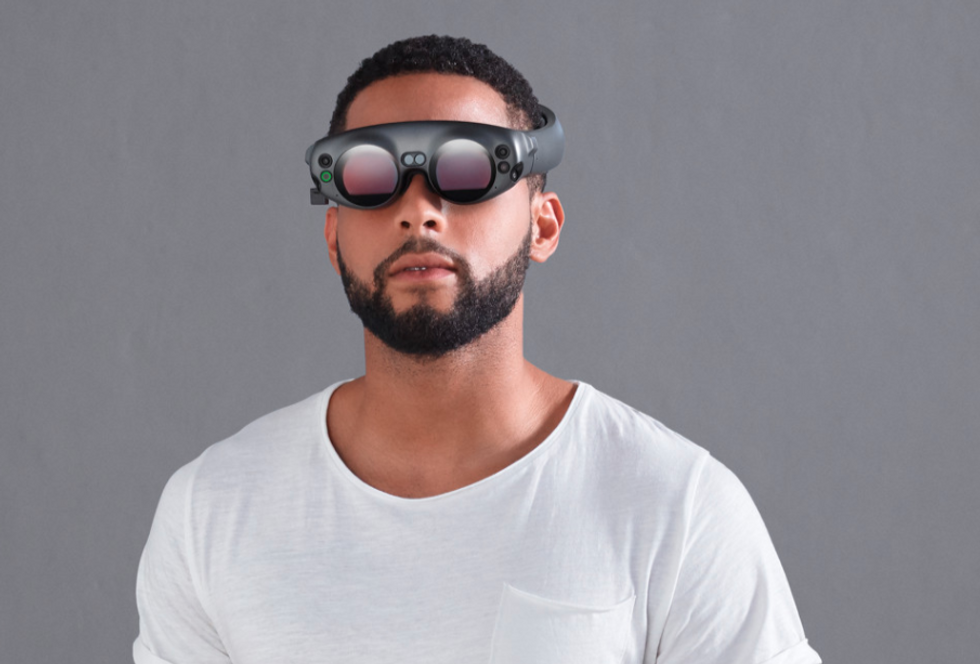 Magic Leap is an augmented reality headset with wearable computer and handheld controllerMagic Leap
There is still no price or an exact shipping date for the Magic Leap One, which has so far only been demonstrated for Rolling Stone while all other outlets are left in the dark. It isn't clear if Magic Leap is ready to go into mass production, or even if the device shown in its press images is the real deal. A note on the firm's website states: "Product is continually advancing and may be different at time of shipment."
2018 will be an exciting year for consumer technology. Smart home gadgets will continue to flood into our homes, led by user-friends control hubs like the Amazon Echo and Google Home ranges. Transport will continue to see huge change, not only on the increasingly automated public road, but also through vast tunnels below ground and in the skies above.
We will see smartphone technology continue to innovate, and for breakthrough technologies of 2017 to filter down to budget handsets of 2018. Smartphone photograph got a shot in the arm with blurred-background portrait mode in 2017 - and thanks to Google with its Pixel 2, we learnt how algorithms and machine learning can do a better job than glass and sensors. More of this, and a continued interest in smartphone design, will keep our attention in the year ahead.
Looking at technology more broadly, the likes of augmented reality and Microsoft Mixed Reality will get into their stride - not least with a Harry Potter AR games from the developers of Pokemon Go. Where this will leave virtual reality is anyone's guess. After shooting to fame and fortune in 2015 and 16, VR went off the boil in 2017 and is in need of revival in 2018.
Alexa and Google Assistant to get smarter - and appear everywhere
The last 12 months saw households the world over invite a new member in from the cold, as Amazon Alexa and Google Assistant made themselves comfortable on our coffee tables, kitchen counters and even our bedside tables. They always listen, some have cameras, and they are all connected to the internet and a form of artificial intelligence.
They sound like something from George Orwell's 1984, yet because they have friendly voices and perform harmless tasks like switching on lights and reading the weather forecast, privacy fears were quickly forgotten.
For 2018 these assistants will appear even more widely. Third-party manufacturers will incorporate them in every household appliance they can get their hands on. While this sounds like another forward step in the robotic revolution, we hope manufacturers do not become blinded by careless
Drones to get smaller and restrictions to get tighter
Car manufacturers will offer subscription services
Autonomy will progress, but our hands will (legally) stay on the wheel
Flagship smartphone cameras tech will filter down to the masses
Augmented reality will take a big step forward with apps like Harry Potter from developer of Pokemon Go
Microsoft Mixed Reality to prove its worth
So too must virtual reality, forgotten about in 2017 and already in danger of being a flash in the pan
Health tech will get smarter and more meaningful with certified medical approval
Race to build the first hyperloop will speed up
Like GearBrain on Facebook