Like GearBrain on Facebook
"I really do think it's been a long gestation period," says Magic Leap chief executive Rony Abovitz at the start of his company's latest YouTube video, published October 5, 2017.
That is something of an understatement for Magic Leap, many tech insiders would say with a smirk. And yet the company recently received $500 million worth of investment — a sign that someone still believes in the promise of this technology.
No hardware produced by the secretive Magic Leap has ever been seen in public. Just a handful of demonstration videos (and an occasional leak) exist online showing what the device's interface looks like. But if you're to believe the company, the tech is meant to be a computer-generated tool where 3D objects are projected into your eyes in a way which makes them seem real — as if they are actually in front of you.
That technology falls somewhere between virtual reality (VR) and augmented reality (AR), in a space Magic Leap (and Microsoft) calls mixed reality (MR). Microsoft HoloLens performs a similar trick, but the pixelated results are a very long way from lifelike in its current state. Magic Leap's footage makes bolder, more detailed claims. Its mission statement asks: "What if computing could spill outside the computer?"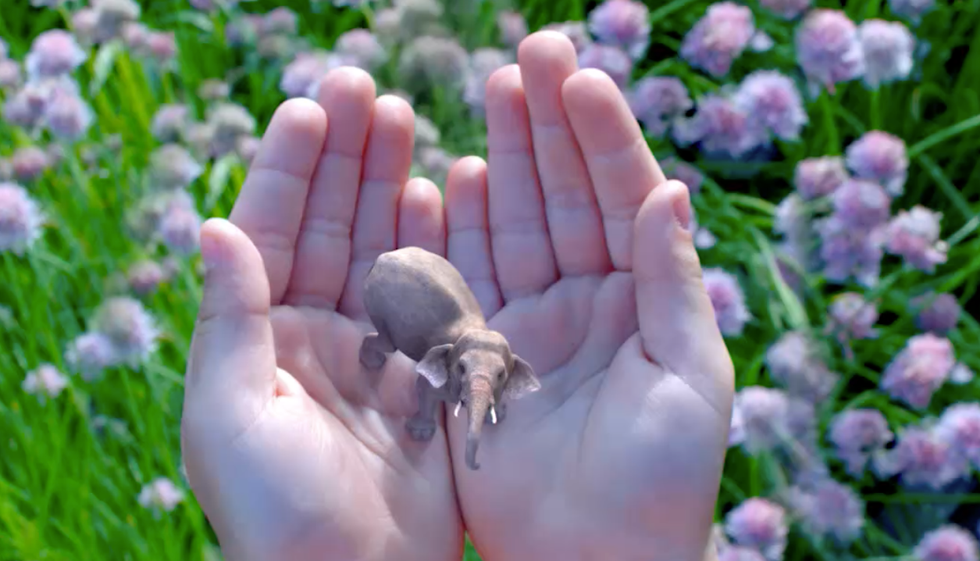 An example of AR claimed to be possible with Magic LeapMagic Leap
Most major technology companies agree that augmented reality has a place in our future lives. Even Apple boss Tim Cook has said numerous times how he believes AR will overtake VR once the technology is attainable. For now, he says the technology for quality AR glasses does not yet exist.
And yet Magic Leap, which launched in 2010, is a seven-year-old company which just received $502 million in funding — on top of the $1.4 billion it received in 2014 — from investors keen not to miss the AR boat. Having seen Facebook buy VR startup Oculus for $2 billion, investors didn't want miss out on the next big thing. The Florida-based Magic Leap, investors may think, could be it.
Those who have put money into Magic Leap include Google, Alibaba, Andreessen Horowitz, J.P. Morgan and Singapore holding company Temasek, which led the latest funding round. Google boss Sundar Pichai sits on the Magic Leap board of directors, and now the company is worth in the region of $6 billion.
Yet, while delays are par for the course when developing new technologies like AR and MR, excitement for Magic Leap could soon turn to frustration and even suspicion. Just type 'is Magic Leap' into Google and look what you get: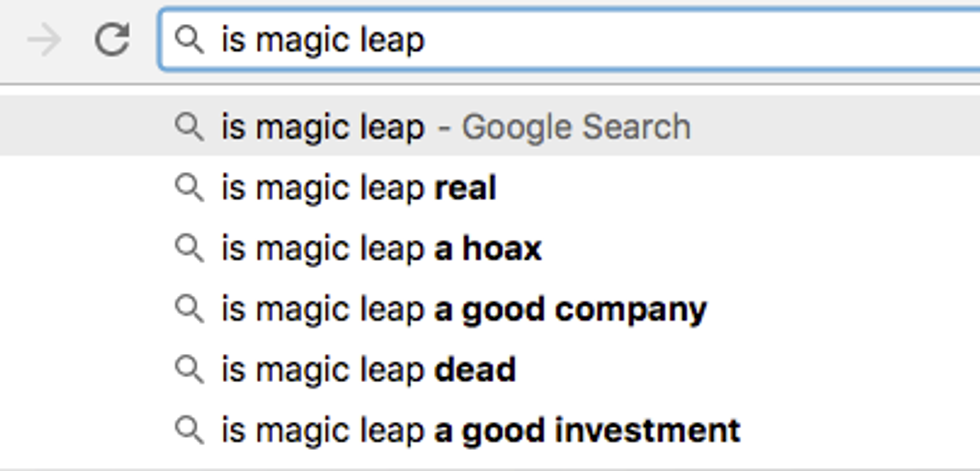 Google search suggestions aren't too favorable...Screenshot
The company's website gives little else away about what the end product will be, what it will actually do, and who Magic Leap's intended customers are. The site does, however, have an enormous list of open job vacancies with roles in business development, creative production, developer relations, finance, hardware engineering, HR, IT, legal and much more besides.

Some vacancies gives clues as to what the company might do next, such as the role of product quality manager, tasked with "responsibility for the development and implementation of product quality management efforts to manufacturer and scale one of the most innovative products in the world today." If the role is indeed sought then mass production might finally be on the horizon.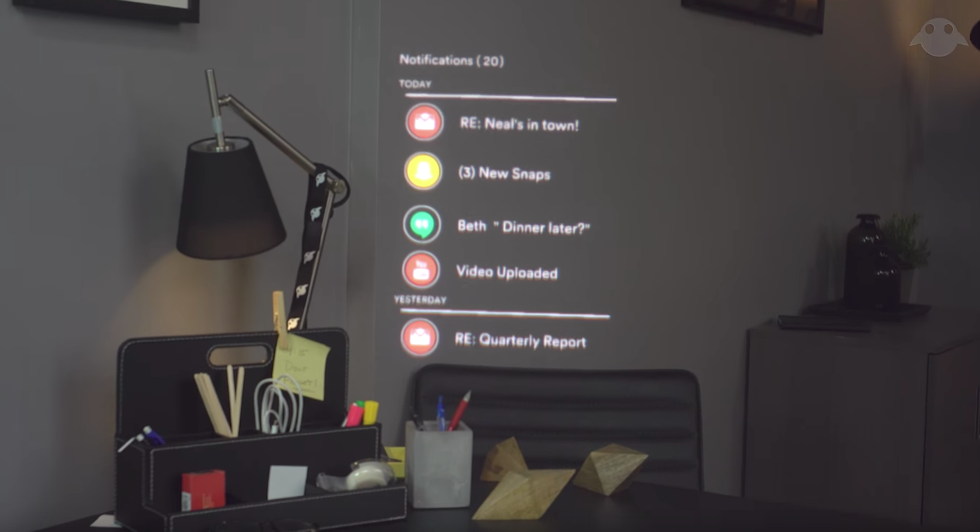 An example of computer graphics laid over realityMagic Leap
The company claimed it was close to building "millions" of its AR glasses at the 2015 Wall Street Journal's D Live conference in California: "We're actually gearing up to build millions of things," said Abovitz at the time. "We're not ready to announce when we're shipping, but it gives you a signal that we're not far".
Magic Leap even claimed it had developed an AR device that consumers would be happy to wear in public. This idea arrived while memories of the Google Glass were still fresh, a device which looked weird and raised privacy concerns over its subtle outwards-facing camera and potential covert recording abilities.
Two years on and those millions of devices remain hidden from public view, if they were ever manufactured at all — even as Magic Leap evangelists remain upbeat about the technology.
Magic Leap published a video in late-2015, showing how the experience looks to its wearer — even as earlier videos were marked as fakes. A note on the 2015 video, however, read: "Shot directly through Magic Leap technology on October 14, 2015. No special effect or compositing were used in the creation of these videos."

Microsoft HoloLens is another example of Mixed RealityMicrosoft
But by December 2016, The Information wrote that Magic Leap had not yet developed the technology to match what it said its product was capable of, adding the company "may have oversold" the report said. The story added: "Most investors put money in after seeing dazzling demonstrations put on by early prototypes and other technologies still in development. Much of that technology won't be in the product now planned for commercial use, former employees say."
The article went on to describe Magic Leap's late-2015 prototype as 'helmet-sized', and the images it produces as being of lower quality than those created by Microsoft's HoloLens, a device now on sale to developers.
One day after the damning article ran, CEO Abovitz wrote a blog post on Magic Leap's website to say the company was "gearing up for an exciting year." Just one other blog post, tagged 'On creativity and imagination,' appeared on January 3, 2017 before the entire blog part of Magic Leap's website disappeared.
A lack of web presence is a constant theme at Magic Leap. The company didn't tweet between July 4 and October 5 this year and didn't post anything to Facebook between January 25 and September 27. A YouTube account has just six videos, and the only one posted in 2017 had at the time of writing amassed exactly as many likes as dislikes from fans clearly losing patience as they wait for The Next Big Thing.

What happens next? Magic Leap updated its social media logos and cover images, redesigned its website and released a new video, called How It All Began, at around the same time - just before news of that $502 million investment went public. Perhaps these are all jigsaw elements which will soon produce a complete, or at least more coherent, look at what the future holds for Magic Leap.
Given Google's mistake was overpromising and under delivering with Glass, no one can blame Magic Leap for being cautious. But that first misleading Glass video arrived over five years ago, and AR has come a long way since then via HoloLens, Pokemon Go and now Apple's ARKit and Google's ARCore. Magic Leap needs to prove its worth before Apple, Google and others beat it at its own game.
Like GearBrain on Facebook