Like GearBrain on Facebook
New parents need a lot of help, and there are devices that can monitor a baby's heart rate, to those that can keep an eye on a baby while she sleeps. There are also helpers that can calm a crying baby as well as get them to go to sleep. One such device we got to test recently is from he brand 4moms, and is called the MamaRoo4 Infant Seat. We put this portable seat to the test with a newborn baby to see how well it helped to soothe her needs.
Note: There has been a voluntary recall of MamaRoo swings due to two incidents involving entanglement and strangulation. Learn more on how to get a free strap fastener from 4moms to help protect your crawling infant when not in the swing.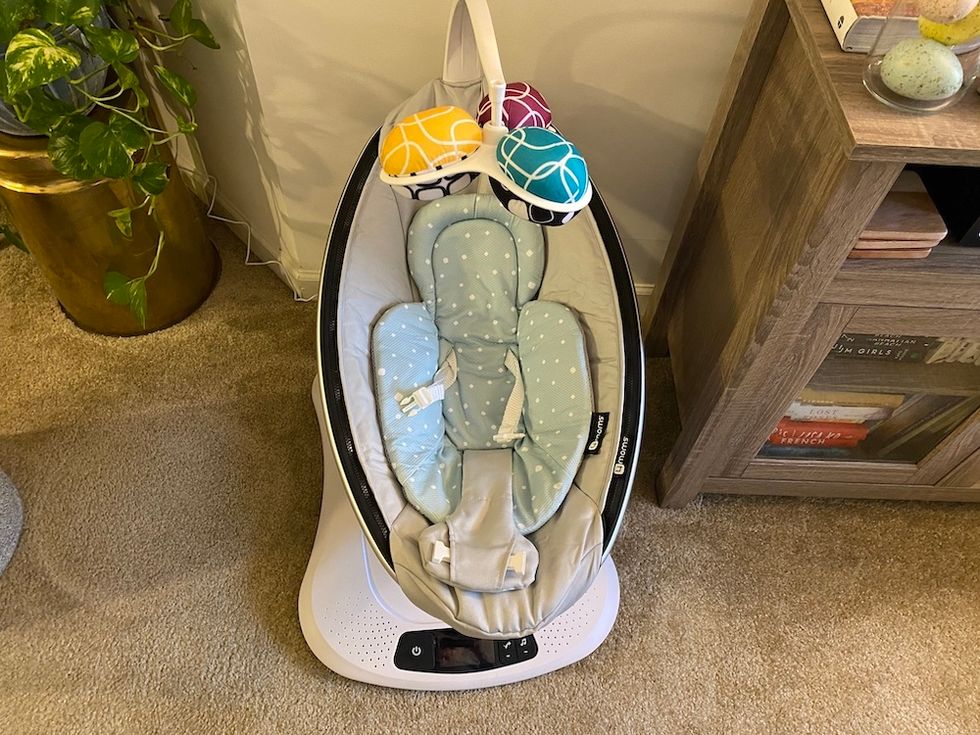 mamaRoo4 with infanct insert can go anywhere in your house.GearBrain
What is MamaRoo4 Infant Seat?

MamaRoo4 Infant Seat is a Bluetooth-connected infant seat which rotates to replicate the motions of a parent's arms. This infant seat has built-in sounds and a MP3 plug-in so you can also play soothing sounds — or your favorite song — to calm your newborn. The seat is adjustable and can fully recline, which is good for newborns who can't yet sit up on their own. By unlocking the back of the seat, you can slide it up and down until your find the desired place then lock it into place.
There are three distinct styles for the seat, with five different prints, letting you choose from a plush material, which is multi-colored or silver, a blanket-like material, which comes in grey or black, and a woven polyester material, which comes in a dark grey. The covers are removable (a necessity with a newborn) and machine-washable. You can also purchase a newborn insert which is a mesh cover, and machine washable. For our test, we used the cool mesh fabric with a newborn insert.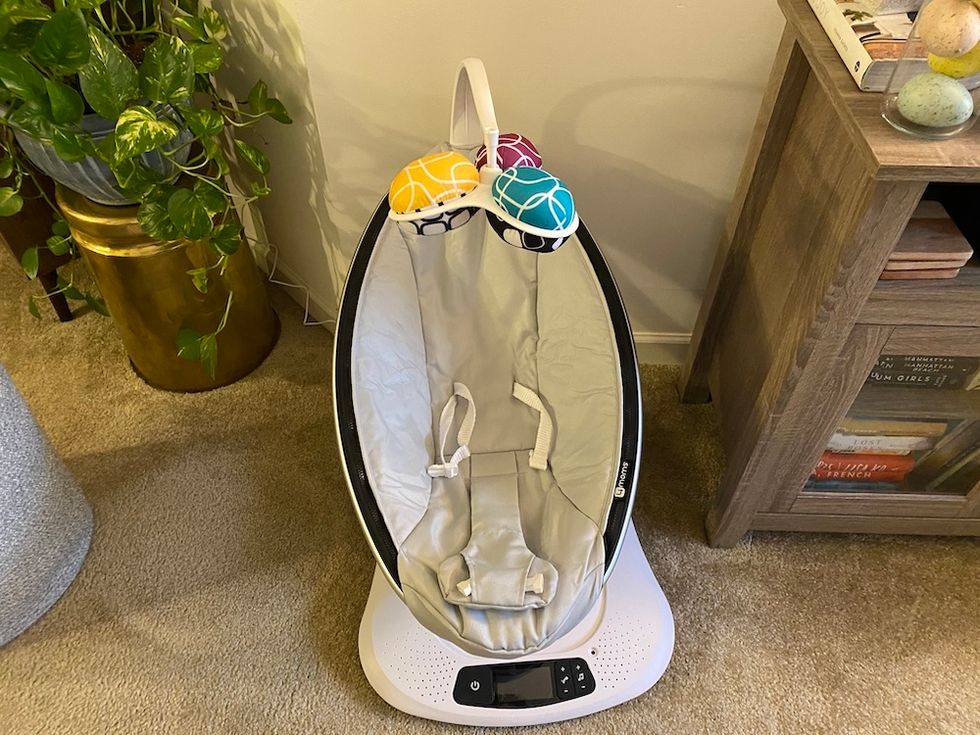 mamaRoo4 without infant insert. GearBrain
What separates MamaRoo4 from other infant seats, especially moveable ones, is the way the seat rotates. The rotation is designed to simulate a parent rocking their baby but you can control the speed through either an iOS and Android mobile app or controls at the base of the seat. There are five different motions: car ride, kangaroo, tree swing, rock-a-bye and wave. Each have their own unique motion, with some that are side-to-side, others that are a combination of up and down and side-to-side. Our newborn tester responded best to car ride, which is a full rotating motion.

Besides the rotation, users can control four different sounds and their sound levels, which range from 1 to 5. The four sounds are ocean, fan, rain and heart. MamaRoo4 includes a cable which connects to your iPod or smartphone if you want to play your own music. Just plug in the cord to the aux (MP3) input at the base of the seat and start playing. Our tester responded best to rain versus the supplied music.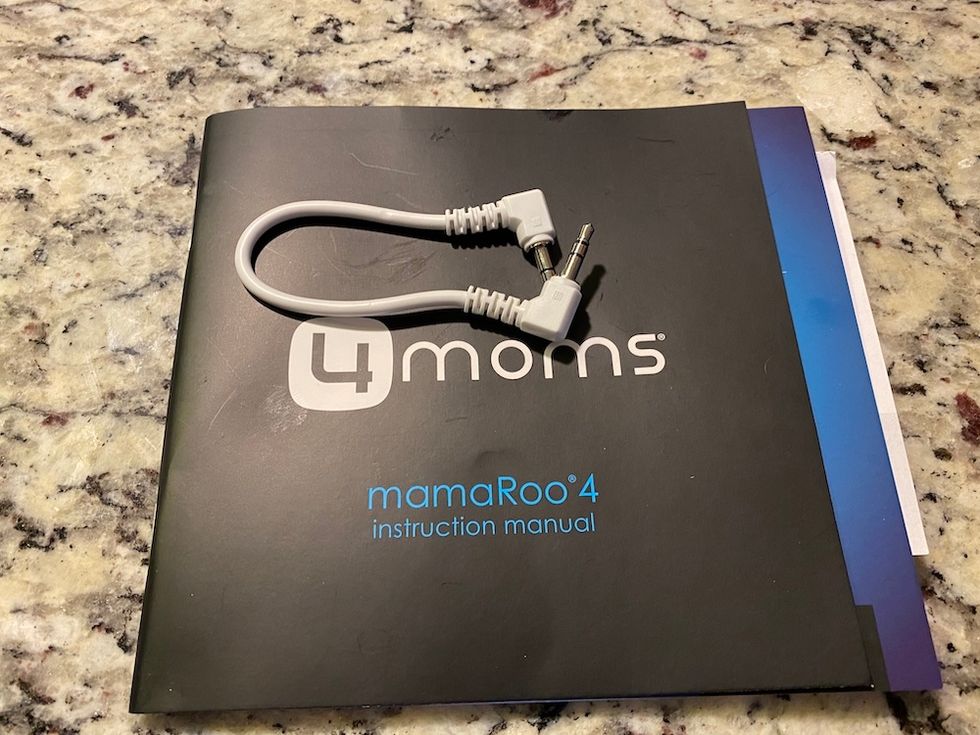 mamaRoo4 comes with instruction manual and a very short MP3 cord to connect your own music to the seat.GearBrain
How to Setup MamaRoo4 Infant Seat.
Setting up your Mamroo4 infant seat is quick and simple, and should take about five minutes. We recommend using the mamaRoo app for setting up the seat, finding the instructions very clear and easy to understand.
The MamaRoo4 Infant Seat also comes with a mobile tied with three different Interactive and reversible toy balls. The balls are black and white on one side with a green, yellow or purple color on the other. One of the balls has a mirror on the black side, another ball has a rattle inside and the other ball crinkles. Parents have to rotate the balls if they want them to move, because the mobile itself is stationary. You can take the balls off the mobile for the baby to play with as well. Our newborn tester really liked the colors of the ball and initially spent a fair amount of time just starting at them. She also had fun with the ball that scrunched.
Cost
MamaRoo4 Infant seat costs $219.99 and is available on the company's website and Amazon. The extra MamaRoo seat fabric costs $59.99 each.
Performance

My wife and I had five children and we did a lot of rocking on a chair or just standing when the kids were infants, but a device that could give us a break once in a while would have been nice. This is what MamaRoo4 Infant Seat offers, a smart connected infant seat that helps you keep your newborn calm and can soothe them with sounds as well as movement, automatically. It's a perfect gift for any new parents whether this is your first or fifth child.
Our newborn tester loves her MamaRoo4 and do her parents, helping to keep her occupied while they were doing other tasks, like laundry, cleaning the house or — these days — working from home. But as our newborn tester turned 4 months old, she started getting more restless after 20 to 25 minutes in her seat. The mobile doesn't move, and since she can't reach it, we end up spending time pushing the mobile to keep her occupied.
Summary

MamaRoo4 is an expensive, connected infant seat that offers parents a break from holding or soothing their newborn. It also provides newborns with a calming experience which parents can control in a simple app. But we would like to see a little more automation in the seat, in particular with the mobile. A stationary mobile is fine but a rotating one seems like it would keep the baby's interest as they get older. Also, the infant insert should be part of the initial purchase. We used that insert a lot due to the fact our newborn tester was a small infant. If your baby is big, you might not need it. However, it would be good to have it included with your purchase of MamaRoo4.
We also notice the cord used to connect a MP3 player to the MamaRoo4 is rather short. It would be more useful if the cord was at least 6 feet long. It would make it easier for parents to play music from their smartphone, iPod or even iPad.
mamaRoo4 has manual controls at the base of the rocker. GearBrain
In our opinion, MamaRoo4 is prime for babies that are between 1 and 4 months old. But about 4 to 5 months old, the seat might be less needed as babies tend to start getting interested in what's around them, and want to start moving about. . This is due to your newborn craving more interaction and not wanting to be tied down to a seat. And this is something 4moms does note, that the MamaRoo4 is primarily designed for babies from birth up to 25 pounds, when they can sit up unaided or start to try to climb out of the seat.
Overall, we think the MamaRoo4 Infant seat is great for newborns and their parents. It's a solid, connected baby device which provides parents with that much needed break to make dinner, do laundry or just have a glass a wine at the end of a hard day.
Pros
Ease of use and simple setup
Controllable sound and motion
Covers are soft and washable
Cons
Infant insert is extra
Mobile doesn't rotate and auxillary cord too short
Price
4moms rockaRoo and mamaRoo Infant Insert | for Baby, Infant, and Toddler | Machine Washable, Soft, Plush Fabric | Reversible Design
Like GearBrain on Facebook