Baby monitors tend to be one-way listening devices, allowing parents to hear their baby while being in another part of the house — and at any time of day, even during the middle of the night. Today, these monitors have morphed into devices that not only allow you to hear your baby, but see them, talk to them and actually check their vital signs. We tested two new smart baby monitors, a duo called the Owlet Smart Sock and Cam which Owlet sent to us.

We published one of the first reviews of Owlet — the first generation of the product — when GearBrain launched. Several years later, we placed the Owlet Smart Sock and Cam duo with a new set of parents, to see how the monitors worked in a real home, and with a newborn, to see how the device worked today.
Owlet Cam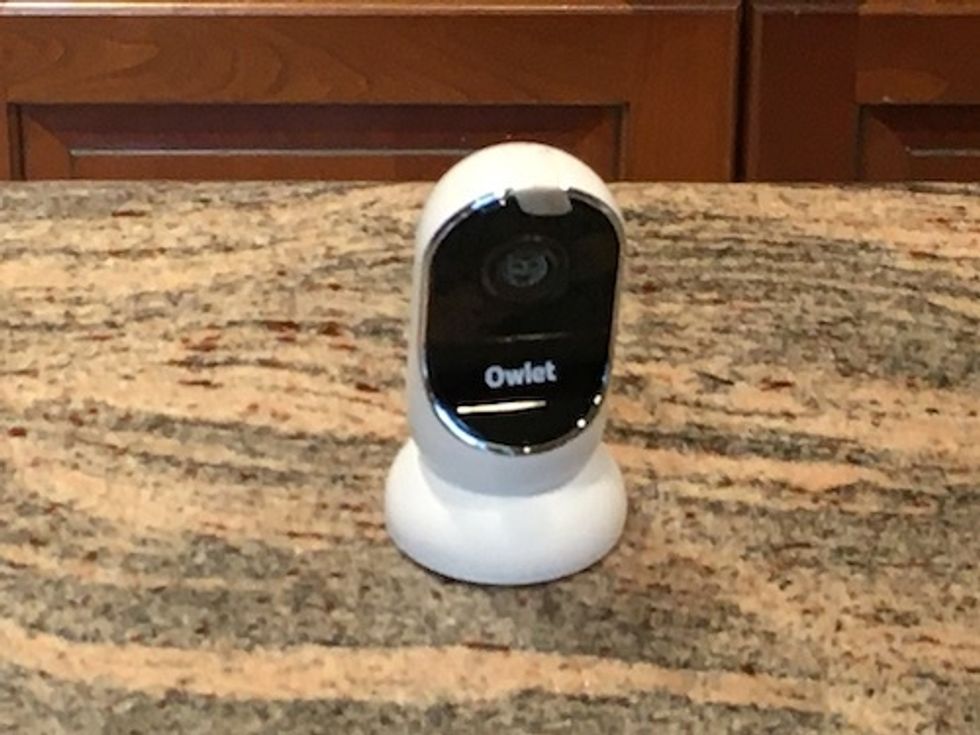 Owlet Cam
GearBrain
Owlet Sock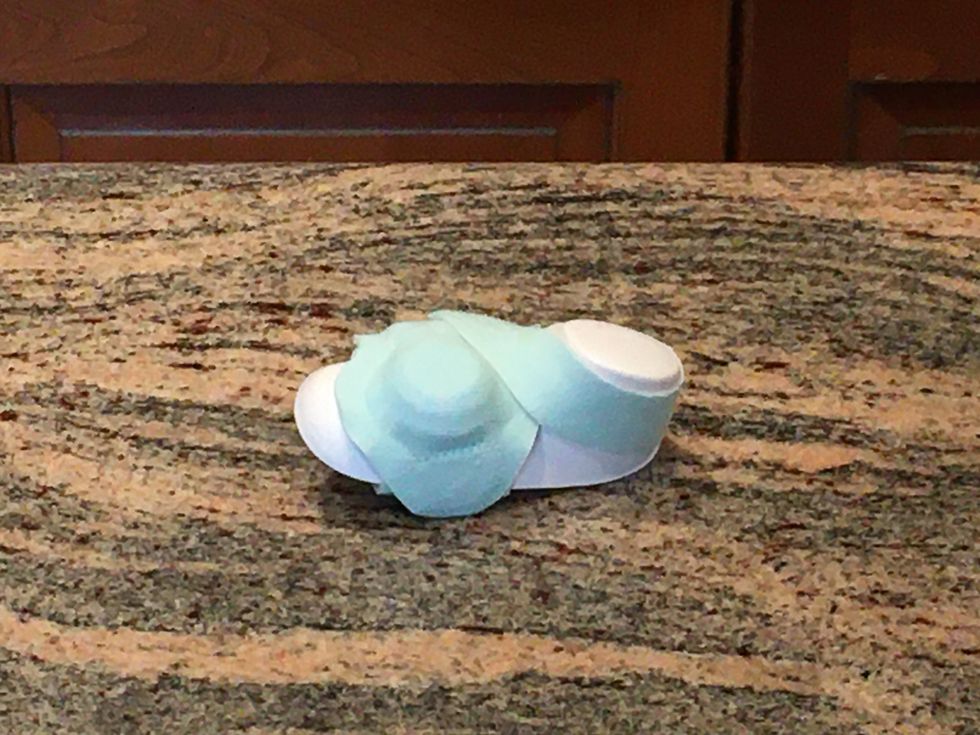 Olwet Sock
GearBrain
Owlet Base Station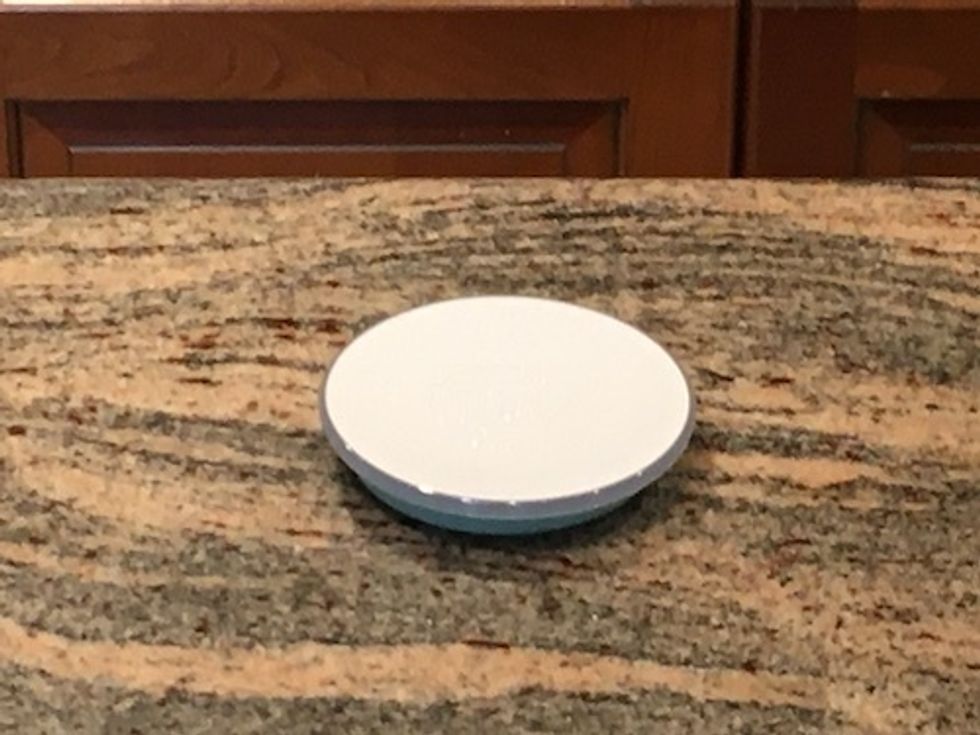 Owlet Base Station
GearBrain
What is it Owlet?
Owlet Smart Sock and Cam is a smart connected baby monitor camera, plus a sock that is actually worn by a baby. The Owlet Smart Sock, which is machine washable, is embedded with tiny monitors, tracking your baby's heart rate and oxygen levels, and sending that data back to the app. The Owlet Cam is an 1080p HD video camera with night vision, two-way audio, background audio, 130-degree wide angle lens (FOV) and a temperature sensor for the room.
These two devices help parents keep an eye on their baby while in their crib or a bassinet. The Owlet Cam live streams video of your child, while the Owlet Sock streams live details about your child at the same time.
In the app, you can set up notifications to get alerts when the baby's heart rate or oxygen levels fall out of a preset range. You can also use the app to monitor your baby's sleep, or get notified when the Owlet sock falls off as well. Every Owlet product also comes with what the company calls a 45-night "Peace of Mind Guarantee." In short, if you aren't 100 percent satisfied with your product, you can return the monitors within 45 days of purchase.

The Owlet Cam is designed for babies from birth to 3 years, while the Owlet sock is recommended for babies 0-18 months and who weigh between 6 to 25 pounds.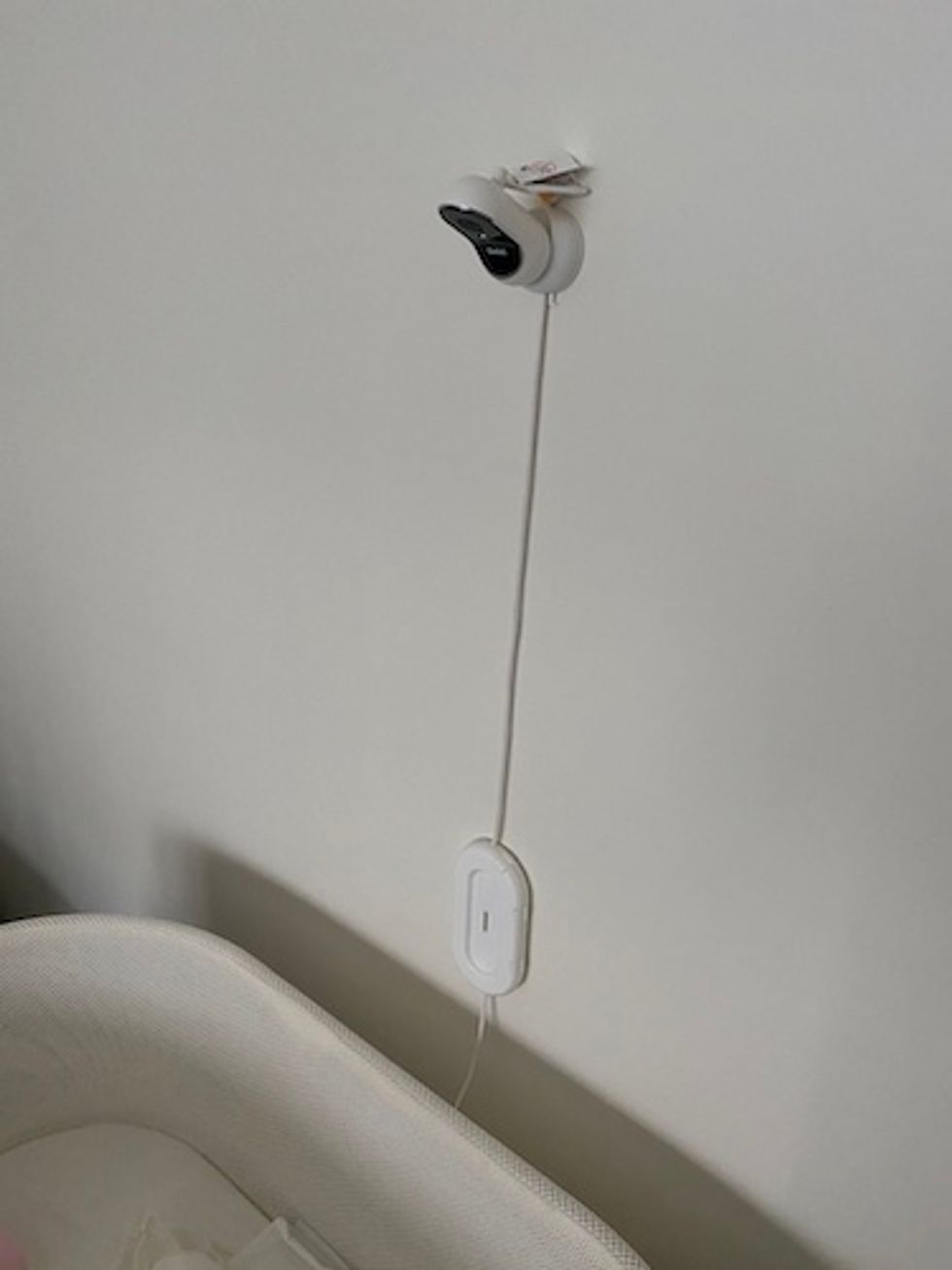 Place Owlet Cam on the wall 36 inches above the mattress in the bassinet or cribGearBrain
How do you setup Owlet?

Setting up the Owlet Cam and Sock is rather easy. Inside your Owlet box is a smart sock sensor, a fabric sock kit with three fabric socks, a base station, the Owlet Cam, a magnetic camera base, a wall mounting kit with cable guards, power adapters and USB cables.
After unboxing the devices, plug in your base station and download the Owlet app from either Google Play (Android) or the App Store (iOS). Then, connect the Owlet devices to your home Wi-Fi network (2.4GHz). If you have a dual band router, make sure you use the 2.4GHz setting. Next follow the setup instructions in the app, which are easy to follow. You will need to charge the Owlet Sock before using it — and the base station has a port you can use to charge the sock, using one of the supplied cables.
During our testing, we found the Owlet Cam had a more complicated installation than the Owlet Sock, especially when paring to your home Wi-Fi router. During setup, you will need a QR code from the app — which the Owlet Cam needs to read. If the camera can't read the QR code, you will have difficulty connecting.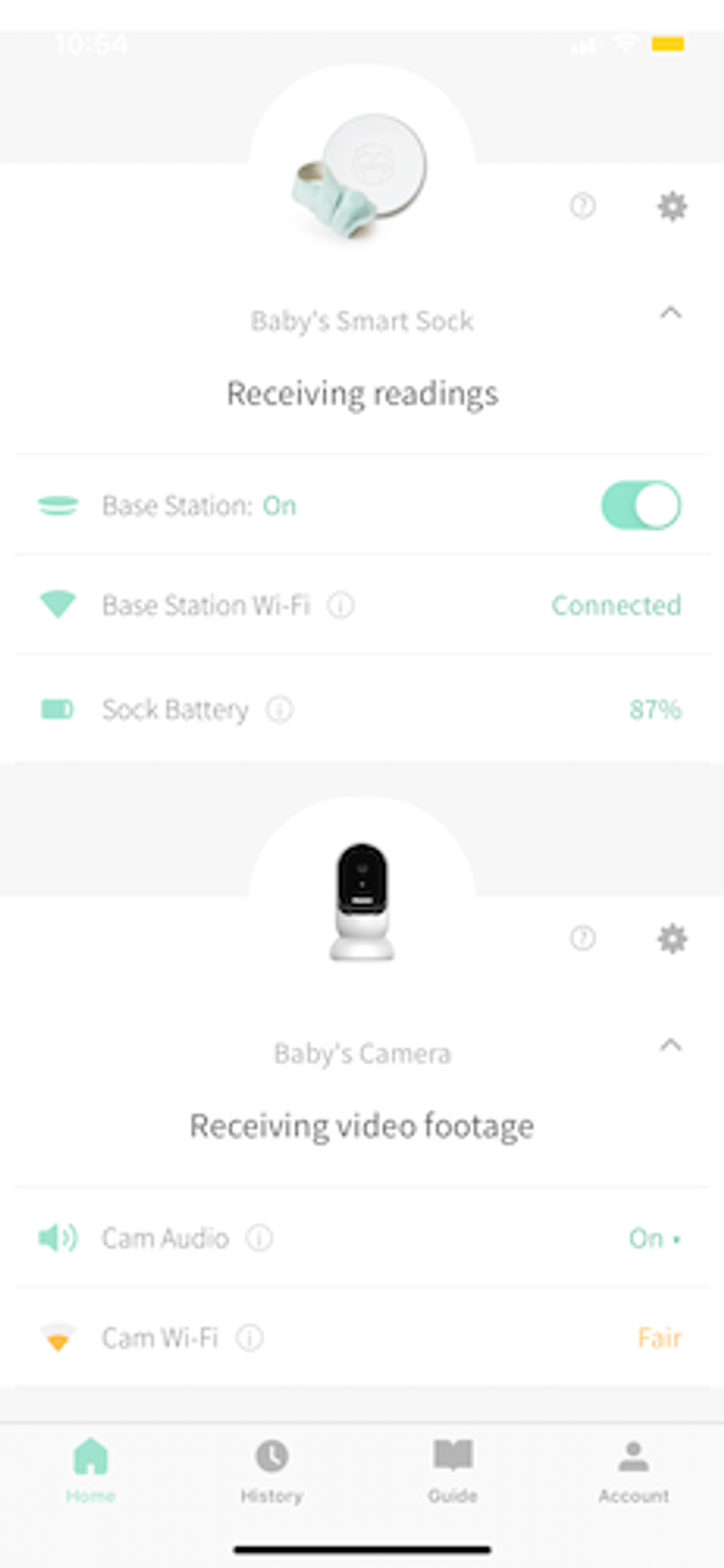 Owlet app helps you monitor your baby from anywhere.GearBrain
Another issue can actually be your WiFi password. If it has certain characters, such as spaces, Owlet will have difficulty reading the password. This happened during our testing, we contacted customer support, and they suggested we change our Wi-Fi password. For most us, we have multiple devices connected to our Wi-Fi — and changing the password would have required we update all of these connections as well. We refused. Customer service told us that an update was actually coming to fix this known issue, and two to three days later, that arrived, allowing to connect our Cam properly.
When it came to mounting the Owlet Cam, that was far simpler than paring it to Wi-Fi. First, you're going to locate a place on the wall that's 36 inches above the mattress in your bassinet or crib. This will provide optimum viewing of your baby. Then using the one enclosed screw, secure the magnetic camera base to the wall and attached the camera. Since the camera base is magnetic, it's easy to change the viewing angle for the Owlet Cam.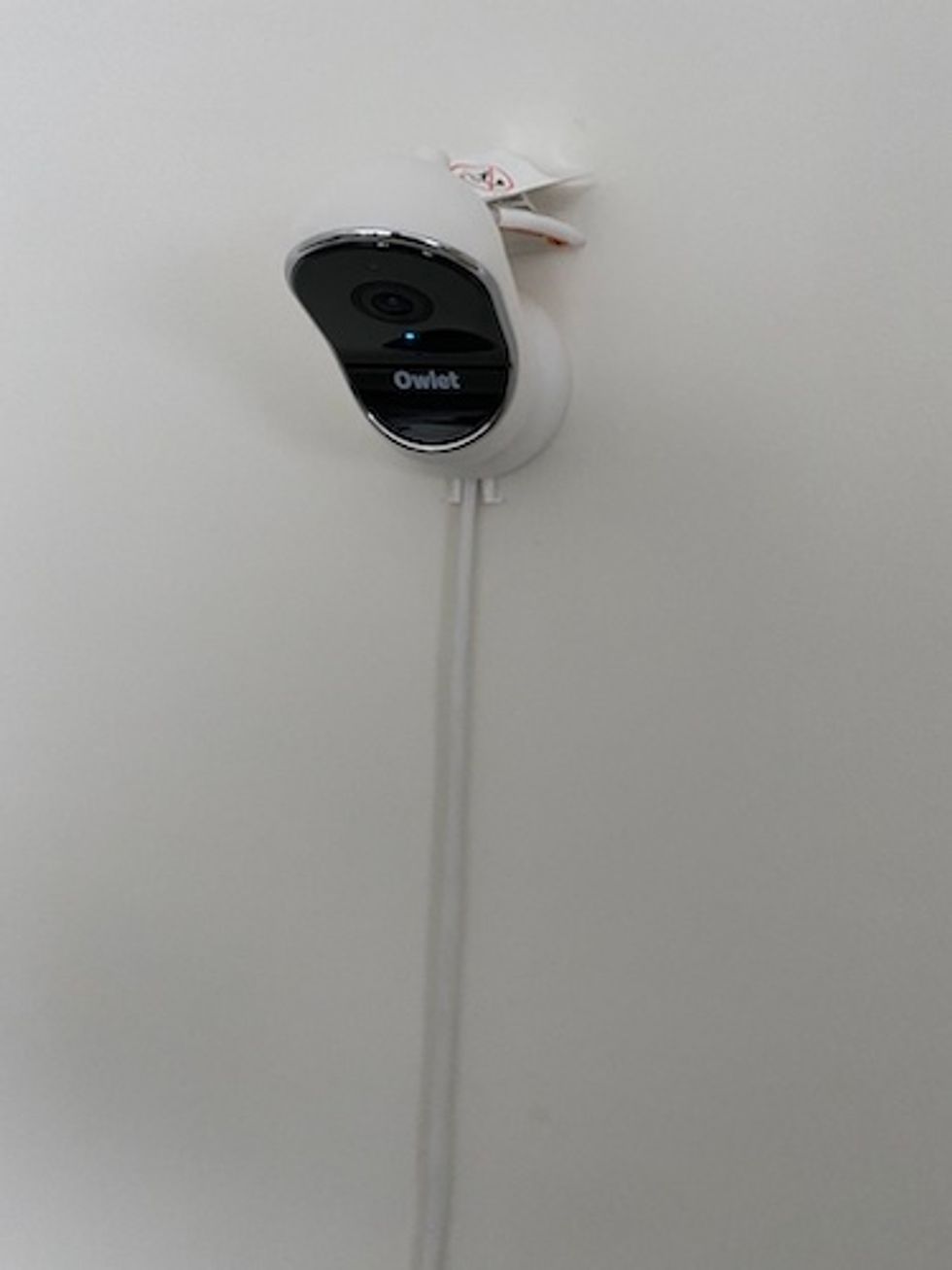 Owlet mounts easily on the wall over the baby's crib.GearBrain
How did Owlet Sock and Cam perform?
The Owlet Sock worked well, helping track the baby's heart rate and oxygen levels. We did, however, have an issue keeping the sock on the baby initially. Designed to fit babies from 6 to 25 pounds, Owlet was a bit too big for the baby testing the monitor, as she was a premie, weighing under six pounds at birth. We ended up putting a sock over the Owlet sock to keep the device on her foot. This did not inhibit any readings from the monitor, although it did result in a number of extra alerts since there were times it didn't fit exactly right. As she grew — and remember, babies grow quickly — these extra alerts stopped, and we were able to use the sock directly on her foot without extra padding.
The Owlet devices together can monitor the baby's room temperature, but we found the temperature range never really changed. Even as we adjusted the thermostat in the room where the baby slept, we didn't notice any shift in temperature in the app, which is designed to detect temperatures between 63ºF and 83º F. We did not find those readings to be always accurate.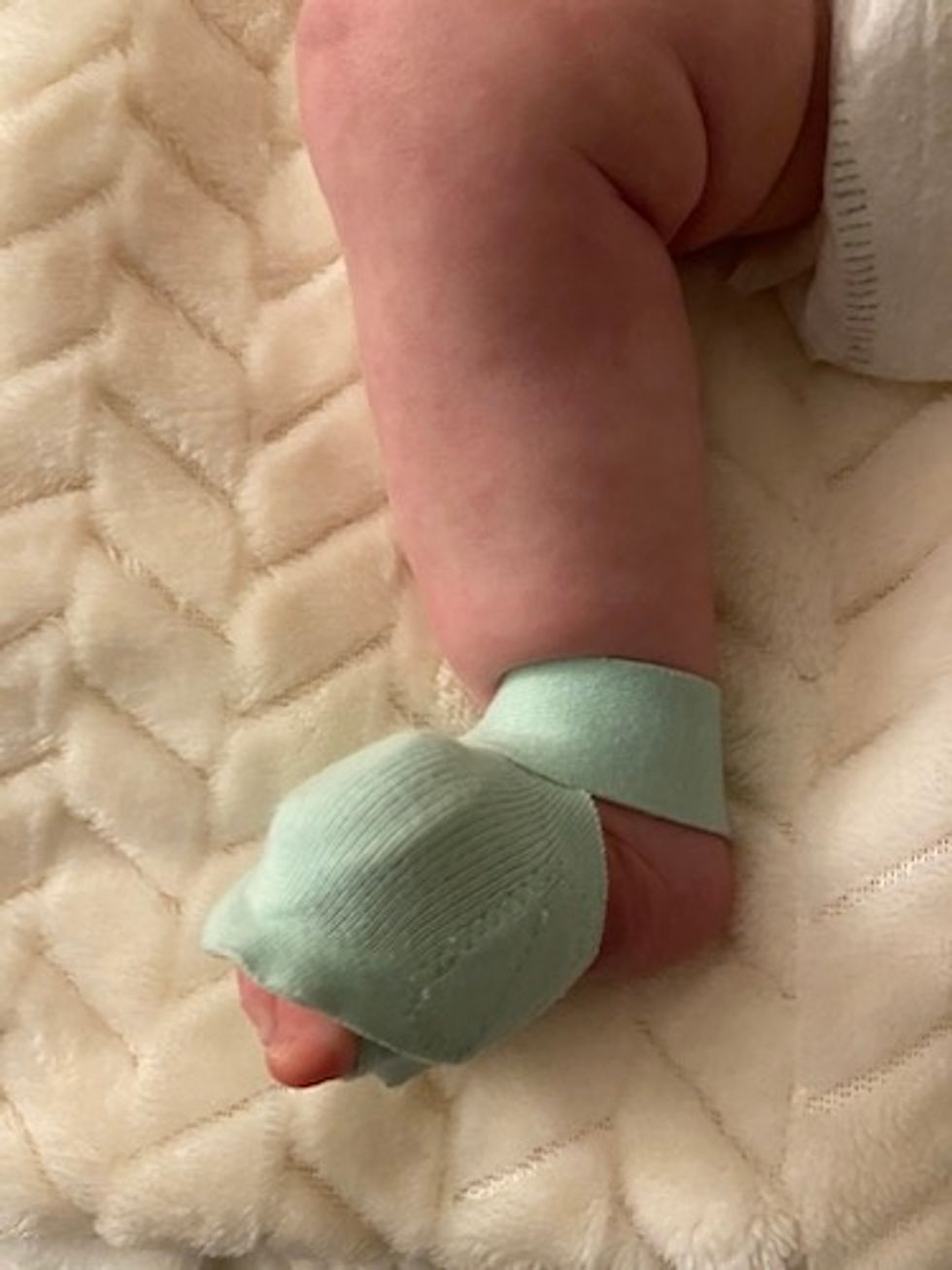 To help prevent it from falling off, you can put a sock over the Owlet Sock. It will not interfere with the monitor.GearBrain
Another issue to remember when using Owlet Sock is your body can block the signal from the sock to the base station. This results in your base station acting as if the sock fell off and starts to play music to alert you. This happened to us a lot when feeding the baby in a room next to the room with the base station. We also experienced some false alarms when we moved away from the base station. Owlet recommends to be within 10 feet of the base station without obstacles like walls, furniture, or people, to ensure a good and consistent connection. This is not a problem if the baby is sleeping in the same room as the parents. But if you have the baby in another room, you need to make sure you have the base station in the same room. You will get notifications on your smartphone but you might not hear the music from the station. During our testing, we found the smartphone alerts are not loud enough for you to hear, especially at night. So, be aware if you plan to use Owlet Sock and base station in a separate room.

The Owlet Cam produced clear video, but note that the high video resolution of 1080p can impact your smartphone data use. Unlike baby monitors, which include a separate screen to see your baby, Owlet taps into your smartphone as the screen. While this is convenient, it does pull from your data plan as well as your smartphone's battery. If you have an older phone, you may find you'll need to charge your smartphone more often, depending on how much you're checking the app.
Also, we discovered that Owlet's customer service did not work at night, which was surprising considering parents of newborn babies would normally have problems during the night. Not having access to customer service at night, as we did on one occasion, can be a problems for some parents and something to take note.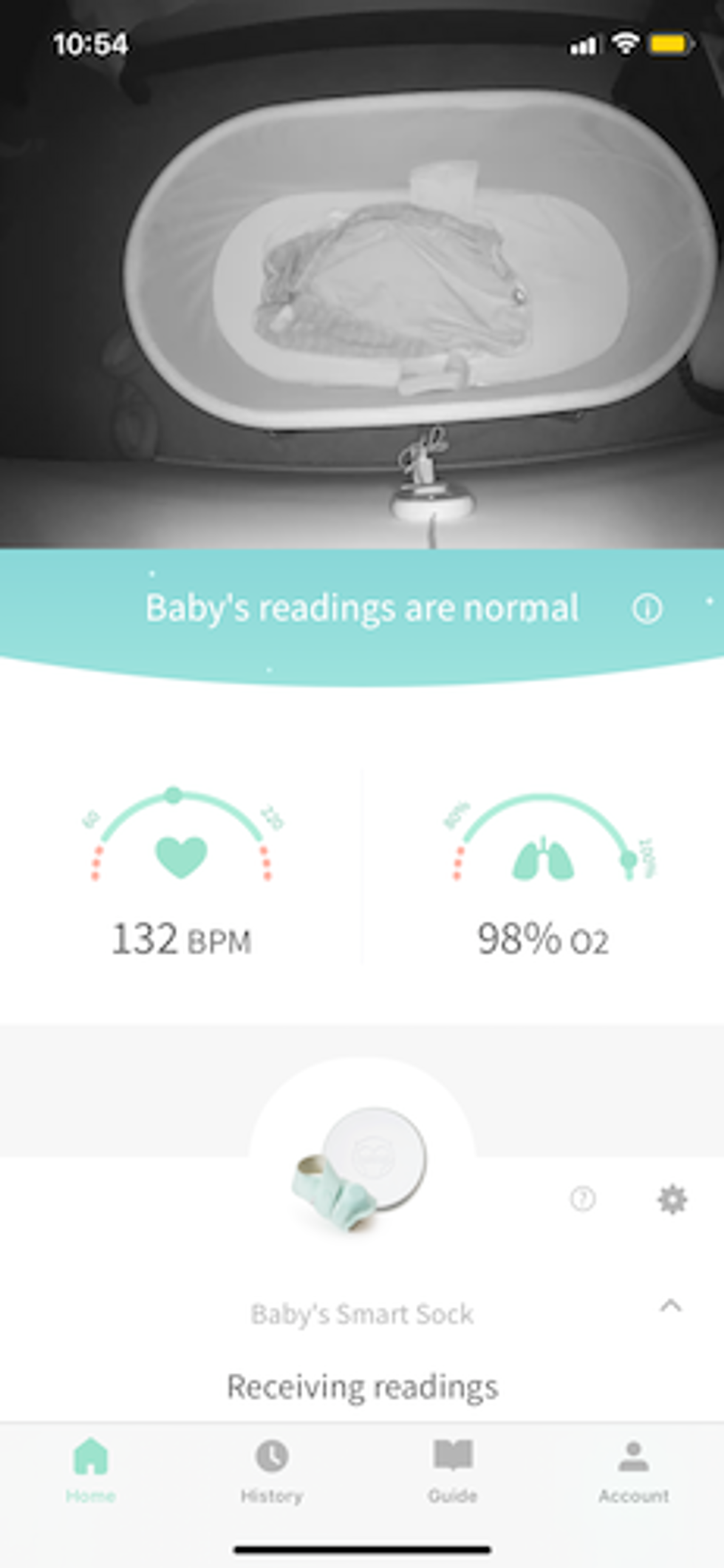 Dashboard for Owlet app to help you monitor your baby in one screen.GearBraiin
Cost

The Owlet Cam and Sock is priced at $449, and available on the company's websitefor only $399 under the name, Owlet Monitor Duo. You can pay just $149 for the Owlet Cam, or $299 for the Owlet Sock costs $299, which includes three sock bands and the base station.
Owlet Smart Baby Monitor Duo (Smart Sock + Camera)
Summary

We found the Owlet Sock and Cam helpful smart baby devices. They are rather easy to setup, aside from the Wi-Fi pairing, and can monitor your baby in real time, sending alerts when the baby's heart rate and oxygen levels fall out of preset ranges. If you have a premature baby, note the devices will work, but you will not be able to adjust pre-set ranges in the app for oxygen levels associated for newborns. This can potentially trigger a number of oxygen levels alerts, even though they're ok for your newborn. Once the baby gets older and bigger, these alerts will subside.
Owlet of course is a fair investment, two devices that add up to roughly $400, all designed just to keep an eye on your baby through monitors. For first time parents, this may be an investment that brings some ease to their concerns.
We do, however, wish there was a stand-alone video monitor or integration with a smart speaker display, like the Amazon Echo Show or Google Home Hub. These integrations would allow a babysitter, or other family member, who might be watching your baby to view her without having to download the app. They would then be able to see and speak to the baby and get alerts as well. For users who don't own a smart display, nor have a monitor, perhaps Owlet could offer a temporary app or code so a sitter could access Owlet via their smartphone for one time use.

Overall, we did find the Owlet Sock and Cam a useful device, particularly for first time parents.
Pros:
Includes both a camera and a sock to monitor a baby's vitals and room details as well
Easy installation
45-day money back guarantee
Cons:
Price
Smartphone doubles as the monitor
Customer service is not available at night
Owlet Smart Green Sock Baby Monitor - Track Heart Rate & Oxygen Levels - With Smart Notifications - See Hours Slept and Historical Trends - The Ultimate Baby Monitor for Peace of Mind