Like GearBrain on Facebook
While Apple remains resolute that touchscreens and detachable keyboards should stay well clear of its laptop lineup, Microsoft embraces the 4-in-1 design with its Surface Book 2.
Sitting above the company's Surface Pro tablet lineup, the Surface Book 2 is a laptop with a detachable touchscreen display and which can be bought with a stylus called the Surface Pen and a rotating knob called the Surface Dial.
The laptop/tablet hybrid starts at $1,499 for the entry-level 13.5 inch model, which has 256GB of solid state storage, 8GB of RAM and an Intel Core i5 processor. The model we are reviewing here is the range-topper, with 1TB of storage, 16GB of RAM and a 1050 Nvidia GeForce GTX graphics card — it costs an eye-watering $2,999, plus $99 for the Surface Pen stylus and $99 for the Surface Dial.
This is a lot of money, but the Surface Book 2 is a lot of laptop. It might just be the most versatile laptop on sale today, and perhaps even the ultimate work PC.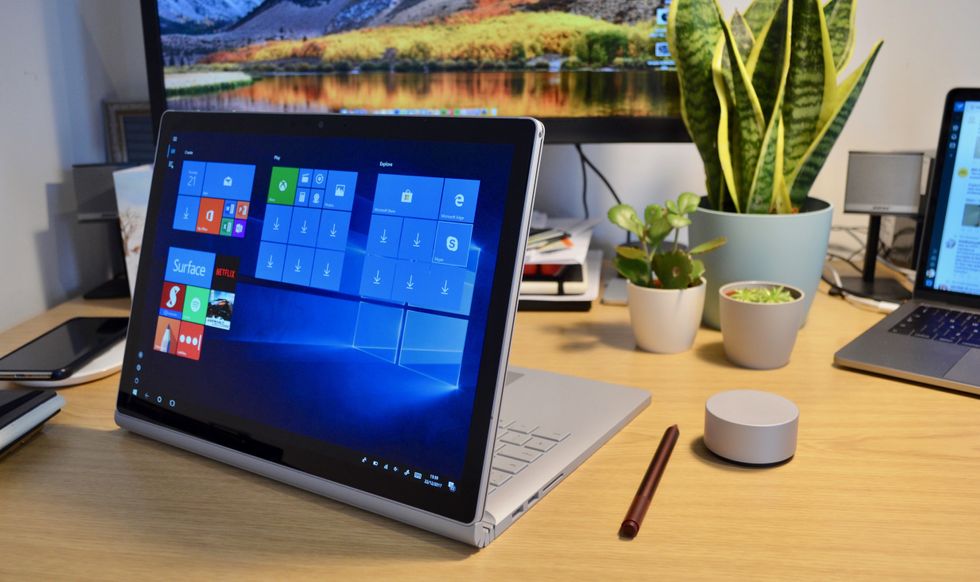 Attached backwards, the screen can be used for convenient Netflix viewingGearBrain
Microsoft Surface Book 2 review: Design
Microsoft has given the Surface Book 2 the same gray magnesium body as the rest of its Surface lineup. Its texture is a little softer and warmer than the aluminum body of the MacBook Pro, but looks every bit as impressive.
The Surface Book 2 really is a beautifully designed piece of hardware. The device feels expensive without being overly heavy, while offering a fit and finish to give Apple sleepless nights. Microsoft has made some small differences since the original Surface Book and the most obvious is a redesigned hinge, which feels sturdy and does a decent job of stopping the laptop from feeling top-heavy.
It still feels a little more precarious on your lap than a MacBook, but during a week of using the Surface Book 2 we never felt it was actually going to topple backwards onto the floor.
But that small compromise means the Surface Book 2 is more versatile than anything Apple can offer. First, it is a laptop. Then, with a press of a button and a moment's pause while the system prepares itself, the display is unlocked and ready to be removed. This gives you a large but remarkably thin Windows 10 tablet with a 13.5-inch display, a massive resolution of 3,000 x 2,000 pixels and some of the best colors we've seen on any device.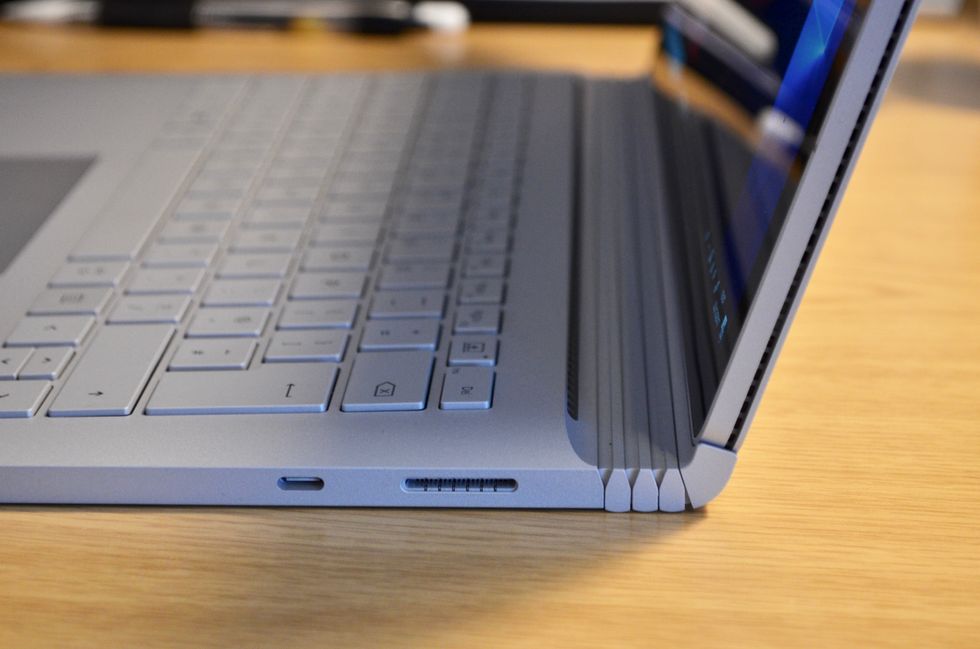 USB-C connection is new for this latest generation of Surface BookGearBrain
Although you could hold the screen like a tablet, the device is slightly too large and unwieldy to be comfortable for any length of time. This isn't really an alternative to an iPad, but it's nice to know the option is there on the few occasions you might need to ditch the keyboard.
Next, you can attach the display facing backwards. Left open this turns the Surface Book 2 into a touchscreen media player where the keyboard and trackpad are hidden behind the display while you watch Netflix. Close the lid and you have a powerful graphics tablet for writing and sketching with the Microsoft Pen ($99, not included) and Surface Dial ($99, not included). This versatility makes the Surface Book 2 a four-in-one machine, but in reality you'll need to buy the Pen stylus to get the most out of it as a graphics tablet. We'll speak more about the Pen and Dial further down in this review.
The keyboard includes a additional battery and the device's GPU, meaning the tablet is less powerful when used in isolation. Some graphics-intensive applications need to be closed before the display and keyboard dock can be separated. Doing so then gives you the option to switch Windows 10 into 'tablet mode', which is optimized for a touchscreen experience.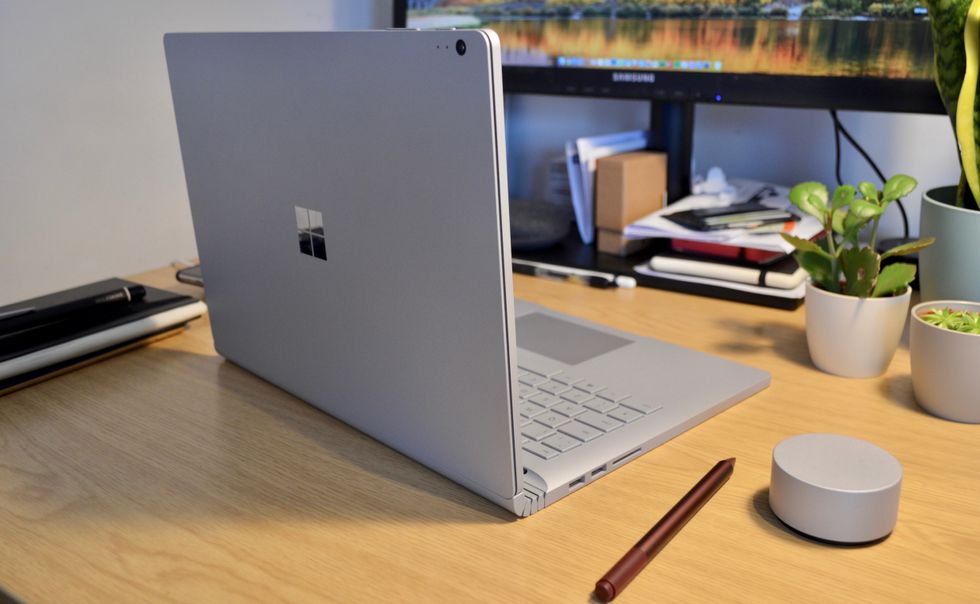 With a 3:2 aspect ratio, the Surface Book 2 is tall compared to other laptopsGearBrain
Microsoft claims a battery life of 17 hours, but that is based on constantly watching video with the device configured as a laptop. In reality, we were able to get a full seven to eight-hour working day out of the laptop, plus an evening of Netflix and sketching.
As for ports, the device has a pair of USB 3 connections, a full-size SD card slot (something the current MacBook Pro sorely misses out on), and a single USB-C slot. There is also a magnet for holding the Surface Pen in place when you're not using it.
A front-facing 5-megapixel camera will be welcome for Skype users, while the rear 8-megapixel camera is good for scanning office documents. Photography is possible, of course, but we'd suggest you use your phone instead.
Microsoft Surface Book 2 review: Performance

If your pockets are deep enough, the Surface Book 2 can be configured to be a hugely powerful computer. The range begins at $1,499 and for that you get 256GB of solid state storage, an Intel Core i5 processor and 8GB of RAM. Crucially, what's missing from this model and included in the other three members of the range is a dedicated graphics card.
For that you will need to spend an additional $500 and pick the second model, which has the same RAM and storage but gets an i7 processor and a dedicated Nvidia 1050 GeForce GTX graphics card, which lives in the keyboard dock.
A further $500 sees storage bumped to 500GB and RAM to 16GB, while the top-of-the range model reviewed here costs a substantial $2,999 and gets 1TB of storage, 16GB of RAM, an i7 processor and the same dedicated graphics. Finally, increasing the screen from 13.5 to 15 inches costs an additional $200.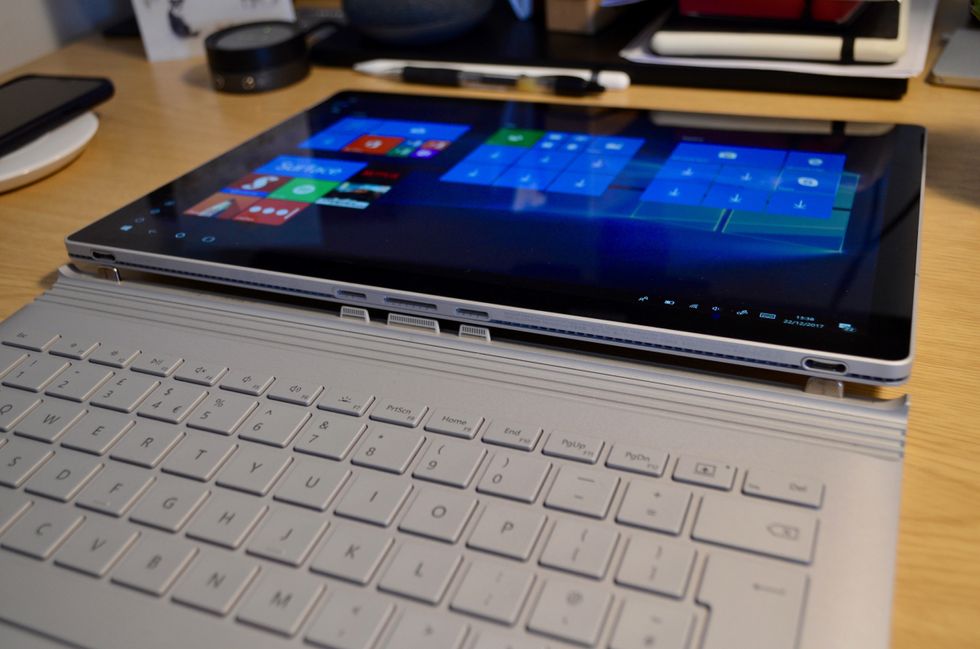 The display cam be detached with the press of a buttonGearBrain
As you can see, Microsoft's versatile laptop is every bit as expensive as a MacBook Pro. But where Apple aims its laptops at the 'prosumer', someone who blends work equally with pleasure, Microsoft gears the Surface Book at professionals who want only a degree of entertainment on the side.
To that end, the Surface Book makes an excellent Netflix machine thanks to the gorgeous display - and the versions with dedicated graphics can handle Xbox games, too. Pair an Xbox One controller via Bluetooth and the laptop becomes a part-time games console.
But the real purpose of the Surface Book 2, its very raison d'être, is to get work done. The performance is there to help graphic designers and video producers tinker with their latest creations in Photoshop, InDesign and Premiere Pro, not necessarily to play games.
The Surface Book handles such tasks with ease, with no unexpected slowness or drops in performance while completing strenuous tasks. The fans are also remarkably quiet, giving a further sense that the machine is comfortable with whatever it is you're doing.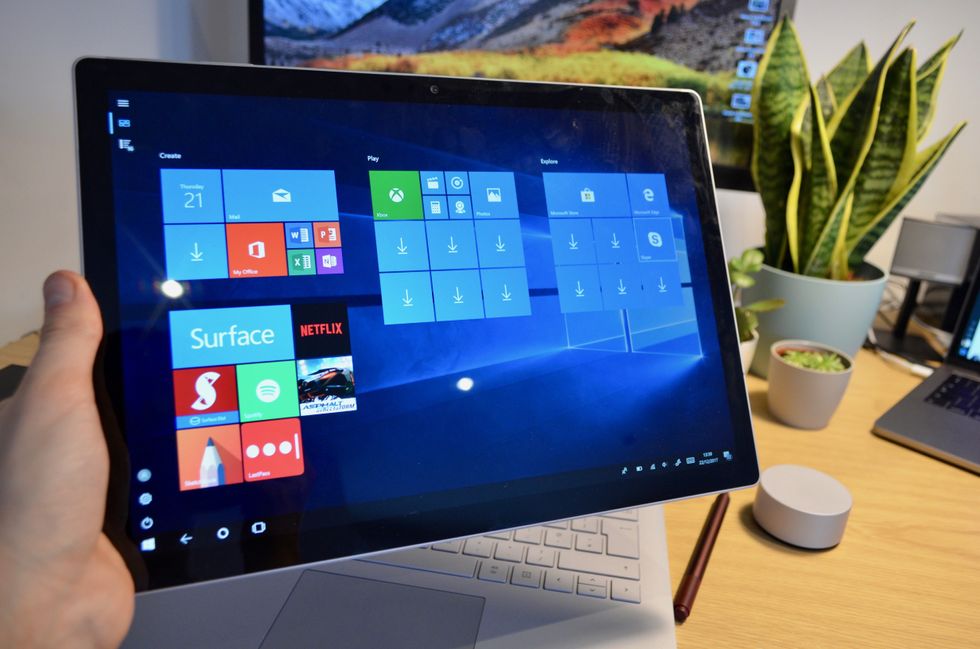 Held as a tablet, the Surface Book is almost comically largeGearBrain
Microsoft Surface Book 2 review: Trackpad and keyboard

The keyboard offers greater depth of travel than the MacBook Pro, which is a good thing in our eyes, but the Surface Book could benefit from slightly more tactile feedback. We like the depth of movement, but the feeling isn't quite as assertive as we'd like; it's more mushy than clicky. Another minor personal gripe is how the silver keyboard and its white backlight can sometimes appear the same color, making it tricky to read special character and function keys at a glance.
The trackpad is significantly smaller than those used by Apple and doesn't feature the same Force Touch technology. That said, its glass finish gives nice feedback and the clicking action is well judged, if a little loud.
Microsoft Surface Book 2 review: Pen and Dial
It's a real shame that Microsoft feels the need to sell its Surface Pen as a $99 accessory. Apple is just as guilty with the Pencil, but for a machine as geared towards design and note-taking as the Surface Book - and one which is so expensive - we think customers would rightly feel cheated when handing over the extra $99.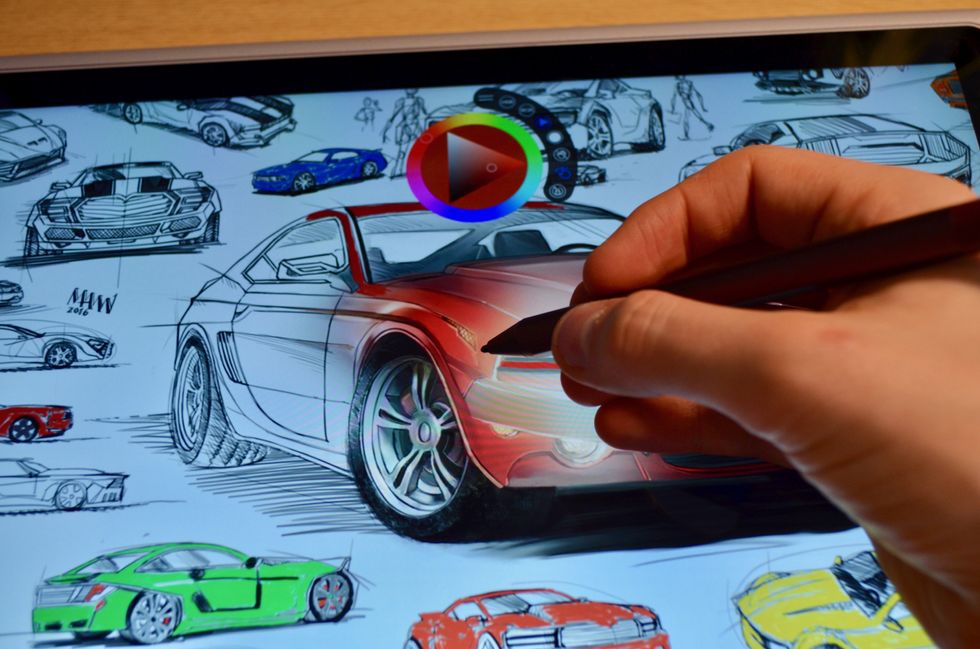 Sketching with the Surface Pen feels almost life-likeGearBrain
Happily, the Surface Pen is a great performer. It can detect 4,096 levels of pressure when pressed against the display - four times more than its $59 predecessor. This means drawing feels more natural than on any other device - iPad Pro with Apple Pencil included. Press firmly for a thick line of virtual ink, or lightly touch the screen for a thinner, softer line. Even turning the Pen around and deleting with a swipe of its rubber clicker feels perfectly normal.
Latency is down from 40 milliseconds to 21 milliseconds, meaning the 'ink' appears on the screen more quickly after you touch the nib of the stylus against it. A delay can still be spotted if you draw or write very quickly, but for the majority of the time it seems completely natural.
Microsoft's other accessory, the new $90 Surface Dial, is more of a convenience than a necessity. The rotating knob can be used to scroll through various elements of the Windows 10 interface, and within compatible apps. We used the Dial with the free Sketchable app, where it can be rotated to zoom in and out, alter colors, undo actions and make other fine adjustments.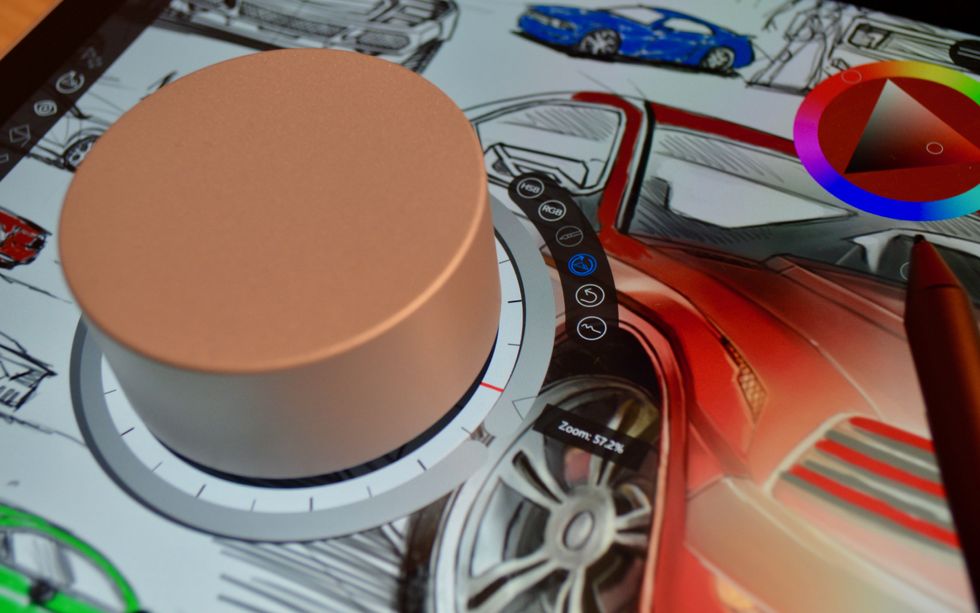 The Dial is surprisingly useful, but an expensive luxury nonethelessGearBrain
The dampening of the Dial is perfectly judged, letting you apply a good amount of pressure to turn it a tiny amount. Haptic feedback helps out further by issuing a small vibration with each degree of adjustment. The Dial can also be clicked to access additional features and switch between actions.
We found the Dial to quickly become intuitive and part of our workflow - not that we can even pretend to be good at drawing - but not as crucial to the overall experience as the Pen.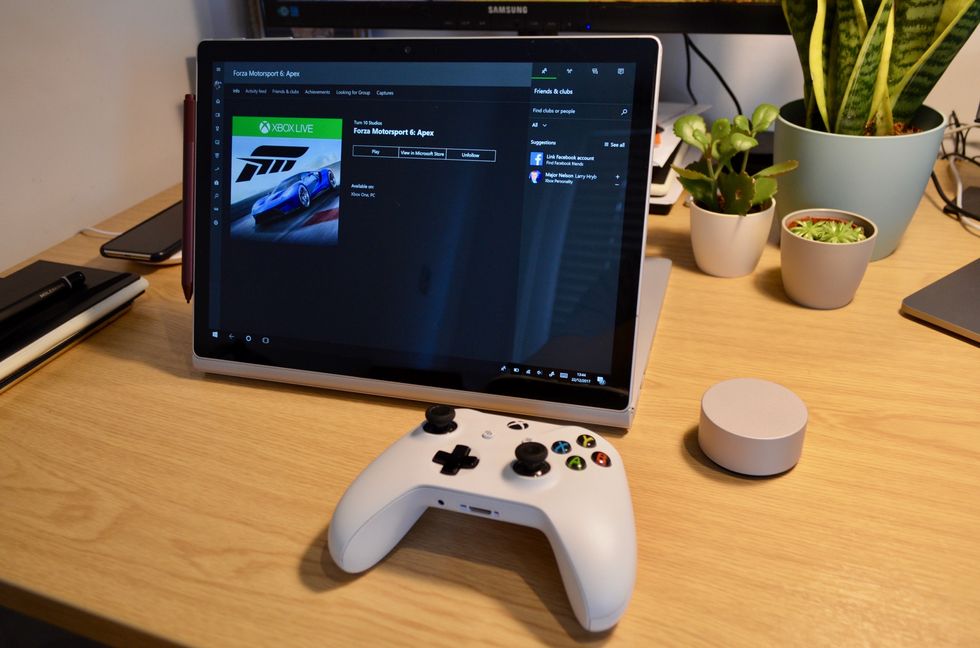 Flagship games like Forza Motorsport are playable on the Surface Book 2GearBrain
Microsoft Surface Book 2 review: Conclusion
The Surface Book 2 is the most versatile laptop on sale today. It combines the power of a work machine with the lust-worthy design of a cafe blogger's laptop and the portability of a tablet. All of that versatility comes at a high price, made higher still by the lack of a Pen and Dial in the box, but we dare say it is worth it.
The screen is stunning, the performance is plentiful and describing it as a four-in-one isn't a marketing gimmick because each setup serves a specific purpose. An extra USB-C port would have been welcome, the trackpad could be larger and the lack of an included Pen makes Microsoft look greedy, but these are small complaints for what is otherwise an excellent device.
The Surface Book 2 is the most complete Windows machine on sale today.
Pros: Attractive yet highly functional design, beautiful display and hugely powerful
Cons: Pen not included, screen size and shape limits tablet usability and expensive
Like GearBrain on Facebook