Like GearBrain on Facebook
It looks like Amazon is preparing to announce a new range of Alexa-equipped Echo smart speakers, as much of the current range is either unavailable or heavily discounted.
Just under a year after the retail giant last announced a range of new Echo products, including the Studio, Buds, Flex and Glow, stock is running dry on some of Amazon's best-selling Alexa devices.
Read More:
The third-generation Echo speaker is unavailable in any color at both Amazon and BestBuy, with the former saying it doesn't know "when or if" it will be back in stock.

Other Echo devices are currently reduced heavily from their normal prices, with the second-generation Echo Plus down from $150 to $75, the third-generation Echo Dot reduced from $50 to $30, and the flagship Echo Studio cut from $200 to $170. Amazon's Echo Show smart displays are also all below their normal prices.
The same products are discounted elsewhere too, with the Echo Plus reduced by more than 50 percent on Amazon's UK store, and the Echo Dot with Clock almost half-price.
This all points towards Amazon refreshing its Alexa device lineup for the 2020 holiday season. Given the discounts and lack of stock, we expect to see new models across the Echo and Echo Show portfolios. But, as ever, nothing has leaked out from Amazon to suggest what might be around the corner.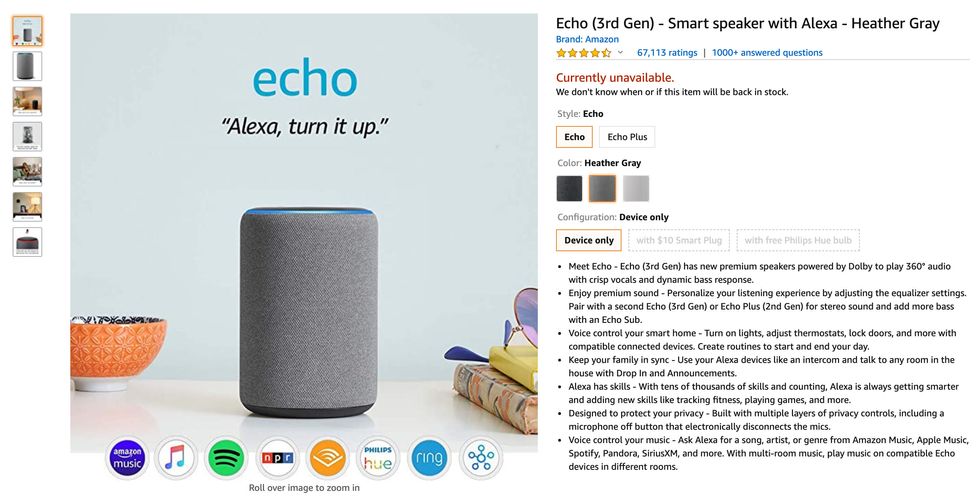 The Amazon Echo is currently unavailable on AmazonGearBrain
We doubt Amazon will do too much to break the mould. But we'll be interested to see if a second-generation Echo Studio is announced, which would suggest Amazon's move into more premium audio last year, in a bid to snap at the heels of Apple and Sonos, has paid off. If not, we could well see Amazon further embrace its lower-priced options, like the Echo Dot and regular Echo.

It will also be interesting to see if Amazon's plans for its Echo range in 2020 have been delayed or scaled-back due to the coronavirus pandemic, as has been the case with other manufacturers.
With Apple reportedly working on a cut-price HomePod Mini, we'd like to see a refreshed Echo Studio compete directly with whatever the iPhone maker has in store. And don't forget, Google recently teased a new Nest speaker to replace the ageing (and now retired) Google Home, but hasn't yet put it on sale. As such, we could well see new smart speakers from Apple, Google/Nest and Amazon in the next few weeks.
The good news is, whatever new Echo devices Amazon announces, they will almost certainly hook up to the Alexa smart home system you already have. With Alexa's intelligence being cloud-based, all generations of Echo speaker are equally smart, and work together through the Alexa app.
Check out The GearBrain, our smart home compatibility checker to see the other compatible products that work with Amazon Alexa enabled devices.
Introduction of The GearBrain, The First Compatibility Find Engine for Smart Devices www.youtube.com
From Your Site Articles
Related Articles Around the Web
Like GearBrain on Facebook