Like GearBrain on Facebook
Still firmly in damage limitation mode, Facebook has announced updates to how its bewildering settings menus are displayed and how the privacy of its two billion users can be tightened.
The changes — which the website claims were "in the works for some time," — come as the Cambridge Analytica (CA) scandal and subsequent fallout saw Facebook's share price drop by 18 percent, wiping almost $100 billion from its market value.
Read More:
The updates are explained in a company blog post published on March 28 by chief privacy officer Erin Egan and deputy general counsel Ashlie Beringer.
Earlier this week, Facebook chief executive Mark Zuckerberg agreed to testify before Congress over the scandal, which allegedly saw the data of 50 million users improperly harvested by CA to target US and British voters ahead of the presidential election and European referendum. Zuckerberg, 33, angered British members of parliament by refusing to also testify before them.
"Last week showed how much more work we need to do to enforce our policies and help people understand how Facebook works and the choices they have over their data," Egan and Beringer said in the blog post, titled 'It's time to make our privacy tools easier to find.'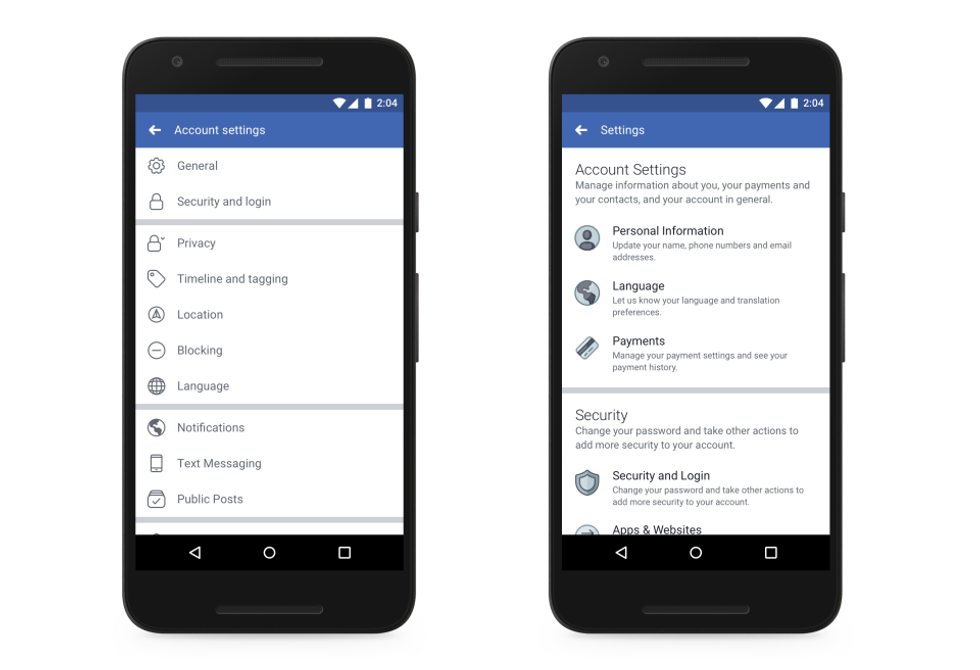 Comparison: Old settings on the left, new on the rightFacebook
They added: "We've heard loud and clear that privacy settings and other important tools are hard to find and that we must do more to keep people informed...we're taking additional steps in the coming weeks to put people more in control of their privacy."

The post also said: "We've worked with regulators, legislators and privacy experts on these tools and updates. We'll have more to share in the coming weeks."
For now these changes will only be seen by mobile users. Facebook's settings page when viewed on a computer is still as complex as ever.
A redesigned settings page
First up, Facebook has redesigned its app's settings page on iOS and Android. Instead of spreading the settings across almost 20 different pages, they are now all accessible from one screen.
What's also been made simpler, Facebook claims, is how users decide what data can and can't be shared with applications. This is partly where the Cambridge Analytica scandal began, as a the developer of a seemingly innocent quiz application with a few hundred thousand users was able to access the information of every friend of those users, whether they had interacted with the app (or even knew about it) or not.
A tool to find, download and delete your data
Admitting that its users would like to be aware of what it does with the data it collects, Facebook has added a way to view and delete everything you have shared with the site. Called Access Your Information, the feature is described as a way to "access and manage information, such as posts, reactions, comments, and things you've searched for."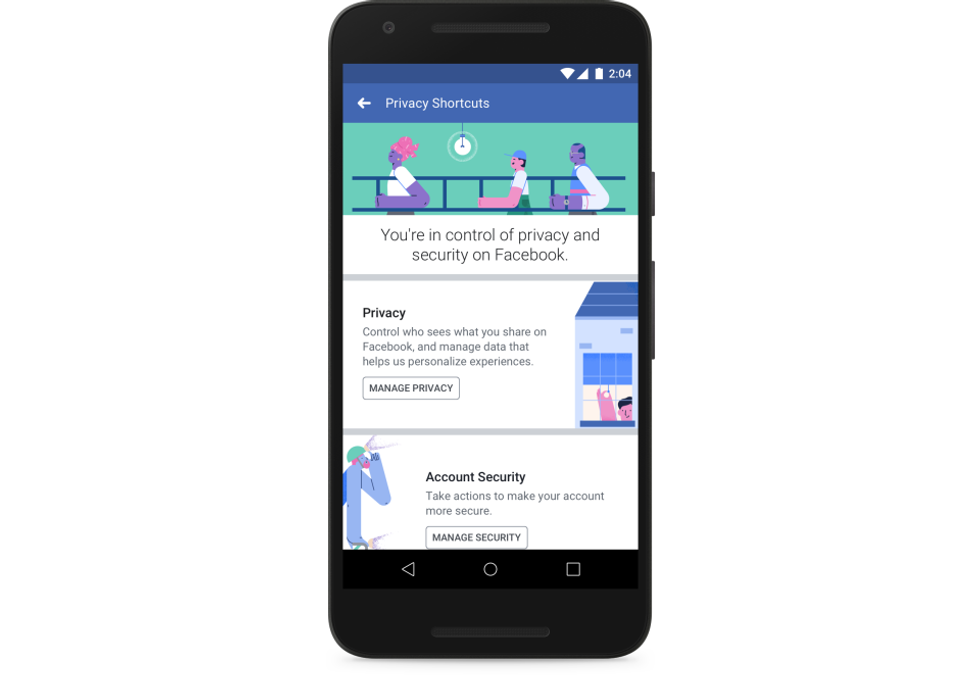 Simplified privacy settings are only on mobile for nowFacebook
This feature can be used, Facebook says, to delete anything from your timeline or profile that you no longer want on the website. Items like images and videos can also be downloaded from here. Admitting that the recent scandal might encourage Facebook users to leave the site, it says: "You can download a secure copy and even move it to another service."
Terms of service which can actually be understood
Finally, Facebook admits it has a responsibility to tell users "...how we collect and use your data in language that's detailed, but also easy to understand."
In the coming weeks, the company says it will update its terms of service and data policy to "better spell out what data we collect and how we use it." These updates, the company insists, "are about transparency - not about gaining new rights to collect, use, or share date."
Like GearBrain on Facebook