Like GearBrain on Facebook
Self-driving food delivery vehicles built by Nuro now have a permit to operate autonomous on public streets in California.
The company could previously test its technology in the state, but only with a backup driver in place. Now, Nuro is able to let its purpose-built (and very much driverless) food delivery vehicle, called the R2, roam around unaided.
Read More:
The California Department of Motor Vehicles said this week it has give Nuro a permit to "test two driverless vehicles on surface streets within specific, designated parts of Santa Clara and San Mateo counties." This includes portions of Los Altos, Menlo Park, Mountain View, Sunnyvale and Palo Alto.
Nuro already operates its electric, driverless vehicles in Houston, Texas, where it works with Walmart and Domino's. The company also ran food delivery trials with Kroger in Arizona in 2018.
Rules state the two vehicles can operate unaided across parts of nine California cities. They can travel at no more than 25mph, and are "only approved to operate in fair weather conditions on streets with a speed limit of no more than 35mph," the DMV added.
After Waymo, Nuro is just the second company to be given a permit for driverless testing on California streets. Given Waymo's cars carry passengers, Nuro's are the first vehicles to operate on public roads with no one at all inside.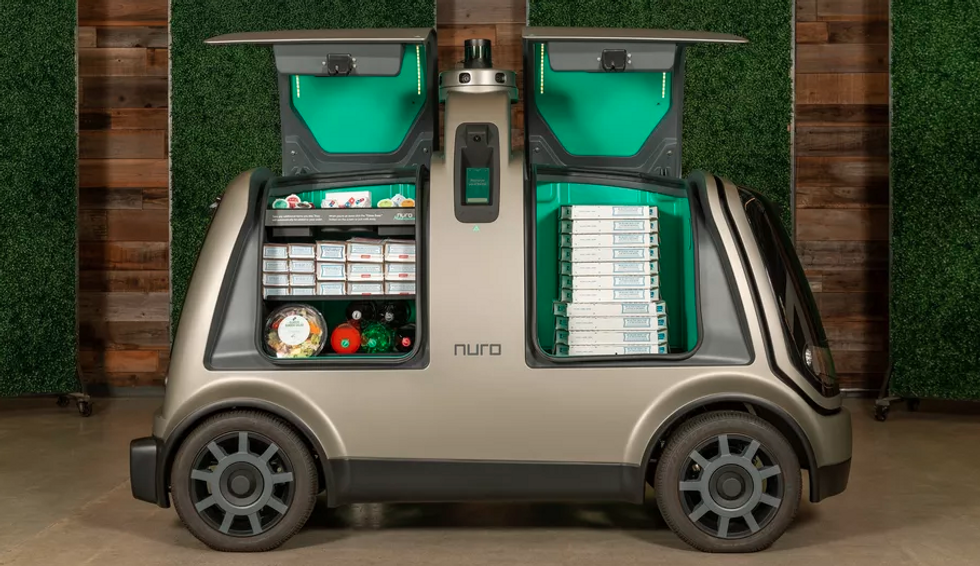 Nuro already has a deal with Domino's pizza in Houston, Texas Domino's
Currently, a further 65 companies have an active permit to test autonomous vehicles in California, but they must have a safety driver behind the wheel.

Nuro intends to begin by offering deliveries to "select customers in Mountain View and the surrounding area," with plans to expand across Silicon Valley and eventually the entire state.
Before then, it will speak with local law enforcement and first responders to ensure "community leaders are fully trained on how to interact with our vehicles on public roads, particularly in cases of emergency," Nuro chief legal and policy officer David Estrada said in a blog post.
Although Nuro won't start its autonomous delivery service until the coronavirus pandemic has passed, the company highlighted this week how such technologies could help if and when the next pandemic occurs.
Estrada said: "The COVID-19 pandemic has expedited the public need for contactless delivery services. Our R2 fleet is custom-designed to change the very nature of driving, and the movement of goods, by allowing people to remain safely at home while their groceries, medicines, and packages, are brought to them."
Given lock restrictions currently in place to prevent the spread of COVID-19, Nuro will work on logistics planning for now, before conducting on-road tests later in the year. After that, it will seek to strike deals with local brands and retailers to make driverless deliveries across California.
From Your Site Articles
Related Articles Around the Web
Like GearBrain on Facebook