Supermarket operator Kroger has begun offering autonomous deliveries, taking groceries from a customer's local store to their home.
But, unlike a trial due to commence later this year with purpose-built electric, autonomous vehicles, the service currently uses a fleet of modified Toyota Prius cars with self-driving technology - and a safety driver sat behind the wheel.
Read More:
The trial, which started this week (August 16), is currently only offering autonomous deliveries from a single Fry's Food Store in the 85257 zip code area of Scottsdale, Arizona. The car's self-driving technology is provided by Nuro, a company with which Kroger announced a partnership earlier this year. Nuro's purpose-built autonomous delivery vehicles - which contain no space for a human safety driver - will begin a trial of their own in the fall.

Kroger says autonomous deliveries will be offered for a flat fee of $5.95, and customers using the service in the Scottsdale area can schedule a same-day or next-day delivery slot.
Founder by a team of ex-Googler engineers in 2016, Nuro is an autonomous vehicle company, but instead of transporting people in robotic taxis, it focuses exclusively on ferrying goods without drivers.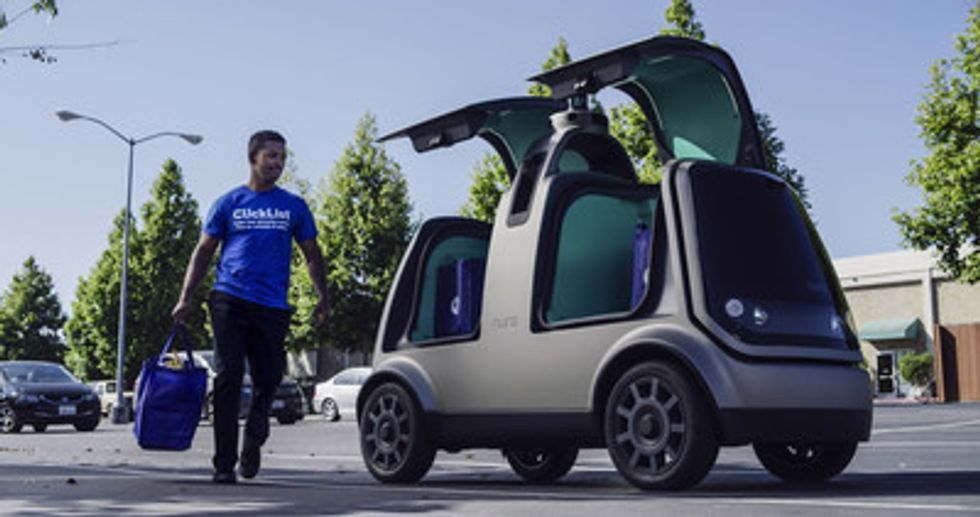 Kroger
Nuro's vehicle, called the R1, is smaller than a regular car and features two compartments with space for up to six grocery bags each.
"We're proud to contribute and turn our vision for local commerce into a real, accessible service that residents of Scottsdale can use immediately," Nuro chief executive Dave Ferguson said in a statement. "Our goal is to save people time, while operating safely and learning how we can further improve the experience."
The small-scale trial with modified Toyotas will serve as a learning period for the fully driverless delivery system, which Kroger and Nuro hope to launch this fall as a last-mile solution for shoppers. Short of shipping goods from a central warehouse, the autonomous vehicle will be despatched locally to pick up a customer's groceries and bring them the short distance to their home.
The Prius fleet uses the same autonomous hardware as the Nuro R1 delivery vehicle. Despite being much smaller than a regular car, the R1 will drive itself on public roads and can travel at up to 25 miles per hour.