Walmart is to begin delivering groceries in Houston using electric, autonomous vehicles from Nuro.
The partnership comes just a few months after Walmart began offering autonomous deliveries in Arkansas using another driverless car company, Gatik.
Read More:
But where the Gatik vehicles are regular vans fitted with autonomous driving equipment, Nuro's vehicles are purpose-built for the job of delivering fresh food without a driver.
There aren't any conventional car controls and there isn't anywhere for a driver to sit. Instead, the R1 vehicle built by Nuro is designed specifically to carry food between grocery stores and customers' homes. The R1 is much narrower than a regular car or van, but still drives on public roads.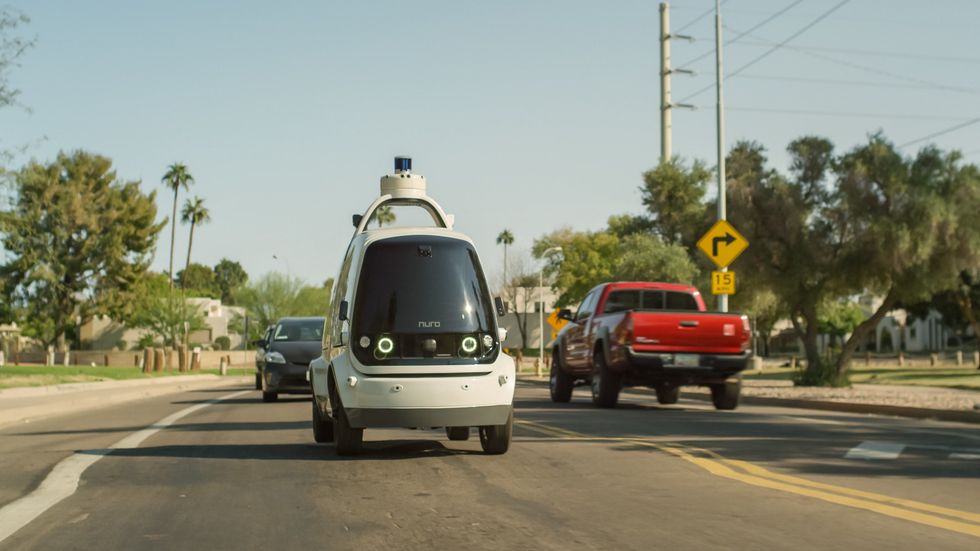 Nuro's R1 vehicles drives itself on public roads Nuro
Autonomous deliveries will only be available to a small number of Walmart customers initially, giving both companies a chance to experiment with how it works and learn from what customers want. As well as convenience for everyone, food delivery services like this are intended to help those who aren't able to get to the local store, through disability or other limitations.

The trial will be available from only a selection of Walmart stores in Houston, but the company has yet to say exactly which stores will take part, and which neighborhoods will be covered by the service.
"To start, self-driving deliveries will be available to a pilot group of participants who have opted in to try the service, teaching us more about how to best serve those customers," said Nuro in a post "Through the pilot, we'll gain insights that will enable us to further develop and refine our service, while helping Walmart create the best end-to-end customer experience."
Founded in 2016, Nuro has run autonomous delivery trials with a number of companies in 2019, including grocery retailer Kroger and Domino's pizzas. The company
received a $940 million investment
from the Japanese SoftBank Vision Fund in February, which it used to build more of its food delivery vehicles.