Osmo, the digital drawing toy, has a new set that ties into the Disney realm of Frozen 2. The Osmo Super Studio works on both iPad and Fire tablets, and the new title includes the popular characters Anna, Elsa, Olaf and others.
Disney's new movie, Frozen 2, doesn't actually come to theaters until November 2. But the new Osmo Super Studio launches October 4 on both Osmo's web site and Amazon as well.
Inside the set, children can learn facts about the movie and its characters, create their own Elsa or Anna gown, learn how to draw Olaf, one of the movie favorites, save their drawings and customize their art work with color and glitter. The set uses wet erase markers so they can continue to use and re-use the toy.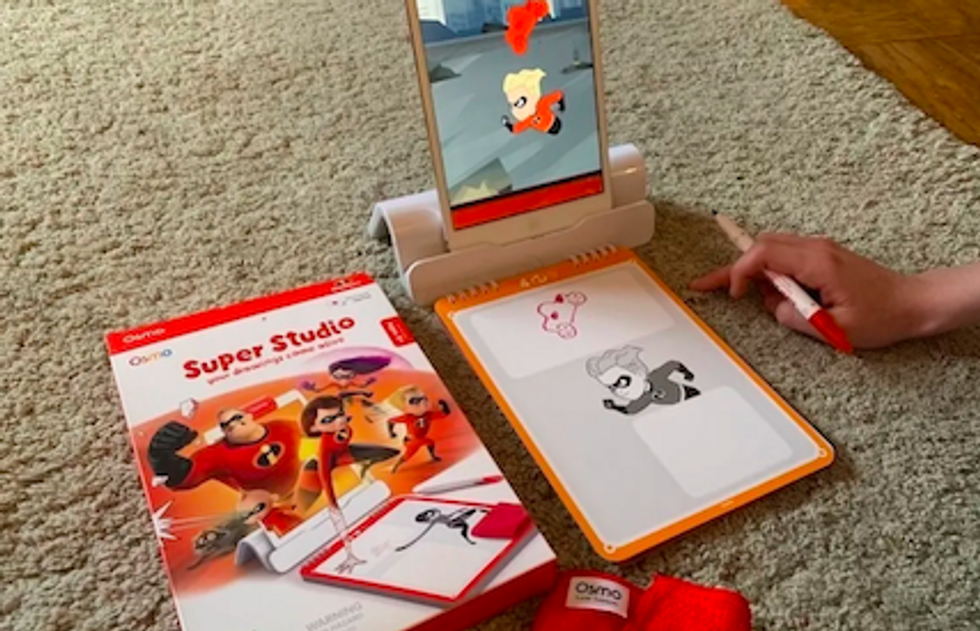 Osmo is releasing another Disney Super Studio title, this one for Frozen 2GearBrain
Osmo has an ongoing relationship with Disney storylines, with previous titles including Disney Mickey Mouse & Friends, and Disney Pixar Incredibles 2. The toy is simple to use, and works with an app — a mix of low tech and high tech at the same time, and is designed for children between the ages of 5 to 11. Children go through a storybook and have different activities, in some cases they can finish drawings that help to tell a story. In this way, they're both guided through the toy — but also act as the guide too.

"The power of computer vision and AI can bring a child's imagination to life in new and innovative ways," said Pramod Sharma, CEO and co-founder of Osmo, in a statement. "This first-of-its-kind Reflective Animation experience bridges the world populated by the characters beloved by children of all ages with the creativity and artistic expression."
Customers can pick up the Osmo set for just $19, but the set with the extra Osmo Play Base is $59 and only from Target.
Osmo - Super Studio Disney Mickey Mouse & Friends Game - Ages 5-11 - Learn to Draw your Clubhouse Favorites & Watch them Come to Life - For iPad and Fire Tablet (Osmo Base Required)