Like GearBrain on Facebook
The Osmo Super Studio is a tech toy, designed for young children, that really gives them a chance to draw their favorite character. It's simple to use, but limited to iPad, Fire and iPhone owners, which is unfortunate because the Super Studio is well-designed as a toy that's not only fun, but delivers what it promises: allowing kids to help design a story.
Osmo Super Studio: What is It?

Osmo makes a number of games designed to work with its base and app, from coding kits, from those that encourage math and business concepts. Some tap into simple skills like hand-eye coordination, others work on building up vocabulary — and then there are kits that also include many of these. We spent time with the Oslo Super Studio line, which includes three titles, "Disney Mickey Mouse & Friends," "Disney Princess," and "Disney•Pixar Incredibles 2."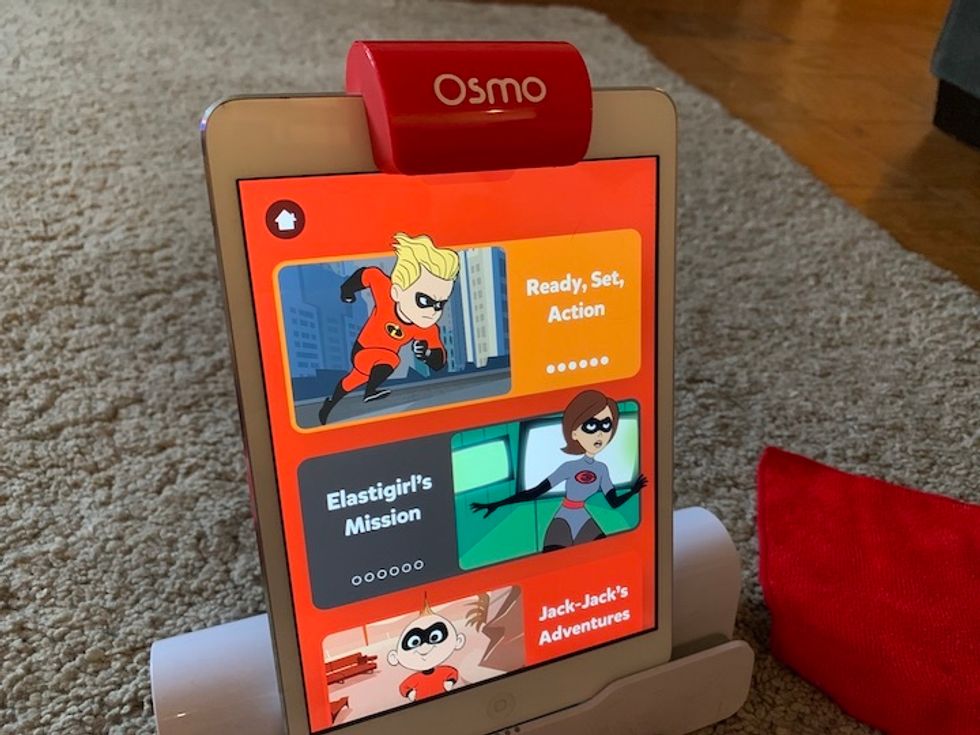 There are multiple stories children can illustrate in each of the Osmo Story Studio kitsGearBrain
Osmo Super Studio itself is a device and an app. Inside the box you get a storybook where you'll draw your creations, a special marker that can be erased and a cloth to wipe everything down.
You also need a stand to hold the iPad, iPhone or Fire tablet. While the app is free, each storybook kit is $19 and require a base for the iPad, Fire tablet or iPhone device you'll use. That base includes a second piece, which is primarily a mirror, and is placed on top of the camera on a Fire tablet, iPad or iPhone. This reflects what's drawn on the book so the app can upload a drawing into a story.
You can buy a base bundled with a kit for $38 for iPhones or $58 for one of the two tablets. Keep in mind, though, you do need to have one of the touchscreen devices to make this kit work. For our review, we used an iPad mini in an iPad stand, which worked very well.
Installing Osmo Super Studio
Getting Osmo Super Studio up and running takes about two minutes. We tested the Story Studio kits that worked with the iPad, and the app downloaded quickly from the App Store. None of the parts — the storybook or base — required batteries, nor do they need to be plugged in to run. This is a low-tech meets high-tech experience.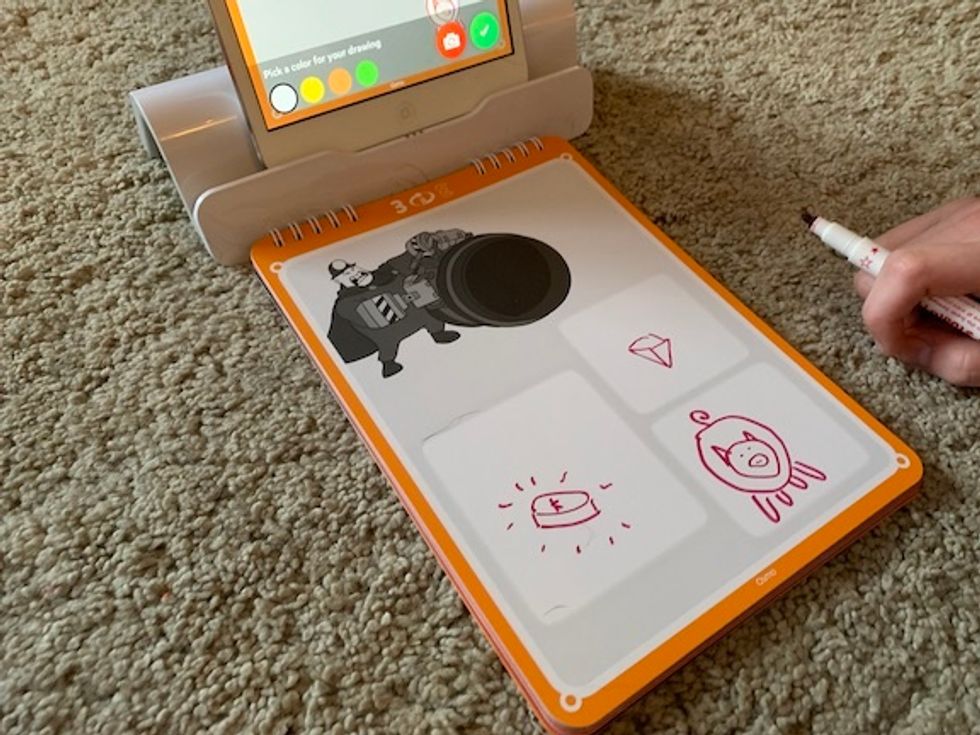 Drawings in the Story Studio storybook end up in the Osmo story appGearBrain
Making stories

To be fair, stories are already pre-written in the app and in the storybook. Children are adding their twist by drawing elements for each chapter. This may be a tire wheel for a motorcycle, or a mask on a villain. There are limits to how much they can change the story — but certainly they can add their own touch.
You draw on the storyboard, and your picture is digitized into the app. It's similar to how digital books like Rocketbook work. The ink is erasable, wiped off with a simple cloth, and the camera on the iPad (or iPhone or Fire tablet) reads the drawing, placing it in the right spot on the screen in the story. There's no danger of a picture appearing in the wrong place.
Children can change the color of the object they drawn — there are typically four color options — but they can't add fine detail. A wheel, for example, will be all one color: spokes can't be blue and the rubber part red, for example. You can buy market sets with different colors, but they're definitely extra, at $10 for five markers.
The animation is pretty solid, as is the digital rendering. The app places the object cleanly — you don't have stray lines. Objects can also move. When drawing wheels for a motorcycle, they spin when the story starts. That's a nice touch, so children can actually see how their drawing reacts in the animation they're watching. We were impressed.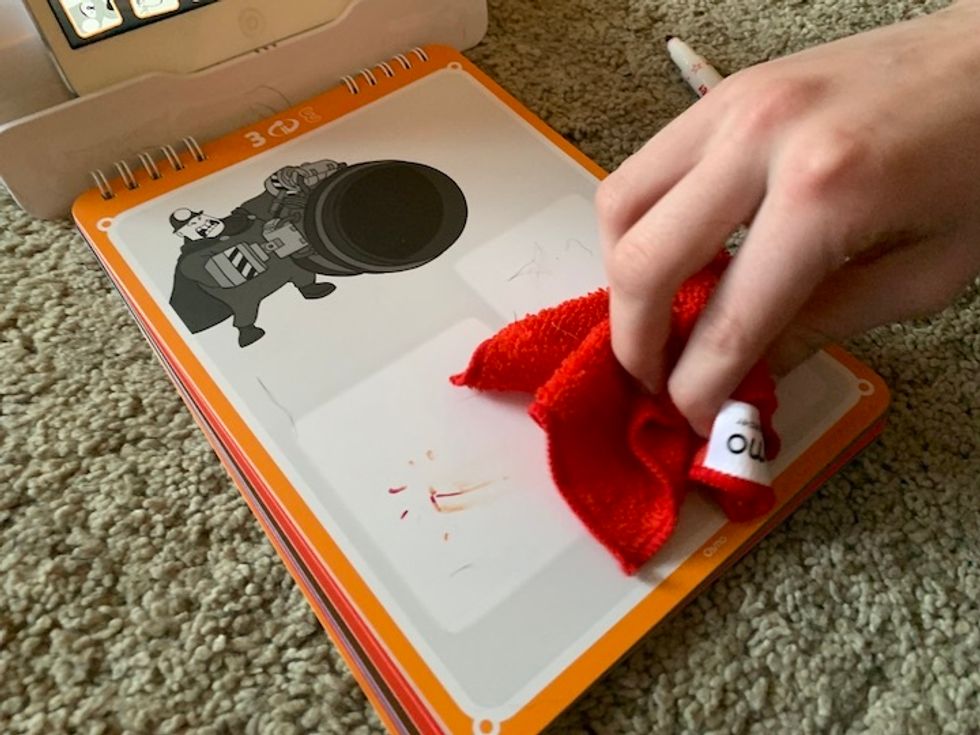 Pages in the Osmo Super Studio storybook are easily erased, meaning they can be used multiple times by multiple childrenGearBrain
Meant for young children
The Osmo Super Studio is definitely designed for young children ages 5 to 11. There's time on each page, to draw, and there are also prompts that show children, if they need help, how to make an anvil or a car just by drawing simple geometric shapes: a square, rectangle or triangle. Older children can ignore this and make their pictures as detailed as they, or the fat marker tip, allows.
In rendering the picture to the screen, it does pick up on any shadows falling across the page, turning them into shadings in the digital image. We found that out by accident, and in some cases, we liked how it actually added some dimension to our picture. Certainly something to note, and also a quirk older kids may have fun toying with as they use the device.
Once a story is finished, children can go back and replay their chapter. Tapping on each character on the iPad screen, you can replay their actions with the drawing still visible. You can also unlock extra details on each story pane which can be customized as well, such as taking out a plane and adding in clouds and lightning bolts.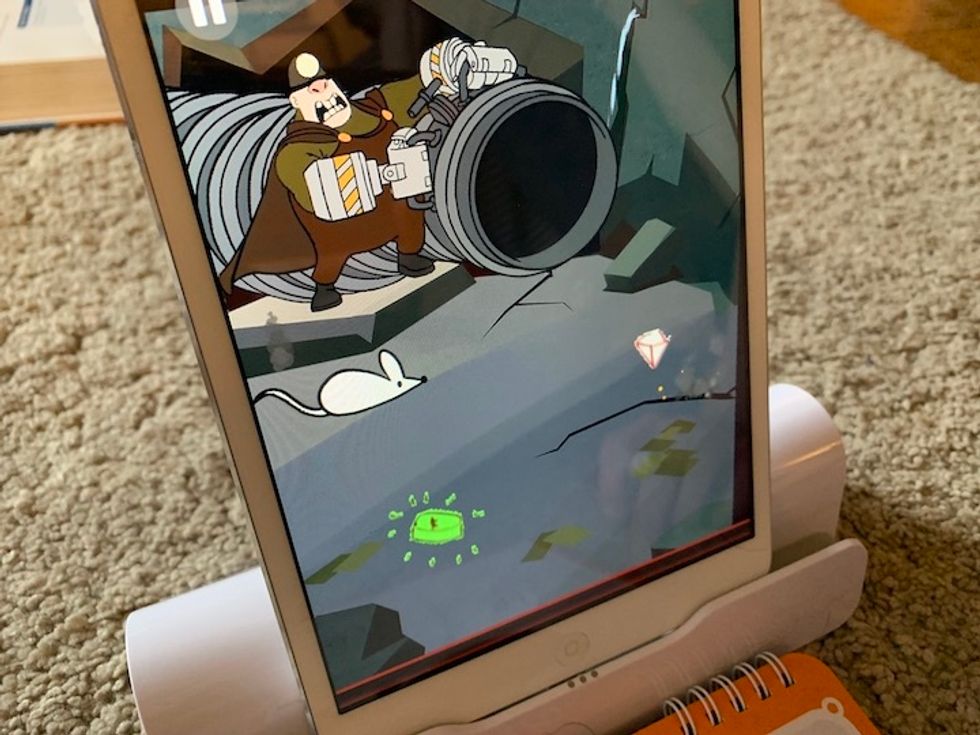 Drawings children make appear cleanly rendered into the Osmo appGearBrain
Sound can be turned on and off, as well as the music. You can also start the chapters over, reset the progress, and have someone play again. There's also the ability in the app to create multiple logins for different children in a family or in a classroom.
Sometimes, the app would imply that it couldn't read the drawing on the page. We needed to lift the base up and down over the camera one or two times to get the app to see the picture correctly. This took just a few seconds, but a very young child would likely need some supervision if this was required.
Should you buy it?

The Oslo Super Studio has a slew of games and stories with likely enough variety to find one that appeals to a child. The key limitation though is that the toy only works with the Apple iPad, an iPhone and an Amazon Fire tablet — and not all of these.
We thought the app itself was excellent, simple in all the right ways — letting children draw, uploading that picture into a story, and not complicating the process with too many choices and extra tools. We also really liked the way the drawing was animated into the story, a spinning wheel or legs drawn that then fly across a page. We just think it's limiting to require an iPad, iPhone or Tablet to use the toy.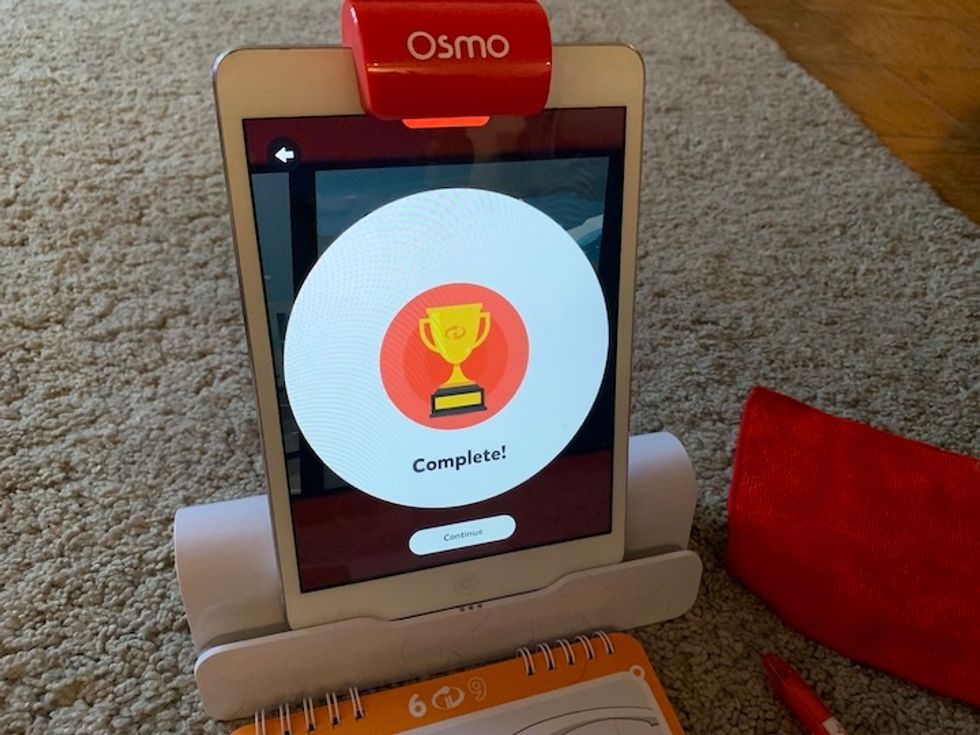 Osmo delivers a lot of positive feedback to children as they play with the Story StudioGearBrain
For parents or schools that already have iPads, Fire tablets or iPhones at home or in classrooms, however, this could be a fun toy to add. The ability to re-use the storybooks, and the fact that multiple accounts can be created to store and save each child's progress, is certainly a plus, but one that would be better if the device could be use by other devices as well.

Pros:
Excellent app, which animates children's drawings simply and quickly
Few parts, which alone don't need batteries or to be plugged in to work
Launches quickly, supports multiple accounts
Cons:
Must have an iPad, iPhone or Amazon Fire tablet to use
Currently only three options in the Story Studio line: Disney Princesses, Incredibles 2 and Mickey Mouse
Can't add fine details to drawings, making it best for young children
Specs:
Osmo works with only these iPads:
iPad 2
iPad (3rd Generation)
iPad (4th Generation)
iPad (5th Generation)
iPad (6th Generation)
iPad Mini
iPad Mini 2
iPad Mini 3
iPad Mini 4
iPad Mini 5
iPad Air
iPad Air 2
iPad Pro 10.5-inch
Osmo does not work with these iPads:
iPad Gen 1
12.9-inch iPad Pro
11-inch iPad Pro
iPad Air 3
iPad Mini 6
The Osmo iPhone Base does work with the: 6, 6 Plus, 6s, 6s Plus, 7, 7 Plus, 8, and 8 Plus. But it will not work with the iPhone SE, X, or 5 and below.
The iPhone Base does not work compatible with iPods.
The minimum iOS version required is 9.
The Osmo Fire base is compatible with these Amazon Fire tablets:

7th Generation 7 (including kids version, but without protective case)
7th Generation HD 8 (including kids version, but without the protective case)
7th Generation HD 10 (including kids version, but without the protective case)
8th Generation HD 8 (including kids version, but without the protective case)
Like GearBrain on Facebook