Owl Car Cam, the $349 security device, is adding a new feature to its services: Automatic Crash Response. If the dash cam detects the car has been in an accident, Owl asks if everyone in the car is okay through the intercom on the device, contacting the driver's phone. If not, the Owl device will place a call to live agents, which the driver can cancel through the Owl screen, who will then reach out to 911 for emergency help.
"The results speak for themselves – we've empowered thousands with Instant Video protection to avoid unfair blame in crashes and the ability to do something about break-ins," said Owl founder and CEO Andy Hodge. "Now with our new Automatic Crash Response, Owl gives people the peace of mind of having live agents on call and ready to help in case of a crash."
Owl, which started shipping in February 2018, already offers a wide range of features to help drivers keep their car — and themselves — safe. The camera's footage is not stored on the device, which means if someone steals Owl, the images and video can still be downloaded from the cloud.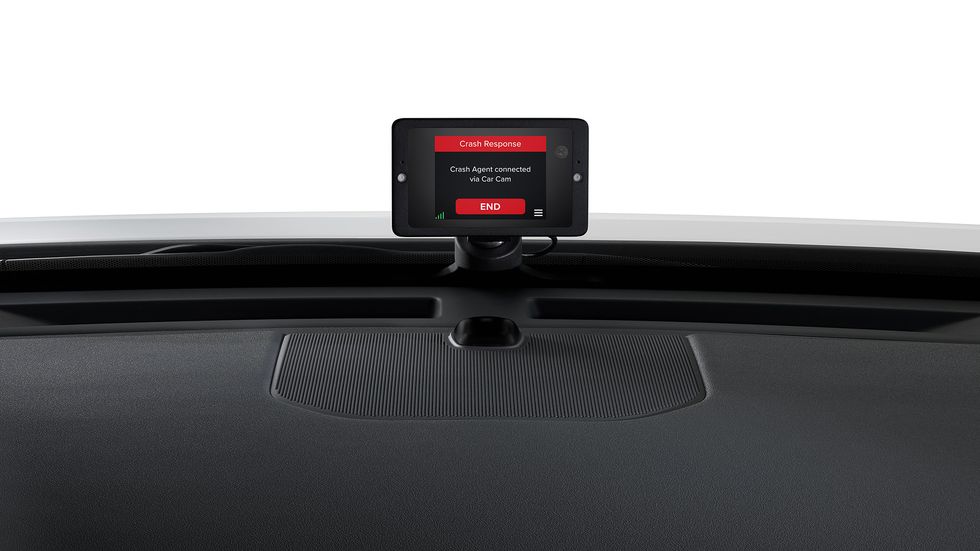 Owl Car Cam is installed like a dash cam, and can catch footage inside and outside of the carOwl
The camera also faces inside the car and outside — so footage can be viewed from both angles, helping people who have been in accidents or need to identify activity that's happening around the vehicle. Video records even if the car is parked as well. Owners also get notified from the Owl app through a smartphone if the device picks up on activity — a window breaking, for example — from the car.
With Automatic Crash Response, live agents will first try to contact the driver through the Owl device, and if they cannot, the agent will then try to call the driver's phone. If they reach the driver, they will ask if the person is okay and if they need help. If they can't reach anyone, the agent will call 911. Free for the first three months, the Automatic Crash Response feature will then cost $7.99 a month or $79 a year. The device fits into any car with an ODB II port, except for the Tesla Model S.