Just like Alexa and Google Assistant, Siri can be taught to recognize your personal voice. It then uses this learning to serve up personalized content when spoken to by each member of the family.
But, where this particular skill of Alexa and Google Assistant can be used throughout the home, on any compatible smart speakers and displays, Siri can only recognize different people through Apple's HomePod smart speaker.
Read More:
That said, Apple is rumored to be working on a new smaller and cheaper HomePod speaker, so filling your home with Siri might soon be more cost-effective than it is with the $299 HomePod today.
When looking at what Siri can do, it's important to separate the Siri of a HomePod and the Siri of all other Apple devices, like iPhones, iPads and Macs. The latter are considered personal devices, so Siri on there is only designed to work with one user. Siri on your iPad cannot be taught to tell the difference between you and your partner, then give personalized information based on who asks. Instead, it will respond as if being spoken to by the person who's Apple ID is used by that device.
However, Siri on the HomePod is different. By default, it will work in the same way as Siri on all other devices, but it can also be set up to work with multiple people, giving out personalized answers based on who speaks to it. As such, the handling of calls, messages, calendar entries and reminders will be personalized to whoever speaks to Siri.
What can Siri do when it recognizes my voice?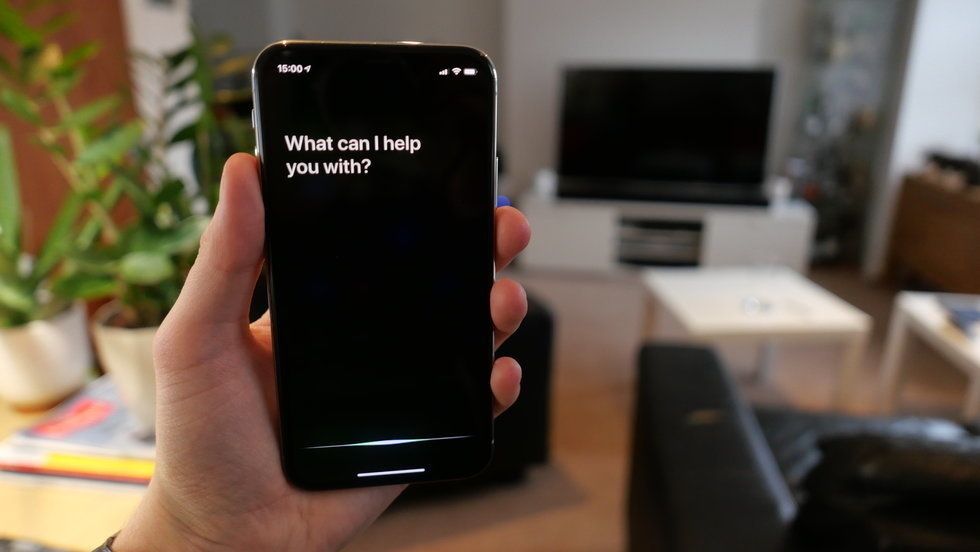 Siri on the HomePod works differently to Siri on the iPhone GearBrain
Much like Alexa and Google Assistant, Siri becomes much more personal (and useful) when it knows exactly who is speaking to it. Siri on the HomePod can be used to send and read messages, manage your reminders and calendar, create and edit notes, make calls and play music.

All of these features can be tailored to whoever is speaking. For example, Siri gives the right answer when any person in a household of up to six people asks about their upcoming calendar entries, or they ask Siri to read out any unread messages.
When Siri knows it's you, it can also grant access to control secure HomeKit accessories. This means you could authorize only certain people in a household to ask Siri to unlock a smart door lock, for example. Siri can also interact with the Find My app when it knows who is asking, and will play music based on the preferences and listening habits of your own Apple Music account.
You can also adjust what each HomePod is capable of. For example, you can prevent the HomePod in the kitchen from handling calls and messages if you feel the kids will abuse this, while the HomePod in your office can keep those functions in place.
How to set up Siri multiuser support on HomePod
Siri's ability to recognize different users is a feature Apple calls multiuser. Before this can be enabled on your HomePod, every person who wants Siri to recognize them needs to set up the 'Hey Siri' function on their iPhone. With this enabled, the Siri of your iPhone can be woken up when you say 'Hey Siri,' even while the handset is locked. Siri does this after being taught how to recognize your voice.
To set up Hey Siri, go to the Settings app of your iPhone, then tap on Siri & Search. Check that the toggle switch next to Hey Siri is switched on. If not, switch it on and follow the instructions to teach Siri your voice, which involves reading out several common Siri commands.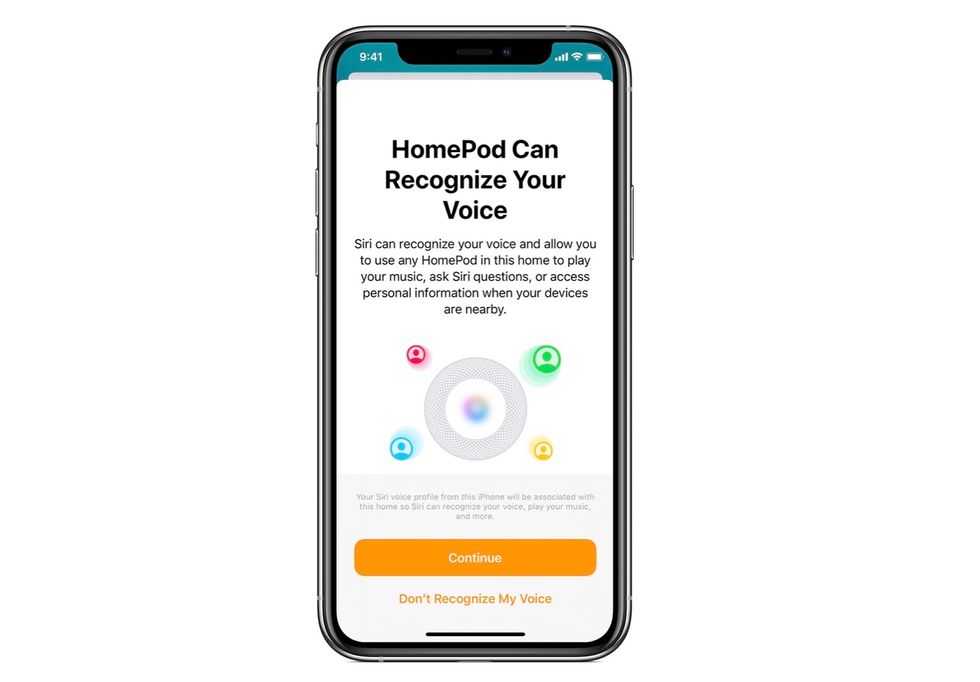 Siri on the HomePod can recognize up to six people by their voiceApple
Now go to the Home app on your iPhone. Press and hold on your HomePod, then tap on the settings icon and make sure that 'Listen for Hey Siri' and 'Touch and Hold for Siri' are both turned on the device.

Siri on the HomePod then uses the same data gathered while setting up Hey Siri on your iPhone, so that it can reliably recognize you, and everyone else invited to interact with your HomeKit smart home.
To invite others, open the Home app on your iPhone, tap on the home icon in the top-left corner, then Home Settings. On the next page tap Invite People to give others access. Now, when any of these invited people (who also have Hey Siri set up on their iPhones) speak to the Siri of your HomePod, they'll get personalized responses. Up to six people can be added to the HomePod multiuser system.
How reliable is Siri at recognizing my voice?
Apple admits that Siri's ability to recognize voices isn't perfect. It's own website vaguely states that Siri "might ask you who you are from time to time." Apple also says Siri "might have trouble telling the difference between children or people with similar voices."
If Siri isn't sure who you are, it will ask you to say your name. You can also say: "Hey Siri, it's [name]" before your request for personal information. Apple also suggests setting up Hey Siri on your iPhone again if it regularly struggles to identify you.
Can Siri on a shared HomePod be made more secure?
You may have spotted the security flaw here — that you could give the name of a different use to have Siri read out their personal information, like calendar events and unread messages. While this is unlikely to be an issue in a family home, you can add an extra layer of security when sharing a HomePod with people you know less well, like roommates.
This sends a notification to your iPhone, and only once you have confirmed your identity by responding to that alert will Siri on the HomePod complete your request. That way, one person can't ask Siri about the personal information of someone else in the household (unless they have access to their unlocked iPhone). To switch this on, go to the Personal Requests section of the HomePod settings page in the Home app, and turn on Secure Requests.
While Siri on the HomePod can respond personally to up to six people, it will also respond to anyone who makes a non-personal request. If someone other than those six asks for music, Siri will play it, but this request won't have any impact on the listening preferences of the six household members. If one of those six asks for music, and Siri recognizes their voice, then that request will contribute to what Apple Music believes their preferences are.
Does Apple save a recording of my voice?
Apple explains how Siri settings are synchronized across your devices "using end-to-end encryption if you use iCloud." It also states how, if you have Hey Siri enabled, "a small sample of your requests will also sync using end-to-end encryption to improve personalized Hey Siri recognition on each device."
Essentially, a sample of voice data is shared between devices to ensure the Siri on each is equally capable of recognizing you.
Check out The GearBrain, our smart home compatibility checker to see the other compatible products that work with Apple HomeKit.
Introduction of The GearBrain, The First Compatibility Find Engine for Smart Devices www.youtube.com
Apple AirPods Pro