Like GearBrain on Facebook
Press Release:
Imagine you are home watching a scary movie and all of a sudden the lights in your den start to change colors to match your movie? How about playing a video game and all of a sudden your lights start to change with the actions in the game? Or your lights change colors to match the sound of the music? All of this can happen thanks to a new app from Signify, a world leader in lighting and formerly known as Philips Lighting. Today, Signify announced the availability of Philips Hue Sync. The free app enables you to perfectly match your Philips Hue smart lighting with games, videos and music played on your Windows 10 or macOS Sierra computer. GearBrain is currently testing this new home entertainment software, which runs alongside the Philips Hue app, and will report back soon on this new immersive experience, but we like what we have seen.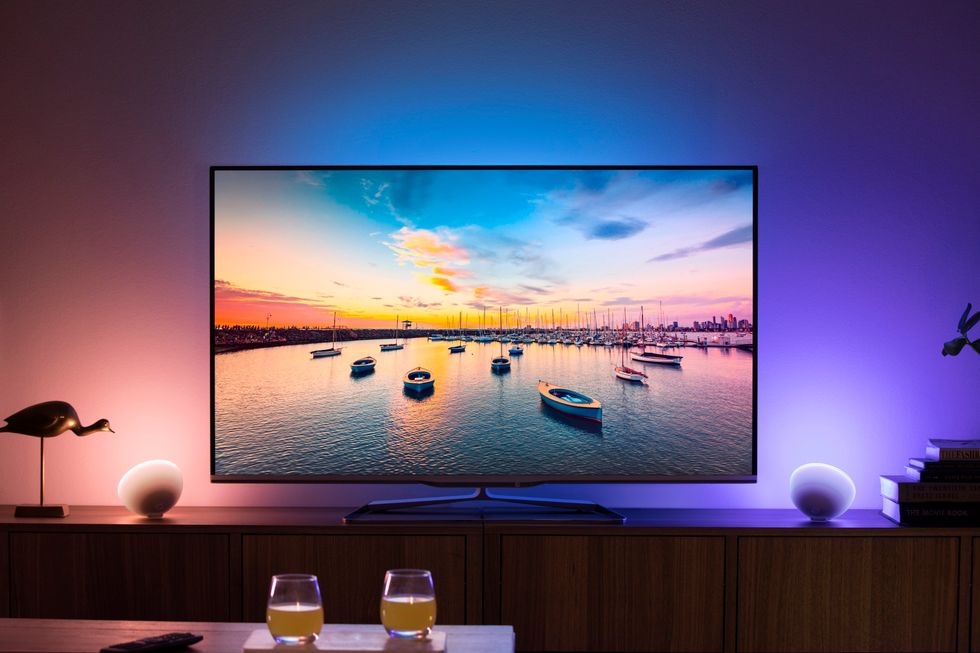 Philips Hue Sync
"Following several entertainment pilots, we've refined the way lighting can be used with games, music and video. Philips Hue Sync offers a unique way to simply match light effects to consumer's content in a fast and synchronized way, delivering an engaging, immersive experience," said Jasper Vervoort, Head of Marketing and Product Management, Home Systems and Luminaires at Signify. "By working with leading players in the entertainment industry, we can take this even further. The premiere music video from Disney's DCappella band, "Immortals", demonstrates the power of a perfect sync."

If you are a music lover, you are going to like Philips Hue Sync. Signify collaborated with Disney Music Group to showcase Philips Hue Sync's immersive capabilities with the highly anticipated, premiere music video from the new a cappella singing sensation, DCappella. The group performs the track, "Immortals", which was featured in Disney's Oscar®-winning animated film, "Big Hero 6". As part of the collaboration, fans can enjoy the new video in a 360-degree experience.
"We are thrilled to collaborate with the team working on Philips Hue Sync with this 360-degree video, to showcase this next-level engagement with music video content. This technology enhances the vibrant color spectrum of DCappella's "Immortals" music video and brings their amazing voices to life in a brilliant sensory experience, available today in your home," said Rob Souriall, Vice President, Global Partnership Marketing at Disney Music Group.

How does it work?
The Philips Hue Sync app can be used with one press of a button. Simply select your desired Audio, Video or Gaming mode within the control panel, and you can sync your lights to the entertainment content playing on your computer. You can also customize your lighting experience. The software allows you to set your desired brightness level and change the speed in which your lights are changing alongside the content; you can select between Subtle, Moderate, High and Intense modes. Plus, when listening to music, you choose from several different color palettes to match the genre. For example, subtle, pastel colors play nicely with softer tunes, while brighter, bolder tones might be better suited for rock and dance music.
Philips Hue Sync will work on a computer and laptop, as well as on a television, by streaming the content played on the computer via HDMI, Chromecast, AirPlay and Miracast. You can learn more about Philips Hue Sync and download the software by visiting meethue.com/entertainment/hue-sync.
GearBrain has tested several smart lighting systems and has found Philips Hue to be one of the best lighting systems for today's smart home. They provide several ways for you to control your smart lights, including voice commands using Google Assistant or Amazon Alexa enabled devices. Now they have added a new innovative way to immerse smart lighting into a user's entertainment experience.
You can also check The GearBrain to see other connected devices that What Works with Philips Hue Smart Lights.
Like GearBrain on Facebook