Philips Hue lighting has been with us for over six years now, providing 16 millions colors from a wide range of bulbs and LED light strips. The system works with Alexa, Google Assistant and Apple HomeKit, giving you the God-like ability to control light with your voice.
And while the free app Philips includes with its Hue system is already packed full of features, the system is open for third-parties to get even more creative. With these apps you can make your lights mimic the flicker of a candle, the roar of a fire or the thrill of a firework display, and control Hue lighting in more ways than ever before.
Here's a quick a look at Philips' own app, then five others to try out on your smart lighting kit at home.
Philips Hue app (Free, iOS and Android)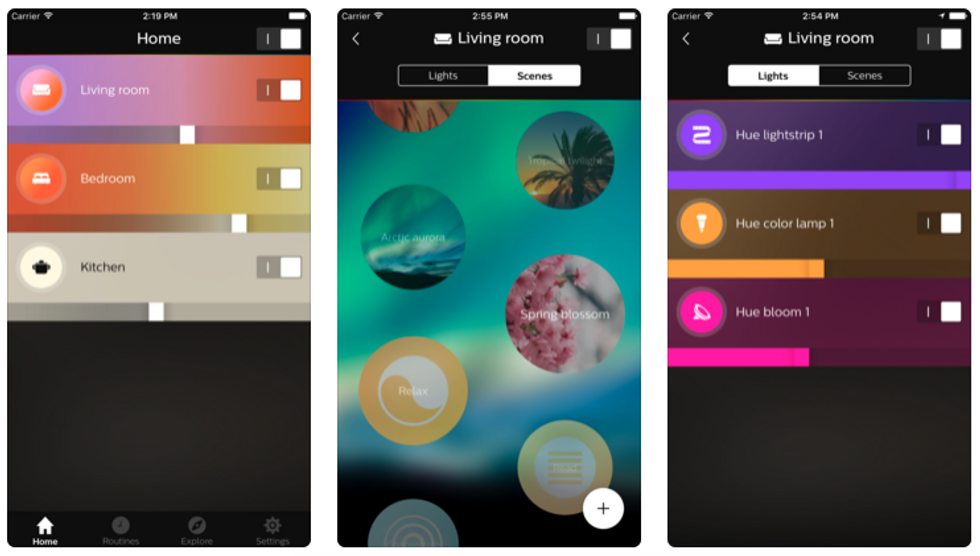 The Hue app is a good starting point, but there's much more to be hadPhilips
Used to connect new lights to your Philips Hub, the official Hue app is the obvious pace to start. There are 11 'scenes' to pick from right away, ranging from Savanna Sunset (pink and orange), through to Arctic Aurora (blue and green) and Concentrate (bright, cool and crisp).
You can make your own scenes by uploading an image to the Hue app. Say you took an awesome photo of a Utah sunrise over a vacation — upload it to the app and your Hue lights will mimic those colors.
The Hue app also lets you create routines to automate your lights through the day, control your lights remotely when away from home, and easily order your bulbs into groups for each room.
OnSwitch (Free plus in-app purchases, iOS and Android)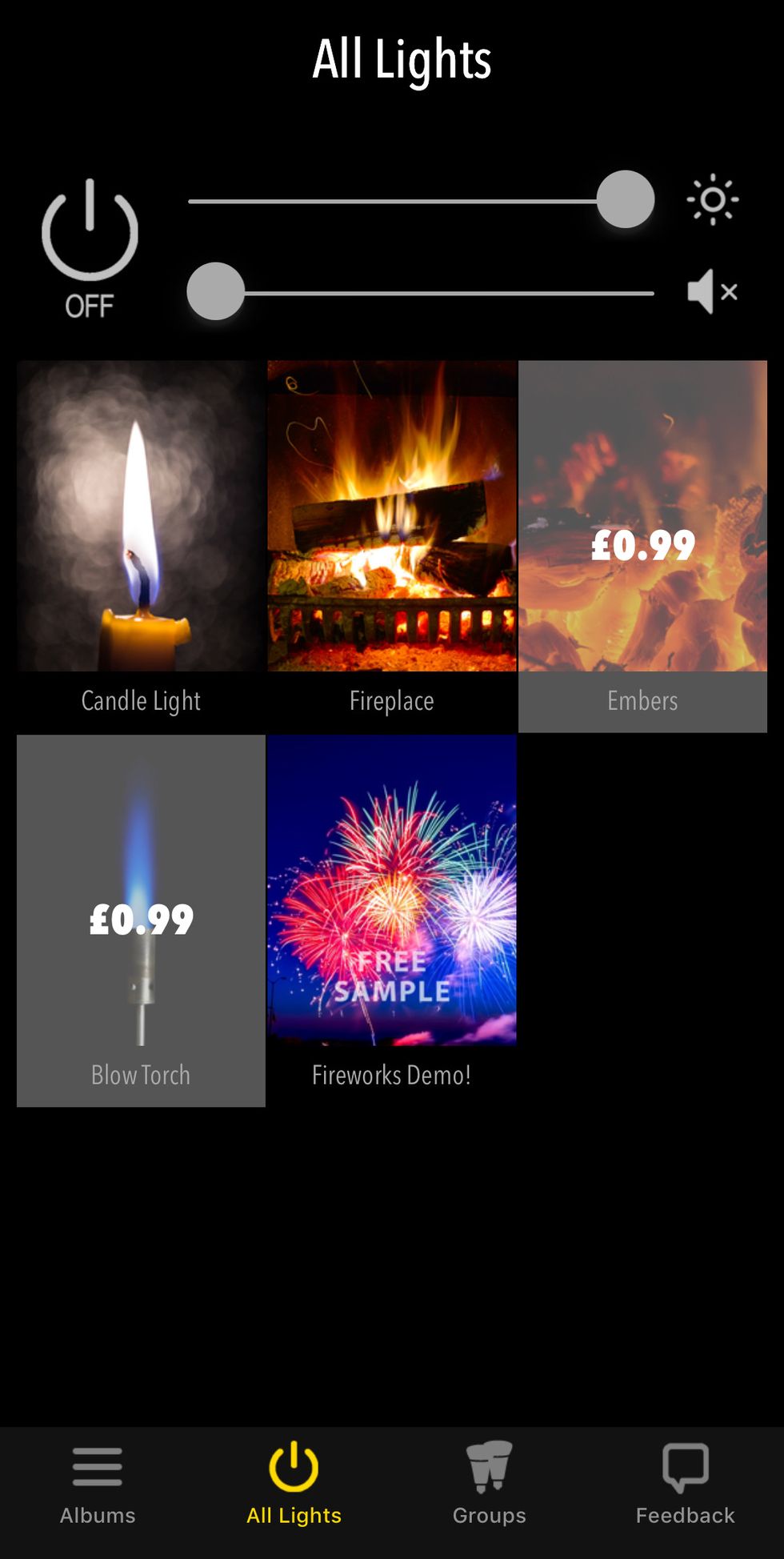 OnSwitch offers many different light effects for your Hue systemGearBrain
This is where things get more interesting. OnSwitch for iOS and Android is free. But there are a number of in-app purchases for around $1 to $2 each. You can set your Hue system to mimic the light emitted by a range of different bulbs — Edison, skylight, night light, halogen and fluorescent, for example — and recreate the flicker of a candle or log fire, complete with sound effects.
These examples might sound cheesy, but with a room full of Hue lights (at night, preferably) the app can add a fun atmosphere to your room. There are also options for home theatre lighting, with 'lights up', 'lights down' and 'intermission' settings to create the perfect lighting while watching a movie. We like the breadth of features, but with so many options to pick from — and most of them carrying an in-app purchase fee of $1 to $2 — OnSwitch can get expensive.
Hue TV ($2.99, iOS)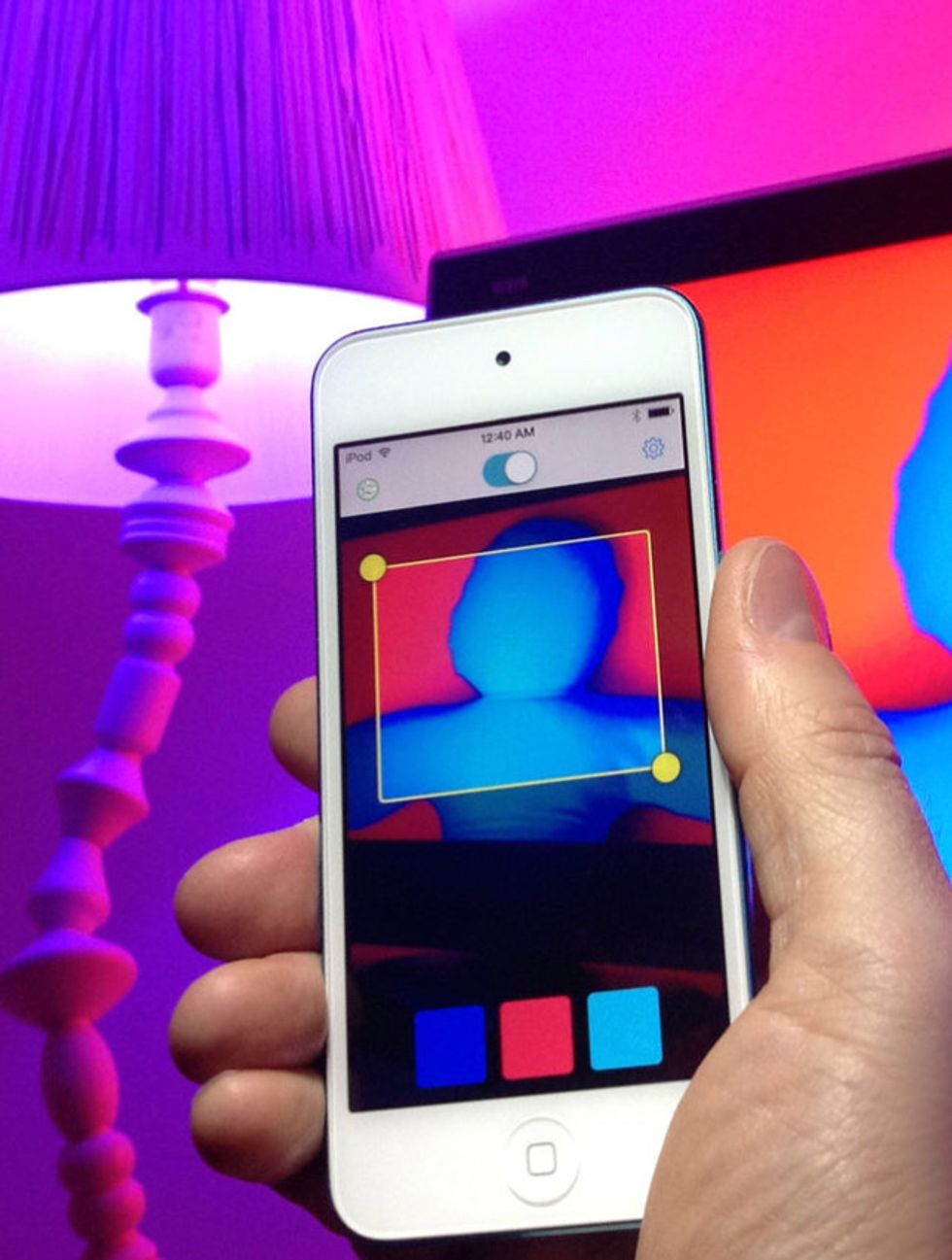 Hue TV brings Philips Ambilight to your entire roomFlaming Pear Software
Philips has included its Ambilight technology in televisions for years, projecting a pool of light behind the TV to complement what's happening on-screen. The Hue TV app brings this to TVs without Ambilight, by using your smartphone camera to monitor what's on the TV, then copying it with Hue lights set up behind the screen, or all around the room.
This of course means your phone or tablet is being used the whole time — and you'll need to find somewhere to rest it so the screen is nicely in shot — but with a room full of Hue lighting the app can add a new dimension to movie night.
Hue Disco ($3.99 on iOS, $2.99 on Android)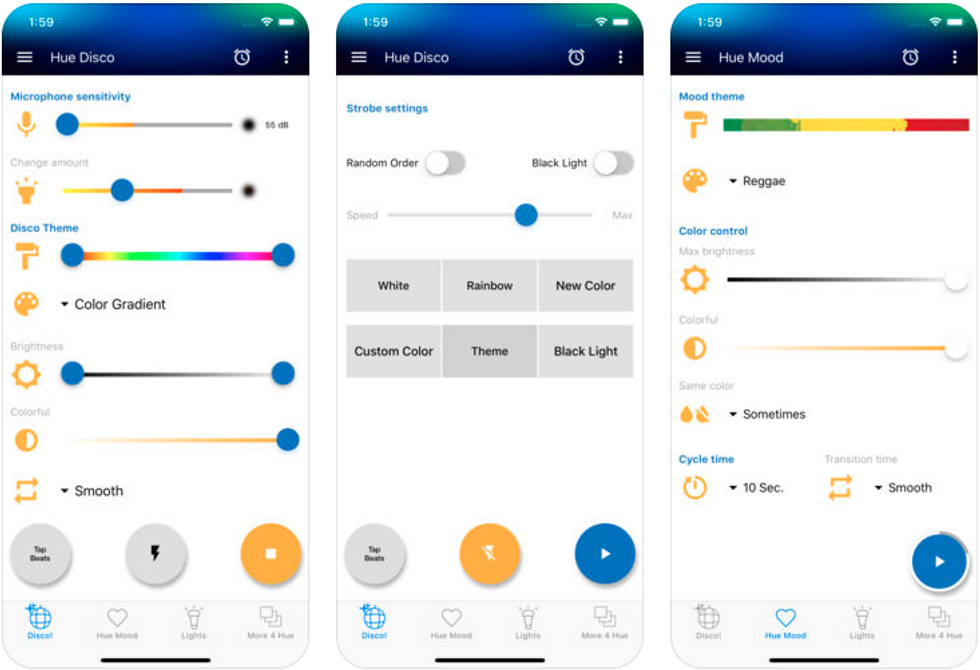 This app uses your phone's mic to match lights to beatsiMakeStuff
Another app which uses your smartphone is Hue Disco, only this time the microphone is used to match your Hue lights to the music. The app can be left on automatic, or you can adjust how quickly the lights flash and pick which lights are controlled — handy if you don't want the bathroom hue flashing on and off to the beat.

As with Hue TV, Hue Disco means surrendering your phone for the evening. Alternatively, you could run the app on that spare old Android you probably have hiding in a drawer.
Hue Lights (Free on iOS)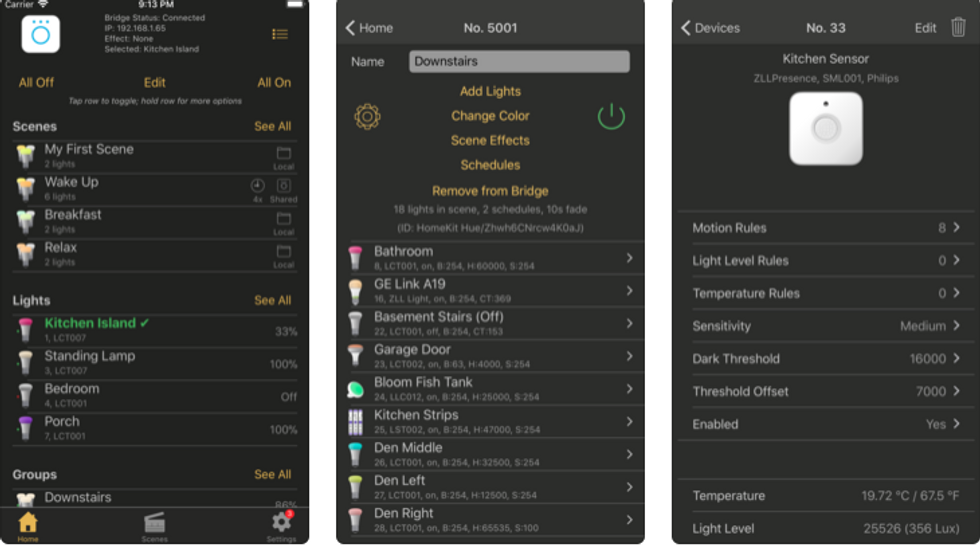 Packed full of features, this is the complete Hue lights appLapApps
This app has a huge amount of features and settings to tinker with, and it even has Apple Watch support for adjusting the lights from your wrist. You can create multi-room scenes, schedules and sequences, as well as apply dynamic lighting and special effects to your Hue system.
In-app purchases include the option of adding audio to your lighting effects, such as the sound of waves crashing against a beach, or lightning strikes to play while your Hue bulbs flash. Hue Lights also works with other ZigBee smart light systems, like GE Link.
QuickHue (Free on Android, or Pro version is $1.99)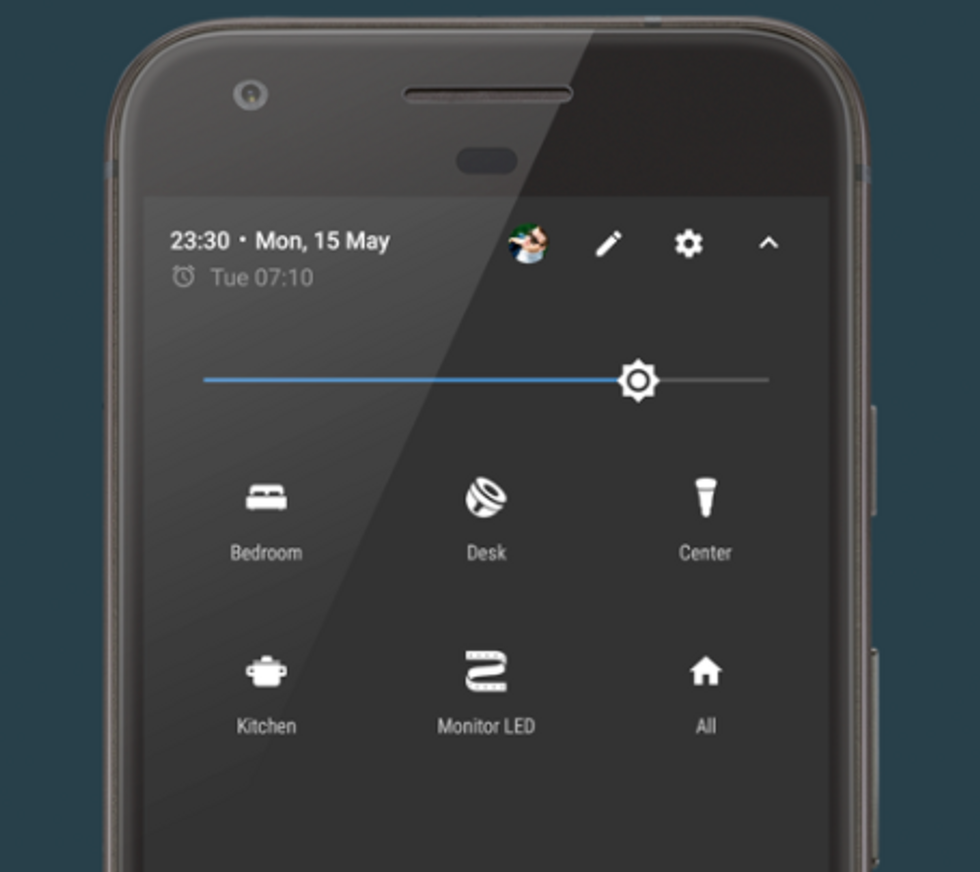 Add Hue light controls to your Android's Quick Settings pageLPirro
As clever as these apps can be, they often can't match the speed of flicking on a physical lightswitch. That's where QuickHue for Android comes in, adding on/off buttons to the Quick Settings page of your Android smartphone — with this app, you can switch your Hue lights on as quickly as you phone's Wi-Fi and Bluetooth.
The free version lets you switch all of your lights on or off at once, while the Pro version adds up to six controls to the Quick Settings page, giving you near-instant access to lighting across six rooms.
You can also check The GearBrain to see What Works with Philips Hue Smart Lights.