Like GearBrain on Facebook
There's something almost 1970s about a wall of lights. It has that past modern look — very Stanley Kubrick "2001." Still, the wall is one place where we rarely can stick a light. Smart light bulbs are easy to install in fixtures, lamps — you can even buy lighting tracks for the ceiling and the floor. Walls are relegated to sconces, hardly a modern feel. That's part of the appeal of Lifx Tiles, five square boxes meant to sit flush on the wall, a lighting motif that can change into as many colors and shades of white you can possibly imagine. The reality of the device was a bit more difficult to create, which we found when Lifx sent us the tiles to try ourselves.
Getting Lifx Tiles online

Lifx Tiles comes in a large box, and inside you'll find five square lights, micro USB cables, and 3M Command Strips with Velcro for the wall. (You don't have to drill holes in the wall to install these.) Each square Tile is marked in order. The one to start with has a green round sticker on the back, so this helps. You need to connect them to each other in order: This is key to the Tiles working properly, and you want to make sure you attach and connect them this way.
These Velcro stickers are what you'll use to attach the Tiles to your wall. Put those aside, because you're going to want to make sure the Tiles actually work together before you put them up.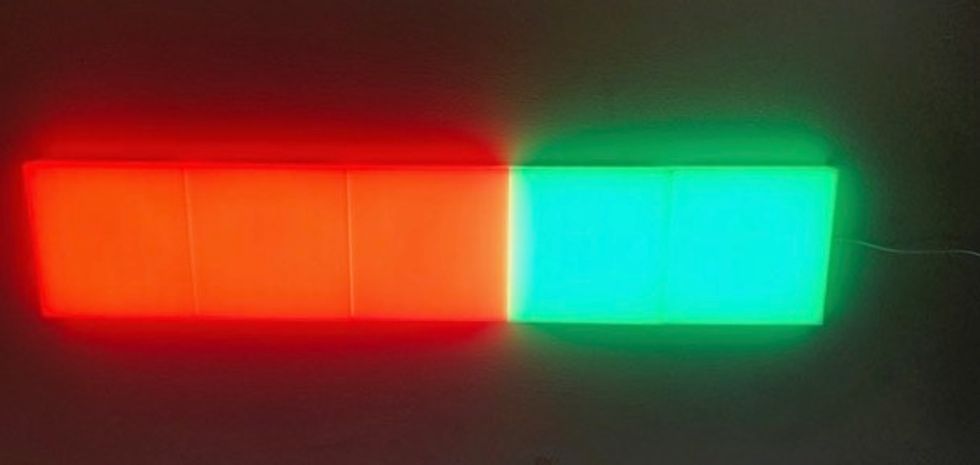 GearBrain
The goal is to make the Tiles work in tandem, and have them change color in unison. You can also assign each Tile its own color as well. Maybe you're throwing a Super Bowl party and want to give some props to each team. In any event, to get the Tiles to actually respond to the app, and change colors as they're meant to took multiple attempts on our part. The basics, however, are as follows.

You download the Lifx iOS or Android app, and then you attach the Tiles to each other with the USB C(?) cables. Then, connect the main Tile to your Wi-Fi at home. You need to create a name for your entire Lifx Tile set-up. From there, you should be able to — through the app — change the colors of each Tile, turn them on and off, and create a fairly beautiful lighting display.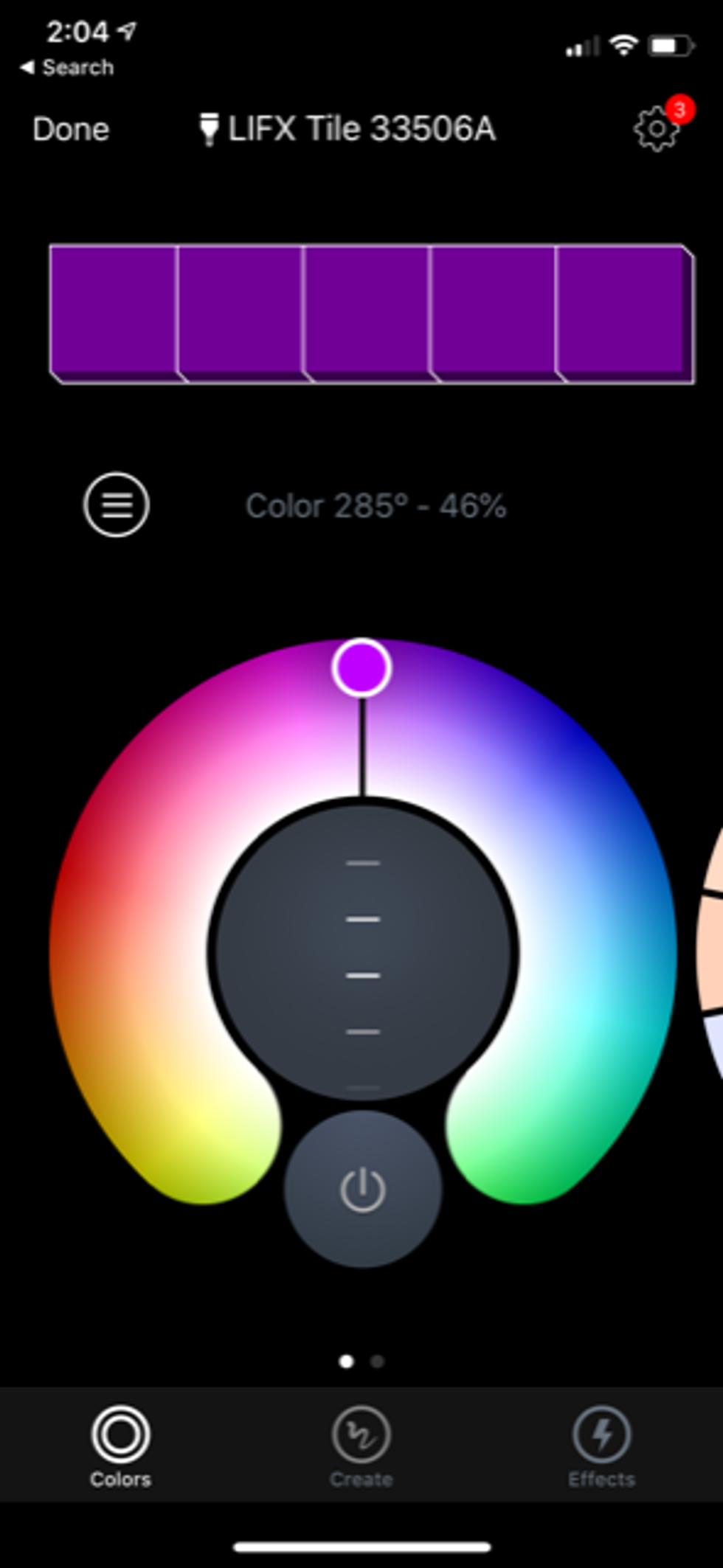 You control Lifx Tiles through the iOS and Android app GearBrain
That was the goal. Our experience was different.
We actually ended up connecting each of the five Tiles, apparently mistakenly, on their own to our Wi-Fi. While this allowed us to create individual color combinations for each Lifx Tile, it also created a problem where some Tiles were easy to control, and turn colors, and some not. At one point we had three red Tiles and two blue Tiles, and nothing we did would change the colors away from those hues. Even when we attempted to in the app — the colors shifted on their own back to red and blue.
Trouble-shooting, we unplugged the power cable five times in a row — this resets the app. We knew it worked because the Lifx Tiles flashed on and off.

Then, we disconnected all the Tiles from our Wi-Fi, and then reconnected just the main Tile. We again, unplugged the power cable — a second time now — five times in a row. Finally, all the Tiles worked in tandem, and we could control them through the app.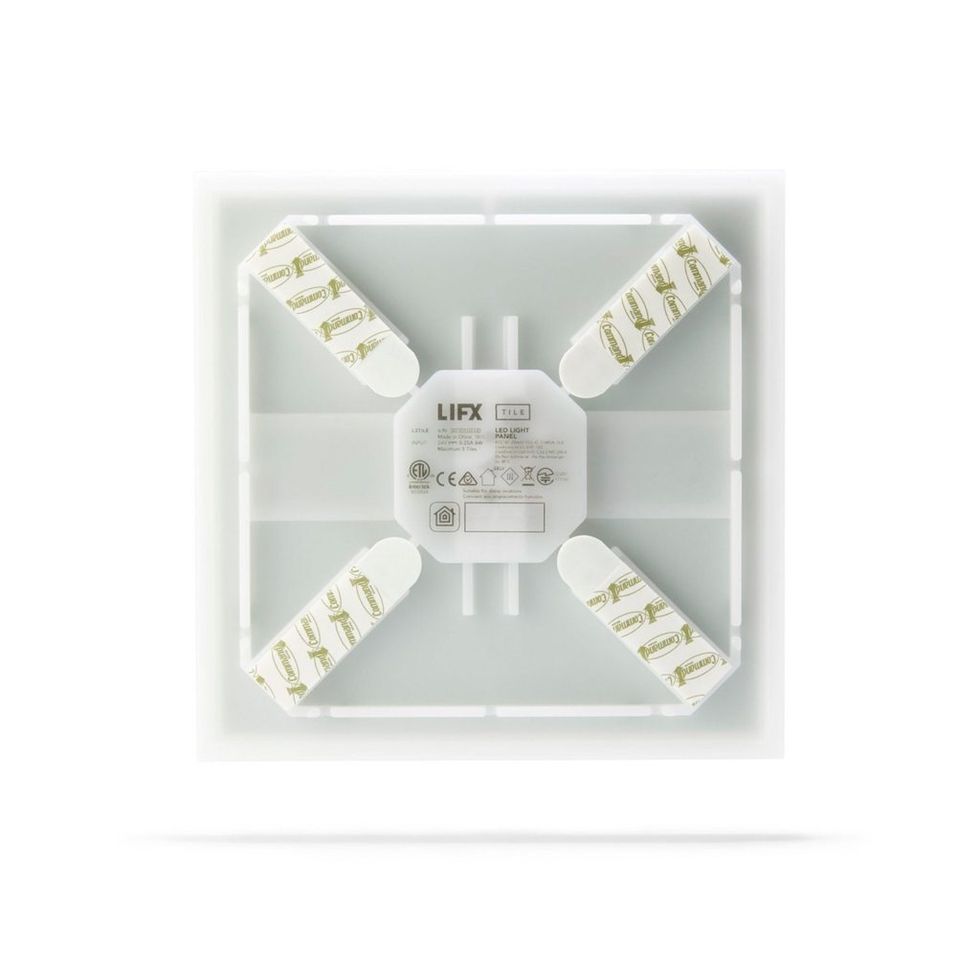 Lifx
Installing Lifx Tiles

The point of Lifx Tiles is to hang them on the wall. Lifx bulbs can be installed in lamps and fixtures and bring millions of colors and shades of white to any room through that format.
But Lifx Tiles are meant less as a functional light and more as a feature. Although, when up to 100 percent in the app, these Tiles throw off some very substantial light. Getting them hung on the wall? Not simple.
To start the micro USB cables are actually very thick, and they're noticeable. So you want to try and tuck them behind each Tile, especially if you're on the aesthetic side, and don't want them visible. That's going to take some time — and a few tries.
All in all, we re-hung our Tiles three times to get them so they stayed connected, and worked together. We never really got them perfectly flush — and even our attempts took two people working in tandem: someone to attach them with the Velcro stickers, while the second person held the remaining tiles.

The main problem is each Tile needs to be connected to the next one — all five together — before you start to hang them. Why? Because the input and output ports are on the back of the Tile and up, hidden, against the wall once you've installed it. So you can't slide a cable into the back of its neighbor once it's mounted. Hanging the Tiles with them pre-attached runs the risk of one cable coming loose. That happened to us — and we had to remove the Tiles twice from the wall to reattach cables before they were settled, connected and working.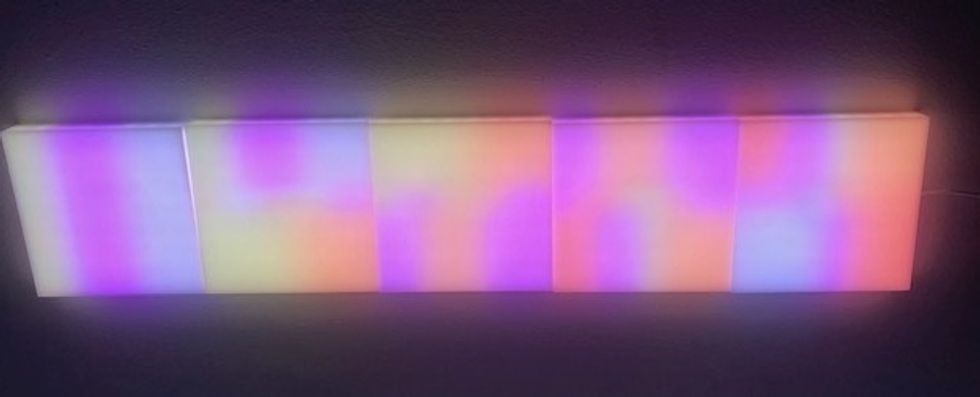 GearBrain
Effects
The way you can paint within each Tile is a big selling point. While each Tile can be its own color — or all five the same — you can actually create variations within the Tiles on their own to create truly beautiful light displays. Some are blends — we loved personally the "mellow" option under "Create." Others are tied to holidays, like Halloween . The color effects also change, like a lava lamp, ebbing with color and intensity.
Effects allow you to create different color effects, just as the name suggestions. Spooky makes the lights go on and off in random patterns. Candle Flicker mimics that light. You can also change the speed that the lights flicker and animate, as well as the brightness.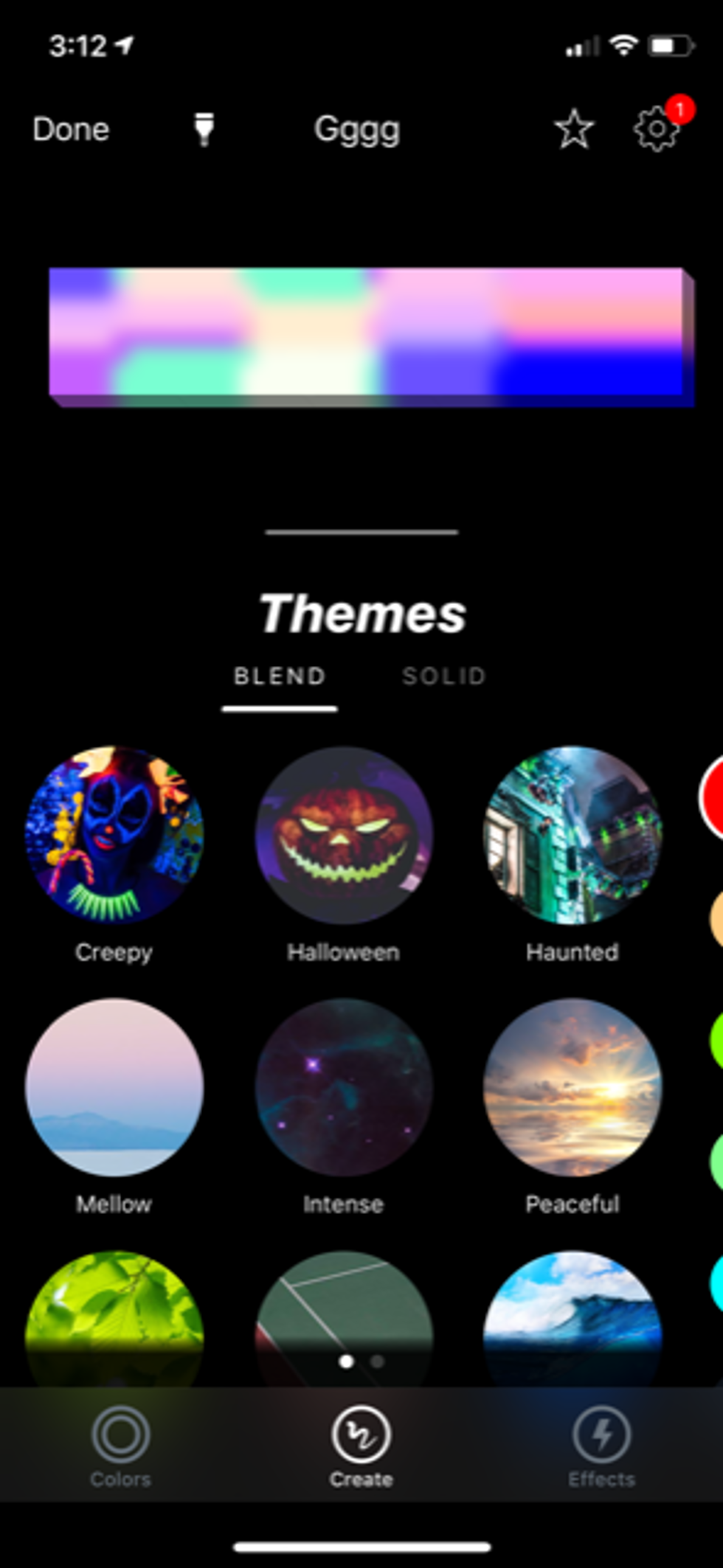 GearBrain
There's a great feature in the app that also allows you to set color temperature to mimic day and night light. Called "Day & Dusk," the lights can be set on timers so that while light temperatures (and color) gets warmer as the day progresses. We thought this was an excellent add to the app, particularly for people looking for a way to counteract the affect of blue lights from their devices during the evening.
Should you buy them?

The idea of Lifx Tiles is wonderful: A wall of light, any hue you want, something you can color customize through the year. I'm not completely ready to give up on them. The setup works with Amazon Alexa , Google Home, Apple HomeKit , Microsoft Cortana meaning you can turn them off and on with your voice through these smart assistants.
They work, and when they don't, you can get them back online. We thought the Tiles were in theory a great idea. The effort, however, is substantial — and only you can decide if that's worth the result.
Pros:
Great concept
Millions of color options
You can customize placement as long as it's near a wall socket
Cons:
Difficult to get cables into place
App is temperamental
Have to remove Tiles from wall if cables are loose
10 second Unboxing - LIFX Smart LED Bulb www.youtube.com
Like GearBrain on Facebook