Like GearBrain on Facebook
Debuting at Toy Fair 2020, Power Treads is a bit of a hybrid toy, somewhere between battery-powered racing cars and build your own robot. At $30, the entire kit lets children build a simple track and then run a simple robot along its length. WowWee, which makes the toy, sent us a sample to play with, and here's our take on the toy.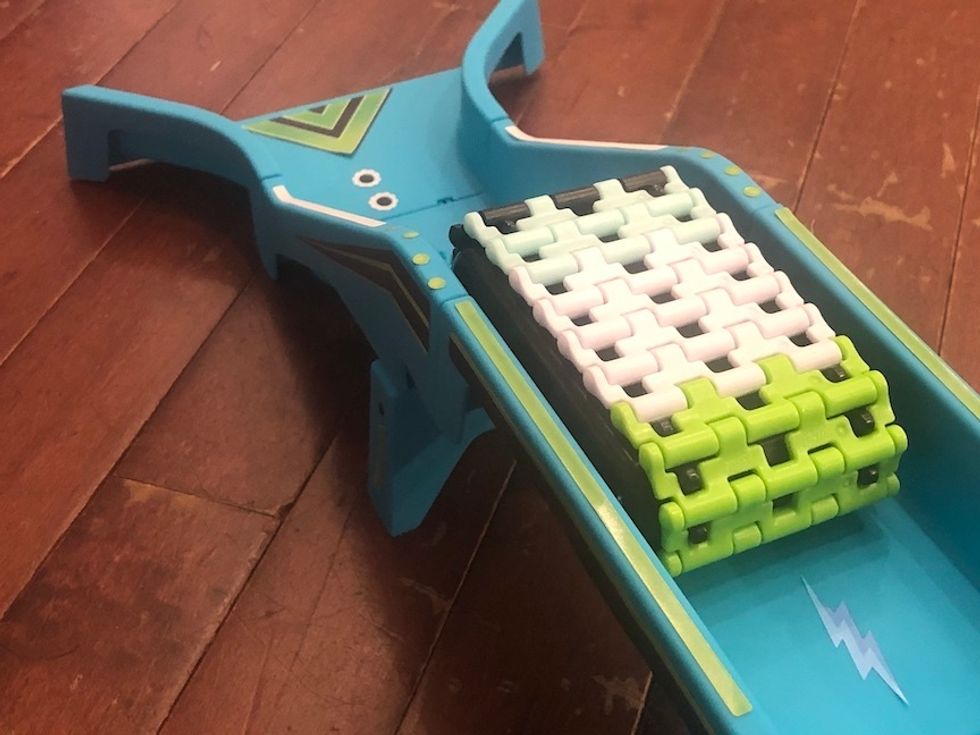 You can build your own track with Power TreadsGearBrain
Setting it up

This is not a smart toy — but it does move. Battery-powered, the toy starts with a basic engine that you build around. You get 24 treads that link together — you'll only need four to get around the entire motor — and pushing one single button gets them all moving in a direction, and moving fast.
You can also swap out the battery if you need to, and will need to pull the treads off the motor, and then a Phillips screwdriver to open up the battery case.
There's also a mini figure, almost elephant shaped, that snaps together from just five pieces. The key is putting the operating motor, with treads, on to the future which catches the levers on the top and gets this thing moving. When the motor is rolling around on its own, it moves quickly. On top of the larger figure, it lopes. It's fun to see the difference in speed.

You also get 16 pieces of track, and a sheet of stickers to build a course for the motor and trees. The larger figure, which the company calls the actual Power Trekker, doesn't fit on this course. But you can easily design your own. And that's really the point of this toy.
In terms of set-up, it took more time to decorate the pieces with the enclosed glow-in-the-dark stickers (I did set myself a challenge to use every one) then to add the treads to the motor, and build the Power Trekker and course. In short, I was done in about 15 minutes.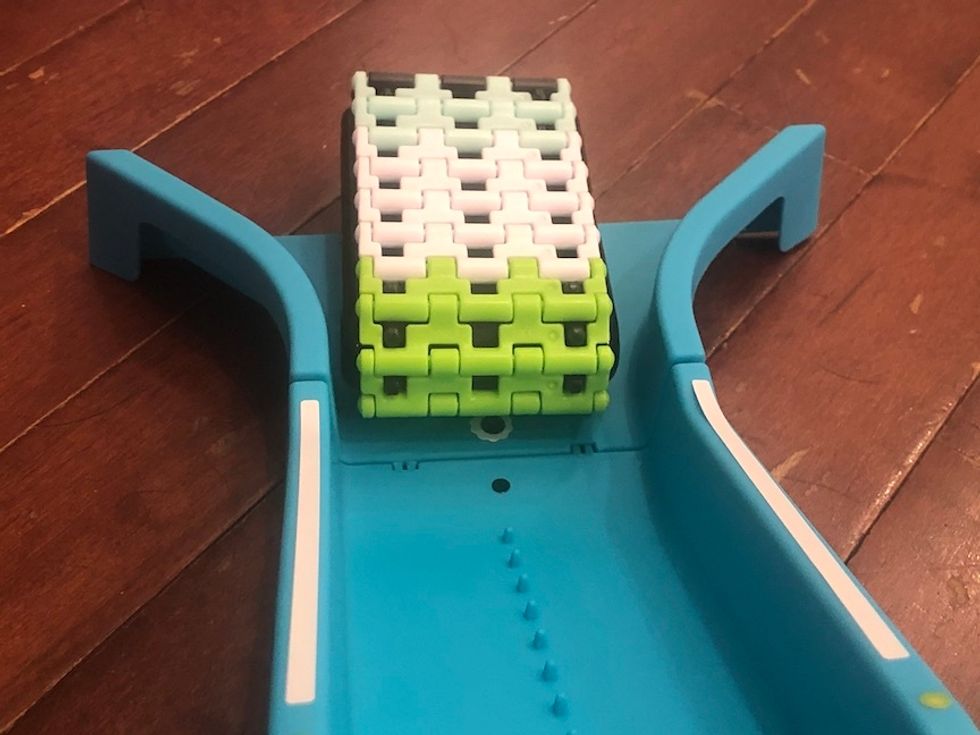 There's some science and engineering at play with Power Treads, including considering the angles and slope of the tracks you build.GearBrain
Playing

What's nice about Power Treads are not the different pieces, or how simple it is to snap everything together. What's nice is that children really can design and engineer their own courses, and choose options that either work for the smaller, faster moving robot, or one that would allow the larger slower Trekker to get around.
These kinds of open-ended options are ideal for children, as they seem like play — in that they're fun — but they're also tap in to learning moments. Building a course that can handle a larger robot over a smaller one requires engineering thought, even if it's just looking at materials as simple as cardboard. Children need to consider the slope that a robot needs to move up and down, for example.
And getting a fast vehicle around a track without it going off course requires some engineering too — setting up barriers, but those that encourage motion to continue rather than making a vehicle come to a complete stop.
Power Treads are simple, but sometimes simplicity is a good starting point for invention.
Price
Power Treads are priced at $29.99. (Buy on Amazon here.)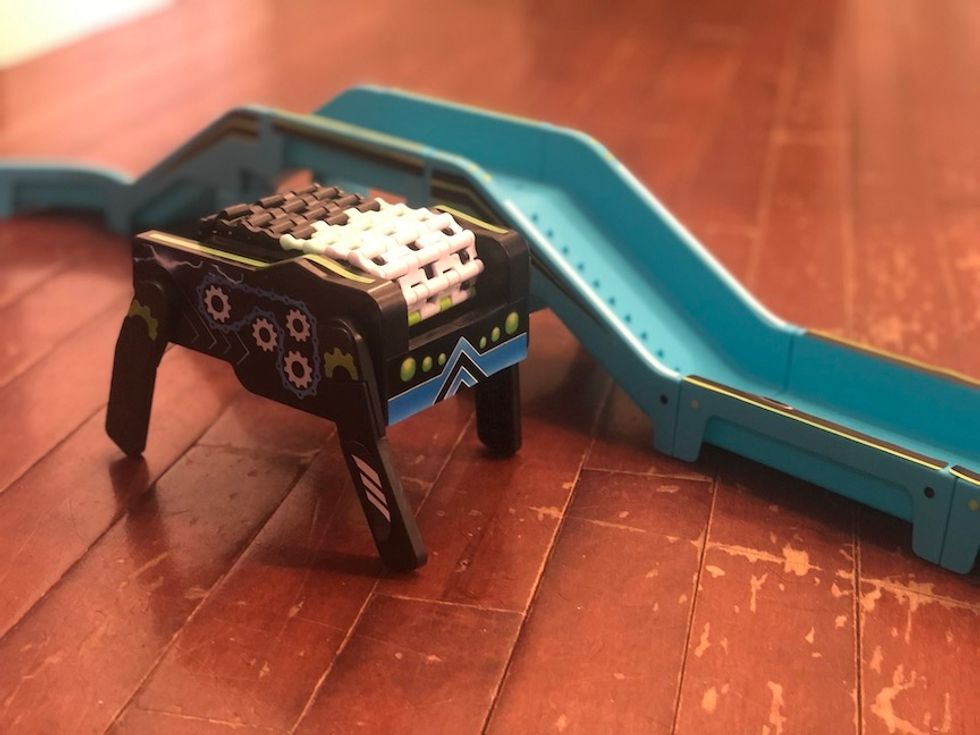 Power Treads comes with stickers to decorate the track and the toyGearBrain
Worth buying?

Granted, Power Treads is a toy made up of plastic parts that likely won't survive years on a shelf. Too much rough play, in fact, and we could see the track pieces snap apart and break rather quickly. In short, these aren't wooden blocks that can be sanded and re-varnished for the next generation.
Even if it's not a toy robot that can be programmed through an app, for $30 you get a moving vehicle that can encourage kids to physically program the space around them. With children having to spend even more time on screens, physical, active, play time is at a minimum.
Power Treads could be a fun anecdote to the flat, moving images dancing in front of a child's face and give them a chance to get hands on with a moving object they can control, and build for, on their own.
Pros:
Encourages children to engineer their own play
Robot can move very quickly or slowly
Price
Cons:
Plastic parts with snaps that are a bit flimsy
Requires a screwdriver to swap out battery
Treads move quickly and can get caught in hair if near a child's head
GearBrain visits Toy Fair 2020, and plays with WowWee's newest toy, Power Treads www.youtube.com
WowWee Power Treads - All-Surface Toy Vehicles - Full Throttle Pack - 40+ Pieces (As Seen on TV)
From Your Site Articles
Related Articles Around the Web
Like GearBrain on Facebook