Like GearBrain on Facebook
As the golfing season heads into the summer months, and many of us start to play golf more frequently, we could use some help to learn how to improve our game. Arccos has a solution with its new connected golf device, Arccos Golf Performance Tacking System.

If you have read any of our other connected golf reviews, you will know that I am an avid golfer with a 15 handicap. I love the game and am always looking for new ways to improve. In testing Arccos Golf, I found a connected golf device that generates a lot of real-time data, which can be extremely valuable while you are playing. Whether it's trying to decide which club to hit, or how far you have been hitting each club, it's all there live on your phone.
The Setup
Getting started is very easy with Arccos Golf. When you open the box you will find 14 lightweight sensors (12g) which you screw in to the end of each of your clubs. These sensors look big and seem heavy, but I didn't find they altered my club weight. You will see there is one sensor specifically for your putter. It is a different shape (more of a triangle) and I would recommend screwing in that sensor first. It took me only a few minutes to screw in each of the sensors.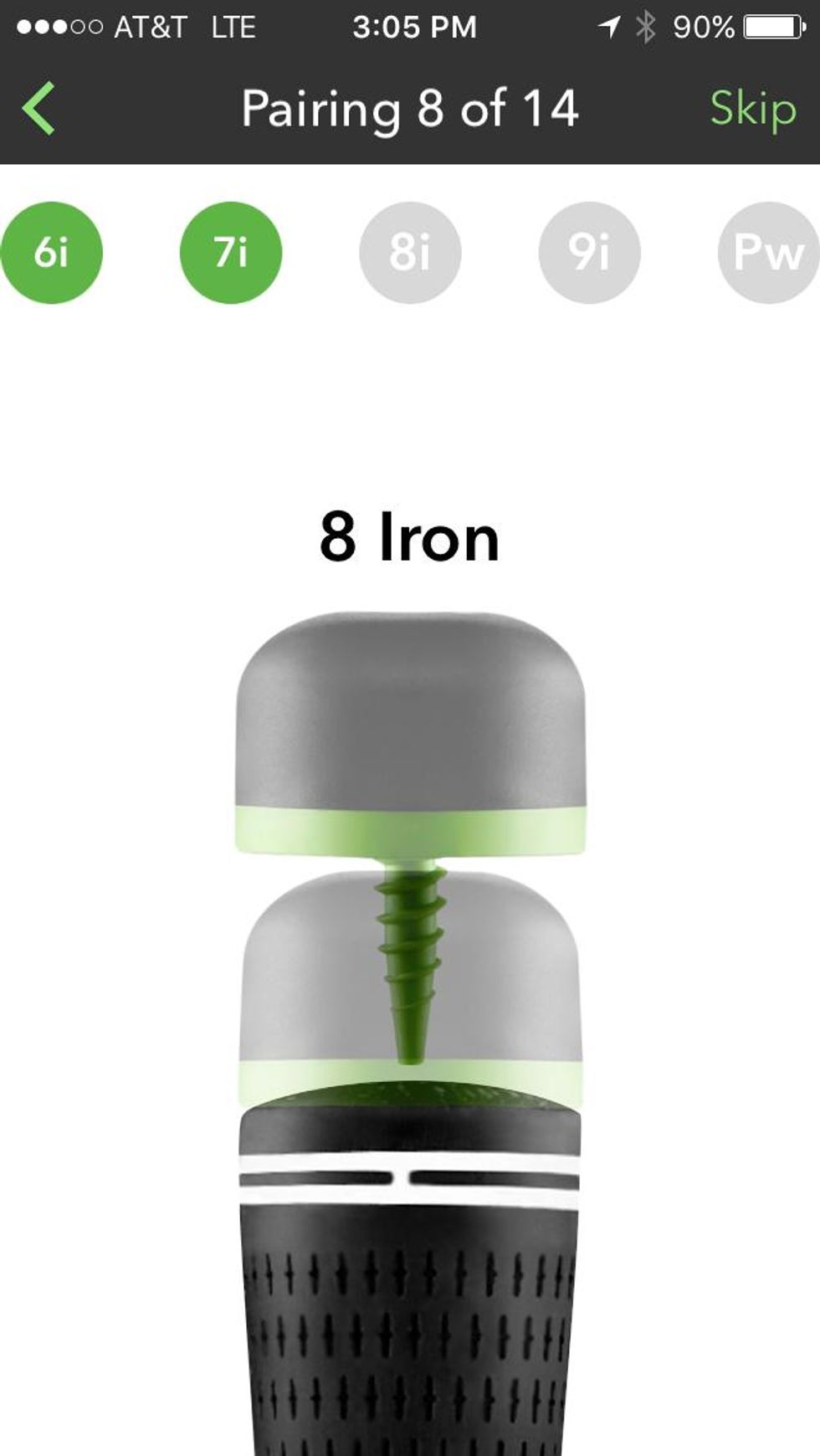 Once you finish screwing in the sensors, you can start to pair your clubs. You will need to download Arccos Golf's app, available for both Android and iOS, which will prompt you on how to pair each club. This process is very simple and took me only a few minutes as well to complete. You just pull out a club, then press down on the top of the sensor. Your phone will tell you when a club has been paired, and you'll need to repeat this process for each club. Once the pairing process has been completed, you are ready to play golf.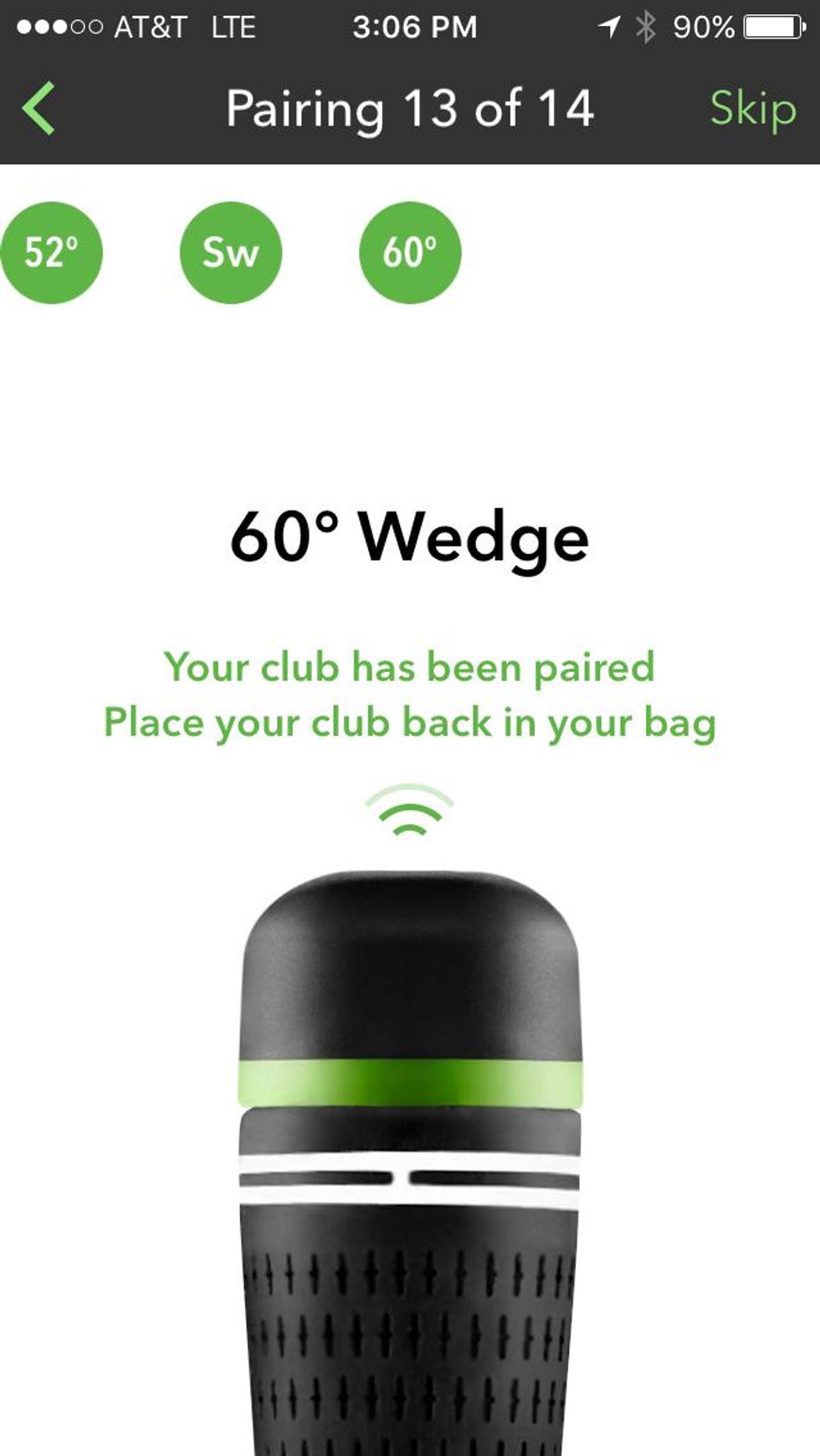 Playing golf with Arccos Golf

Once you are ready to play your first round of golf with Arccos Golf, there are some very important tips you need to follow in order to get the most our of this new connected golf device. I can tell you firsthand that if you don't follow these tips, you could end up with data that look this: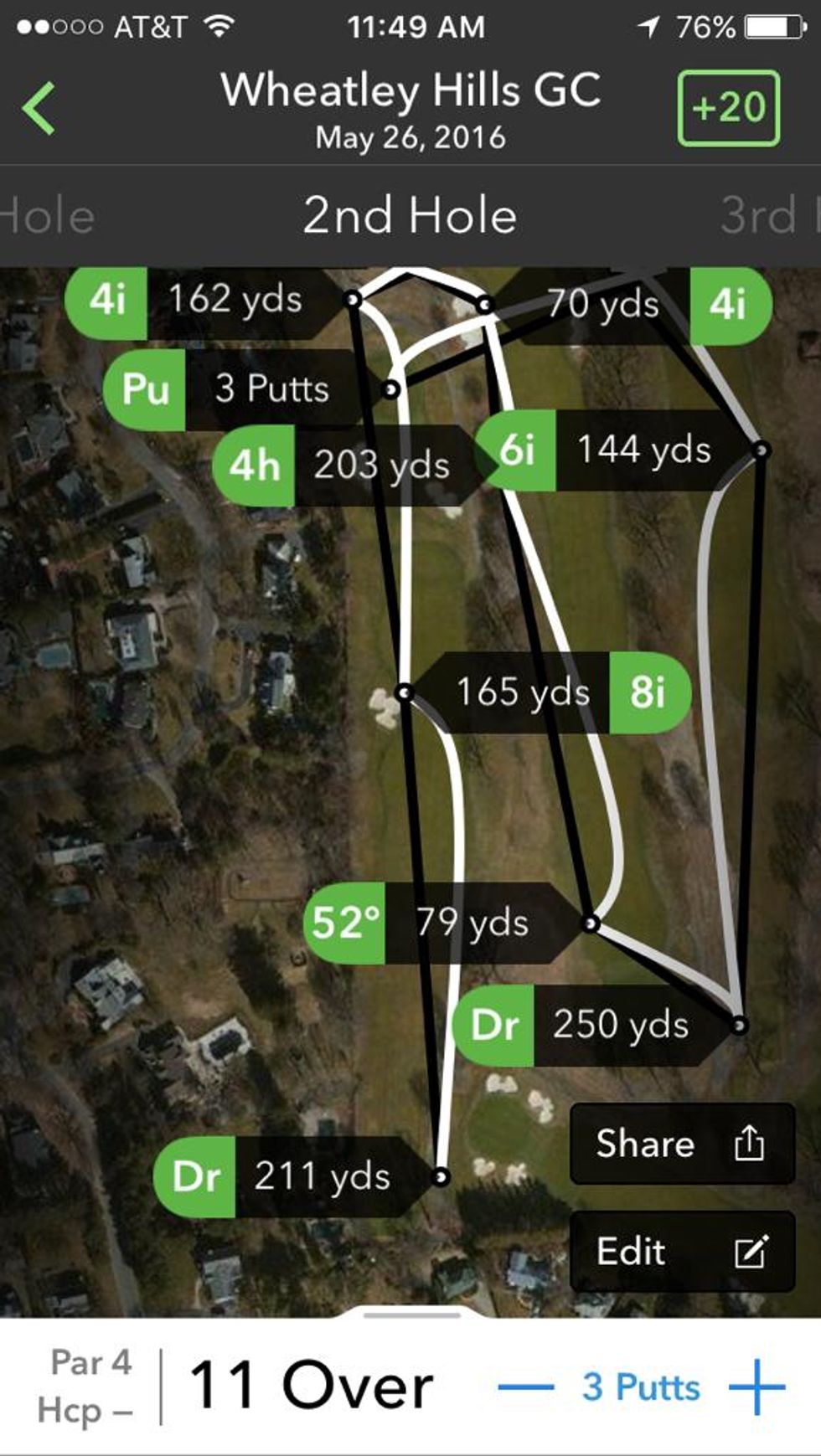 First, you need to understand that your phone is the most important piece to making Arccos Golf work properly. Your phone's GPS is essential to getting the right data on each shot. Before starting to play, make sure your phone is fully charged, and that you've turned on Bluetooth. Arccos will drain a large percentage of your phone's battery while playing because of the amount of data it's collecting, but you'll find this worth it in the end. Still, when I played, Arccos drained over 40 percent of my phone's battery power.
In addition, it's important to note you need to have your phone on you at all times. You can't leave your phone in the cart or your bag. I tried, and got what you saw in the picture above—a lot of shots recorded on one hole. I understand some golf courses don't allow cell phones on the course. But I am sure if you explain to them you are using your phone like a caddie, and will not be making phone calls or texts, you should be fine.
The next tip to remember when playing with Arccos Golf is to carry your clubs upside down. If you don't, the app could collect the wrong data. Bumping clubs together, dropping clubs and hitting clubs against a hard surface can also trigger a shot. If you are playing with a caddie or forecaddie, make sure they know to keep your clubs upside down at all times. I played with a forecaddie using Arccos and I didn't have any issues once I asked him to carry my putter upside down and avoid banging it against other putters.
Third, Arccos Golf's putter sensor is designed to capture all the little putts you try on the green. Therefore try to handle your putter very carefully. Bumping against other clubs, even excessive handling of your putter, could trigger a shot or inaccurately record the distance of a putt.
Finally, you don't have to worry about your practice shots or mulligans being recorded as long as you are within a five yard radius of your tee shot. Arccos Golf doesn't record these shots unless you are putting. The app will record the shots, but you can easily edit those in the app to reflect how many strokes you took to make the putt.
Once I had learned all the do's and don'ts of Arccos Golf, I started my round. I found the device very easy to use, and the GPS quite accurate. Arccos has an advanced GPS system with over 35,000 courses worldwide, making it simple for me to find my course, Wheatley Hills Golf Club in East Williston, NY. I also found the GPS to be very precise, especially when approaching the green. (See below). I checked my Bushnell Neo X golf watch a number of times during my round and saw the distance on my watch to be the same as to what was on my phone. (Note: Arccos Golf has an Apple watch app, in case you want to use this device while playing.)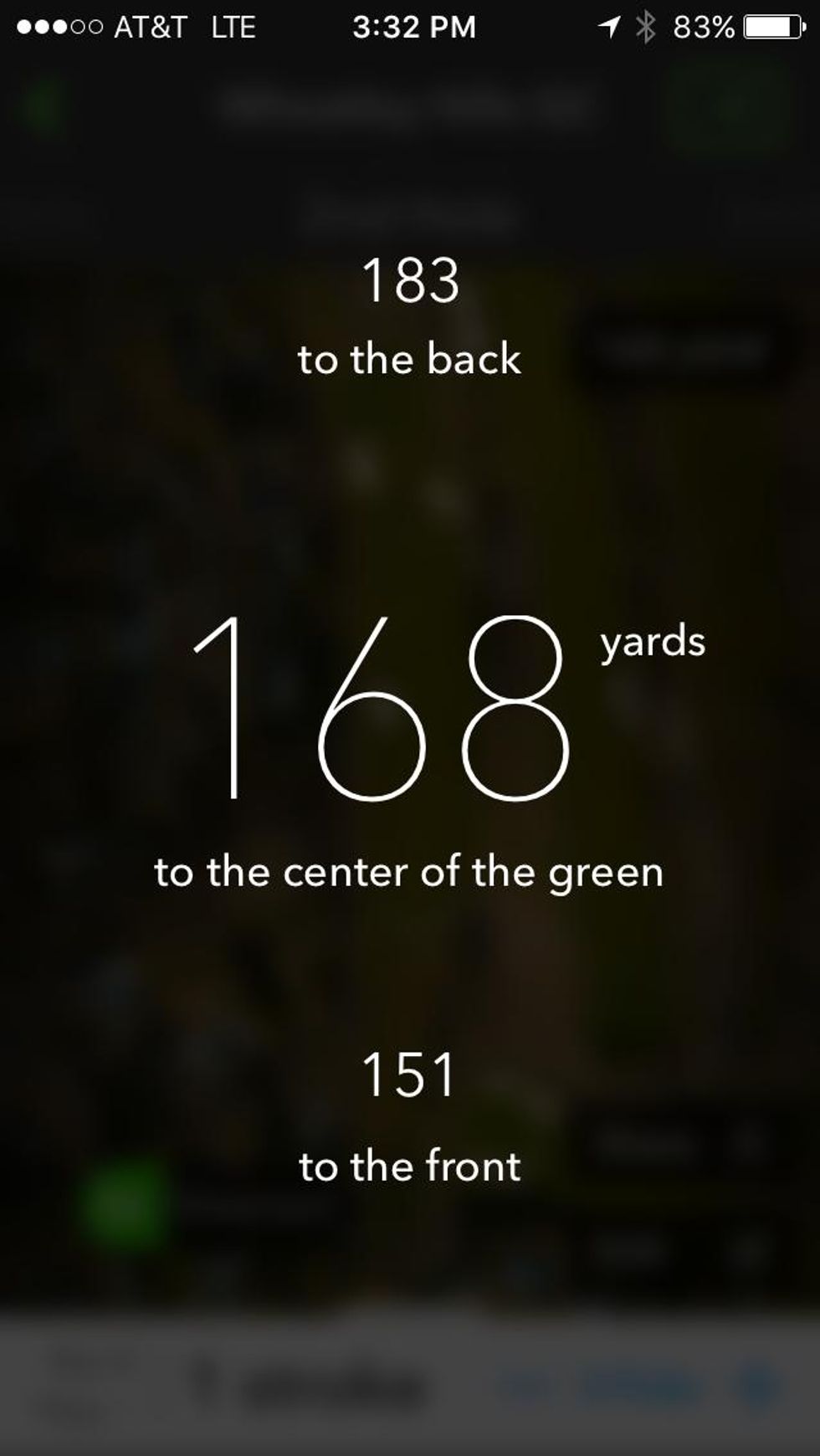 Arccos also offers a unique "distance to" feature, which allows you to pick a spot on your phone and then accurately see the distance to that spot from where you are standing on the hole. (See below.) This was very helpful in finding the right distance to a particular landing spot you might want to hit.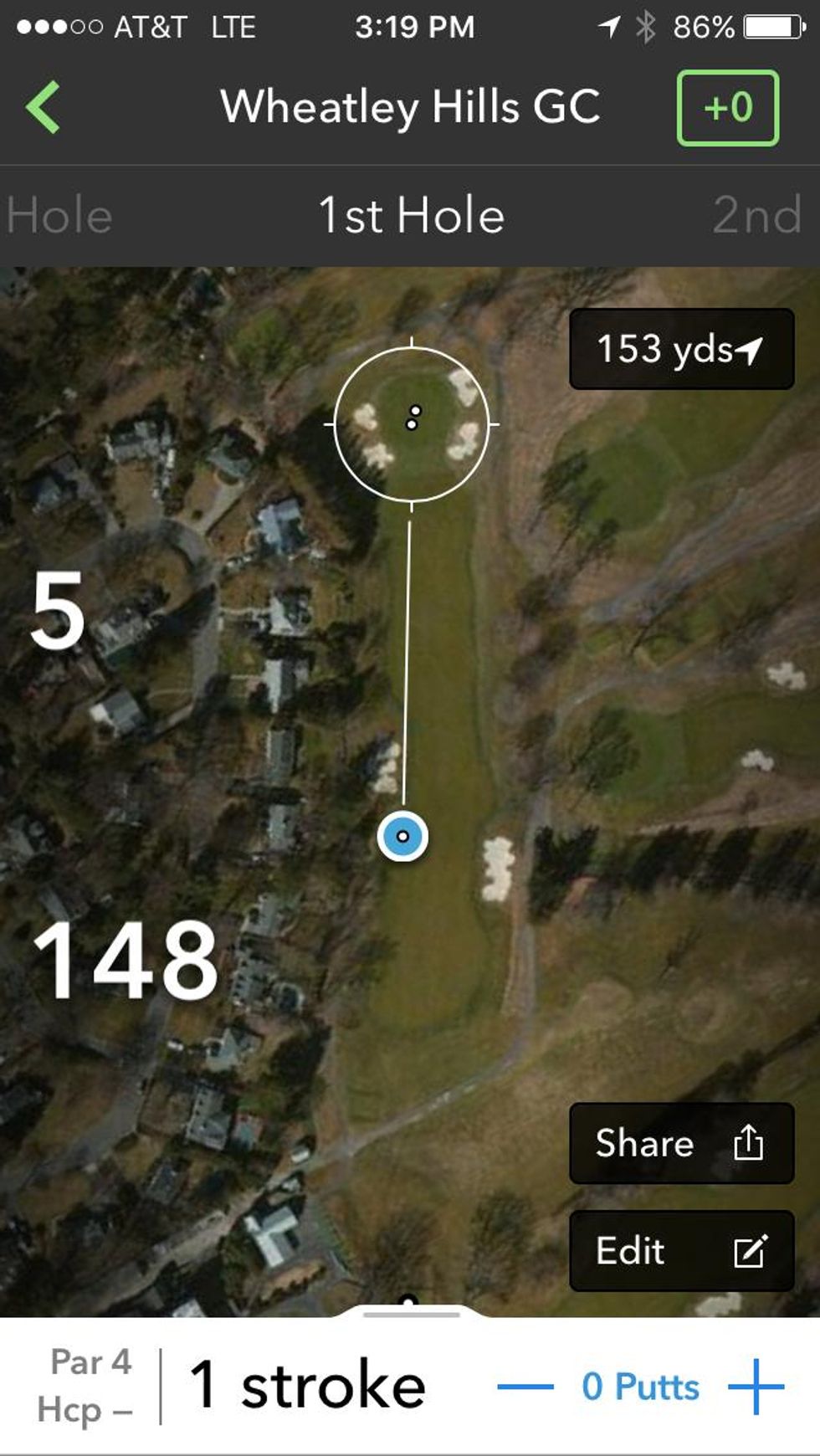 After the round, meet Big Data

What I liked the most about Arccos Golf was the real-time data you get on the app, as well as on the desktop version. Arccos Golf provides you with shot tracking, club distances and details, along with player data all in real time. This data can be extremely helpful to players, and their instructors, because of the valuable insights on your overall performance from deep dives into statistics, past rounds, Tour Analytics and more.
"With the five handicap areas Arccos analyzes—Driving, Approach, Chipping, Sand and Putting—students can clearly see their gains in specific aspects of play, reinforcing the benefit of the instruction they've received," says Brad Worthington, director of golf at Trump Golf Links at Ferry Point, and an golf instructor since 1985.
I found Arccos' data to be extremely helpful not only after I played, but as I played. With your phone holding all the data in the Arccos app, you can access stats in real time from how far I hit a club to the range I hit a club. How many times are you playing on a course, trying to figure out which club to use? If playing with a caddie, how many times do you ask him or her how far the the pin is, and what's the hole playing? The Arccos app produced immediate, and helpful, answers to these questions for me, especially when I had days I just wasn't feeling it. I also found the data on each club invaluable.
Of course, USGA rules prohibit the use of these type of devices in tournament play. Yet Arccos Golf offers an app called Arccos Restricted which allows you to use Arccos Golf during tournament play. The app just turns off the real-time function while you are playing, but still records all of your data. You can download the app from Apple's AppStore and Google Play.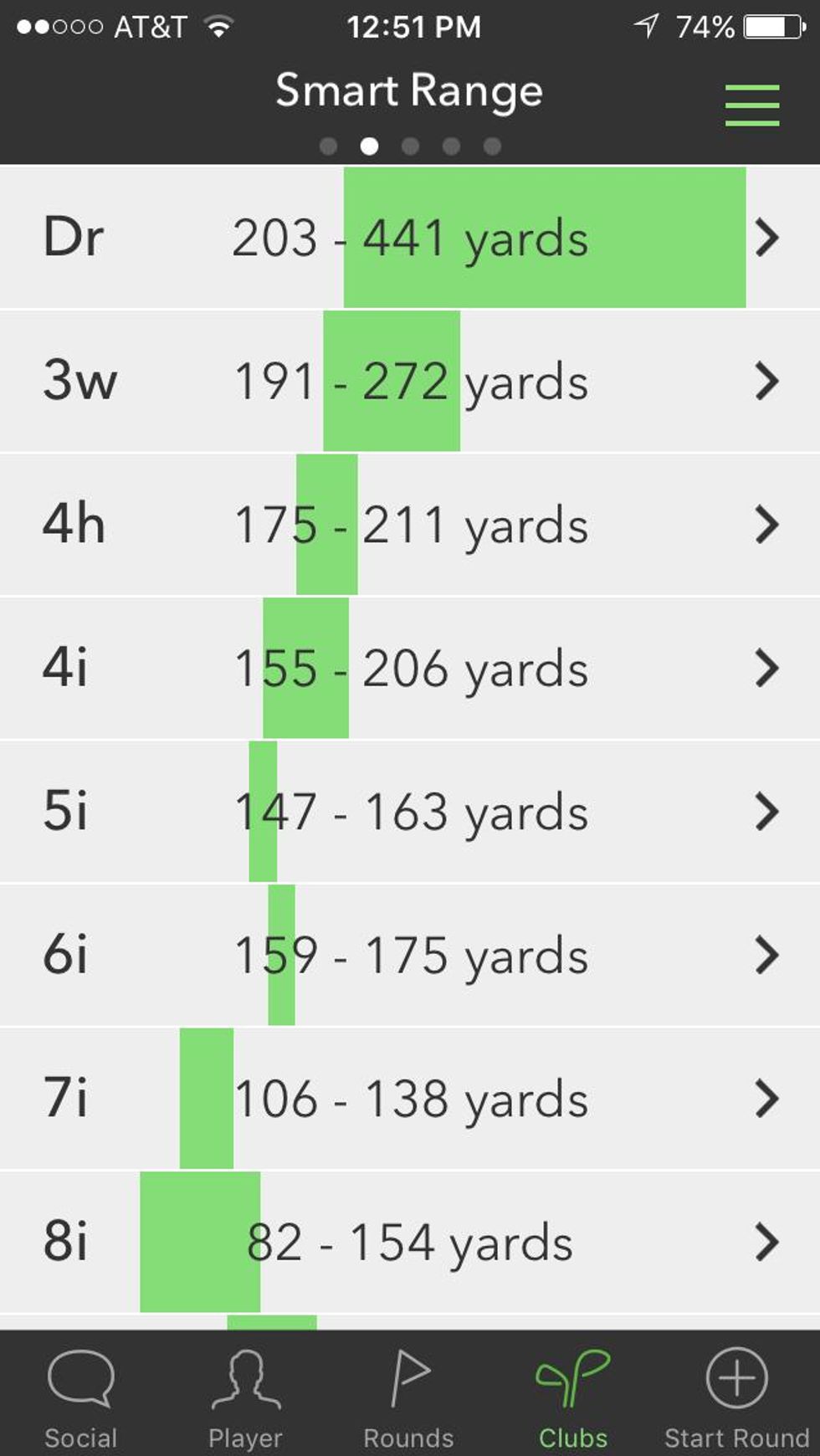 One thing to keep in mind is, even with all the data Arccos Golf collects, you still need three to five rounds of golf to get the insights you will want. Playing just a few holes doesn't really help tell the story on how well, or how badly, you are playing. Once you've recorded enough games, the magic starts to appear offering insights, even while you're on the course, on how to improve your game and take strokes off your handicap.
You can also incorporate Arccos Golf into your golf lessons, whether you are the teacher or the student. The app helps you get data based on what you did on the course, not the range, to see where you are struggling so you can build a plan to fix these areas. "Arccos has the ability to enhance the teaching experience for me and my students with zero interruption to their routines," says Worthington. "By analyzing the important data the system seamlessly captures, I am building my lessons around facts acquired during actual rounds rather than what we're seeing that day on the range."
CEO Sal Syed and COO Ammand Faisal launched Arccos Golf in October 2014. Childhood friends, the two created a unique, connected golf device based on their love for the game. They realized golf lacked technology to help golfers and instructors track, analyze and ultimately improve a golfer's game, and wanted to build a connected device to provide real-time insights, while changing the way we think and play the game.
Arccos Golf is endorsed by 2014 FedExCup Champion Billy Horschel, and developed in conjunction with golf's most renowned statistician, Peter Sanders. Tour Analytics draws from his work with PGA Tour star Zach Johnson and many others. Arccos Golf's retail price is $299.99, and it's available online for purchase, as well as on Amazon, golf specialty stores (like Golfsmith) and sporting goods outlets (like Dick's Sporting Goods). To learn more on where you can purchase Arccos Golf, you can go to Arccos's site to find a dealer near you. (Note that Arccos also offers Arccos Driver for $79.99. This product is good for players who only want to work on improving their drives.)

Overall, I liked playing with Arccos Golf and recommend it to golfers who want to improve their game and love big data. As a golfer, the only thing you need to decide is if you mind playing with your cellphone in your pocket. Some people do and some don't. I didn't.
Pros: Tons of data, accurate GPS and easy installation
Cons: Must check your phone regularly, and have the device on you while playing, plus eats battery life
Like GearBrain on Facebook