Like GearBrain on Facebook
Last Updated: October 12, 2016
Watching a movie? Once, a peaceful experience. Cocooned in a high-backed seat of red velvet, a bucket of popcorn perched on our lap, we would be transported for two hours to another land, another space, another time. No longer.
As on-demand entertainment replaces the theater, door bells and even barking dogs can interrupt that flow of falling into someone else's story. Now add to that interruption BB-8. In this case, though, it's enjoyable.
Last year's big ticket toy from Sphero just got an upgrade. With the latest Star Wars saga now available to buy on iTunes, Blu-ray and DVD, BB-8 can be your movie watching companion. Plucky and chirpy with robotic zeal, the droid now reacts to what is on your screen: As long as you're watching Rey, Finn—and BB-8's favorite person Po—kick it to the First Order.
My 13-year-old daughter (aka Rey's biggest fan) practically tore our demo BB-8 from its box. She made quick work of the infographics that showed how to charge and load BB-8's app on to my iPhone 5s. Fully charged, BB-8 has 60 minutes of playtime, with a 30 meter Bluetooth range from your device. (The app works with most iOS devices, plus those running Android and Windows 10.)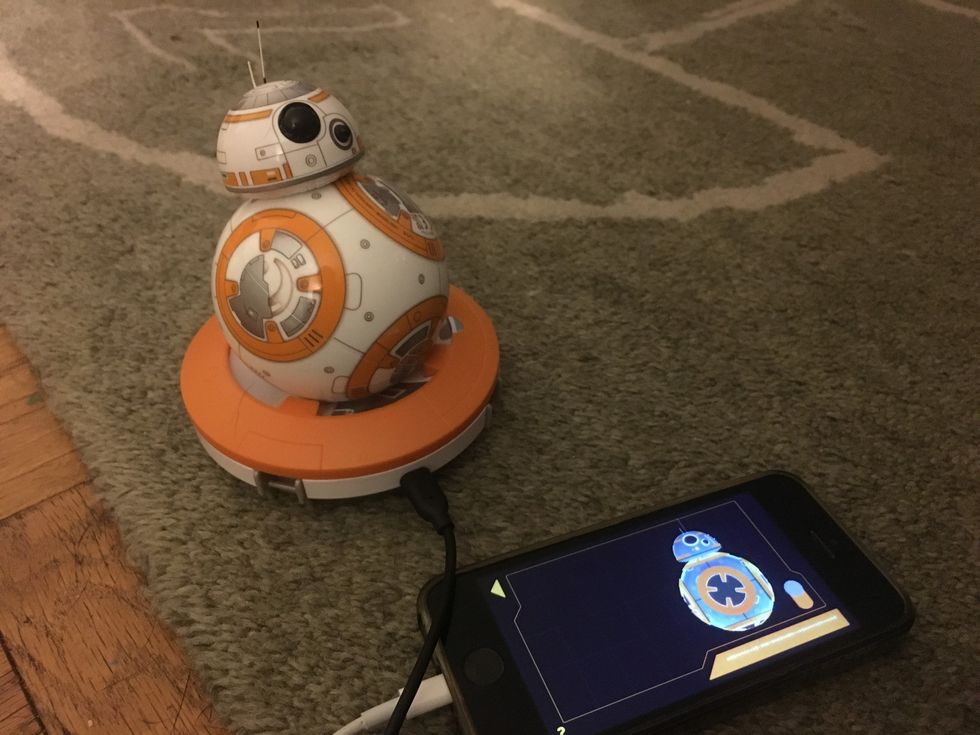 You'll need to pair BB-8 to its app, and install the upgrade so he can enjoy the movie.
Joy ride

The droid barely had a second to charge before my daughter decided to take Sphero for a test drive. We had some hiccups: When directed to go forward, BB-8 sometimes went diagonally. There were also a few mishaps involving a skateboard and a table leg where BB-8's head popped off twice.
Our 80-pound Labrador also didn't like his space invaded. At first fearful of the rolling rover, the dog finally realized he had teeth, requiring that we save BB-8 he was carted off to the dog's bed.
But finally, I convinced my daughter to settle BB-8 back on his charger, and clicked 'yes' to buying Star Wars on iTunes. Instructions state that the toy works best when BB-8 is on his round charging station while watching the movie. So we left him there. I plugged my phone into its charger as well—the app needs to stay open to keep BB-8 active, and reactive, during Star Wars.
Finally, you need to grant the app access to your smartphone's camera and microphone, plus permit notifications. This later part is crucial for watching Star Wars:The Force Awakens in tandem with BB-8. Why? Without popups enabled, the toy won't recognize the movie's main characters on your smartphone screen. Is this necessary? Not really. Frankly keeping an eye peeled for them to appear distracted a bit from the movie. Still, watching BB-8 move had its fun. Clearly he enjoyed when he saw himself on ahead, and (spoiler ahead!) when he saw Po had survived.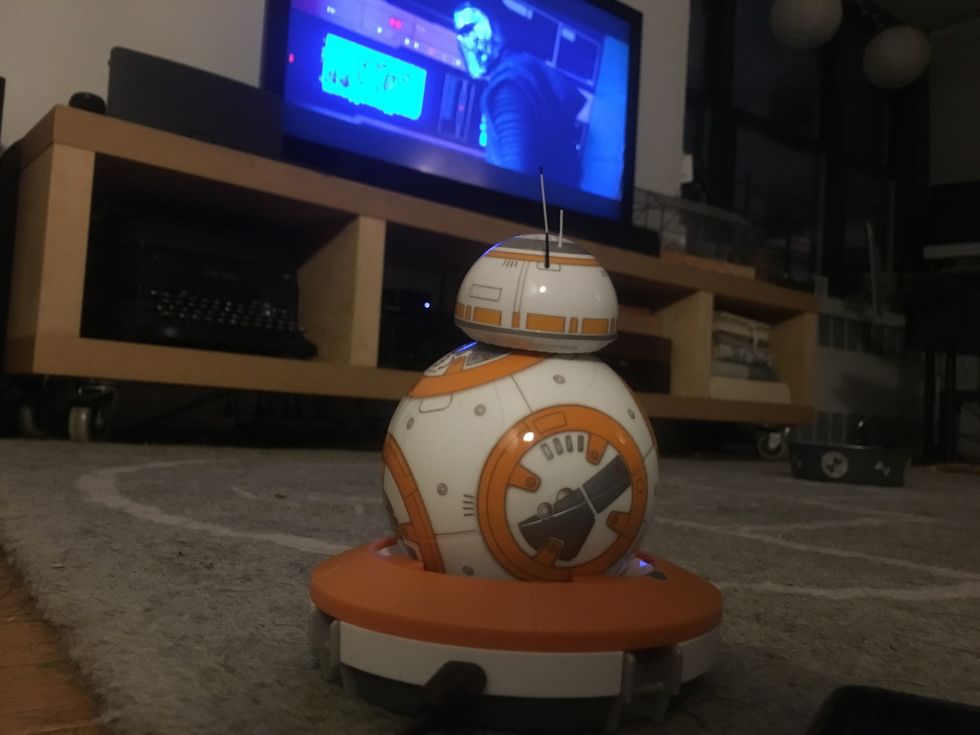 The Force Awaken in BB-8 as he watched himself—even Kylo Ren—in 'Star Wars' latest installment.
The chosen one
My daughter—part of the new generation of Star Wars fans—loves everything about the film. BB-8 included. But Rey remains her favorite. We even syphoned an hour from our last Disneyland trip to scour the shop for a Rey doll, finding none. "Few people ask for Rey," said one cast member. (Note to Disney: Don't have your employees say this to 13-year-old girls. Mine just thinks your brand is out of touch with today's teenagers.)
Rey aside, getting to play with BB-8 was, to her, like stepping for a moment into George Lucas's finely imagined world. Watching Star Wars with her own mini BB-8? A fine experience as well.
Sphero is already previewing its next Star Wars toy for later this year: A Force Band meant to control BB-8 through a wearable device worn on the wrist, or through the actual Force depending on how deep you want to push this with your kids.
The movie ended, spurring our 14th argument about who Rey's father could be and we tucked BB-8 away for the night—and away from our curious Labrador's mouth. The kid hasn't touched him since.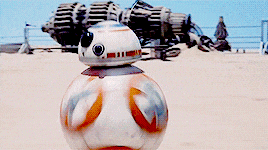 Click here to buy Sphero Star Wars BB-8 Droid.

Also, don't forget to check out GearBrain's Best Smart Toys For Kids for up to date gift ideas for the holidays.
Like GearBrain on Facebook