Harry Potter: Wizards Unite is an augmented reality (AR) romp through author J.K. Rowling's imagination. Spells are cast, owls fly overhead and there are creatures and objects from a Mooncalf to a Quaffle, a Howler to even Hagrid's Umbrella, that you need to capture and return to the magical realm before Muggles (that's humans) catch on that magic really exists. Niantic clearly took everything they learned from their runaway success of Pokémon Go and transported it all — and then some — into Wizards Unite. These added layers may make the game, however, just complicated enough to ward some players away — and parents will want to know just how invasive the game may be before they let their children loose.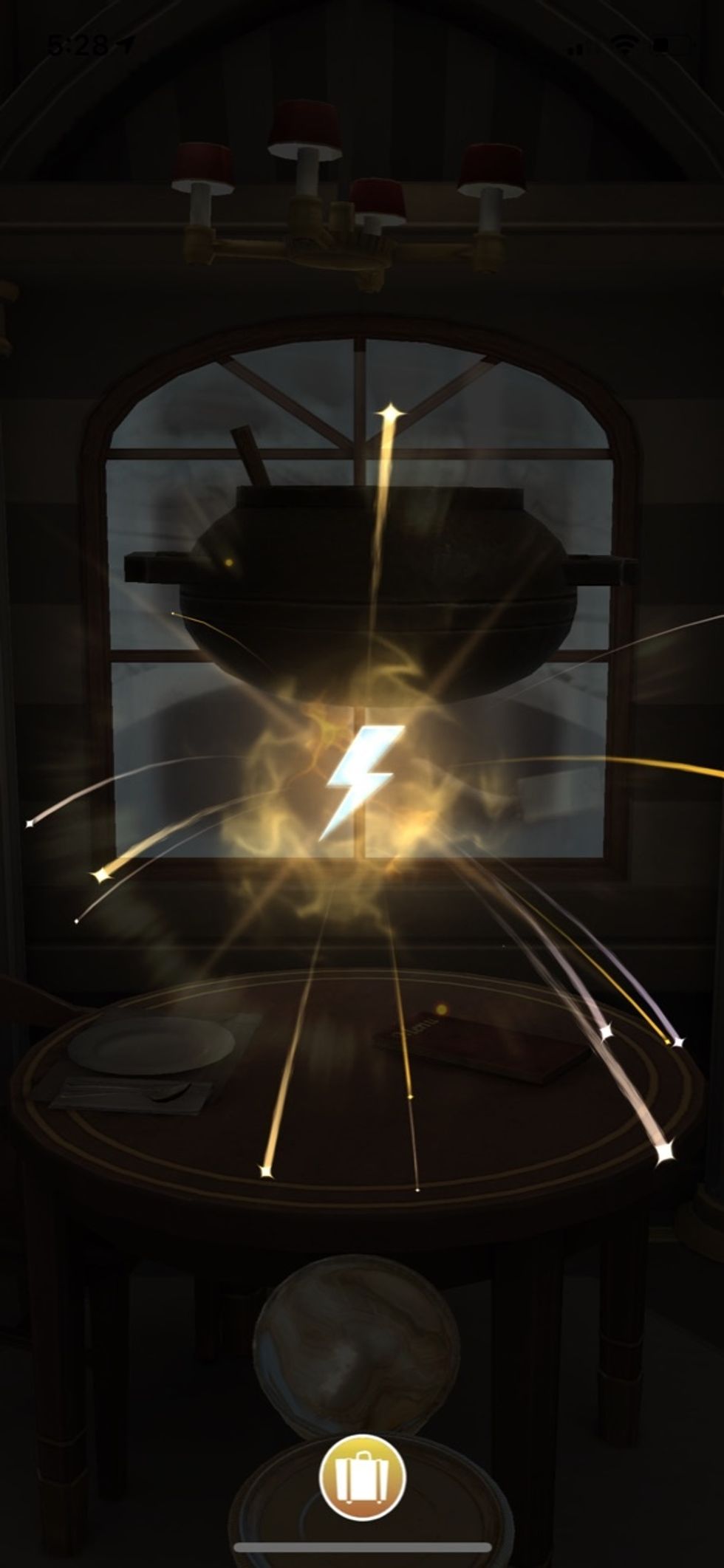 Casting spells in Wizards Unite requires spending one unit of energy, which is hard to collectGearBrain
Getting started

As with Pokémon Go, Harry Potter: Wizards Unite is basically a free game. You play and earn coins, and spell-casting power to work your way through the magic world. But players can purchase extra keys, potions and other elements for gold coins in the aptly named Diagon Alley— and those looking to leap ahead quickly likely will.
Prices are low, meant to keep people feeling a few dollars here and there won't hurt, and you can pick up 425 cold coins for $4.99 for example. To know what that's worth, a key needed to unlock a Portkey is 90 gold coins.
It's not required to ever buy anything — I played Pokémon Go for years without spending a penny — but that's certainly one way the company is counting on earning some dough.
The game works on both iOS and Android devices, and the download and launch of the game takes minutes. Learning all the details? That's another story.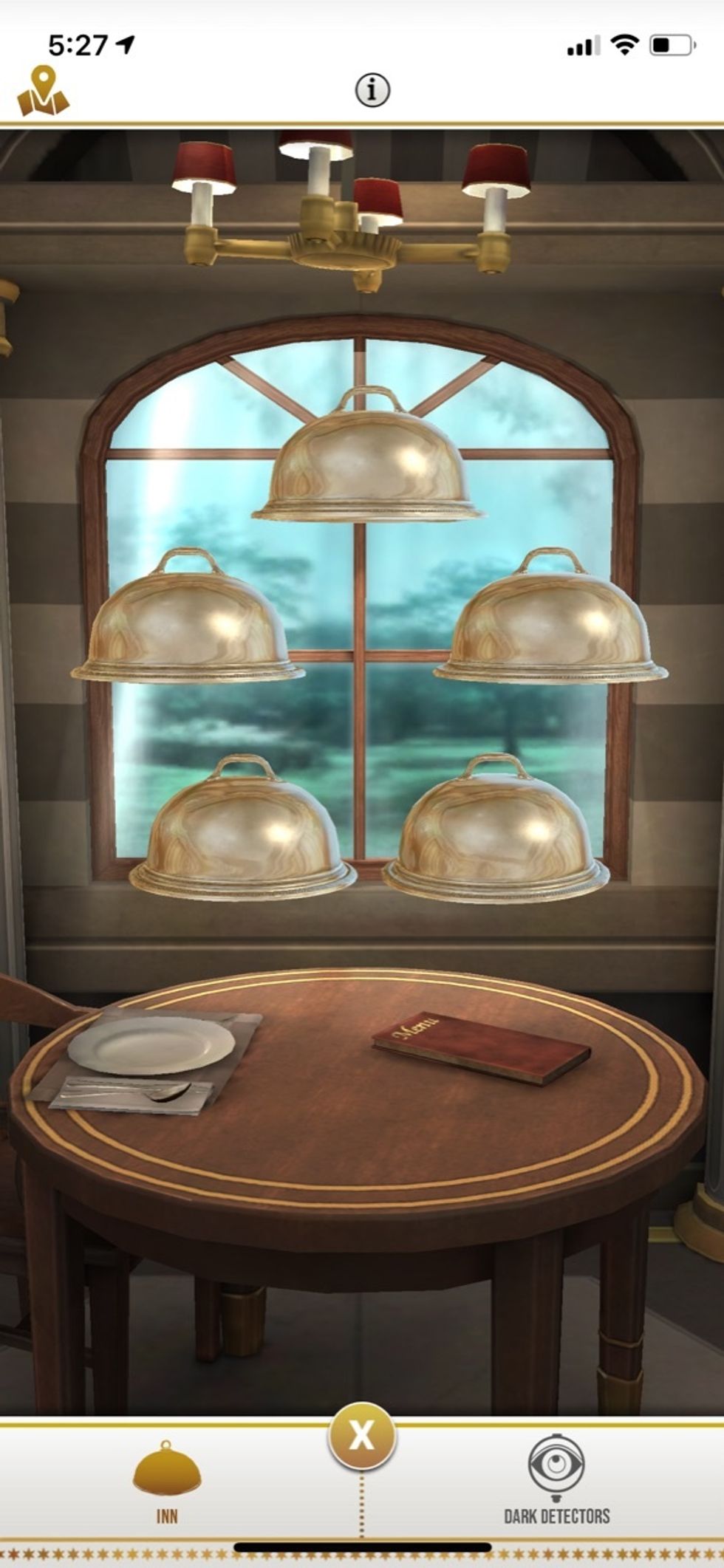 Visiting Inns, while playing Wizards Unite, collects energy units, but you have to wait to return before collecting moreGearBrain
Casting spells

To capture Foundables you need to cast spells. This is done by tracing the finger across a touchscreen in the exact pattern as mirrored. The catch? The spell outlines you're meant to follow disappear as you start to draw: you need to remember how the spell looked and try to hit the exact points.
You're rated on how well you can draw (I'm often still in the Fair zone) and you're dinged if you draw, er cast, too slow. In fact, casting faster is better than casting correctly. This is a twist on how well we tossed poké balls in Pokémon Go, and even better as there are multiple spells in the Harry Potter: Wizards Unite game.
Each spell expends one unit of energy. You can collect more — you need to in order to keep playing — by visiting Inns where you're given more in the guise of free food. You can only get one per visit, however, and not the usual three you get at a Poké Stop. That's difficult, and may force players to either walk more (a positive) or just stop playing when they run out (not a positive.)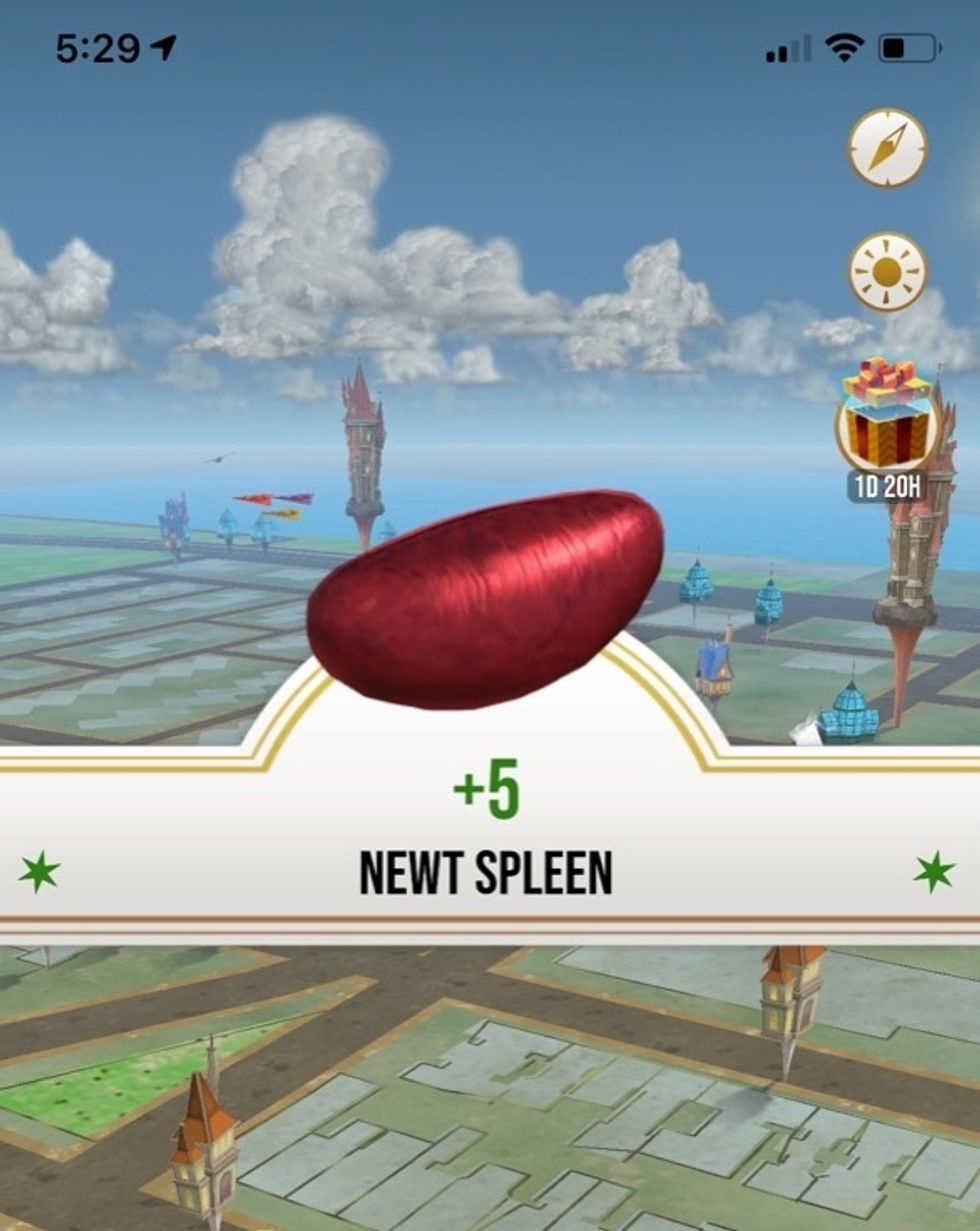 You'll want to collect different ingredients, like a Newt Spleen, to brew potions needed in the Wizards Unite gameGearBrain
Potion making and Portkeys

While your main mission is to catch magical Foundables, there's a lot more to do in this game — and that's where the trouble begins. You're also able to collect ingredients as you walk around, snow drops, wormwood and such, that go into potion making. You can set these potions to brew — only if you have enough ingredients — which are useful in catching difficult Foundables or when you start to fight at a Fortress.
You can also use Portkeys, like those in the game, which transport you to other locations. You need a key to unlock them — and also need to walk. Remember the eggs in Pokémon Go that needed to hatch? Yes, like that, except now you have to collect both a Portkey and a key
It's these additions — needing more elements, and making it harder to collect them — that could engage players more, or deter them. There is certainly a steeper learning curve with Harry Potter: Wizards Unite than with Pokémon Go, and depending on players interest, that element could work for Niantic or against them.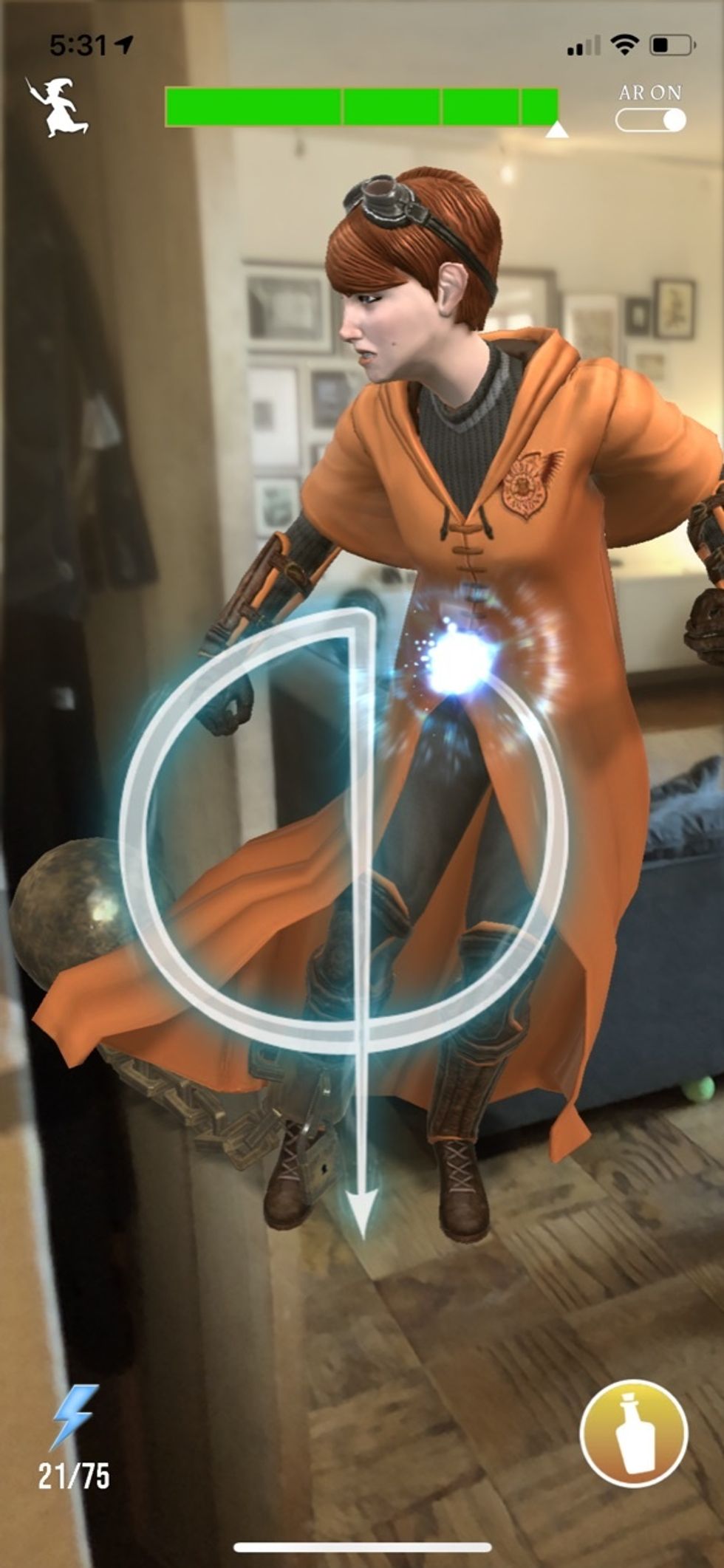 Players cast spells by tracing on the screen of their phone, to collect Foundables, magical objects and creaturesGearBrain
Friends

You can also make friends in Wizards Unite, and in fact it's quite easy. You can share your unique Friends Code to invite others to play with you. Once you're friends, they'll be able to see you code name, the last time you played, your level and the last Foundable you located.
Meeting up to can help as you start fighting in a Fortress, which also requires Runestones, which you'll collect as you move up levels, to unlock and enter certain chambers. You do need to be in the exact same location as a friend to enter together — and you can see players, through their Code Name, on the game map of they are actively engaged and close by.
Privacy concerns for parents
Of course there are privacy concerns that need to be mentioned with Wizards Unite — and even more than with Pokémon Go. As before, you're granting Niantic location permission. You just can't play the game without it as the entire conceit is based on finding objects which are dropped in actual geophysical locations. Inns, Fortresses and Greenhouses are named according to real places — actual street names, the post office you have down your street, public parks and even shops.
This crucial element turns Wizards Unite, as it did Pokémon Go, essentially into a tracking device. And yes, that data is valuable to Niantic. Every player also has a Ministry ID, with the house they belong to, their wand, level — and their name. Even Niantic stresses that this Code Name can be seen by people playing the game if they're near you, and by those who you friend. The game is restricted to children 13-years-old and up (and to those older than 16 in Europe) but it's important for parents to talk with their children about what information they put into their sign up — and their Ministry ID.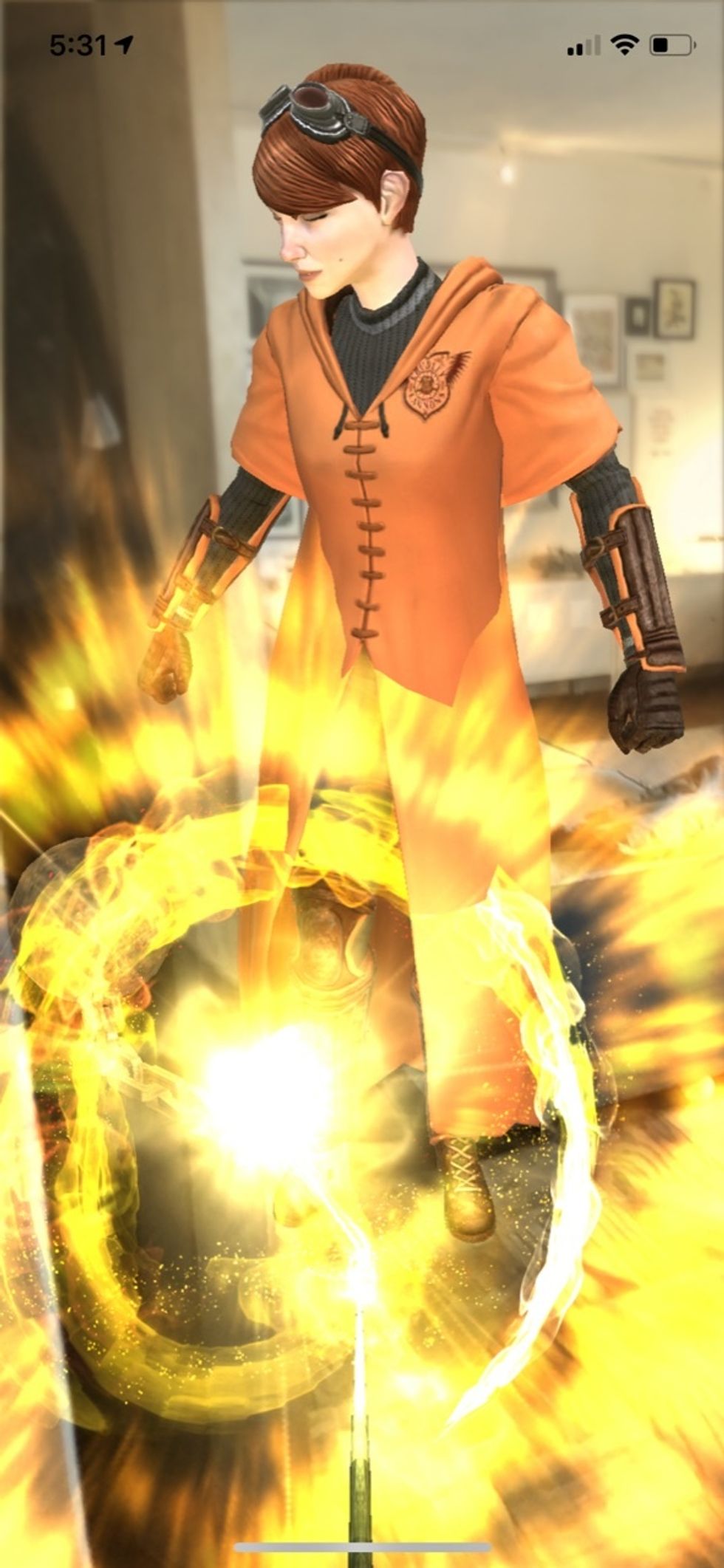 Capture a Foundable, and you earn XP points and other rewards needed to move up levelsGearBrain
You can also add a photo to your Ministry ID, which is meant to be a photo of yourself — even if you don't want that. Opening the camera (which also has to be available to the game to see the objects in
AR
) I couldn't get it to flip around to the back lens. In other words, I was limited to taking a selfie — not a photo of something else. I quickly created a personal emoji through the
iPhone's Memoji feature
, threw that on my computer, and tipped the camera to capture that image. Children will play this game, undoubtably, and they're likely to want to snap photos of themselves to kit out in witches hats, scarves and such.
Photos, though, are not viewable even to friends. Niantic says that the only things visible to people who friend you are:
Your Code Name
Wizarding Titles
Hogwarts House affiliation
Most current Profession (which you can't get until Level 6)
Wizarding achievements
Lifetime Stats
Should you play?
As a mobile game, Harry Potter: Wizards Unite is unquestionably going to be a success. There are people who won't have one shred of interest, others who will play for hours as they did Pokémon Go. Launching in the summer is bound to attract children to the game. All the more reason parents should be watchful of how, where and when their children are on the game and the information they choose to share.
Pros:
Harry Potter details will thrill fans of the J.K. Rowling world
Challenging to cast spells, making it more fun
Can create wands, pick your own house, add costuming details
Cons:
Privacy concerns for children
Hard to collect energy to cast spells
Steep learning curve to play