Like GearBrain on Facebook

Chasing reckless Nifflers and an errant Nimbus or two in Pokémon Go-style is finally a reality for those who have waited years for the mobile game. The problem? You have to live in Australia and New Zealand, and have to be willing to play in a beta test only.
Niantic, which launched the Pokémon Go-craze on the earth just under three years ago, had promised to bring the Harry Potter universe to smartphone gamers as well. The game, Harry Potter: Wizards Unite takes advantage of augmented reality — which means you see an out-of-control broomstick through your phone's camera but within the real setting you're viewing. Much like chasing a Pokémon through your neighborhood, with Harry Potter, you may find a golden snitch flying, and be asked to catch it.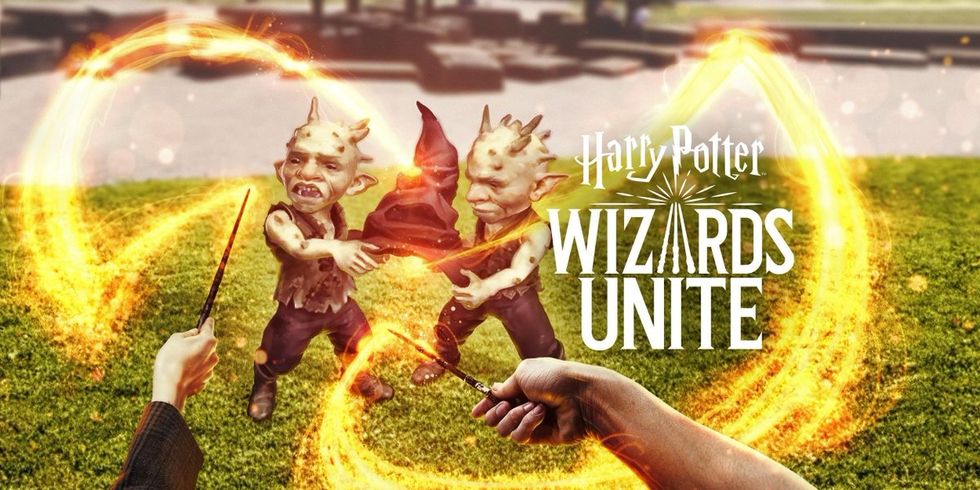 The new augmented reality game has launched first in Australia and New ZealandHarry Potter: Wizards Unite
Read More:
Although J.K. Rowling's pen is fairly still these days in terms of adding to the Harry Potter universe, the world she invented is still thriving. Tickets to the play, "Harry Potter and the Cursed Child," are still selling briskly both for the New York and London shows, visitors continue to flock to Universal Studios both in California and Florida to walk through Hogsmeade, and sip a butterbeer or two. Movies also keep her creatures and characters alive, although the latest, "Fantastic Beasts 2," did not enjoy the fandom frenzy of the original series.

The new game enlists you as a member of the Statute of Secrecy Task Force, asked to track down and stop "chaotic magical activity," throughout the Muggle world as the web site states. Any Potter fan worth her wand known that a Muggle is a non-magical creature — a regular human so to speak.
Signing up for the game automatically makes you a witch or wizard —congratulations. Your smartphone becomes your wand, and with it you can catch these magical elements, hopefully before they're seen by Muggles who may be alarmed by the world they never knew existed.
Niantic's slow roll out may be to prepare for the deluge of players worldwide they're hoping to repeat from the success of Pokémon Go. At one point, more people were chasing AR creatures through parks, streets and backyards than tweeting, with the game downloaded to 6 percent of all U.S. Android users by mid-July 2016.
The game is still live, and for those who once played daily, launching the app can still bring trainers (as players are called) to life, and perhaps turn up a nasty Golbat or two.
The augmented reality game turns players into wizards and witches chasing down errant magic itemsHarry Potter: Wizards Unite
Niantic is not offering any indication when Harry Potter: Wizards Unite will be coming to other countries, including the United States. However, you can pre-register if you have an Android device. There's also a Twitter account now live, so you can follow and get updates.
With the new beta now rolling-out in Australia and New Zealand — and the warmer weather on its way — ardent Harry Potter fans and former Pokémon Go players could hold some hope that a wide expansion of the game may come this year, sooner than later.
From Your Site Articles
Related Articles Around the Web
Like GearBrain on Facebook