Like GearBrain on Facebook
Whether you are fluent in emoji and send entire messages without a single word, or only dip your toes in as far as the occasional crying-with-laughter, Apple and Samsung want you to use them more than ever.
To do this, both companies have, within months of each other, created ways to make emojis look like you and mirror your every move.
Read More:
First, Apple launched Animoji with the iPhone X, which uses the phone's face-scanning technology to apply your movements to a range of standard emoji characters, including an alien, robot, dog, cat, fox, unicorn and others.
Then Samsung countered with AR Emoji on the Galaxy S9, which went on sale in March 2018. A feature of the phone's front-facing camera, AR Emoji scans your face and creates an emoji which looks a bit like you. It also produces a page of short animated gifs showing your emoji showing various emotions, and you can record your own actions before sharing them with friends.

Not to be outdone, Apple announced Memoji will be a part of iOS 12, the iPhone's new operating system which is available to developers now and will be released to customers in the fall.
To find out which is best - AR Emoji or Memoji - GearBrain has spent some time testing out both.
Memoji vs AR Emoji: Creating your emoji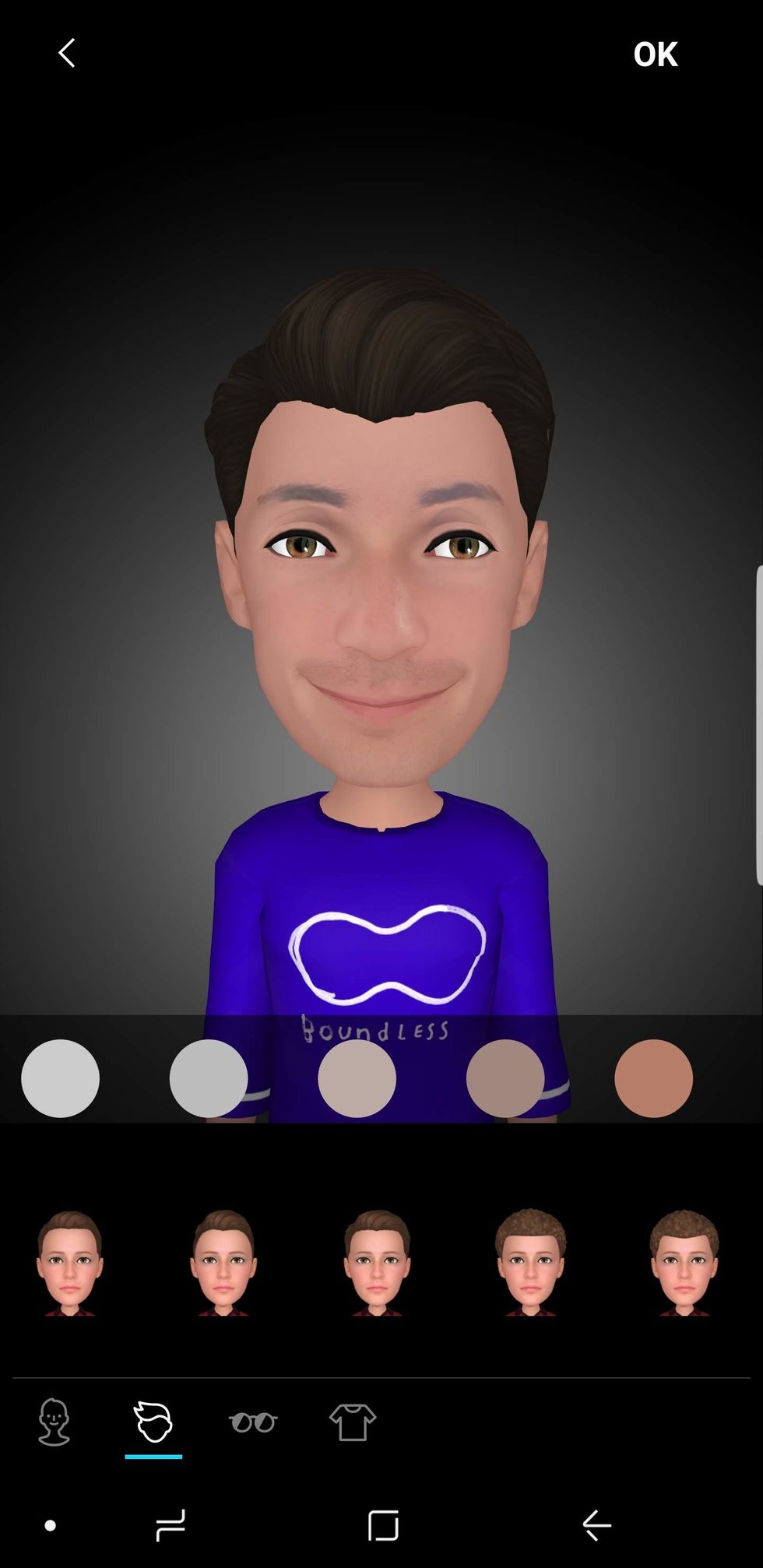 GearBrain
Let us start with AR Emoji on the Samsung Galaxy S9. The feature is accessed by opening the camera app then switching to the AR Emoji shooting mode. Next, tap 'Create My Emoji' and take a photo with your face in the middle of the frame; Samsung recommends you remove your glasses and move your hair so it isn't covering your face.
You will then be asked to say whether you are male or female and the app takes a few seconds to create your emoji. From there, you can adjust your skin town with a slider and pick from two options for the general shape of your face and facial features.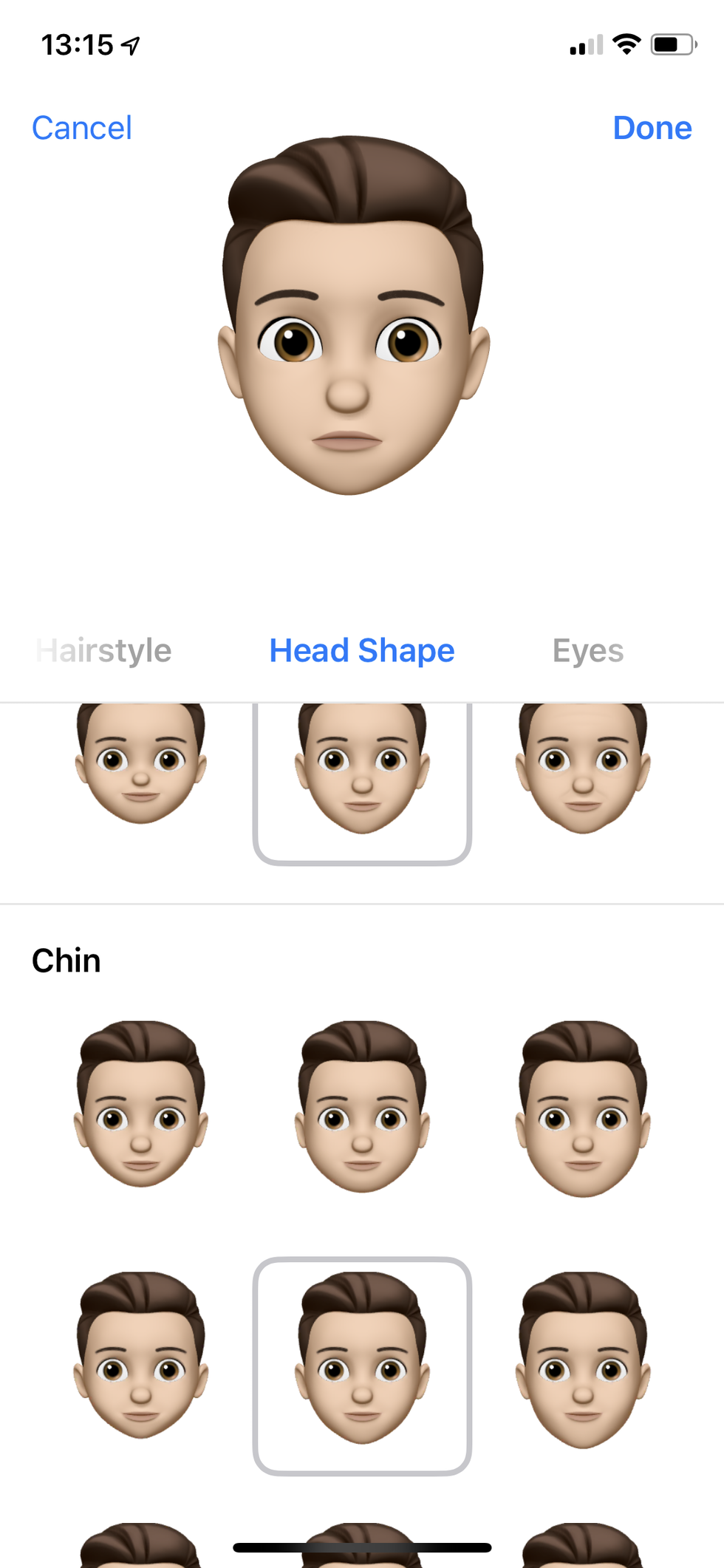 GearBrain
For iPhone users, Memoji (and Animoji generally) is found in the Messages app, because that is the only way they can be sent. Simply go to write a message then tap on the Animoji icon above the keyboard. There is then an option to create a new Memoji, which opens the extensive options pages for making the character look exactly as you want.
The key difference here is how Samsung uses the camera to get started on creating the emoji, while Apple instead leaves all customization options up to you. As such, Memoji feels more like creating a video game character than working with a photo of yourself.
Memoji vs AR Emoji: Customization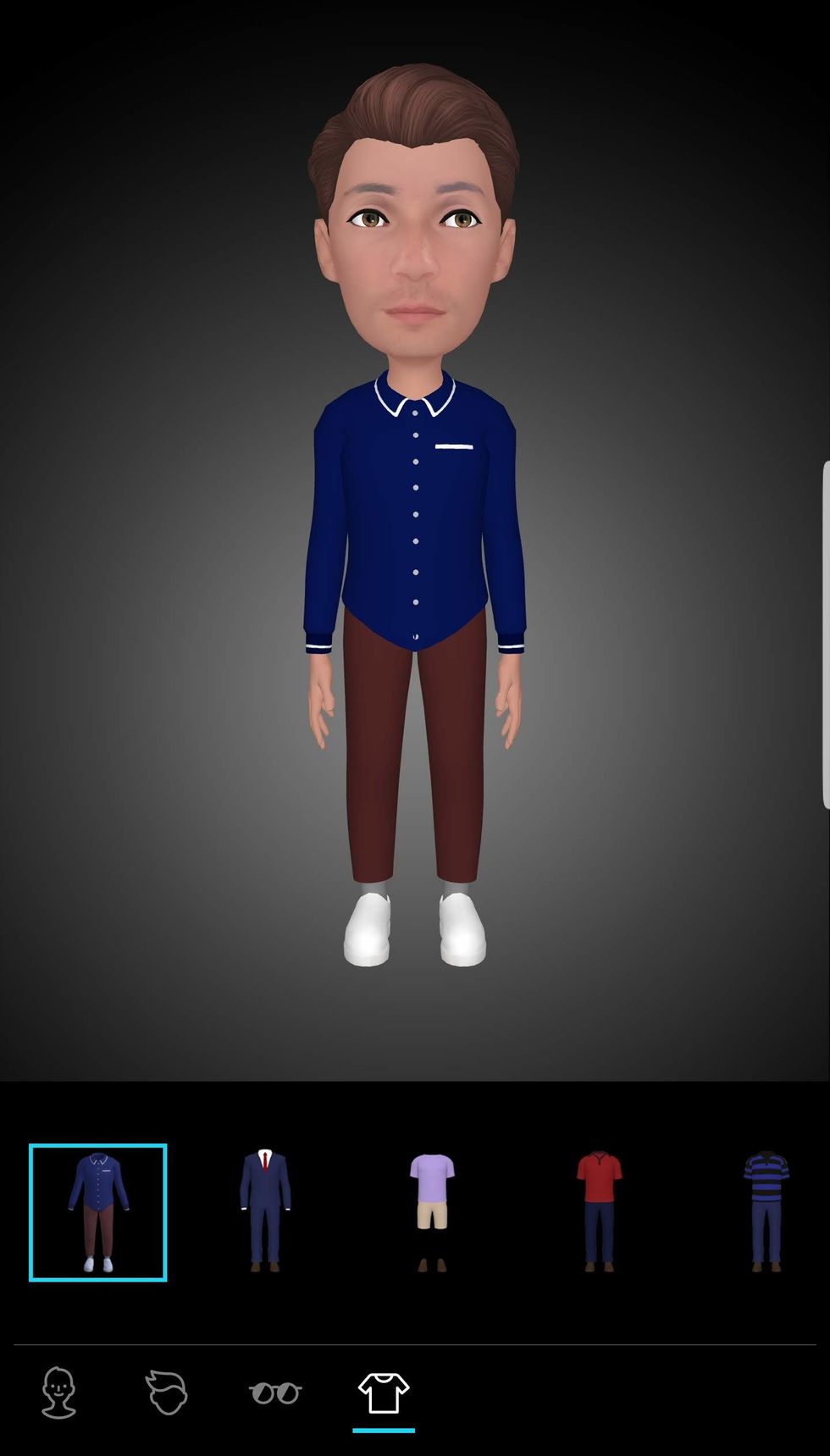 GearBrain
Galaxy S9 users are given a slider for adjusting skin tone and two options for the general shape of your face. After this, there are 31 hair colors to pick from, plus 50 hairstyles (including options for wearing a turban or hijab).
Next comes the spectacles menu, which has seven designs of glasses to pick from; although a single blue pair is available, the color of the frames and lenses cannot be modified.
Finally, there are 12 outfits to choose from. For us, this felt like the most limiting part of creating an AR Emoji, as the selection here is small and items from one outfit cannot be paired with items from another - you have to pick a whole outfit and stick to it.
Once you have picked an outfit, tap Okay and your emoji is made, while 18 animated gifs are automatically added to the Gallery app, ready to be sent via any messaging platform you like.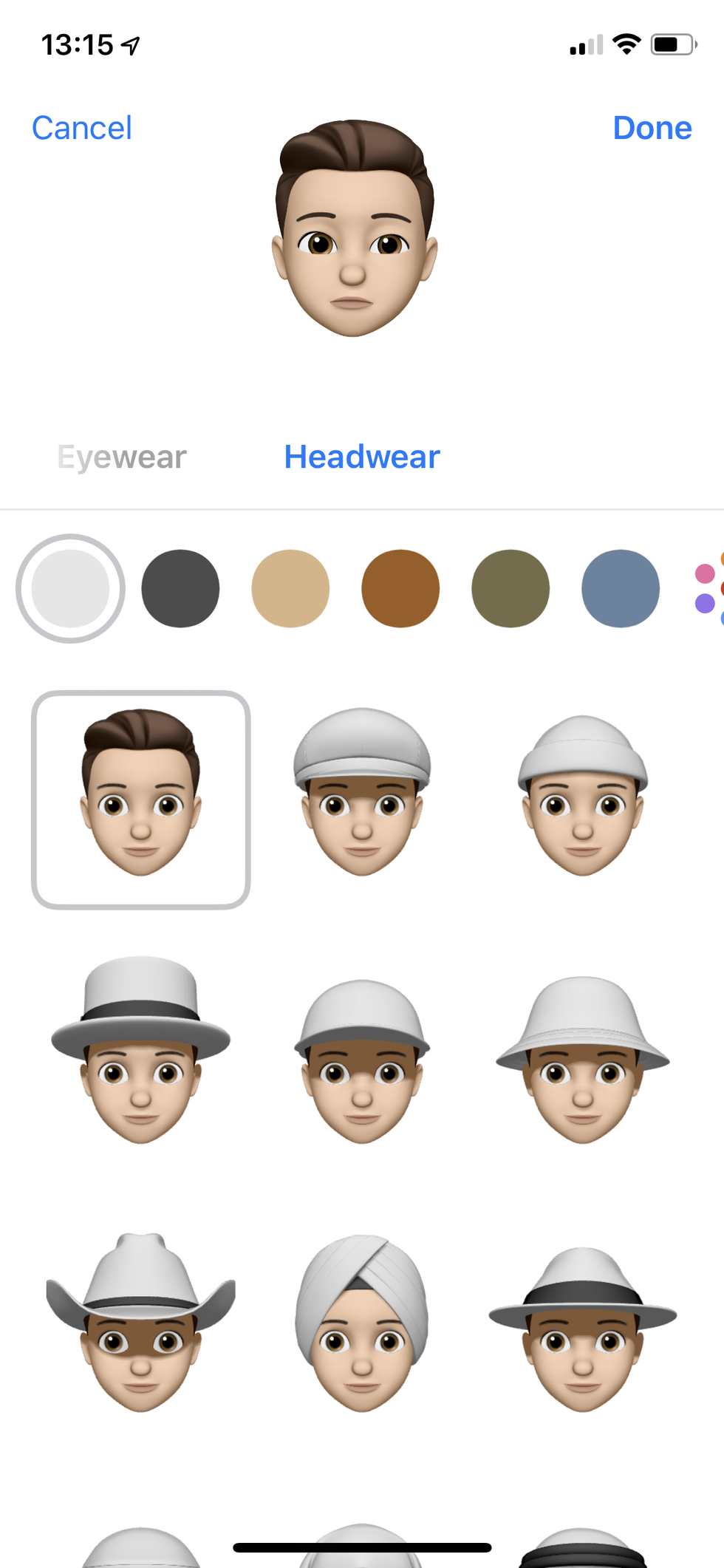 GearBrain
Although Memoji does not use the iPhone's camera to get you started, the emojis which can be created here have far more variables and options for customization than with Samsung.
To get started, you are presented with a Simpsons-yellow, gender-neutral face with no hair. From there, you can pick from four options for freckles and 90 different hairstyles, with male and female styles mixed together into the same list.
There are then 15 different hair colours to pick from (plus highlights), with each offering a slider to adjust the colour from light to dark, giving a near-limitless range of shades to pick from. Next comes head shape, with three options for age, then 15 for chin shape.
There are then 13 different eye colors (plus a slider for each, like with hair color), nine options for eye shape and a further nine for your eyelashes. Eyebrows have 27 options, while there are three noses, six different lip shapes and 16 different lip colors. Ears get three options for shape, plus 12 different earring designs and 10 color options for each. There are 91 different facial hair designs (15 colors for each), then 11 glasses designs with color options for lenses and frame.

Finally, there are 24 different headwear choices, with 13 colors for each and every one. Memoji customisation is...extensive, to say the least.
Memoji vs AR Emoji: Accuracy
AR Emoji gets its accuracy from taking aspects of your face and seemingly pasting them onto the cartoon character the app creates. For example, it looks like my eyebrows and facial hair has been added to the emoji using Photoshop, which creates a strange effect as some parts of the face look more lifelike than others.
I think the shape of my face is about right, but the expressions and movement of the face are quite jarring. The emoji's lips and eyes tend to twitch as the system works out what position they should be in. These details settle down after a couple of seconds of staring at the camera, but when I move my face the process starts again, with the lips and eyes behaving slightly erratically.
There is a balance to strike here, and I feel Samsung has gone slightly too far towards photorealism than most users will find comfortable with. The result is more 'weird' than 'impressive', and I think a slightly higher emphasis on the fun, cartoon-like nature of regular emojis would fix this.
Apple has taken the opposite approach, with the result looking far more cartoon-like than with Samsung. This means, unless you spend a great deal of time picking the perfect combination of options, your Memoji will end up looking quite generic.
I can understand why Apple has decided against using the camera, as any mistake with regard to analysing skin tone or gender is likely to cause offence. Instead, Apple lets users decide for themselves exactly how the Memoji looks, with non-human options like bright green, blue or purple skin on offer, with matching hair. Although 'me' is in the name, Memoji is as much about creating a fun character as making an emoji look exactly like you.
As such, the accuracy is largely down to your own creativity. I struggled to get my Memoji to look anything but generic, but as Apple showed during its WWDC press conference, the system can produce reasonably accurate copies of the company's executives - including CEO Tim Cook, below.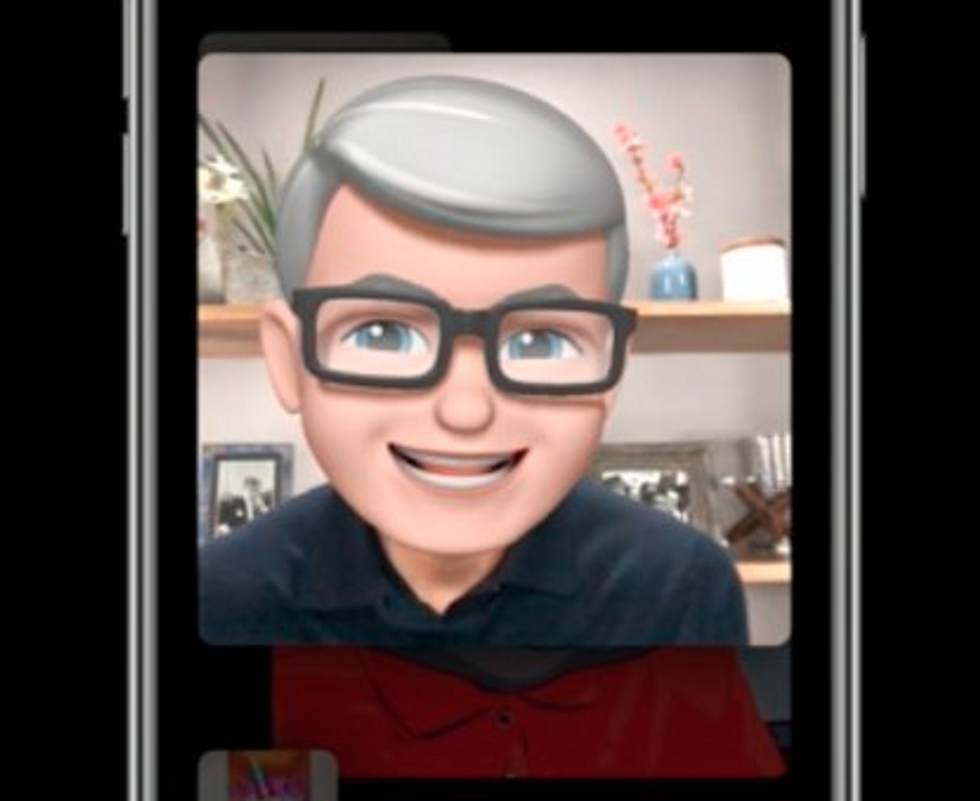 Apple
For what it's worth, you can have a Memoji stick its tongue out, whereas on Emoji AR you cannot.
Memoji vs AR Emoji: Additional features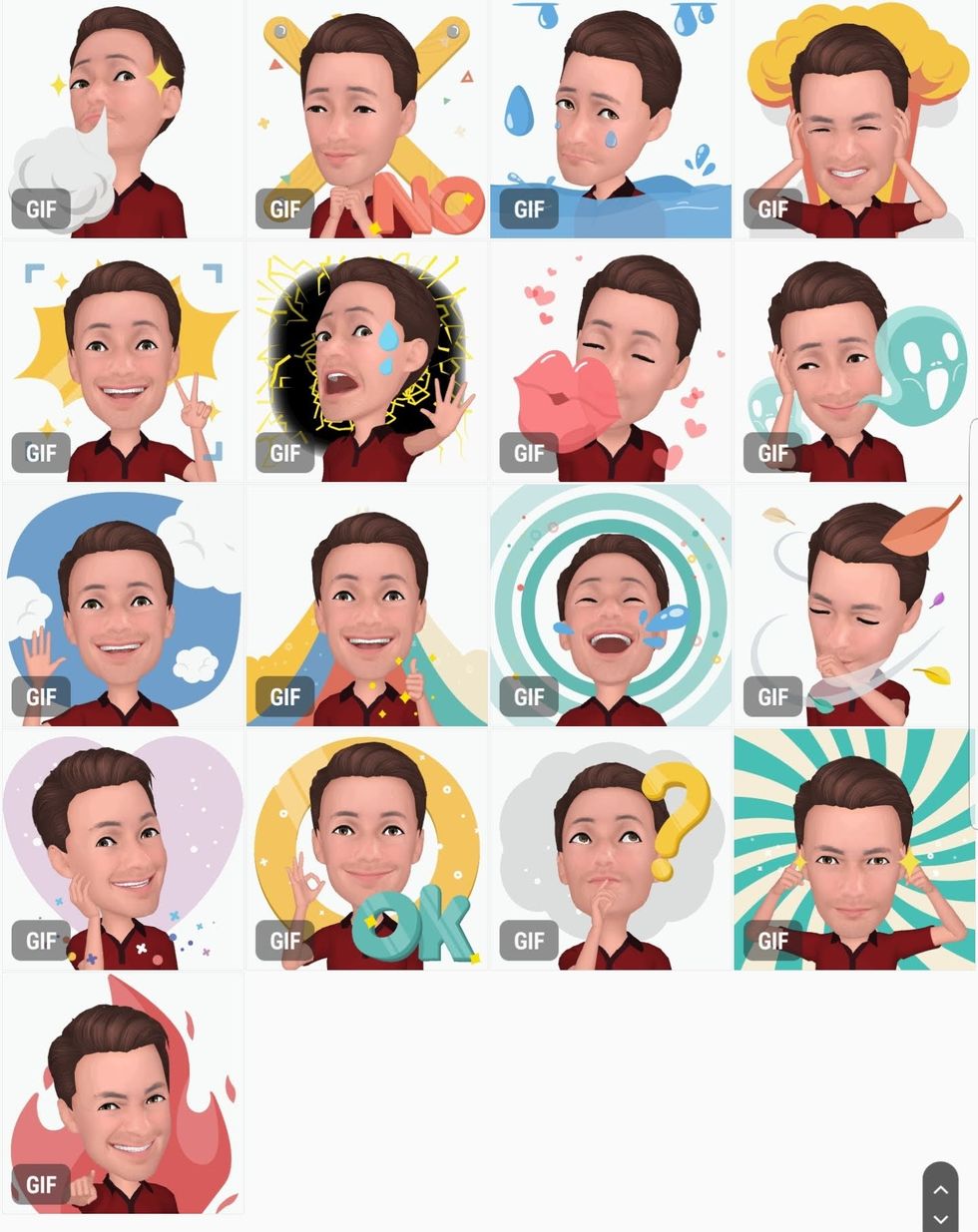 GearBrain
After making an AR Emoji, the Galaxy S9 automatically creates a bunch of animated gifs featuring your face. These are mostly gifs for expressing emotions - like crying, sadness, agreement, happiness and love - but cannot be modified.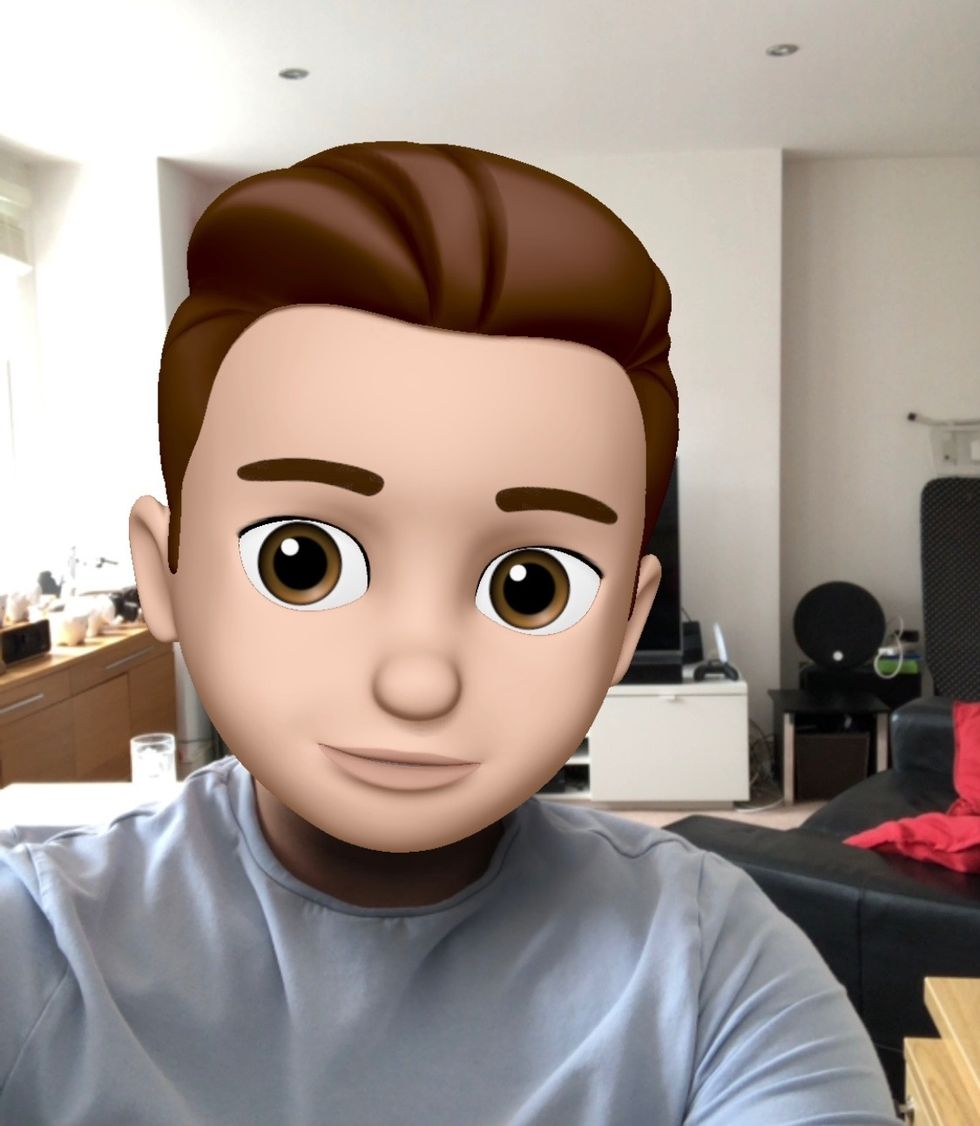 GearBrain
Once created, iOS 12 lets you place your Memoji over your own face. This is only in the iMessage app, and during FaceTime video calls, but is a fun way to show off the power of augmented reality on the iPhone X. When placed over your face, the Memoji reacts in realtime to your movement and expressions. You can then snap a photo and send it to an iMessage contact.
We think this is a fun feature and will go down well with anyone who perhaps doesn't like taking their own photo, but still wants to send an expression-packed emoji to a friend. That, and we're much more likely to share one of these than Samsung's gifs.
Memoji vs AR Emoji: Limitations

Once you have created your AR Emoji, you can do whatever you like with it. You can send one of the premade gifs via WhatsApp or Facebook Messenger, or record your own video of you speaking as your emoji. This video (or single image) can also be sent by whatever means you like, so non-Samsung owners can receive your emoji creations - whether they really want them or not.
As we mentioned earlier, AR Emoji is fairly limited in terms of customization - especially with clothing and accessories. We also found movements were not as smooth as we'd have liked, likely due to Samsung using a regular camera to track facial expressions instead of Apple's infrared Face ID system.
For us, motion tracking is far more accurate and responsive on the iPhone X than on the Samsung Galaxy S9 - no doubt thanks to its Face ID system. But Apple loses points for a lack of accuracy, unless you spend a great deal of time perfecting your emoji - and happen to look a bit like a rounded, soft-edged cartoon character. If you have a distinctive hairstyle, glasses and facial hair, then you are more likely to find a Memoji which looks like you.
We're also disappointed by Apple's continued walled-garden approach to Animoji and Memoji. Limiting their use to iPhones only wouldn't be the end of the world - so long as they worked in WhatsApp and Facebook Messenger. But they do not. The only way to send Animoji and your custom Memojis is through Apple's own Messages app.
That might be fine for many Apple users, but it means their Memojis can't be posted natively on Facebook, Twitter or Instagram. They can't appear anywhere on the web, in fact, without screen-shooting and cropping then adding them to your camera roll. This only takes a moment, but feels like an unnecessary workaround.

All that said, iOS 12 is still an early beta and won't be available as a finished piece of software until the fall. Between now and then Apple might make changes to how Memoji works, and perhaps allow them to be shared natively on apps beyond iMessage and FaceTime. Although we wouldn't count on it.
Memoji vs AR Emoji: Conclusion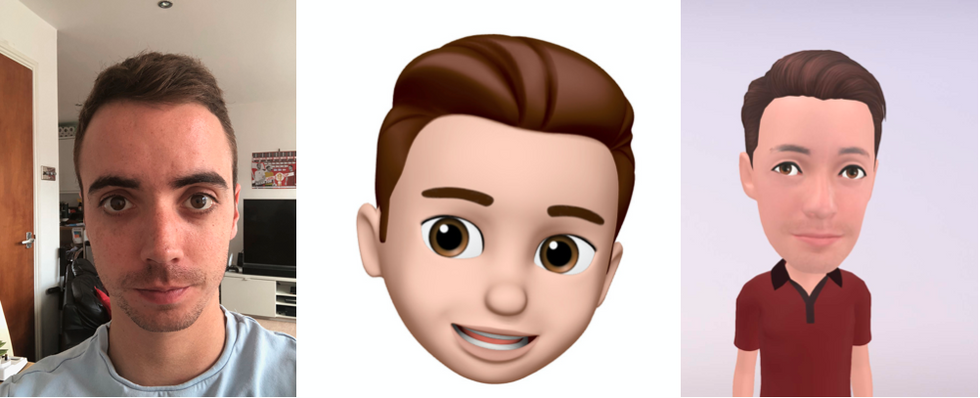 GearBrain
Both systems tap into the hugely popular and widely-used emoji ecosystem, but do so with features which are in danger of being dismissed as a gimmick. Both work fairly well and take on the challenge in two distinctly different ways, but their limitations are an issue.
Samsung's lack of personalization means you are mostly stuck with whatever the phone thinks you look like - which in some cases just looks a little too creepy. Apple's approach is softer, friendly and more fun, but is mostly stuck inside the company's walled garden.
We think Memoji will prove very popular once iOS 12 arrives installed on new iPhones in the fall - just as Animoji karaoke was all over Twitter and YouTube right after the iPhone X went on sale in 2017. It will certainly be more popular than Samsung's AR Emoji which, beyond examples created by journalists reviewing the Galaxy S9, we are yet to see anywhere on social media.
But will Memoji have the staying power to remain popular a month or two later, and into 2019? We'll have to wait and see, but we're not holding our breath just yet.
Like GearBrain on Facebook