Like GearBrain on Facebook
Updated October 17, 2017 When I got my first tattoo, I brought a printed picture, my fresh, recently-turned-18 driver's license and a will of steel. Contrary to my parents' wishes, my tattoo is a tiger, spanning half my back. Perhaps my parents would have been happier if I'd tried InkHunter app instead.

I'm happy with the results and have no regrets—I might even get paw print additions done soon. But many people don't have the same luxury I had to indulge my vision. InkHunter, an augmented reality (AR) free mobile app, gives you the ability to test out tattoos before you ink yourself permanently. (The app is also available for Android devices.)
I was skeptical at first. Most of the AR apps I've tried either had really bad graphics or poor reality perception. Thankfully, this wasn't the case. The graphics were clear and the tattoos moved with my arm like they were a part of my skin.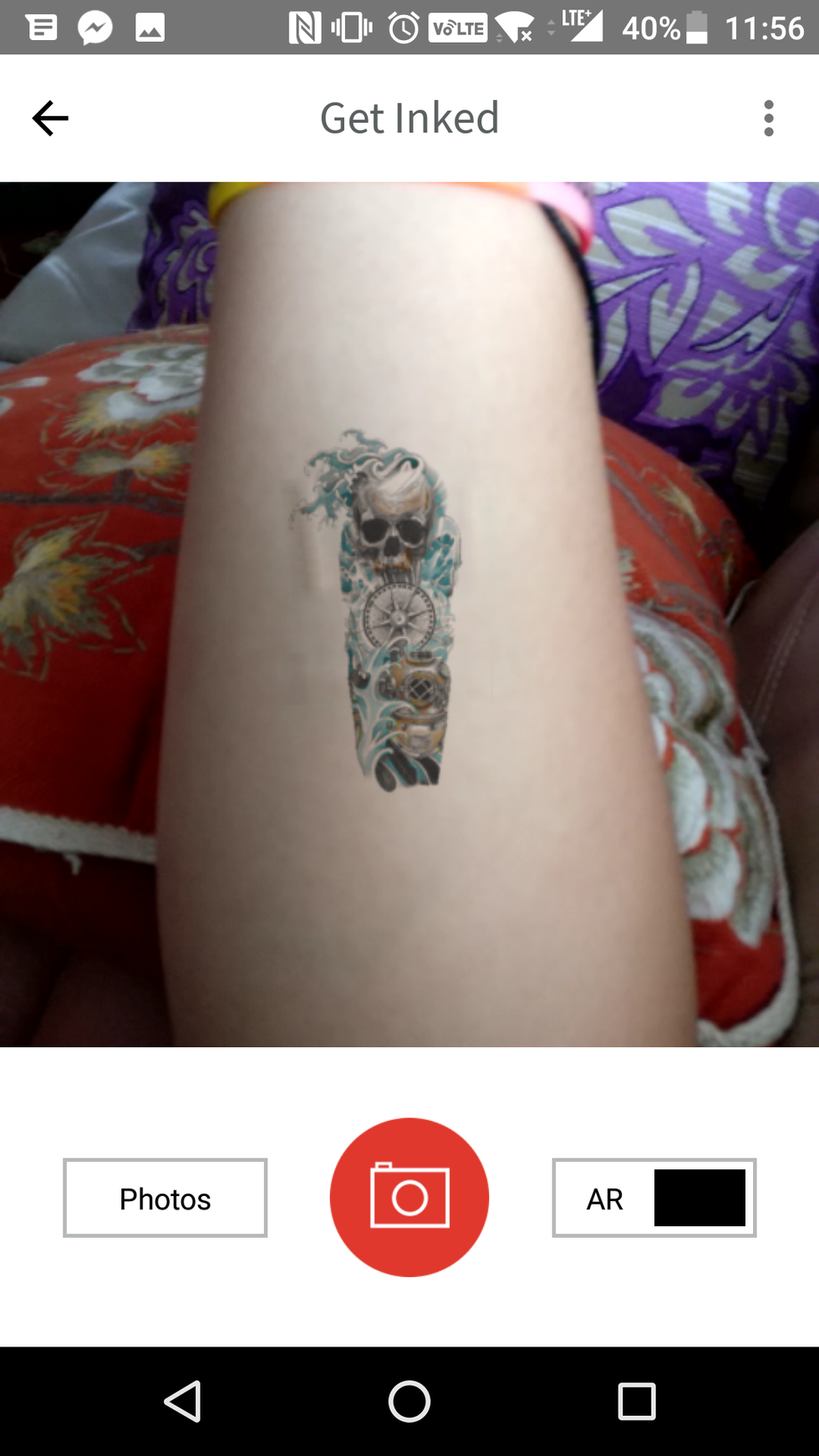 This design from Custom Tattoo Design is featured in the InkHunter app.
When you first open the app there's a short tutorial composed of three images. First, you draw three lines on our arm—or anywhere on your body—in a smiley face shape. When you point your camera at your arm, the face is supposed to disappear and be replaced with your choice of tattoo. There's also an option for anyone who wants to capture and save their tattoo because taking a screenshot can get tricky with only one hand.
InkHunter's tattoo gallery is stocked with creations from different artists, including colorful to black and white images, cartoon to realistic drawings, and abstract to modern designs. You can also add your own tattoo from a camera roll or a downloaded picture. The 'create your tattoo' option also allows you to add text creations from a number of different fonts.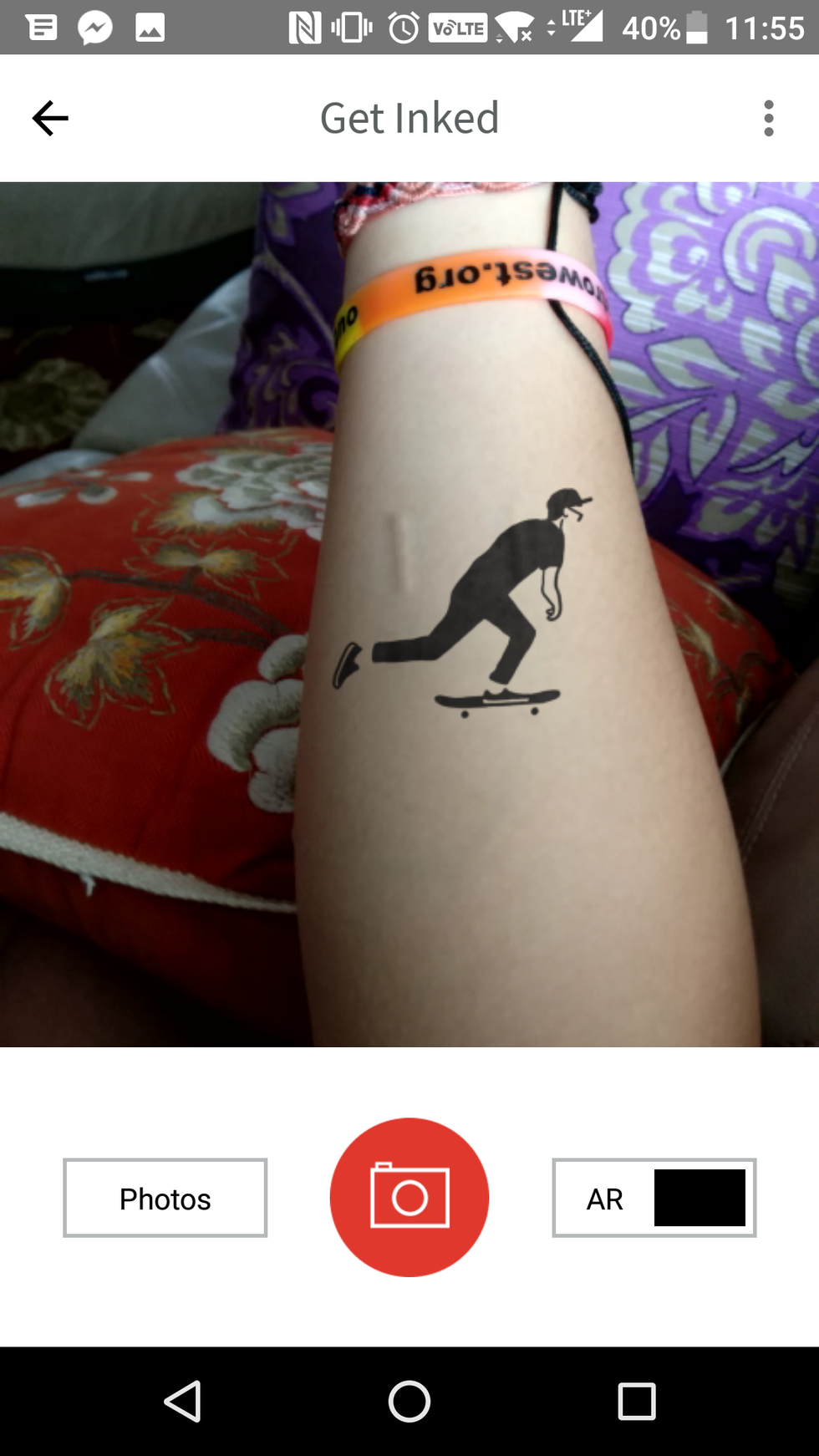 You can choose from multiple designs on the InkHunter app.
Loading the (virtual) needle
First, I tried a simple rose and leaf design on my forearm. It turned out really pretty and gave me the option to resize it in real time. However, I found the app didn't completely cover those three lines that made the initial smiley face.The creators tried to cover it up, but the lines ended up looking like raised bumps — sort of what a healed scar would look like.
I then tried on a bird, a skater boy and a colorful skull. When I moved my arm around and shifted angles, the tattoo did a good job of staying put. For some designs, the app will ask you to watch a short video (read: an advertisement) which is usually not even a video. Just click off the ad and don't give the creators too much grief about their hustle.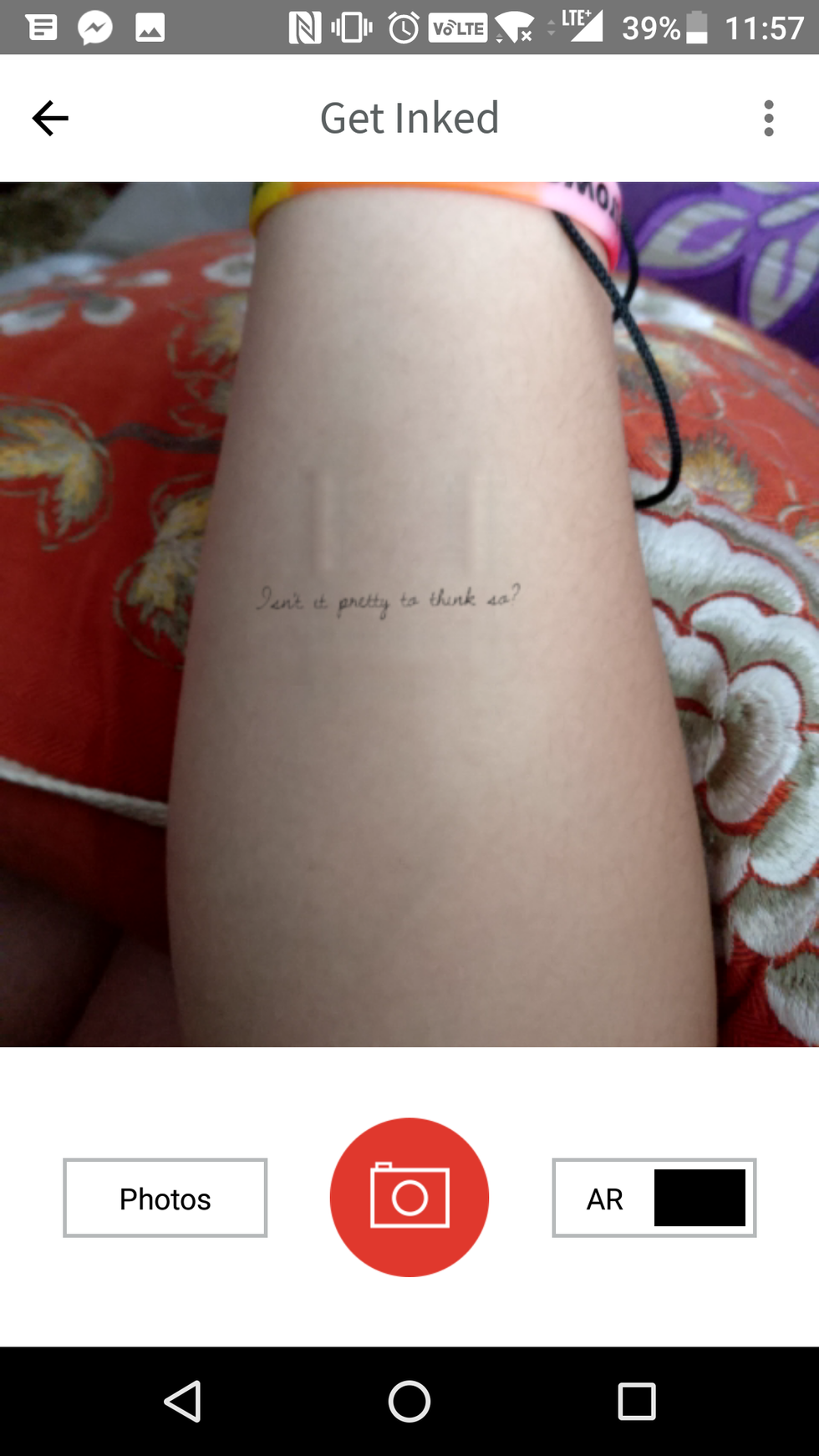 The lines you draw to center the tattoo in InkHunter disappear but leave ridges on the skin.
Design skills
Some of the more colorful tattoos looked good in the gallery, but turned up slightly splotchy on the skin. It's really not that big of a deal since this is a temporary tattoo, and you're likely going to use it to have fun or see how the design takes up a sample of space.
I made a text design with a quote from my favorite book, The Sun Also Rises by Ernest Hemingway, and chose a script font. When I tried making the text bigger, it went off my arm a little, but that's just because I didn't have much room left.
My boyfriend asked me to get a virtual tattoo of him so I imported some photos to try. Unless you want the whole photo as the tattoo, you might want to choose pictures where the subject is the darkest color. When the app crops the photo, it takes away color little by little and naturally, the lightest colors go first.
So the next time you're feeling unsure about the tattoo design you chose—or you just want to mess around with body decoration—I recommend the InkHunter app. Getting a real tattoo is one thing. Getting a virtual tattoo is much less complicated.
Pros: Great graphics, realistic, free designs.
Cons: Limited creation tools, can't change tattoo colors, upload imaging is buggy.
-Amber Wang last reviewed the Zombies GO! AR app for GearBrain.
Like GearBrain on Facebook