Like GearBrain on Facebook
Updated October 17, 2017 Augmented reality (AR) has been around for awhile now, but was only recently popularized by Pokémon GO, the AR app that lets you find Nintendo characters in the real world. Both kids and nostalgic adults ran around and captured tiny creatures, creating a community of Pokémon GO users. But—are there any other AR apps worth noting? We'd like to put up for your consideration" Zombies GO!

Zombies GO! Fight The Dead Walking Everywhere with Augmented Reality is a the free version of Zombies Everywhere! and lets you fight zombies like you would catch Pokémon, even though the app was made way long before Pokémon GO launched. Zombies GO puts zombies onto your screen using augmented reality so you can shoot them on the street, in your backyard or even in your home.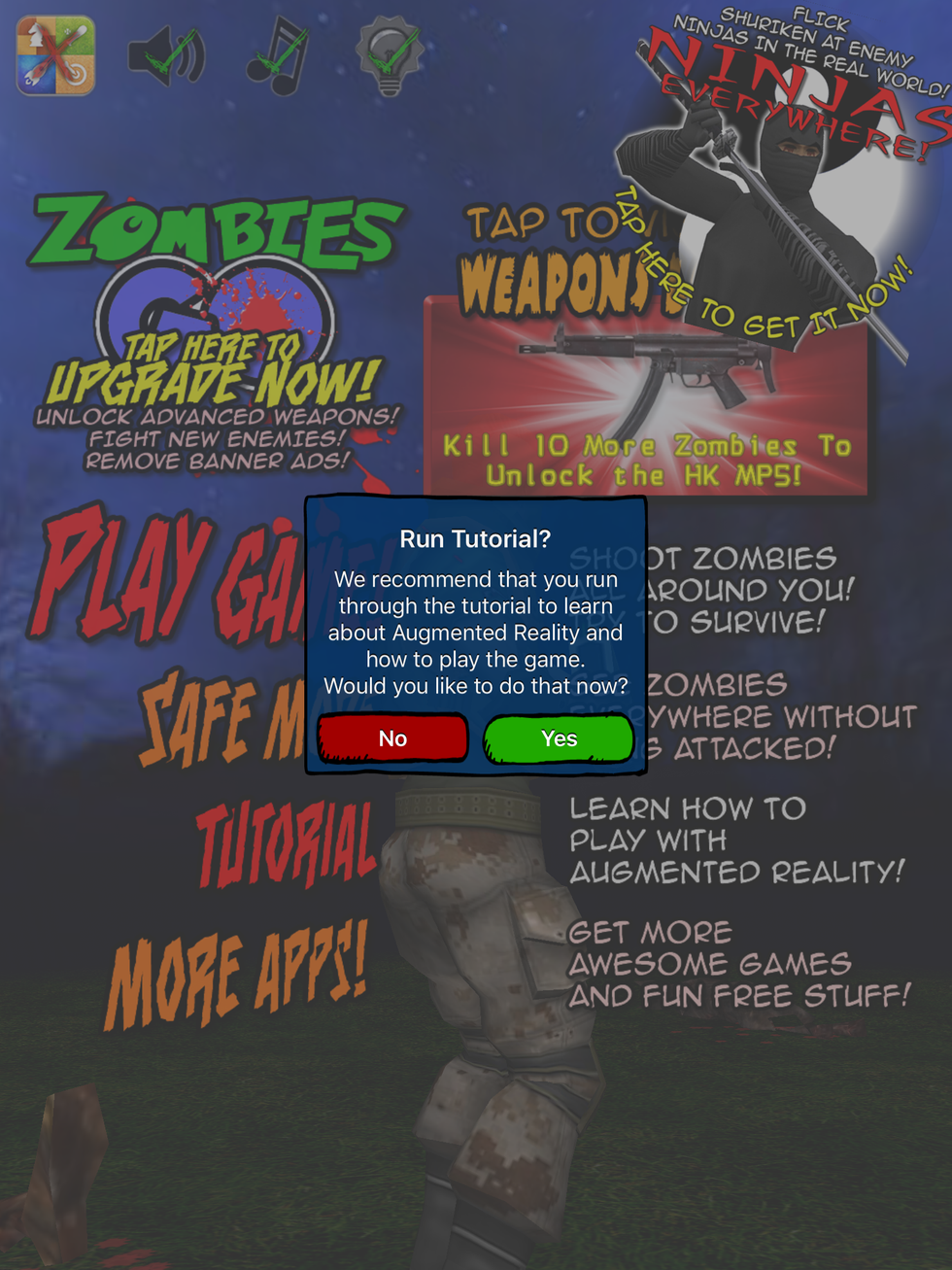 Running through the tutorial of Zombie GO! may help you avoid dying in the first minutes of play.
Now if Zombieland and The Walking Dead put you in a zombie killing mood like they did to me, you'd obviously be interested in this app. First, the app will ask you if you would like notifications which I clicked "Don't Allow" because nobody has time for that. The starting screen has a man holding what looks to be a very complex weapon in a serene graveyard. Large control graphics are on the upper left hand corner, making it easy to access, but also kind of distracting.
I suggest you run the tutorial first because otherwise you'll probably die within the first minute. After you give the app permission to access your camera, it'll walk you through the zombie killing process. The app explains how the game is made possible including some tips and warnings. I was in my backyard when the first zombie popped up next to my dog.
The graphics were kind of disappointing—like Tomb Raider pointy chest Lara Croft disappointing. The texture of the zombies were fuzzy and blurry while their shape was blocky with straight edges and sharp corners. Not very believable.

The app tells you to line up the target from your gun with the zombie and tap anywhere to shoot. The bottom left of the screen tells you how much health you have left as the zombies do attack if you're not paying attention and the bottom right tells you how much ammo you have left. When the zombies attack, either the left or the right of the screen will flash red to signal which way you should turn. As you play on, zombies will drop new weapons and health boosts which you can pick up.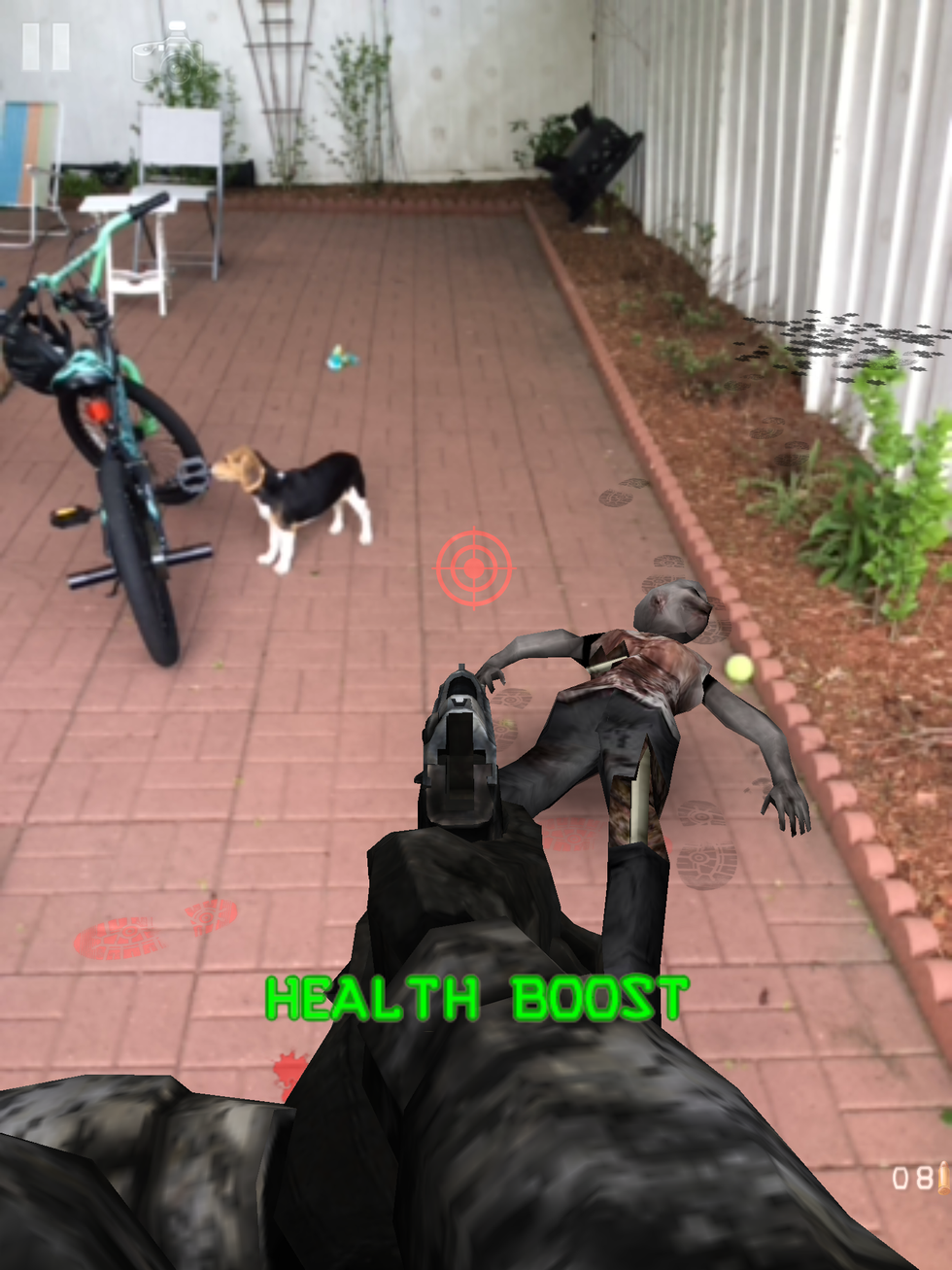 As you get better in Zombie GO!, you can pick up health boosts and new weapons.
There are two modes to this game—real world and safe mode. Basically in safe mode, the zombies won't attack you which is a bit unrealistic if you ask me.
I played in the real world mode and went pretty high up in my score. The AR isn't really as believable in this app as it is in Pokémon GO because zombies started sprouting from their dirt mounds on my fence and from lawn chairs. Also, there were ads for fidget spinners which I imagine should go away in the full version.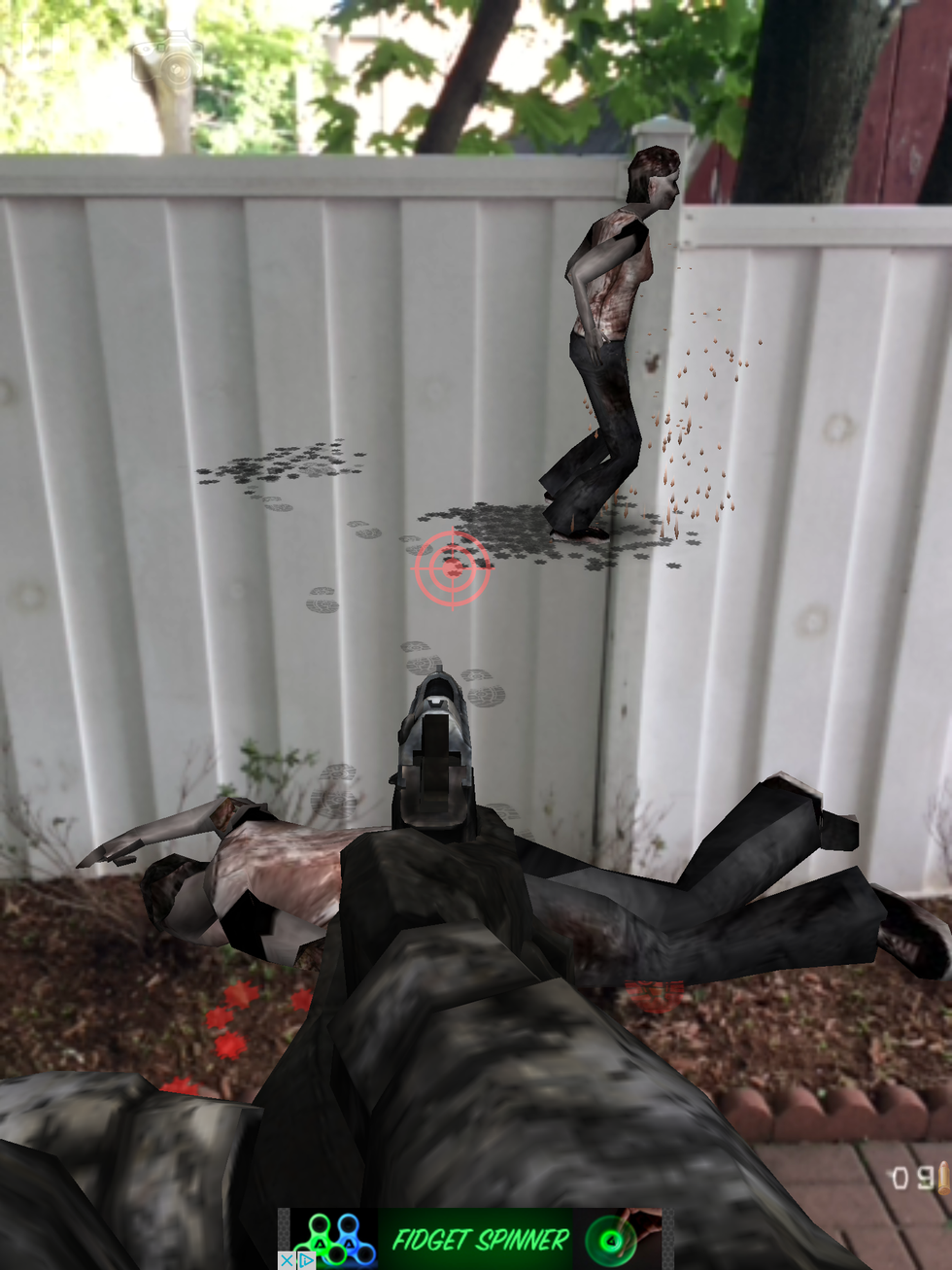 Sometimes zombies pop up in unrealistic spots in Zombie GO!
Another option to play in was the graveyard mode in which they turn the AR off. The graphics were about the same—kind of like they were made in an Intro to Animation class The graveyard mode was more believable because the zombies actually sprouted from the ground instead of a parked car.
After playing for awhile—mainly trying to get my puppy in a screenshot—the app became kind of boring. There really isn't any incentive to play this game except to garner more points and weapons. Unlike Pokémon GO, there's no leveling up or collecting. You just go around and shoot zombies in the face which can be entertaining—but after a few minutes even zombies start to lose their thrill.
Pros: Easy to launch, free, can play with AR or without.
Cons: Poor graphics, ads, no way to level up, AR makes action a bit unrealistic (even for zombies.)
-Amber Wang writes about gadgets and technology for GearBrain.
Like GearBrain on Facebook