Like GearBrain on Facebook
By Sue Poremba
Singles Day—a festival in China that celebrates unmarried young adults—also happens to be one of the largest online shopping days of the year. Thanks to the e-commerce site Alibaba, and its annual 11.11 Global Shopping Festival, shoppers were treated to a new shopping experience called Buy+ in 2016.
Shoppers were able to purchase an Alibaba virtual reality headset, virtually transporting them to international retail outlets and enabling them to experience the entire shopping experience from finding products to payment.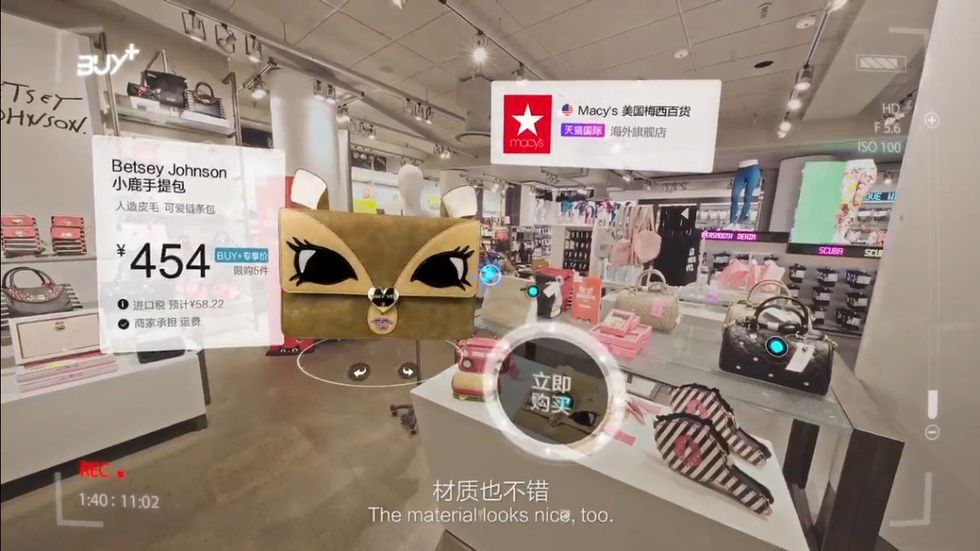 Alibaba launched Buy+ for its 11.11 Global Shopping Festival in 2016.
Alibaba is just one of a growing number of companies using either virtual reality (VR) or augmented reality (AR) to enhance online experiences. VR may be the more familiar of the two. The technology creates a completely immersive alternate reality that almost makes the real world irrelevant. Taking that technology a step further is merged or augmented reality, which overlays virtual elements visually into their physical space: you can watch a virtual robot roll across your very real coffee table, for example.
"The promise of VR is that you are no longer constrained or encumbered by reality," explained Tracey Wiedmeyer, co-founder and CTO at InContext Solutions, a Chicago-based company that offers cloud-based VR shopping and retail solutions with its virtual reality platform, ShopperMX. Wiedmeyer's company has worked with some of the most well-known companies in the world, like Kellogg's, Wal-Mart, and Nestle, using VR to help these companies to test new products or create better branding to entice customers.
AR brings virtual elements into the real world; it's what made finding the Pokémon Go characters in homes, parks, and football stadiums possible. Retailers have been using the technology for a few years as well. IKEA adopted AR for use into its digital catalogs, for Android and iOS, so consumers can see what the furniture will look like in the home. EBay has launched its own VR department store in Australia. Gap recently piloted an app DressingRoom, using AR to let users virtually try clothes on—at home. And LEGO uses AR-powered kiosks in its stores—consumers scan a LEGO set and get a 3D look at the finished kit.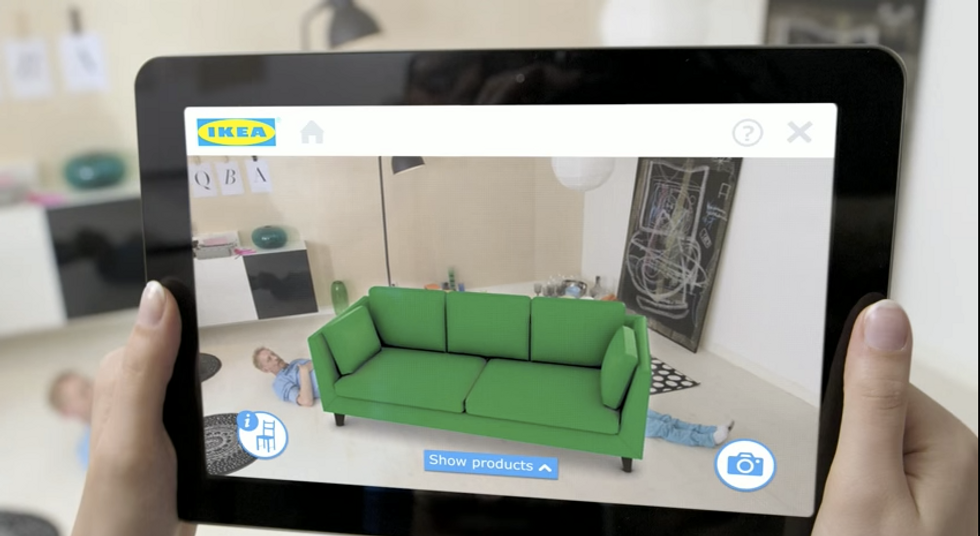 Ikea's virtual shopping app let's you see how that sofa will work before you click buy.
"Today's consumers shop online by looking at pictures or flat video of products or services and reading reviews," said Gordon Meyer of head of marketing with New York-based YouVisit a VR company that connects people with unique virtual experiences. By leveraging VR and AR technologies, consumers are able to get a true feel for a place or item before making a commitment.

Take college visits, for example. Seeing a campus in person is ideal, but not always possible. If the student and parent couldn't make the trip, the best was to scan websites to get details about the campus, if not a real feel for the place. Now, high school seniors can go on virtual campus visits of schools such as Ohio's Kent State University, complete with a tour guide.

Can't get your high school senior on college tours? Let them shop for college virtually online.
VR also inspires vacation travel. When travelers are able to experience a location through VR, they are 13 percent more likely to book the trip, according to YouVisit. Visitor centers are also turning to VR and AR to attract visitors. British Columbia developed "The Wild Within" VR experience, which attracted 65 million impressions and a five percent increase in tourists, according to Destination Marketing, a trade organization for travel groups.
VR and AR is also poised to revolutionize online clothes shopping. On a screen, every dress or shirt looks about the same and you just don't know how it is going to look or fit until you try it on. Body mapping technologies and platforms like True Fit, a data-driven personalization platform for many of the most popular apparel and footwear brands, provide customers with the ability to view how the item will look on him or her before making the purchase. In a testimonial, Kate Spade's COO reported an eighteen percent reduction in returns. (And as any woman could tell you, VR technology would make bathing suit shopping a lot less painful.)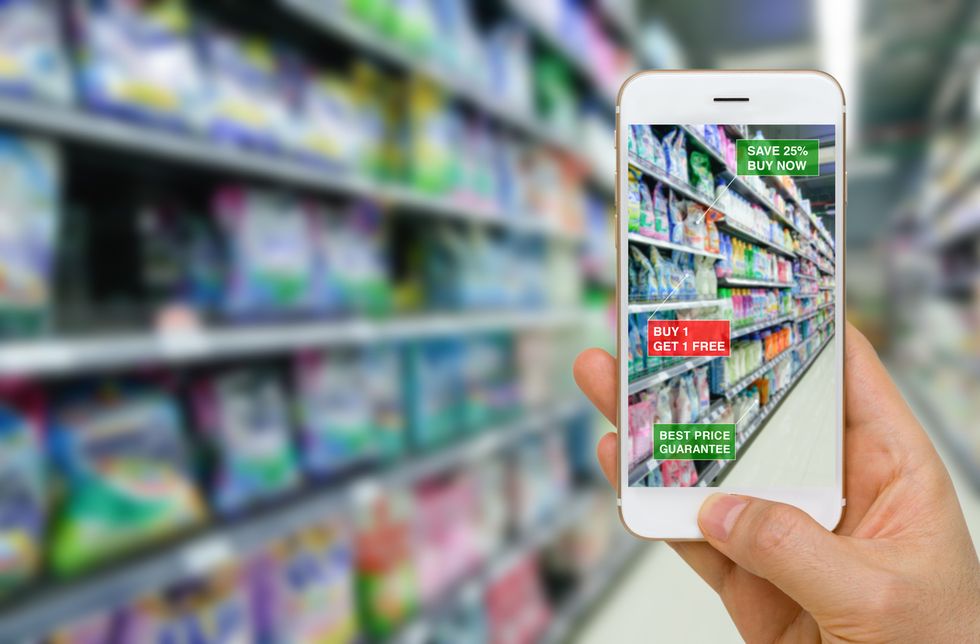 AR shopping apps can push out in-store sales and coupons.
Sitting at the computer to make purchases tends to be a solitary endeavor, but Wiedmeyer thinks VR and AR can make online shopping a social event. Consumers will be able to shop with friends who are in different physical locations, or visit locations that are states or countries away. Imagine the potential for a bride with bridesmaids scattered all over the country, for example, and the ability of the bride to actually see how good (or awful) those dresses look.
FaceCake, creator of the Swivel Virtual Dressing Room and the ShadeScout family of visual search mobile apps, has introduced a personalized Augmented Reality shopping platform using Microsoft Azure cloud computing. It allows customers to use its "Try On" experience on any mobile device and to create a runway or AlterImage video in which they are the featured model.
There is one major drawback to the VR and AR revolution—potential cost to both the company and the consumer. Two of the most popular VR headsets, the Oculus Rift and HTC Vive can run consumers more than $600—and that's without the pricey PC that you need to run the software. Cardboard headsets like those used by the Alibaba Group, coupled with smartphones, however, can make VR more affordable for the consumer. Some VR headsets can cost as little as a cup of coffee.

VR app development runs in the tens of thousands of dollars for software, app design and distribution and marketing. AR app development costs are similar.
Despite the costs, companies are hardly slowing down their investment.
The VR and AR markets are expected to bring in $80 billion in revenue by 2025, according to Goldman Sachs. Retail alone is expected to account for $1.6 billion, according to the same report.
"Together, virtual reality and augmented reality are a business machine," says YouVisit's Meyer. "They allow people to explore products and places, determine how these items work within their lives and, eventually, they'll allow customers to take the next step and complete transactions."
-Sue Poremba last piece for GearBrain was "The Coffee Shop Worker: How IoT Lets You Work Better From Anywhere"
Like GearBrain on Facebook