Like GearBrain on Facebook
Roborace, the self-driving race car, completed the famous Goodwood hill climb in England last weekend, at the Goodwood Festival of Speed.
The car has no conventional controls, no driver (or anywhere for a driver to sit), and is driven by artificial intelligence. Designed by Daniel Simon, who previously worked on vehicles for movies like Tron: Legacy, the Roborace will soon get its own race series, with 10 teams competing to develop the fastest self-driving race car.
Read More:

To demonstrate the intelligence of Roborace, the car was sent up the Goodwood hillclimb, a route which is just over a mile in length and has 300 feet of elevation change as it winds its way through trees, walls and hay bales.
Although the electric car was limited to 75mph for this run, it has a claimed top speed of 190mph. The car 'sees' the world around it using cameras, radar, lidar and ultrasonic sensors, which feed real-time data into the car's brain.
Once developed further, the car will be given to 10 teams as part of a Roborace championship. The challenge will be to programme the cars to be as fast as possible around a circuit, aggressive enough to overtake rivals, but cautious enough to not crash. The winning vehicle will be the one which is the fastest, but also knows when to take risks and when to hold back.
Shot by Roborace, the below video shows a 360-degree on-board view of the car's test run, completed before the festival began.
A second autonomous car took on the Goodwood hill, in the form of a 1965 Ford Mustang developed by Siemens, below. The car, with Goodwood estate owner the Duke of Richmond on board, struggled to navigate its way along the course. Despite following a pre-programed route, the car repeatedly veered towards the hay bales - even on the straights - and required the safety driver to frequently grab the wheel.
As a sign of the times, the 25th running of the Goodwood Festival of Speed featured more electric cars than ever before, and the top two times of the weekend's hill climb shoot-out were taken by battery-powered vehicles.

Second place went to the road-going Neo EP9 supercar, while first place was awarded to the Volkswagen ID R, which completed the 1.16-mile course in 43 seconds - a full 16 seconds quicker than the previous electric record.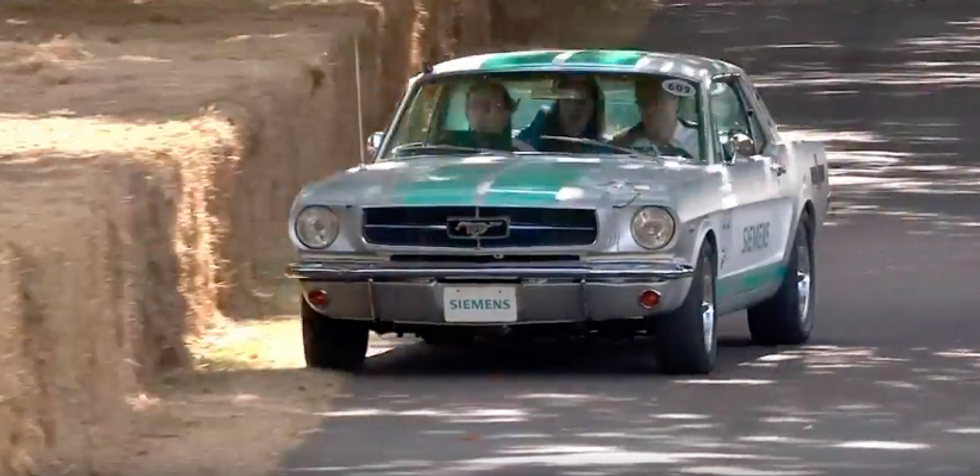 Autonomous car developed by Siemens almost crashes into hay balesYouTube: Goodwood Road & Racing
Like GearBrain on Facebook