Like GearBrain on Facebook
The newest addition to the Rocketbook line, its Panda Planner is a spiral notebook with schedule and goal-planning prompts structured throughout. The device recently launched, just as people are starting to think about the coming fall, whether they're heading back to the office or even to school — or settling in for more social-distancing. No matter your plan, getting organized is never a bad move, and the number of different templates in the new Rocketbook Panda Planner are designed to get you started.
What is the Rocketbook Panda Planner

The new planner comes in two formats, an executive size with 32 pages, and a letter size with 36 pages. Also included is one Pilot FriXion pen and a microfiber cloth. The book is very thin and very lightweight, making it easy to carry around with you in a backpack. It's not sized-well for a small bag or coat pocket, just something to note.
Instead of paper pages, each sheet is actually covered with a synthetic polyester blend, designed to be used with erasable ink so they can be reused. The pages can also be digitally upload automatically, by scanning them through symbols to destinations you choose, whether that's Dropbox or iCloud. You can select seven different locations.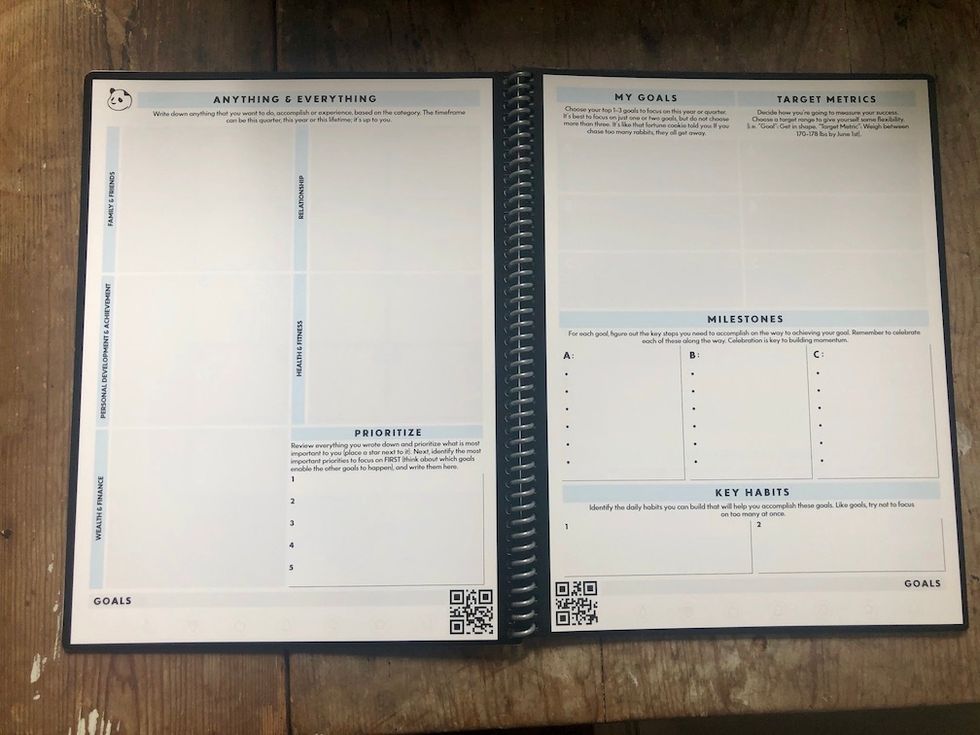 There are places to enter milestones, notes, goals — as well as your scheduleGearBrain
How to get started

Like any planner, you can just start writing. But that circumvents the actual Rocketbook features, found in all of their products like the Rocketbook Everlast which is the ability to both upload the contents of your notebook to an online source automatically. That requires the Rocketbook app, which you'll want to download immediately. There, you'll assign each symbol, from an apple to a four-leaf clover, to a destination. Then when you mark that symbol on to a page, it should upload to the assigned app.
How the planner worked for us
I'm big on scheduling, and have kept a weekly planner for more than a decade. It's something I use to keep on top of goals, schedule my time — and not forget all the little details that crop up during the day. I have my methodology, and it really doesn't waver.
Folding the Rocketbook Panda Planner into my routine? It worked well. Even though the pages are erasable, I had enough in the book to keep track not just of my daily and weekly plans, but also those of the momentary issues that happen. Whether that's a cancelled plan, something coming up the following week I can't forget, I had places throughout the book to jot those down.
The Frixion pens make it easy to erase something as schedules change. I do find that darker colors, like purple, take a bit more muscle to wipe clean. Your book will come with a black pen, which is easy to erase. But you can buy extra colors and even types of pens, like gel ink pens and highlighters, separately. I've even found them at Target.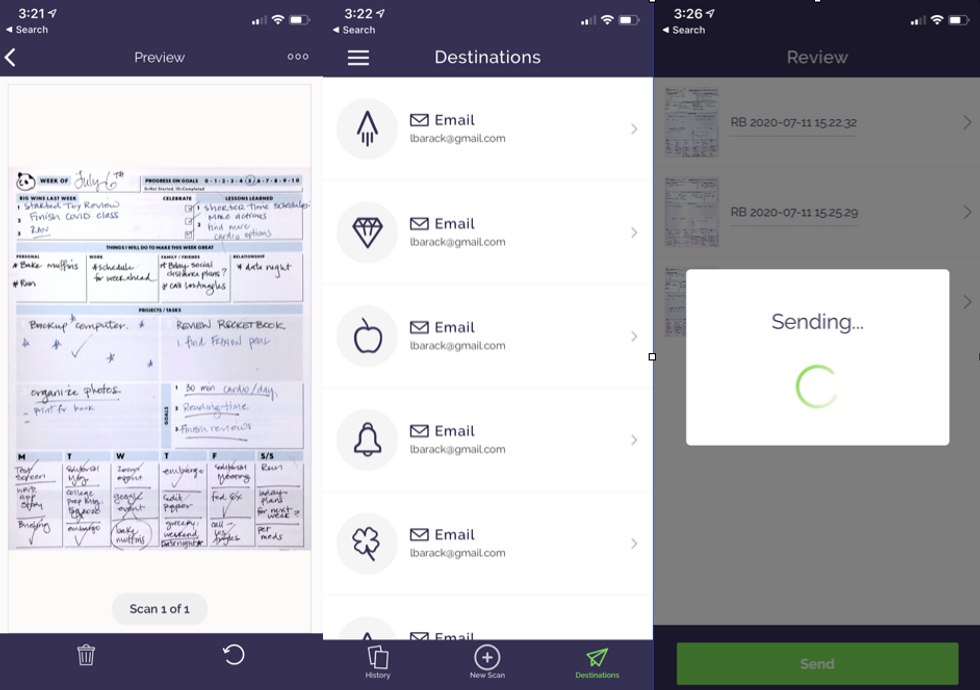 Images are stored in the Rocketbook app and then sent to other apps including iCloud.GearBrain
Sending those pages to other destinations? It really is as simple as marking the symbols at the bottom of every page. You can just mark the symbol out with an "X," or fully circle in the spot as well. You need to open the app, scan, and then wait a few minutes. The page will appear shortly after. You can also send the pages directly through the app if you haven't marked a symbol, the option pops up that way as well.

What doesn't happen — what would be a nice next feature — would be to populate the details in the planner into a digital calendar like Outlook, Apple's Calendar or Google's. That would certainly make this an excellent option for anyone who uses one of those as well, but wants to keep a handwritten option on their desk too.
Price
The Rocketbook Panda Planner's executive size is $35, and the letter size is $37.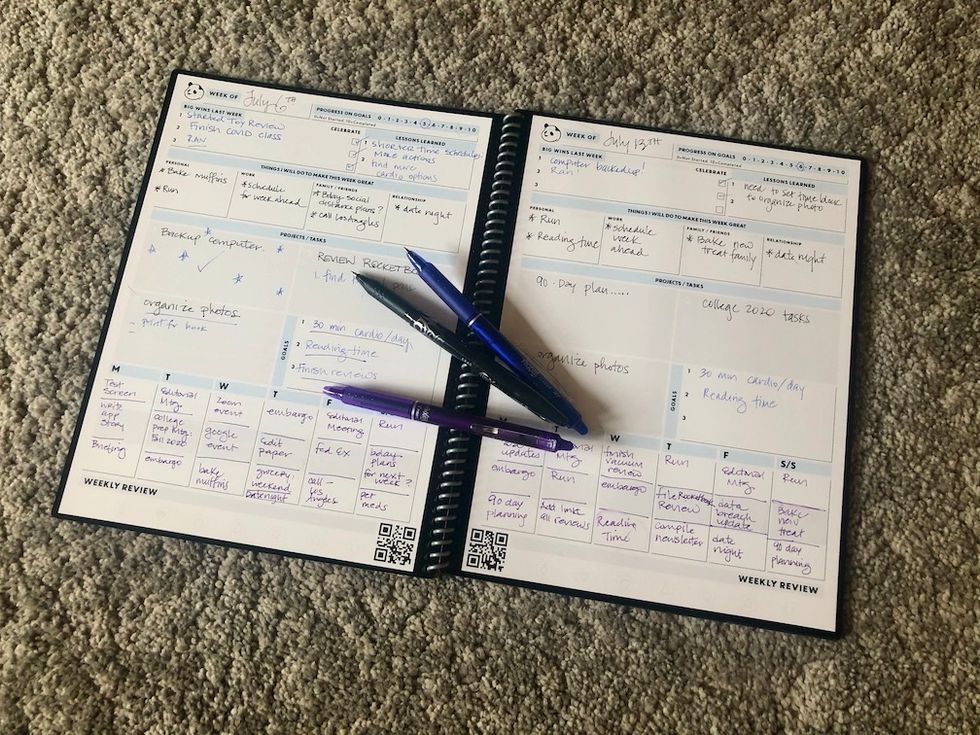 You use FriXion pens, which are erasable, in the notebookGearBrain
Summary

For anyone who likes to travel light — and wants the option of keeping a physical diary and a virtual backup — the Rocketbook Panda Planner is a nice hybrid. It's extremely well-priced, about the same as a physical, paper planner, but can hold up presumably for years.
As someone who really likes the opportunity to look back months and see what I've accomplished, the limit to keep just a month's worth of weekly schedules was a bit of a drawback for me. I'm just a paper person, not the norm I realize today, but I did appreciate that there was still a record, even, digitally that I could return to if I wanted.
To make the planner really pop, I suggest investing in some extra Frixion pens. They start at about $10 for a set of 10 in different colors, and I think for anyone who likes the process of using a planner, they'll help to make the Rocketbook pages more lively.
Ultimately, for those looking for a hybrid option, maybe a training wheels to shift them from a paper planner to a more digital solution, the Rocketbook Panda Planner could be a good option to try.
Pros:
Price
Pages can be erased and reused
The partnership with Panda Planner includes great goal-planning templates
Cons:
Polyester-coated pages lack crisp feel for paper-lovers
Limited pages
People will likely want to invest in more pens to make pages pop
Rocketbook Panda Planner - Reusable Daily Planner with 1 Pilot Frixion Pen & 1 Microfiber Cloth Included - Dark Blue Cover, Executive Size (6" x 8.8")
From Your Site Articles
Related Articles Around the Web
Like GearBrain on Facebook