Like GearBrain on Facebook
TV streaming box company Roku is on a mission to simplify home audio. The issue, the company claims, is that consumers find themselves stuck between the poor sound quality of their television, and the complex, expensive and often jargon-filled world of sound bars and full surround sound systems.
Consumers, Roku believes, want a simple solution to boost their TV's sound without breaking the bank or ending up in a mess of wires, acronyms and confusion.
Read More:
Roku's answer to this problem is a new pair of wireless speakers called - zero points for originality here - the Roku TV Wireless Speakers.
The two bookshelf-style speakers are the first devices to make use of Roku's new Connect platform, which was unveiled at the CES technology show in January 2018. Roku Connect is designed to link up your Roku-powered TV with accessories (like these speakers) over Wi-Fi.
The speakers are only compatible with Roku-powered smart TVs, like those built by TCL, Sharp, Hisense and other manufacturer partners. However, they can also be connected to other devices like smartphones and computers via Bluetooth.
Because Roku controls both the picture on your TV and the sound coming from its wireless speakers, the company says it can fully eliminate lag. This can be an issue for sound bars and other audio systems, which often need adjusting to keep the sound and picture in sync. There is also an automatic volume levelling feature to stop sounds from being suddenly too loud or quiet.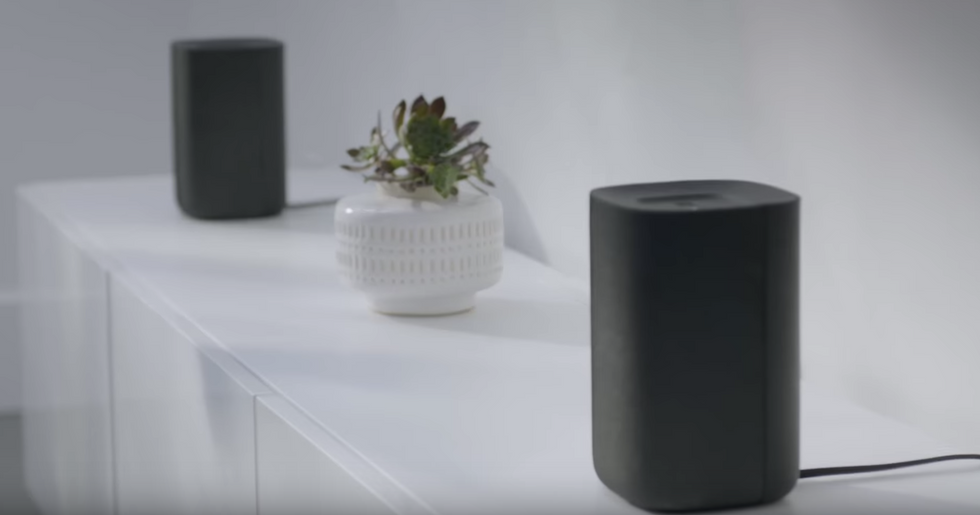 Roku
Interestingly, the seven inch-tall speakers come with two remotes, both with voice control. The first looks like any other Roku remote, with buttons for navigating and controlling TV streaming services and a microphone for controlling content with spoken commands.
The second controller is new from Roku and is called the Touch remote. It features several programmable buttons to have your Roku system immediately play a particular music playlist, or open a certain streaming app with one press.

Both remotes offer a push-to-talk system where you can control the system with voice commands; however, this is not the same as speaking to Alexa or the Google Assistant, as Roku has no form of AI assistant. This also means the remotes are not constantly listening, which may well be reassuring to consumers concerned about what Alexa and her friends can hear.
The speakers are the first Roku products to come from the company's $3.15 million acquisition of Dynastrom, a Danish audio startup with wireless expertise, in 2017.
Due to ship in late October, the speakers will be priced at $200. However, pre-orders placed before July 23 will cost $150, then between July 23 and October 15 the price will be $180, before reaching $200 when they finally go on sale.
Like GearBrain on Facebook