Like GearBrain on Facebook
Now that the streaming wars are well underway thanks to Apple and Disney entering a market previously dominated by Netflix and Amazon, we thought it was time to focus on a neutral player; Roku.
You see, where most streaming devices tend to miss out on at least one major streaming service - remember Amazon's disagreement with Google-owned YouTube? - Roku doesn't have a service on that scale of its own. This, in a way, makes it the Switzerland of the streaming wars. It is a neutral trying to offer the best, most comprehensive streaming platform for everyone, and without bias.
Read More:
As well as offering every major streaming service, Roku's platform has a universal search. This means you can type in the name of a movie or TV show and it'll serve up a list of where it is available, along with the price and video resolution.
If you're yet to jump on the streaming bandwagon, or want to upgrade your TV without actually buying a new television, then read on to find out if the Roku Premiere is right for you.
Roku Premiere review: Design and hardware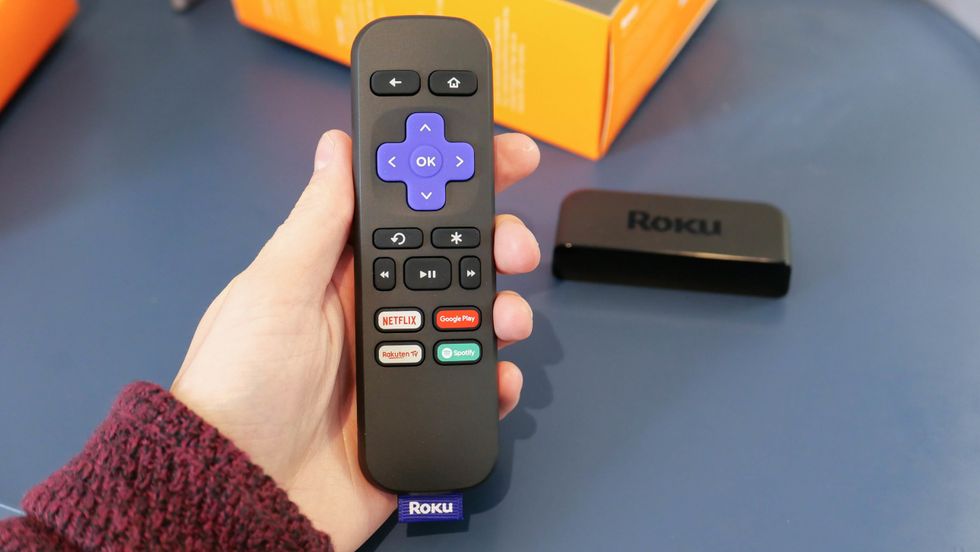 The remote is pleasant to use, but lacks volume buttonsRoku
The Roku Premiere is very small for a streaming set-top box, but not quite as small as the stick-shaped streamers from Amazon, and Roku itself.

Instead, the Premiere has a slightly curious design where it looks lost on a shelf below the TV, but can't be hidden out of sight because it is controlled using an infrared remote, which needs line-of-sight.
I've got the Premiere set up on my desk, where its diminutive size is welcome as space contested over by my laptop, keyboard, mouse, speakers and other products is at a premium. But I wish the Roku could be slotted directly into one of my monitor's HDMI ports.
Another issue is the tiny HDMI cable supplied by Roku, which could well be too small for some buyers, especially if you don't want to position the Roku right next to your TV. It is unlikely to reach a lower shelf of your TV stand or media cabinet. In fact, an included adhesive strip suggests Roku would rather you stick the Premiere to your TV itself, perhaps on the lower edge. Personally, I can't see many people doing that.

All this aside, if you can find a good space for the Roku Premiere then you'll find it takes up very little space and is easy to set up. If your TV has a USB port (and one powerful enough) this can be used to power the Roku. Otherwise you'll have to use the included wall plug.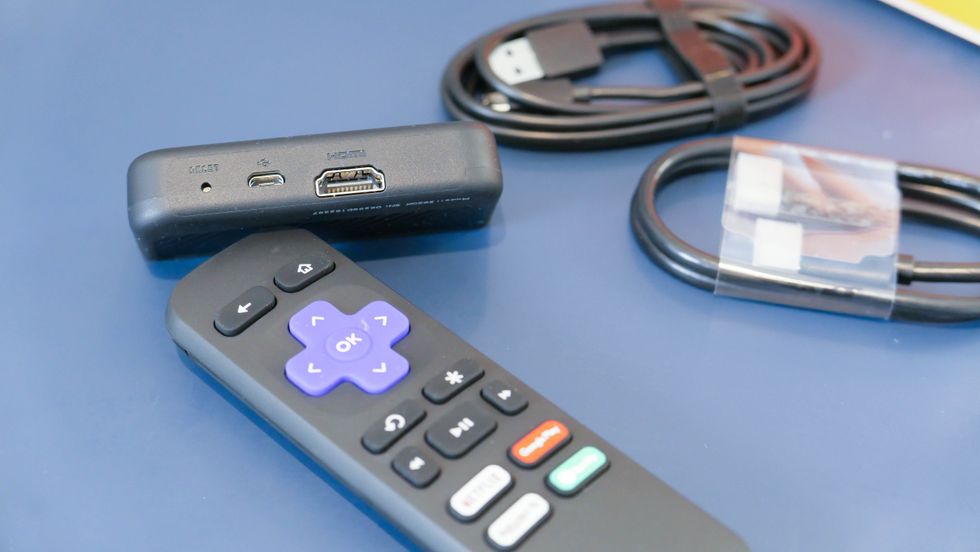 The Premiere is powered by the included microUSB cableRoku
The infrared remote is fine. It is compact without being fiddly, with buttons which are clearly labeled and ergonomically placed. As well as the usual navigation, OK, play/pause and home buttons, there are four which act as shortcuts for launching Netflix, Google Play, Rakuten TV and Spotify.

Personally, I'd rather see YouTube, Amazon or Apple take the place of the Rakuten TV button, which I don't use, but I'm splitting hairs. In the US, these buttons feature Netflix, ESPN, Hulu and Sling.
More annoying is the lack of volume buttons on the remote. If you have the TV's own remote to hand, this might not seem like a deal-breaker. But if like me you have the Roku plugged into a computer monitor which doesn't have a remote, adjusting the volume without reaching forward (or walking across the room) to use the monitor's own buttons is frustrating.
Roku Premiere | HD/4K/HDR Streaming Media Player, Simple Remote and Premium HDMI Cable
Roku Premiere review: Software
Setting up the Roku Premiere is very easy. Just plug it into your TV's HDMI and USB ports (or a nearby wall outlet), pop the included batteries into the remote, and follow the on-screen instructions. Initial setup involves connecting the Roku to your Wifi network and letting the Premiere work out the resolution and abilities of your TV or monitor. In my case, that means 4K, HDR and 60 frames per second.
Much of the installation process is done using the free Roku smartphone app (iOS and Android), so you'll want to have your phone handy.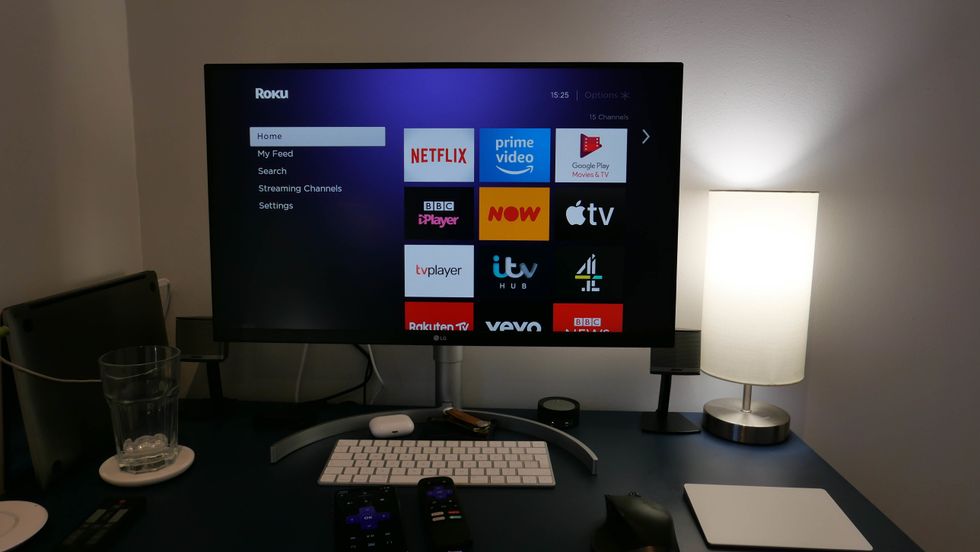 The user interface is attractive and easy to useGearBrain
Picking which apps you want installed on your Roku is done with your phone, and the app also makes it much easier to log into everything too, as navigating the on-TV keyboard with the directional buttons of the remote is a pain, especially as there is no microphone on the remote for navigating by voice.

At this point, reader, I must help you navigate a fork in the road. This is because I am based in the UK, and the services offered by Roku devices differ here compared to other regions, like the US.
In both countries, Rokus devices provide access to Netflix, YouTube, Amazon Prime Video, Apple TV+, Google Play, Spotify, BritBox, and many more. US customers also get access to Hulu, Disney+, HBO, Sling, YouTube TV, ESPN, NBC, ABC, CNNgo, and others.
In the UK, Roku users can watch catch-up TV from the BBC, ITV, Channel 4 and Channel 5, plus access Sky and HBO content through Now TV.
Logging into all of these through the Roku app can be time-consuming if you have a lot of subscriptions, but at least it only needs doing once for each streaming service you want to use.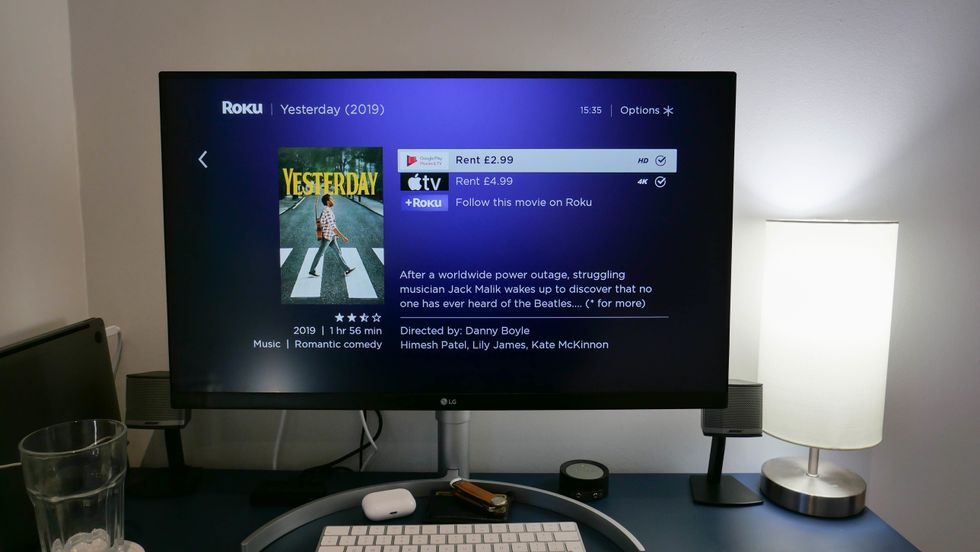 A useful feature is how you are given options about where you want to stream movies fromGearBrain
As I mentioned earlier, the Roku's search function is very useful. I can type in the name of a TV show (or browse through Roku's curated list of offerings) then be shown where that show is available, and how much it costs. Often, Apple TV will serve up movies in 4K when others only have an HD version in their catalogue, but other times I've found a movie is included with a subscription I'm already paying for (like Netflix or Amazon) so I'll watch it there, instead of paying elsewhere.

Paying for content is quick and easy, as the Roku asked for my billing details during the initial setup. Overall, I think the Roku interface is attractive, intuitive and easy to use.
Roku Premiere review: Video and audio quality
The Roku Premiere is capable of displaying 4K Ultra HD video with HDR at 60 frames per second. It can also handle DTS Digital Surround sound, as well as Dolby Audio and Dolby Atmos - but these sound formats are 'pass through HDMI' only, which means you'll have to plug the Roku Premiere into a sound system to decode the input signal, then send it to your speakers. You won't get these sound formats if the Roku is plugged directly into your TV.
Back to video quality, and it is pretty great to see a $40 device have both Ultra HD and HDR capabilities. That said, Dolby Vision and HDR10+ are both missing, so you aren't quite getting the full selection of top-end video standards for your $40.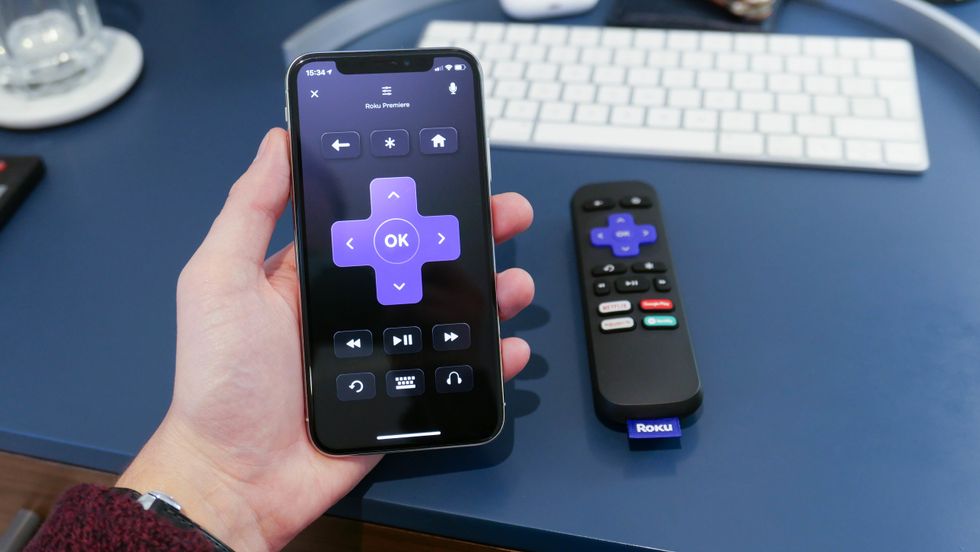 The Roku app can be used instead of the infrared remoteGearBrain
Also, it is worth noting that not all devices with HDR offer exactly the same picture quality. I found the Roku Premiere to be good enough most of the time, but struggled in darker scenes. It isn't the end of the world - especially for $40 - but made me wonder if spending a little extra on the $50 Amazon Fire TV 4K, or $100 on the Roku Ultra, would help bridge the performance gap.
For casual watching - in a bedroom and on a smaller screen, say - I wouldn't mind the lesser quality. But if this was going to be my main streaming product, hooked up to an expensive and correctly calibrated Ultra HD TV with all the bells and whistles, I'd look to stretch my budget a little further in search of better HDR.
Value and verdict
$40 really isn't much money to spend on a device as capable as the Roku Premiere. The setup is quick and simple (although can take a while if you have a lot of TV subscriptions), the user interface is easy to use, and the universal search function is great.
I'd rather the Premiere had the form factor of the Roku Streaming Stick+, so it could be hidden behind the TV and out of sight. That, and I suspect many buyers will need to provide their own longer HDMI cable.
Those small issues aside, the Roku Premiere is a sold option for those wanting to stream TV and movies (and music, too) on a fairly tight budget. It's amazing how far $40 goes these days, and even if its HDR abilities aren't always doing the content justice, the price - and access to all major services, including Apple and Disney - will be worth it for many.
Pros

Access to all major streaming services
Global search across all services
Simple and attractive interface
Cons
USB stick design would be better
HDR capabilities not the best
Remote lacks volume buttons
Roku Premiere+ 4K HDR Streaming Player
Like GearBrain on Facebook