We at GearBrain recently wrote about how to start your smart home for just $100, but now it's time to up the budget and see what $500 can get you.
This may sound like a large jump – and to many $500 is certainly a lot of money – but remember, we live in a world where $1,000 smartphones are quickly becoming the norm. Spending half that but getting a wide range of smart home products that all talk to each other and can be made to work together, and won't feel like yesterday's news in 12 months' time, seems like good value in our books.
Read More:
You can split your own $500 across any smart home products however you like, but this article is aimed to be a look at what we'd do with our own money. If you are a renter you will be limited when it comes to installing a thermostat and some lighting, so you may want to invest more heavily in higher-quality speakers and more smart plugs instead.
Similarly, if you are a homeowner, then a smart door lock might sound more appealing than a second smart display. It's ultimately up to you, but this is how we'd spend $500 on building a new smart home of our own.
Smart speaker, hub or smart display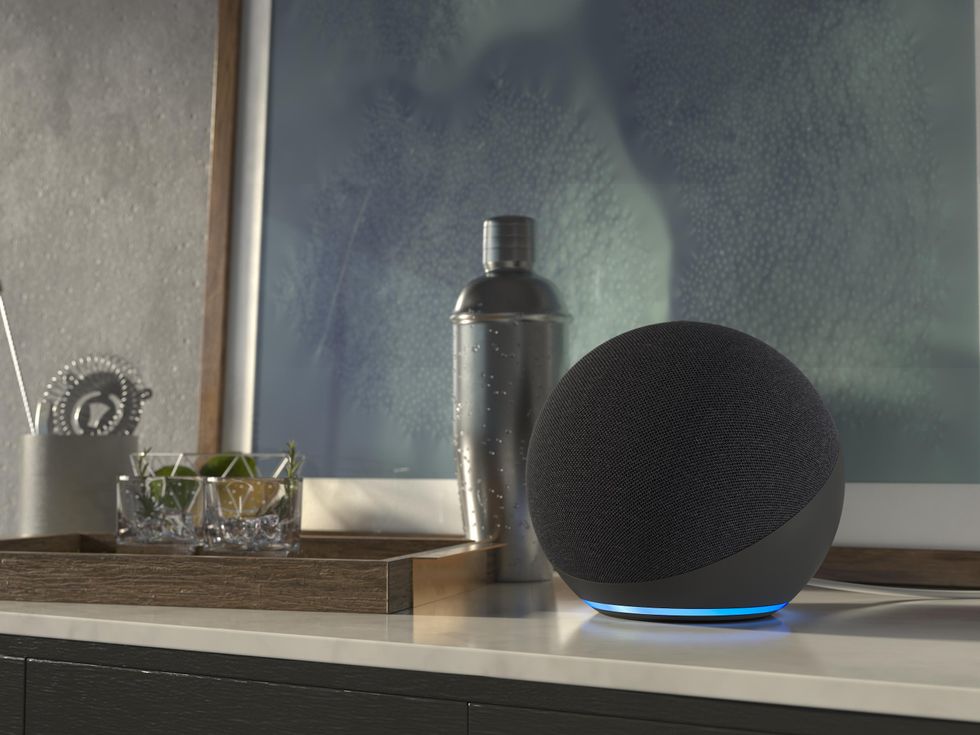 Amazon Echo (4th Gen) in charcoal Amazon
As with our article on the $100 smart home, your starting point still needs to be a hub of some description. This can still be the circa-$50 Nest Mini or Amazon Echo Dot we recommended in the $100 article, or you could stretch to a larger Nest Hub or Echo Show.

You could blow a chunk of the budget on a more premium smart speaker like the Sonos One or an Apple HomePod, but that wouldn't leave you with much money left to fit out the rest of your home. As such, we reckon at this point spending $90 on a Nest Hub is a good idea, as it brings a smart display with the Google Assistant into your home, while leaving plenty of budget left over to add more devices.
If you prefer the Amazon and Alexa ecosystem, then the Echo Show 5 is currently priced at just $45, down from $90. This is incredible value for money and should certainly be considered if you want to spend the majority of your budget elsewhere in the home, such as on more expensive items like a thermostat and a smart door lock. Alternatively, the larger Echo Show 8 is $120.
For this $500 example we'll go for the Nest Hub, which is currently $90 at BestBuy. We will also buy a pair of Nest Mini speakers for $50 each. With two Nest speakers and a Nest display, we can pit the Google Assistant in three rooms across the home. The voice assistant can be interacted with on any of the three devices, and they can all be used to play music simultaneously. They can also make household announcements for everyone to hear and act as an intercom system. Alternatively, you could spend the same $190 on a Nest Hub display and Nest Audio speaker.
Spent: $190 (Nest Hub and two Nest Minis)
Remaining budget: $310
Smart lighting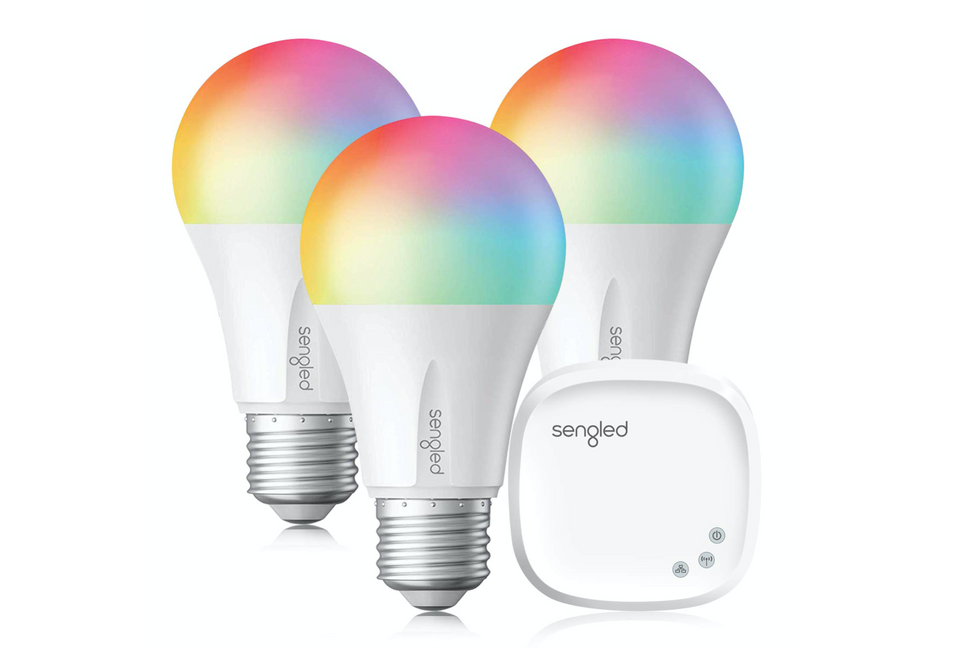 This set of three color bulbs and a hub costs $90Sengled
Most smart lighting systems produce very similar results, in that they give you control of the brightness, color and temperature of your light bulbs, via an app, automation, or voice commands.

The main differentiator is whether you buy white or color bulbs. The latter can shine any color with literally millions of options available, while the former only show different temperatures (and brightness) of white light, ranging from crisp, bright white to a warm, orange glow.
Color smart bulbs start at around $30 from C by GE, whose bulbs connect to your Google or Nest smart speaker/display and don't require a hub or bridge – unlike market leader Philips Hue, whose color starter kit is $140 for three bulbs and the necessary hub, called the Hue Bridge.
That said, Hue offers a broader range of indoor, outdoor and decorative bulbs and LED light strips than most, plus buttons, motion sensors and switches. If lighting is going to be the focus of your smart home, then Hue could be the answer.
But with a $500 total budget, we think Sengled and its pack of three color bulbs and a hub for $90 is good value for money, and includes compatibility with Alexa, Google Assistant, SmartThings and IFTTT.
Spent: $280 (Nest Hub, two Nest Minis and three color smart bulbs)
Remaining budget: $220
Smart plugs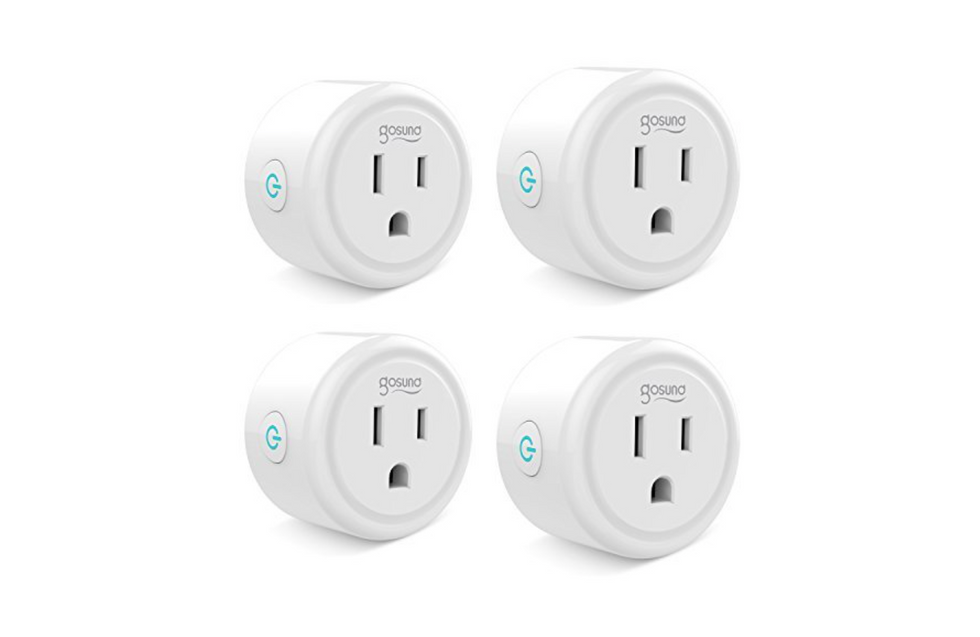 Smart plugs can cost as little as $25 for fourGosund
Smart plugs are a remarkably cheap way to add smartness and automation to your home. They cost from as little as $5 each, and when installed let you switch appliances on and off from your phone, or by speaking to a voice assistant.

Smart plugs work best with products like heaters and fans, which start working as desired when switched on at the wall outlet. This is because the smart plug is only controlling the power supply, and nothing else. Still, they are cheap and can be automated – for example, you could have a fan switch on when a room reaches a certain temperature, or a humidifier power up when the air gets dry (as measured by a smart air quality monitor, sold separately).
You can currently buy a set of four plugs from Gosund on Amazon for $21. These connect to Wi-Fi, require no hub, and can be controlled by Alexa and Google Assistant.
Spent: $301 (Nest Hub, two Nest Minis, three color smart bulbs and four smart plugs)
Remaining budget: $199
Smart thermostat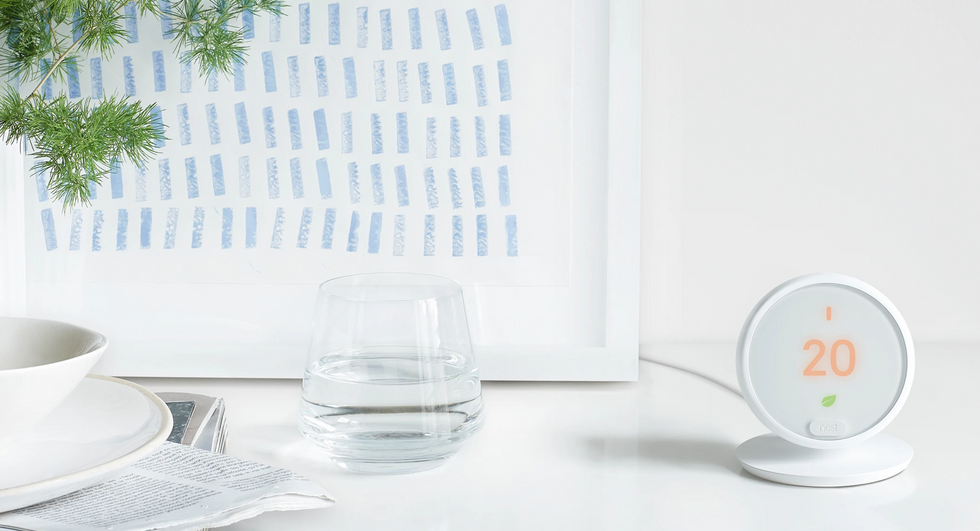 The Nest E is priced at $169Nest
While the regular Nest Learning Thermostat is just out of our budget for this article, the company's new and cheaper $130 Nest Thermostat is attainable. Replacing the Nest E, this product still offers many of the same features as the more expensive model, but has a simpler design.

The Nest Thermostat can be controlled with a smartphone app or by speaking to Google Assistant or Alexa, and once it has learnt your preferences for heating and cooling, it will adjust automatically to keep you comfortable but also lower your energy bills.
Spent: $431 (Nest Hub, two Nest Minis, three color smart bulbs, four smart plugs and a Nest Thermostat)
Remaining Budget: $69
With just $69 of the $500 left, we can't make any more big purchases, but that's still enough to buy another couple of color smart light bulb, or a set of smart plugs to bring internet connectivity and voice control to more otherwise 'dumb' devices around the home.
Wyze security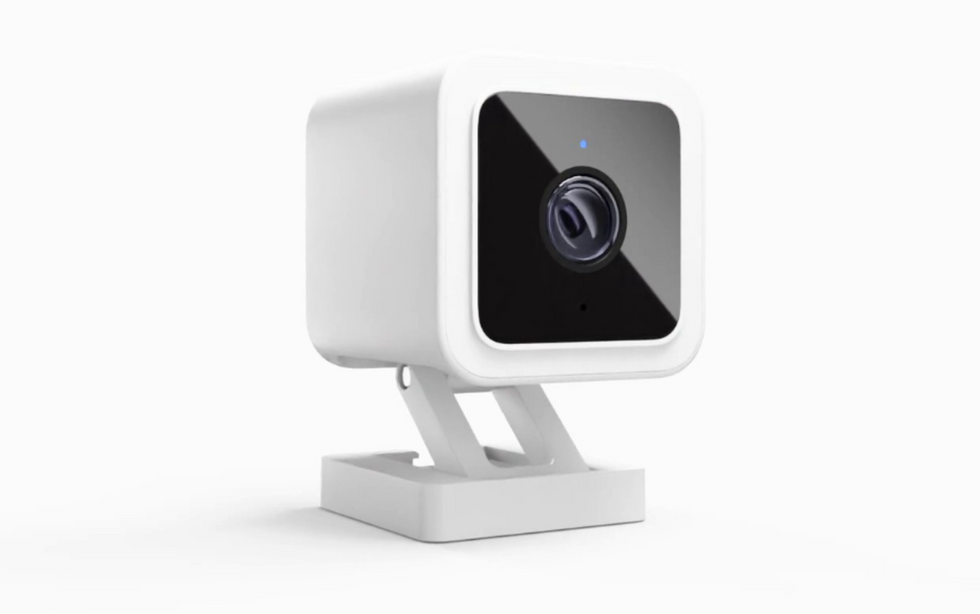 The latest, third-generation security camera from Wyze Wyze
Another option is to pick up some smart home security products from Wyze, the cut-price company best known for its surprisingly good $20 security camera. The latest Wyze Cam V3 is waterproof so can be located inside or out, has a starlight sensor for color video recording even at night, and earned 4.5 stars out of five when we reviewed it in November 2020. Adding a couple of these to the budget would still leave $29 left over, which is just about enough (okay, you'll need an extra dollar) for Wyze's wired video doorbell, which is due out in February 2021.
This brings us to a total spend of $501, and a smart home consisting of:
Nest Hub smart diaplay
Sengled smart color bulbs (x3)
Gosund smart plugs (x4)
With this setup, we have three Google Assistant devices to spread around the home, a smart lighting starter pack for lighting one room, or potentially three lamps in different spaces, four plug to add smartness to devices like heaters and fans, a smart thermostat, two security cameras than can be positioned inside or outdoors, and a smart door lock. We think this is a pretty comprehensive start home starter kit, while leaving plenty o potential to build upon it by adding more lights and other devices from Nest and Wyze (or any other company, for that matter).
Check out The GearBrain, our smart home compatibility checker to see the other compatible products that work with Google Assistant and Amazon Alexa enabled devices.

How to Add Devices to MyGear in The GearBrain www.youtube.com