Like GearBrain on Facebook
Airplane engine maker Rolls-Royce has revealed plans to build a flying taxi which could take to the skies as early as next decade.
Not to be confused with the luxury car maker of the same name (although they used to be the same company), this Rolls-Royce has shown off what an electric vertical take-off and landing (EVTOL) could look like.
Read More:
Unlike other flying taxi concepts we have seen recently - like the 62mph BlackFly from last week - the Rolls-Royce could travel at up to 250mph and have a range of approximately 500 miles, its designers have said. The concept is designed to carry four or five people, and its wings can rotate 90 degrees to enable vertical take-off and landing.
Rolls-Royce said: "We believe that given the work we are doing today to develop hybrid electric propulsion capabilities, this model could be available by the early to mid 2020s, provided that a viable commercial model for its introduction can be created."

The flying machine is intended to use gas turbine technology to generate electricity to power six electric propulsors, specifically designed to have a low noise profile. This would help enable the machine to fly in urban areas without causing too much noise pollution.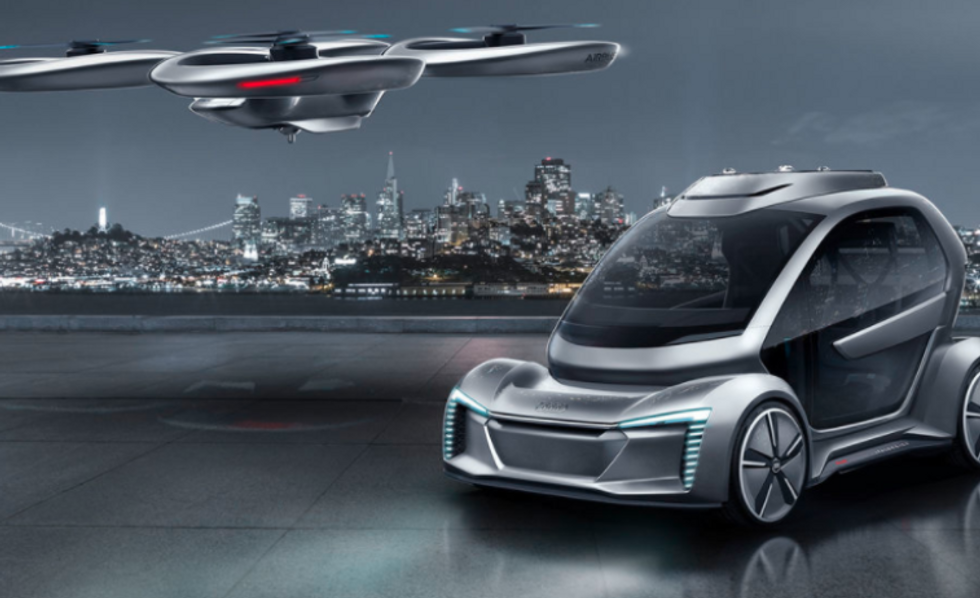 Airbus and Audi and working on a flying machine of their ownAirbus/Audi
Rob Watson, head of Rolls-Royce's electric team, said: "Building on our existing expertise in electric technologies and aviation, Rolls-Royce is actively exploring a range of possible markets and applications for electric and hybrid electric flight. We are well placed to play a leading role in the emerging world of personal air mobility and will also look to work in collaboration with a range of partners."
Watson added: ""Electrification is an exciting and inescapable trend across industrial technology markets and while the move to more electric propulsion will be gradual for us, it will ultimately be a revolution."
Rolls-Royce currently provides engines for the Airbus A380 and Boeing 787, among other civilian aircraft. It also produces engines for the Tornado Typhoon Lightning military fighter jet, and one of its EJ200 engines is fitted to Bloodhound, a British land speed-record car designed to travel at 1,000mph.
The company joins a surprising number of firms keen to make personal electric aviation a reality. Airplane manufacturer Airbus is working with Audi to produce an autonomous flying vehicle, while Porsche said earlier this year it is interested in building a similar vehicle.
Ride-sharing company Uber is also keen to take customers into the skies, and says its Uber Elevate division will offer a commercial service in Texas within 10 years.
Like GearBrain on Facebook