At the Consumer Electronics Show in Las Vegas this year, Samsung unveil the first ever french door smart refrigerator and an expanded product line for their Bespoke brand. No longer will the Bespoke products be just in the kitchen. The company is bringing Bespoke smart appliances to your laundry room for the first time. Thus, making more rooms in your smart home smarter.

Samsung Home Appliances include smart refrigerators, washer and dryers, robot vacuums, smart air purifier and a smart airdresser. Here is a look at what's new from Samsung's smart appliances in 2022:
Bespoke French Door: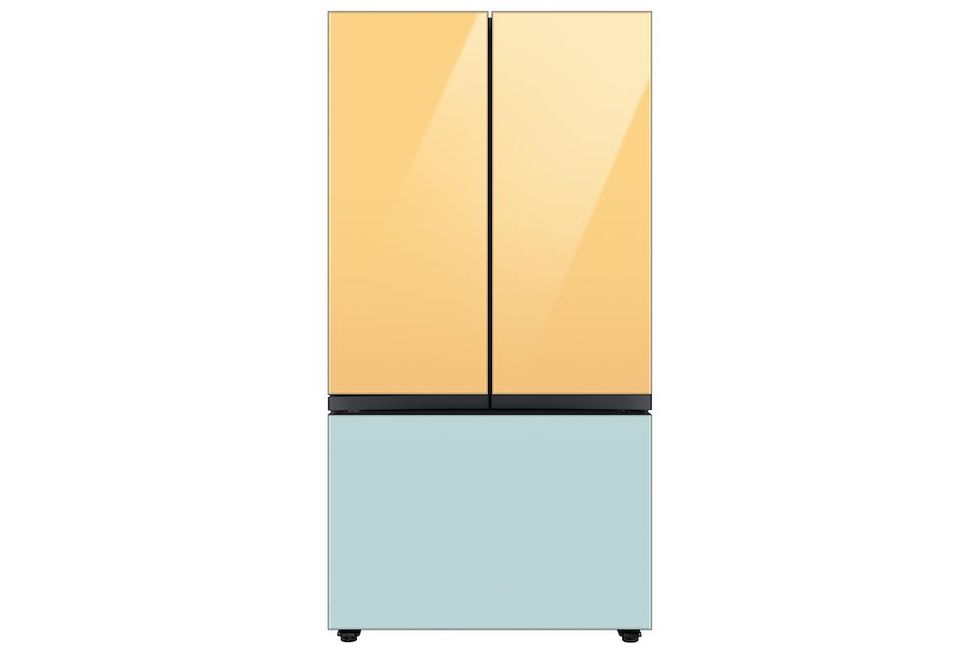 Bespoke French Door:- 3 door
Samsung
Following the successful 2021 launch of Bespoke in the U.S. with the 4-Door Flex refrigerator, Samsung has continued to expand its Bespoke lineup in the kitchen. In 2022, Bespoke customization will also be available in Samsung's most popular fridge model, the French Door, in 4- and 3-door configurations. The new lineup will be available in 12 colors and two finishes including Glass finishes (Sunrise Yellow, Clementine, Morning Blue, Pink, Charcoal, Grey and White Glass) and Metallic finishes (Emerald Green, Navy, Matte Black, Tuscan and Stainless Steel)The Bespoke French Door configurations will be available in full and counter depth models. These models will include Samsung's most innovative fridge features to date, including the Beverage Center, Auto Fill Water Pitcher and Dual Ice Maker.
The 4-Door configuration also offers the versatile Flex Zone drawer, which can be converted from freezer to fridge depending on your needs, and the storage capacity of the fridge has been increased to 29 cubic feet. The 3-Door configuration's food storage space has been increased to 30 cubic feet. Both configurations have larger, specialized drawers for storing fruit and vegetables, and meat.
Bespoke Family Hub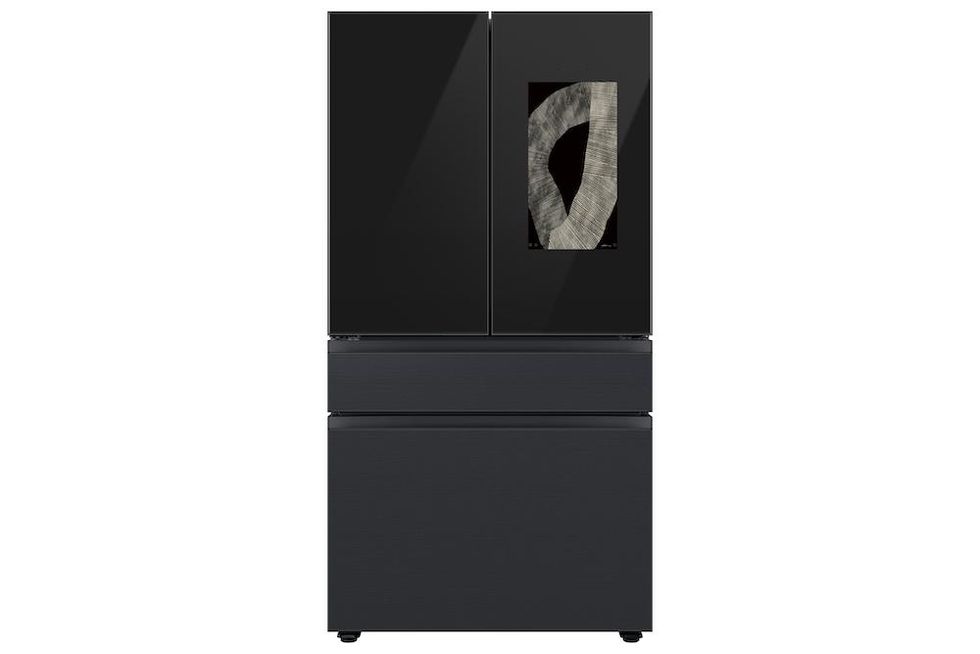 4 door Bespoke Family Hub smart refrigerator
Samsung
The first-ever Bespoke Family Hub combines the best of Samsung's smart home technology with Bespoke customization, featuring a bezel-less screen that blends seamlessly into the glass panel. Samsung is continuing to enhance Family Hub's smart home capabilities by embedding SmartThings Hub software into Family Hub, eliminating the need for a separate hub to control your connected devices. The 21.5" full HD touchscreen allows you to control all of your smart appliances and devices, stream music, mirror your TV, watch videos on demand, share pictures, search recipes, order groceries, and so much more, all from your fridge. With Family Hub, your refrigerator is much more than a place to store food—it's the center of your home.
Bespoke Kitchen Package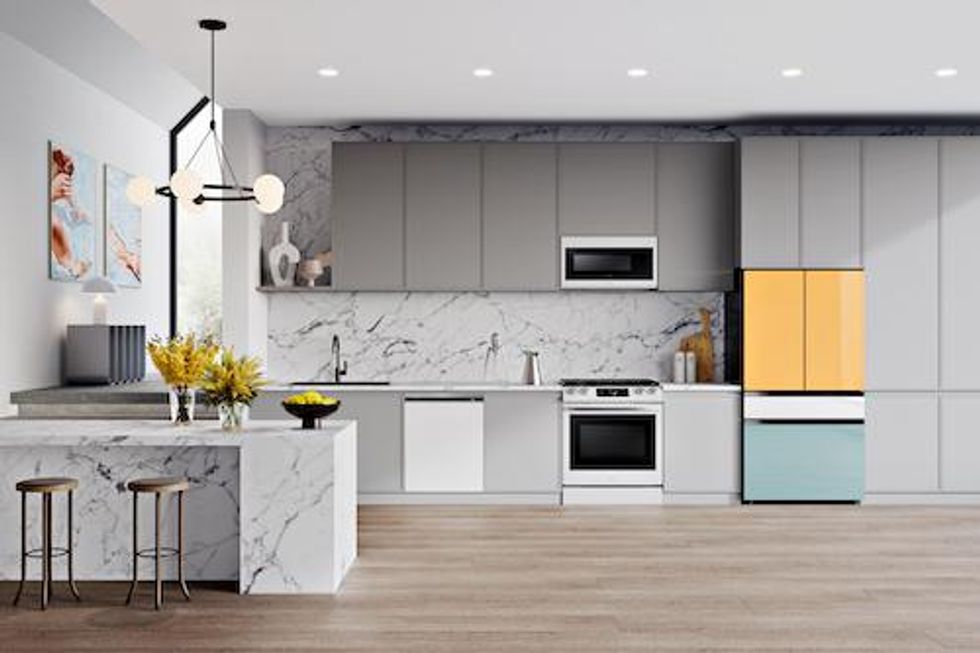 Samsung Bespoke Kitchen suite in white.
GearBrain
Most recently, Samsung launched the Bespoke Kitchen Suite, which includes the Bespoke Slide-In Range, Over-The-Range Microwave and Linear Wash Dishwasher in Navy Steel. Next year, the brand is bringing its most popular Bespoke fridge color – White Glass – to the kitchen package. The stunning, glossy white finish with bezel-less panels gives appliances a clean, modern look. There are now more ways than ever to personalize your kitchen, and with more appliances, you have more ways to decide which products – and which colors and finishes – work best with your lifestyle and kitchen layout.
Bespoke Front Load Washer & Dryer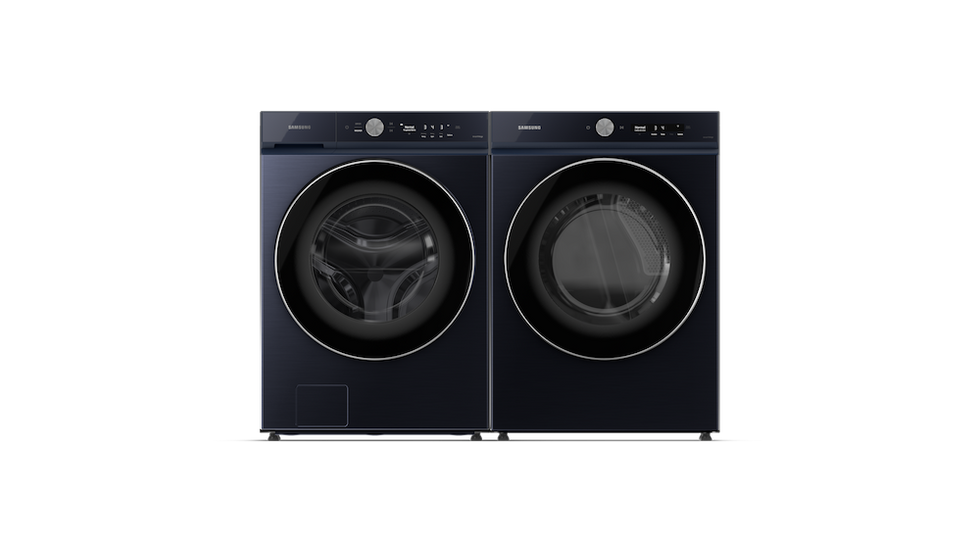 Samsung Bespoke Smart Front Load Washer and Dryer
Samsung
Later in 2022, Samsung will also be bringing Bespoke to the laundry room with the new Bespoke Front Load laundry pair. The Bespoke Washer and Dryer feature a modern, flat-front design with a round, tempered-glass door, beautifully designed to stand out or harmonize with your space. Beyond its looks, the pair offers the most intelligent and efficient wash to date. Here are just a few features:
With Samsung's AI-Powered Smart Dial, the washer learns your clothing care preferences and recommends cycles based on your washing patterns – the more you use it, the better it understands your needs.
The washer takes the guess work out of washing by automatically detecting clothing soil levels to optimize the amount of detergent used and length of wash time and holds enough detergent and softener for 20 loads of laundry.
Once washing is done, the dryer automatically recommends the best drying cycle
When the pair is stacked, you can conveniently control them from the washer panel, so everything is within comfortable reach.
It works with SmartThings to recommend the best clothing care cycles based on your preferences and clothing materials.
Bespoke Jet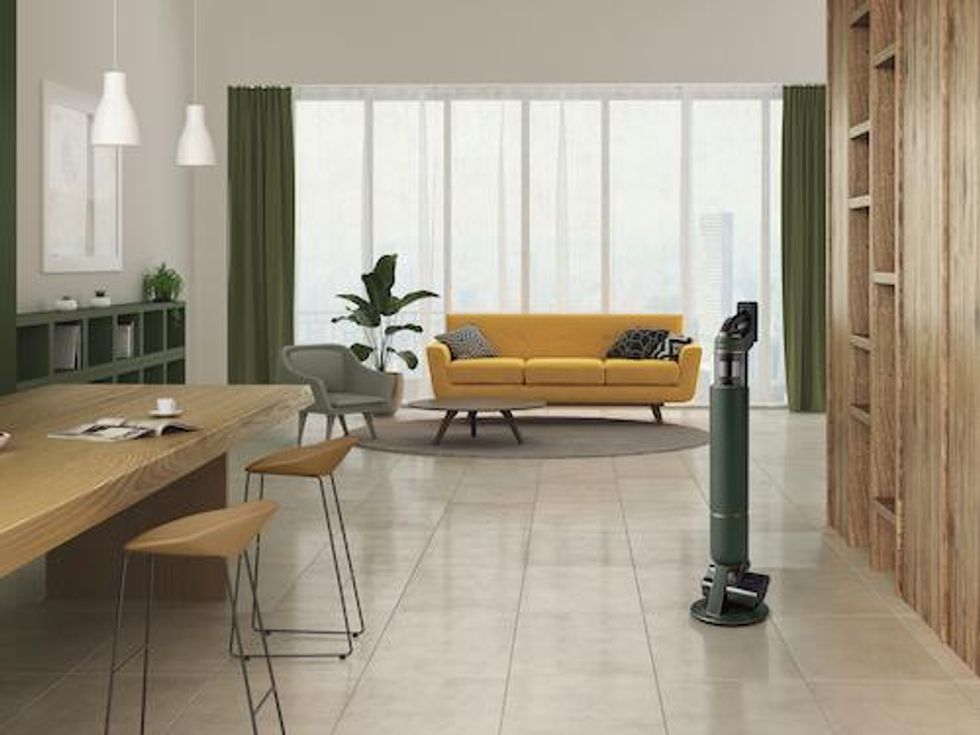 Samsung Bespoke Jet cordless stick vacuum
Samsung
Samsung's Bespoke Jet cordless stick vacuum cleaner features an all-in-one clean station that charges the vacuum and automatically empties the dust bin for you – no dust plumes or dirty hands needed.
The Bespoke Jet vacuum is lightweight with an ergonomic grip and controls built-in to the handle to help ease strain on your arms and wrists during cleaning. It's the most powerful stick vacuum Samsung has designed, with 210 air watts of suction and a run time of 120 minutes. Its 5-layer filtration traps 99.9% of micro dust particles and comes with a washable filter and built-in clean station that suctions debris from the dust bin, so you won't have to worry about reintroducing dirt into your home.
The Bespoke Jet comes in Midnight Blue, Woody Green, and Misty White, and has a beautiful design that blends in naturally. Now you don't need to hide your vacuum – keep it out in the open, where it's conveniently ready for everyday cleanups.
Bespoke AirDresser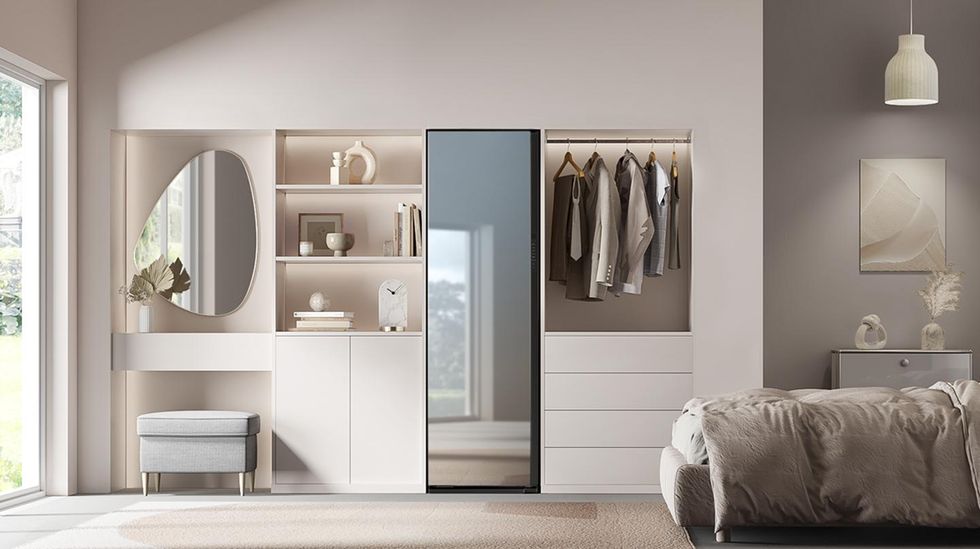 Samsung Bespoke AirDresser in a bedroom
Samsung
Bespoke AirDresser was introduced earlier this year, but now available in an 18", 3-hanger size and a new, larger-capacity 24", 5-hanger size. The Bespoke AirDresser comes in a Crystal Mirror finish, which doubles as a floor-length mirror, with the controls moved from the center of the door to a slim bezel on the side of the door to keep the mirror finish fingerprint free.
The Bespoke AirDresser combines the gentle power of pure steam and air to relax light wrinkles and remove 99% of common bacteria, dust mites and odors from your clothing. Its new AI drying feature also senses the humidity of your clothing and adjusts for the optimal, most efficient drying cycle, with only a standard power outlet needed. It works with SmartThings to recommend the best clothing care cycles based on your preferences and clothing materials.
Bespoke Cube Air Purifier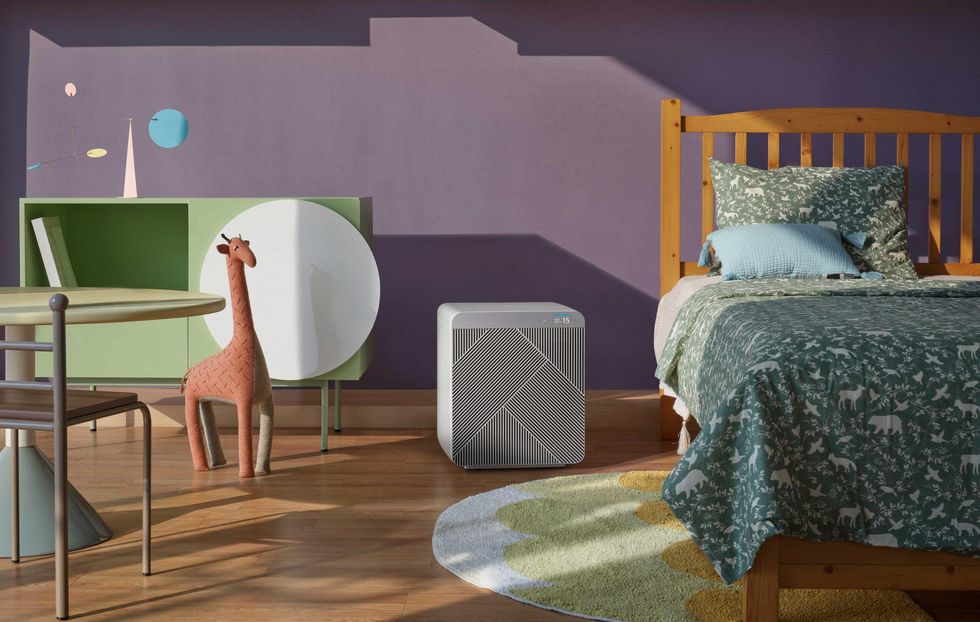 Samsung Bespoke Cube Air Purifier
Samsung
As we're more conscious of the air quality in our homes than ever, Samsung introduced the Bespoke Cube Air Purifier earlier this year. The Bespoke Cube brings an elevated sense of design and customization to an otherwise utility-driven product category.
Available in two interchangeable grill patterns, in Gray or Deep Green, the Bespoke Cube is designed to complement any space in your space. The Bespoke Cube quietly pulls in air from five directions and has a four-step filtration system to keeps the air in a 350 square foot room clean.
If you have a furry companion, you can use Pet Mode to increase airflow by 20% to better capture hard to-see pet hair. Bespoke Cube works with SmartThings to help monitor indoor air quality.
GearBrain likes what it sees from Samsung smart appliances. The company offers devices which are easy to setup and use in your smart home. The new design elements are nice additions to the evolution of the smart home by Samsung.

Check out The GearBrain, our smart home compatibility find engine to see the other compatible products that work with Samsung SmartThings platform.
The GearBrain, First Compatibility Find Engine for Smart Devices www.youtube.com