Like GearBrain on Facebook
Samsung is working on a folding smartphone which it is expected to reveal in full at a media event on February 20.
We have seen a rough prototype of the company's so-called Infinity Flex Display, but are yet to see what the finished product will look like.
Read More:
However, a new television commercial showing a range of futuristic technologies imagined by Samsung shows a folding phone.
The smartphone is shown being used by an actress who opens it, revealing how there is a display on the outside and the inside. The mechanism looks to be the same as they of the prototype Samsung revealed in November, but far less bulky.
Samsung is among a range of companies all working on folding smartphones, which take advantage of flexible display technologies and are hoped to inject some much-needed life into a stagnating smartphone market.
Huawei says it is also working on folding phones, and it is understood that Motorola and LG are too. It is unlikely that Apple will enter the fray, at least for the next couple of years.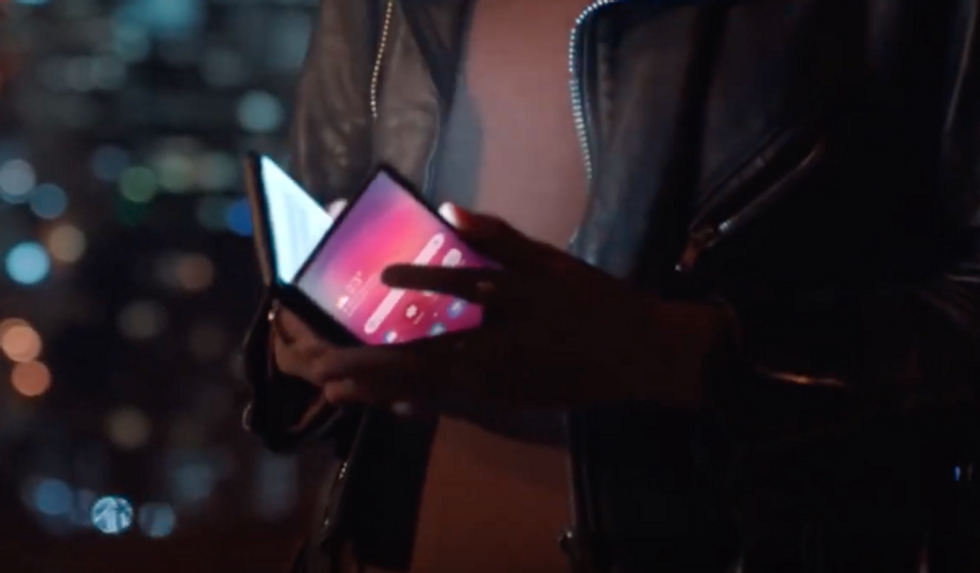 Device is shown briefly during new TV ad Samsung
Also shown in the Samsung advert are glass windows with embedded displays, a three-panel, full-length mirror controlled by hand gestures to design clothing, and a tablet used to control an automated tattoo machine. These are futuristic products which are not yet on sale, and may actually never become commercial successes.

However, we know the folding phone is close to reality and it's the only product shown twice during the ad, including during the closing shot, giving it the most emphasis. Samsung also chose to use a shot of the folding phone as the YouTube video's thumbnail, as seen below.
The company recently erected billboards in Paris with 'The future unfolds. February 20th' written in Korean, adding further evidence that the folding phone will arrive on that date.
Samsung is hosting one of its Unpacked media events in San Francisco and London on February 20, where it will reveal the new Galaxy S10. There are believed to be three versions of this smartphone, and they could be joined at the event by the folding handset, thought to be called the Galaxy F, or Galaxy X.

The event is taking place just a few days before Mobile World Congress opens its doors in Barcelona , where most of the telecom industry will reveal new devices. New phones from LG, Nokia, Huawei, Sony and others are all expected, along with whatever Samsung announces on the 20th.
From Your Site Articles
Related Articles Around the Web
Like GearBrain on Facebook