Like GearBrain on Facebook
Samsung will reportedly launch three versions of the Galaxy S10 smartphone in early 2019, along with the company's highly-anticipated folding smartphone.
The S10 duo - likely to share similar specifications and features, but with one being larger than the other - are said to be joined by a lower-priced model, and the folding phone.
Read More:
According to a new report from Bloomberg, which has a strong track record for smartphone news, the two high-end S10s will feature curved displays (like those on the S9) and fingerprint readers embedded into their screens - a first for any Samsung device.
They will also reportedly feature three rear cameras, plus a front-facing selfie camera which is "visible and tucked under the screen". It isn't clear exactly what this will look like, or how it will work, but rumors have previously claimed Samsung is working on a way to have its selfie cameras see through small holes in the display.
Samsung's Galaxy S range has changed very little in the last couple of years, with the S8 and S9 generations sharing the same look - and a look which is also similar to the larger Note 8 and Note 9.
For 2019 and the Galaxy S10, it looks like we'll see some major changes, along with the cheaper model which will surely go up against Apple's new iPhone XR, which went on sale today (October 26). Samsung usually reveals its new Galaxy S models at media events jus before Mobile World Congress, which begins on February 25, 2019.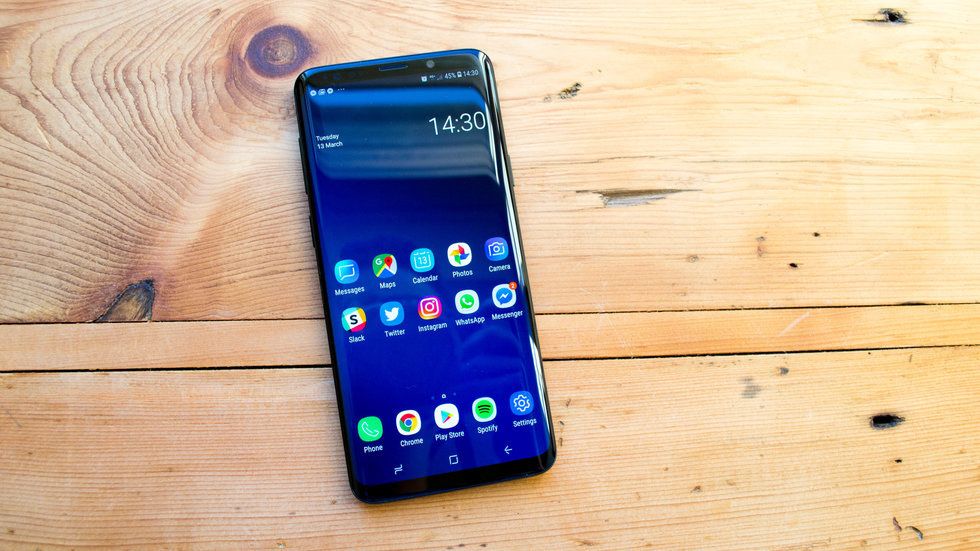 The Samsung Galaxy S9+GearBrain
Bloomberg's claims fall in line with predictions made by renowned technology analyst Ming-Chi Kuo, who said back in July that the Galaxy S10 would go in three versions and include an in-display fingerprint scanner.

As for the folding phone, which Samsung has teased for months now and could mark a major milestone in the evolution of the smartphone, the latest report claims Samsung is still deciding whether to have the phone fold vertically or horizontally, and is still to pick between two prototypes. This revelation could delay the device's launch somewhat, unless both prototypes are almost production-ready.
The report claims: "The landscape model has fallen out of favor recently with designers who see the portrait type as easier to hold with one hand even through its display may feel narrower when opened." It is claimed this phone will not have an in-display fingerprint scanner, due to technical difficulties.
It is also said that the device has a 4-inch display on the outside, to be used when the phone is folded closed, and a much larger touchscreen inside, unfolding like a wallet. This design sound similar to a concept shown by Samsung back in 2014, shown at the top of this article.
Codenamed "Winner", the folding phone could be exactly what the stagnating smartphone market needs, as manufacturers produce handsets which carry similar features to each other and all look roughly the same.
It is understand that Huawei, LG, Motorola and others are all also working on folding phones.
From Your Site Articles
Related Articles Around the Web
Like GearBrain on Facebook