Like GearBrain on Facebook
After weeks of rumors and leaks - not least by its own YouTube channel - Samsung has finally revealed the Galaxy Note 9, as a blockbuster media event in New York.
The latest in a long line of large smartphones with styluses, the Note 9 is mostly about marginal gains over last year's Note 8. The AMOLED display is just 0.1 inches larger, at 6.4 inches, for example - and the overall design is almost identical to the last couple of generations of Note, and Galaxy S.
Read More:
Samsung Galaxy Note 9: New S Pen stylus
What is new, is the Note 9's stylus. It looks like the S Pen stylus we have all become used to but, for the first time, it has Bluetooth Low Energy. Essentially, this means it can do more and interact with the phone from much further away than previous generations.
Making use of the new Bluetooth connect, the S Pen's button can be used to control certain features of the phone from a distance. For example, you can use the S Pen as a remote shutter, firing the camera when the phone is out of reach - propped up and ready to take a group shot from further away than an outstretched arm, for example.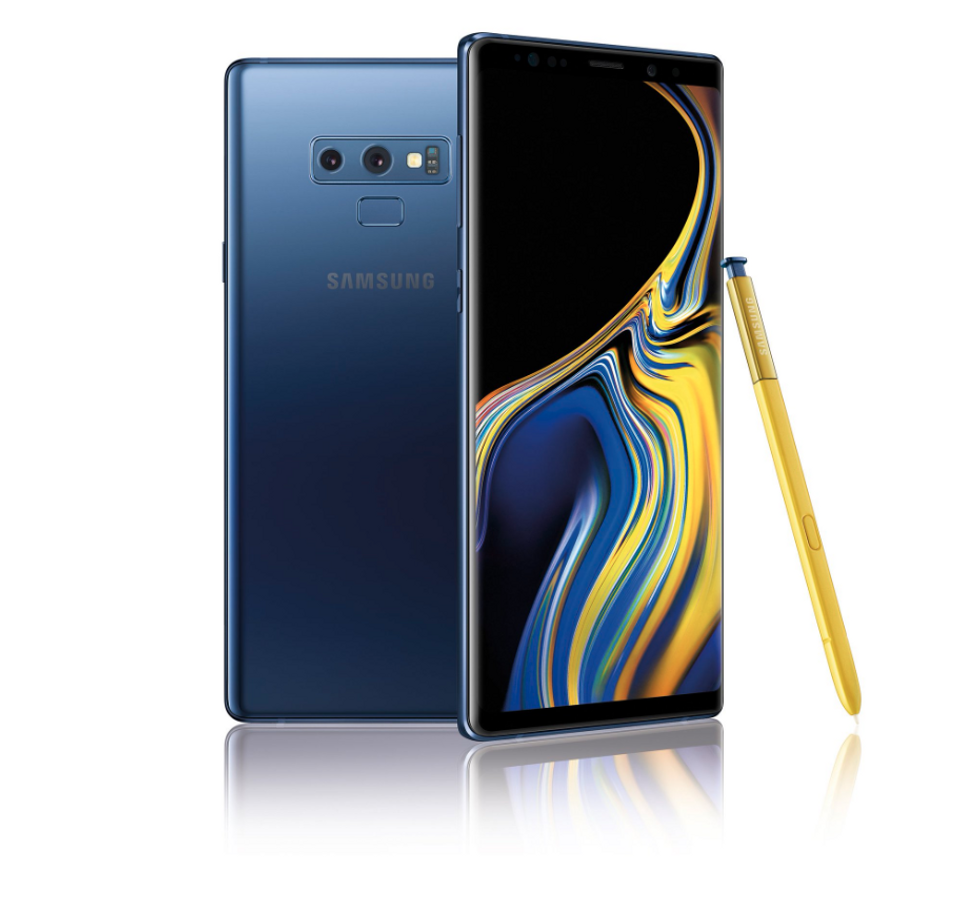 Samsung
The S Pen's button can also be used to control media playback on the phone, pausing and playing music with a press, and for clicking through slideshow presentations. Samsung claims the stylus can be charged in just one minute, by slotting it into the phone.
Another change is the relocation of the rear-mounted fingerprint reader. On last year's Note 8 it was off-center and difficult for left-handed uses to press with their index finger. For the Note 9, it is located centrally and below the camera, making it easier to use without looking or stretching awkwardly.

Bixby 2.0
The Note 9 will be the first Samsung phone to get Bixby 2.0, the second generation of the company's voice-activated personal assistant. Samsung says Bixby is now better at processing natural language, predicting what the user wants, and offering quick responses to your questions and commands. However, an on-stage demonstration had to be repeated after Bixby failed to understand what was asked of it.
Bixby 2.0 has a better understanding of context, so you can ask about events happening in a certain area of town this weekend, but when you follow that up with "what about next month?", Bixby understands that you are still asking about events in that specific area.
In a bid to make Bixby actions a little more personal to your tastes, the assistant will suggest restaurants based on the cuisines you like, and when it comes to placing a reservation online, Bixby will auto-fill with your information. Even fields like the number of people in your party will be guessed at by Bixby, based on your previous actions. Samsung's wasn't clear on how Bixby does this.
Another update sees Bixby able to order you an Uber without opening the app, which is pretty useful.
Samsung Galaxy Note 9: Camera
The rear camera is very similar to the 12-megapixel, dual-lens, dual-aperture shooter found on the Galaxy S9+, although Samsung says software updates improve its performance.
In fact, Samsung says it is "nearly impossible to take a bad shot" with the Note 9, thanks to its ability to recognize what you are taking a photo of, then adjusting settings like contrast, white balance and exposure for you. The camera also looks out for blinking eyes, blurriness or a smudged lens, then alerts you immediately so you can take another shot.
Like with the Galaxy S9, the Note 9's rear camera offers two apertures of f1.5 and f2.4, automatically picking the best to use depending on available light. In manual mode, you can pick which is use yourself. "Every shot you take is Instagram-ready," Samsung says,
Under the hood, the Samsung Galaxy Note 9 is powered by a Qualcomm Snapdragon 845 processor in the US and China, while customers in Europe and the rest of the world get Samsung's own Exynos 9810 chipset.
Also improved upon is storage, which caps out at 512GB in he most expensive model. A 128GB option is also available (double that of the Note 8), and both models can accept microSD cards of up to 512GB in size, meaning the top model can be equipped with a full 1TB of storage. The 128GB model come with 6GB of RAM - the same as the Note 8 - while the 512GB version is treated to 8GB.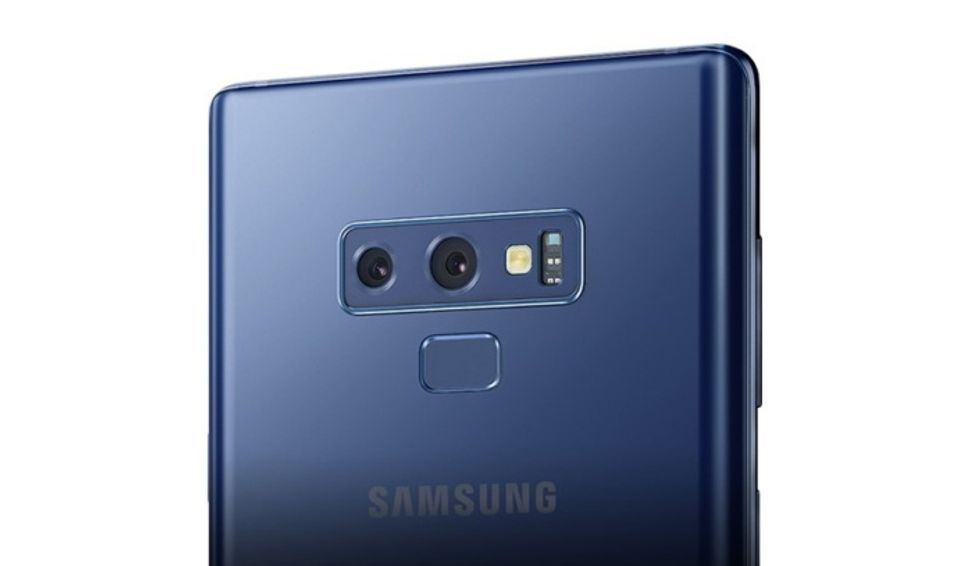 Samsung
The phone's 6.4-inch display has a resolution of 1440 x 2960, the same as the Note 8, and above it sits an 8-megapixel front-facing camera which - you guessed it - is the same resolution of that on the Note 8 and Galaxy S9+.
The familiar design offers the same IP68 level of water resistance, which means the phone will survive a 30-minute dunk into clean water up to 1.5 meters deep.
A more noticeable improve can be seen in the size of the battery, which has grown from 3,300mAh in the Note 8 to 4,000mAh. This is also comfortably larger than the Galaxy S9+, which has a 3,500mAh cell. This upgrade, Samsung says, means all-day battery life with plenty left in reserve. Indeed, leaked marketing images of the Note 9 suggested a little under half battery should still be left at almost 11:30pm. "No more borrowing a charger from your colleague. You can power through your entire day with just the phone in your pocket," Samsung said.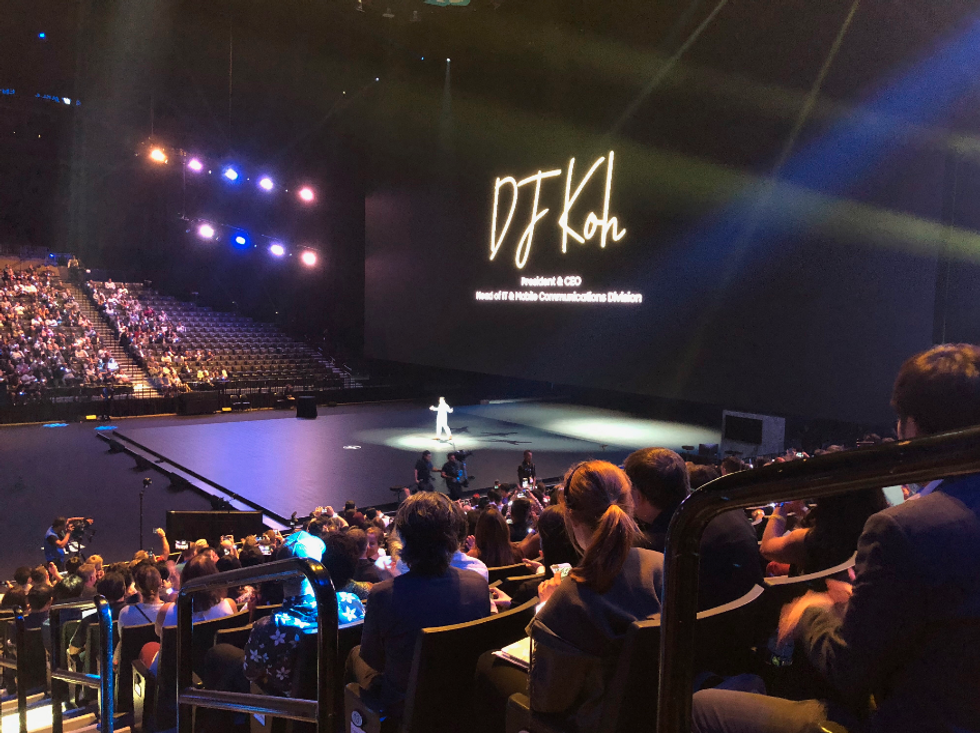 Samsung chief executive DJ Koh takes the stage to announce the Note 9GearBrain
Extra battery life is all well and good, but we just hope Samsung has learnt its lessons after the Note 7 fiasco, where numerous exploding batteries caused the phone to be withdrawn from sale and production permanently cancelled within weeks of its debut.
Described by Samsung as "a phone that can keep up with you". the Note 9 has a pair of stereo speakers which are tuned by audio company AKG and have Dolby Atmos support - again, just as they do on the Galaxy S9, and there is wireless charging too, thanks to the phone's glass back.
Color options for the Note 9 are Ocean Blue and Lavender Purple, Metallic Copper and Midnight Black. The 128GB version of the Note 9 will be available from AT&T, Sprint, T-Mobile, US Cellular, Verizon and Xfinity in the US, while the 512GB model will be available from AT&T, T-Mobile, Verizon, US Cellular and directly from Samsung.
Samsung Galaxy Note 9 price and release date
The 128GB model costs $999.99 and the 512GB version is $1,249.99. Both go on sale on August 24, while pre-orders open at 12:01am EDT on August 10.
If you pre-order the Note 9 between August 10 and August 23, you can choose either a pair of AKG noise-cancelling headphones (worth $299), or the exclusive Fortnite Galaxy skin with 15,000 V-bucks (worth $150), for free. Or you can buy both, worth $449, for $99.
Like GearBrain on Facebook