Like GearBrain on Facebook
Not only was last year's Galaxy S8 a hard act to follow, but Samsung now finds itself outgunned by both the Apple iPhone X and Google Pixel 2. Specifically, Samsung had fallen behind with both the S8 and Note 8 in an area which is arguably the most important for any smartphone buyer: the camera.

Apple has always performed strongly with its iPhone cameras, but in 2017 Google came along with the Pixel 2 and 2 XL, and promptly blew Apple, Samsung and everyone else out of the water. Rejecting the dual-lens approach of its rivals, Google uses algorithms and machine learning to produce incredibly good shots - especially in portrait mode, where the difference between the Pixel and iPhone X are night-and-day.
While this battle raged during the final months of 2017, Samsung was a bystander as the Note 8 failed to become a smash hit. It has a good camera, but not a great camera, and in 2018 that's what matters.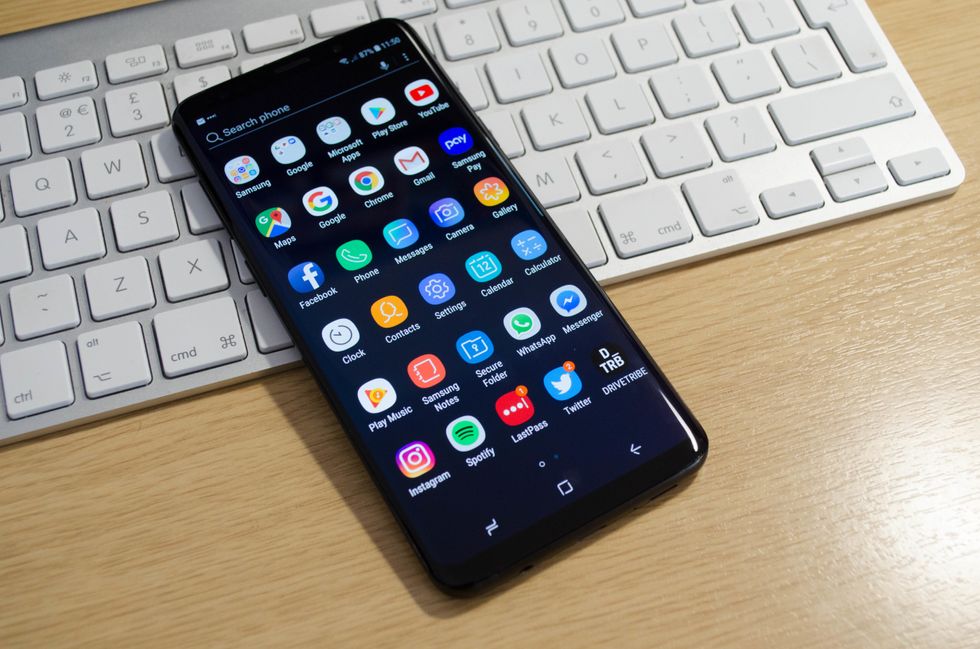 Samsung, as always, is guilty of installing its own duplicate apps on the S9 alongside those by GoogleGearBrain
Samsung knows this and has come out fighting with the Galaxy S9 and S9+, a pair of smartphones it says "reimagine" the camera. Has Samsung succeeded in hauling itself back into the race with the S9, or are Apple and Google still ahead? We've spent a week with the S9+ to find out.
Note: We will refer to both the Galaxy S9 and S9+ as 'S9' throughout this review, unless talking specifically about hardware exclusive to the larger model.
Samsung Galaxy S9+ review: Design
You would have to be a Samsung designer to spot the differences between the year-old Galaxy S8 and new S9. From the front and sides the two generations of handsets look almost identical, and it is only when you reach for a tape measure do you realize that the bezels of the newer phone are slightly smaller, which make the screen seem a tiny bit larger. It's disappointing to see such tiny change, but then the Galaxy S8 was hardly ugly, was it?
Just as Apple has used the same design for the iPhone 6, 7 and 8, Samsung is excused for using the same design with the Galaxy S8 and S9. They are all great looking handsets which fit well in the hand thanks to their long-but-narrow displays and curved edges.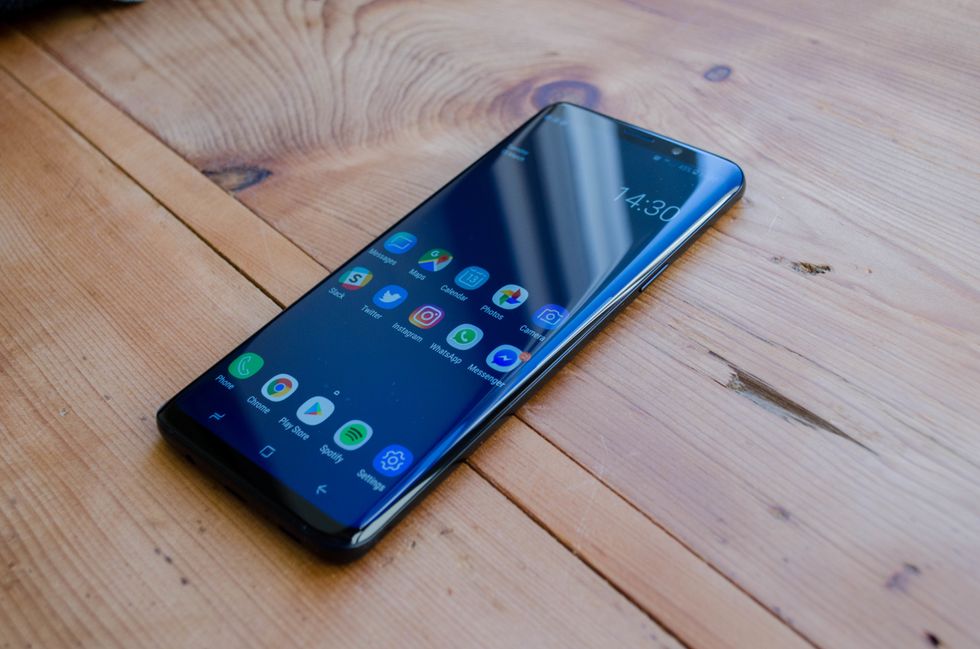 A sleek slab of glass, the S9 looks almost identical to the year-old S8GearBrain
Glass covers the front and back of the S9, while its chassis is metal and we suspect that keeping the whole thing scratch-free will be a challenge - and with reports that it is somehow even more difficult to repair than the iPhone X, you might want to invest in a case for your new S9.
Samsung has yet again retained the headphone jack, which we are sure will please readers who aren't ready to switch to Bluetooth headphones. As you might expect, power is delivered via a USB Type-C connection and there is a microSD card slot for upping the storage by a massive 400GB, if you have a card that large.
The most useful design change is the location of the fingerprint scanner, which has been lowered to sit below the rear camera instead of next to it, as it was on the S8. This is a vast improvement and, while it takes a couple of days to reliable hit the scanner without looking, it works quickly and reliably.
Samsung Galaxy S9+ review: Display

It is much the same story with the S9's display, which is the same as that used by the S8. This means the S9 measures 5.8 inches and the S9+ seen in our photographs is 6.2 inches. The screens have the same 18.5:9 aspect ratio as their predecessors and both models have the same 1440 x 2960 resolution as before.
These are excellent displays. They use Super AMOLED panels to deliver punchy, bright and vivid colors along with deep, inky blacks. AMOLED screens can be criticized for producing artificial colors and there was a time earlier in the Galaxy S range's life that this was a real problem for those who wanted a natural-looking display. Thankfully, Samsung has worked hard to address this and the S9's colors are mostly realistic. We felt the home screen icons can look weirdly punchy, but only when sat next to another handset. In isolation the S9 looks great.
Samsung Galaxy S9+ review: Camera
And now to the main event. Samsung teased the S9 by promising "The Camera. Reimagined", and to achieve this it has fitted the S9 with a variable aperture rear lens — a first for any smartphone. By mechanically adjust the amount of light let into the lens, the S9 can shoot at an aperture of either f/1.5 or f/2.4.
The former lets in more light and is automatically used by the phone when you shoot in a low-light environment, or when you shoot in portrait mode and want a nice blurry background. Meanwhile, the latter lets in less light to help stop images from being overexposed on a sunny day.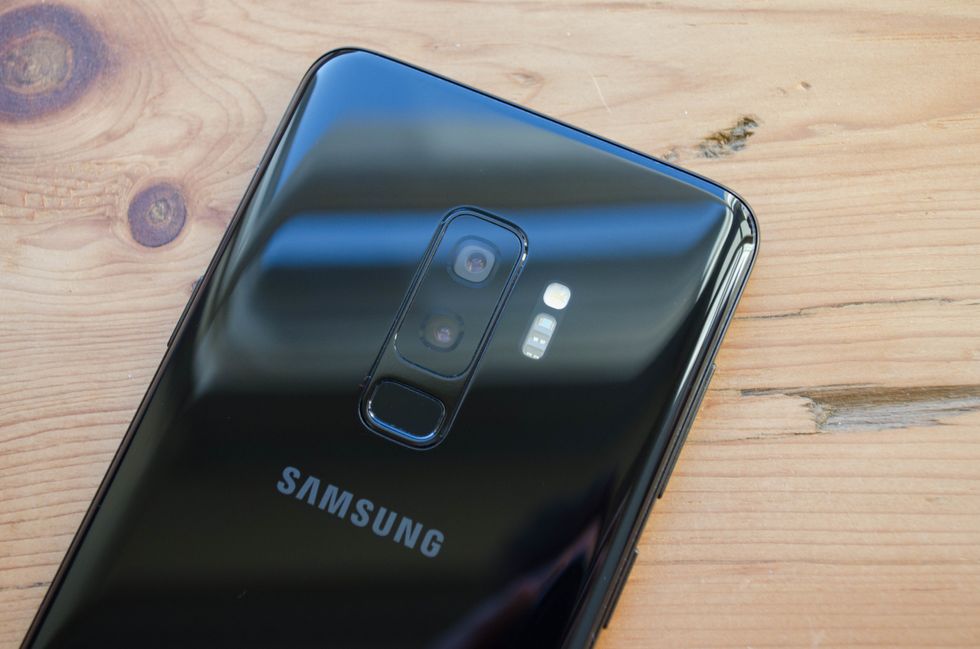 The larger S9+ features a dual-lens rear camera for telephoto imagesGearBrain
When left in automatic the phone picks which aperture to use, but in Pro mode you can flick between them yourself to get exactly the kind of shot you're looking for. We found that there isn't a huge difference between each aperture, although noise is reduced in low-light shots when using f/1.5.
In fact, low-light is where the Galaxy S9's camera performs at its strongest. We took the phone on a tour of the Tower of London and the images we shot of the building's dark rooms came out better than they did with an iPhone X. The differences aren't huge - perhaps not enough to convince an iPhone fan to switch to Android and buy an S9 - but we were very impressed with how the S9 performed. Here are some un-edited images from both handsets so you can see for yourself: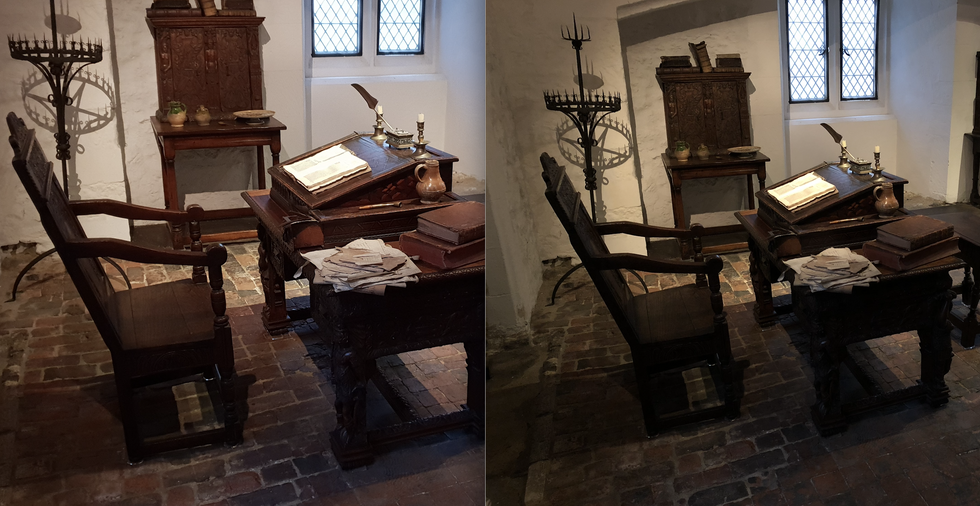 The S9 (left) is clearly more capable in low light than the iPhone X (right)GearBrain
The larger Galaxy S9+ is treated to a second rear camera, which has a telephoto lens and is used to offer 2x optical zoom - handy when you want to get closer to the subject without using imagine-ruining digital zoom. The single lens of the S9 and both lens of the S9+ all shoot at a resolution of 12 megapixels and they all have optical image stabilization to help keep your videos smooth and photos sharp.
Speaking of video, both phones can record full HD (1080p) and Ultra HD (3840 x 2160) at 60 frames per second, and - new for the S9 - 720p HD video at an impressive 960 frames per second. This produces super-slow-motion footage stretched from 0.2 seconds of action into six seconds of video, then applies suitably dramatic (and often cheesy) music to your creations.
Shooting in slow motion is fun, but it can be tricky to get right because the phone will only record for 0.2 seconds, so it can be difficult to press the button at exactly the right moment. To help, Samsung has created a feature where you start recording video, then when movement is detected in a small box in the middle of the screen, the slow-motion system is activated and 0.2 seconds is recorded. This certainly helps, still makes it tricky to shoot the perfect shot. That, and the fact that a huge amount of light is needed to get good quality footage at this shutter speed, means super-slow-motion is more of a gimmick than a crucial addition to the Galaxy's camera.
The same can be said about AR Emoji, Samsung's answer to Animoji on the iPhone X. Using the eight megapixel front camera, the S9 scans your face then turns you into an emoji. You can then adjust the skin tone, hairstyle and clothes, add glasses, then annoy your friend with a bunch of animated gifs featuring the digitized you - ready to send via Facebook Messenger, text or WhatsApp. The system works well and it's quick and easy to make the AR Emojis - and, to be fair, we have had some enjoyment out of them, but mostly due to how weird they look.
We have first-hand experience of Apple's Animoji delighting five-year-olds as much as 85-year-olds, but AR Emoji falls short of this and, sadly, ends up being another briefly fun but ultimately forgettable gimmick.
Ignore the gimmicks and you'll find Samsung has produced a stunning camera for the S9 and S9+. It matches or even outperforms the iPhone X and Pixel 2 is some situations, although Google's phone still wins when it comes to blurred-background portraits, which often look a bit of a mess on both the Apple and Samsung.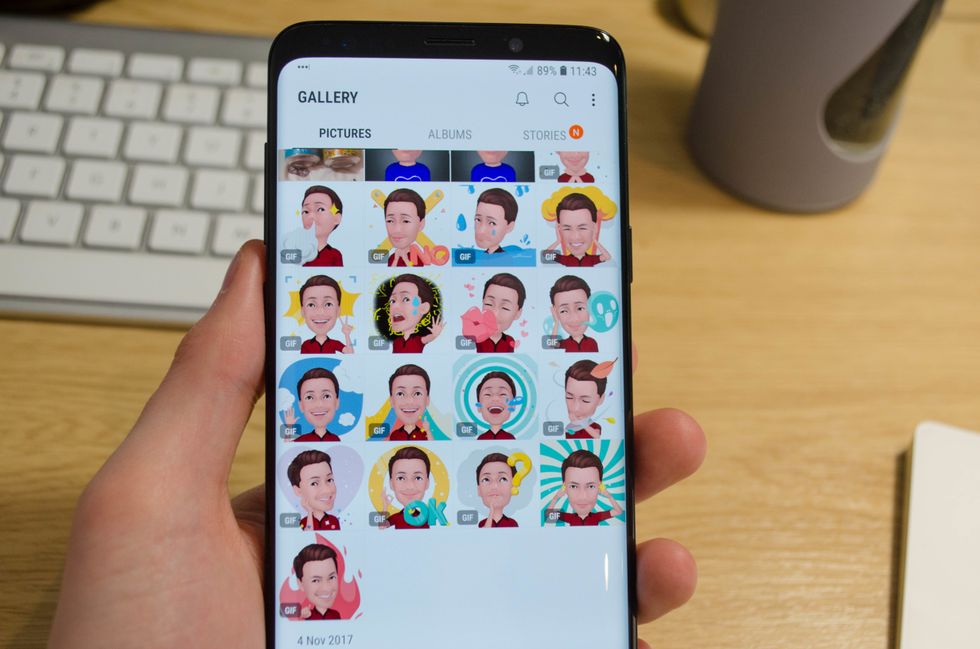 AR Emoji and the animated gifs it makes of you are a gimmick at bestGearBrain
Samsung Galaxy S9+ review: Performance and software
There isn't much to say about flagship smartphone performance these days because they all perform so incredibly well. The Galaxy S9 and S9+ are no exceptions, as they comfortably keep up with whatever you throw at them. The S9 pair run Android 8.0 Oreo with Samsung's own interface over the top.
This is mostly fine, but Samsung really needs to stop including duplicate apps to perform tasks stock Android is already capable of. For example, there are two web browsers (Chrome and Samsung's 'Internet'), two email apps (Gmail and 'Email'), and two payments apps (Google Pay and Samsung Pay). It's frustrating and feels like the result of Samsung and Google subtly trying to compete with each other in a space where such rivalry simple isn't welcome. Like divorced parents buying their child near-identical presents, we wish Google and Samsung would be amicable about this and provide users with the best apps possible, not confuse them by offering two of everything.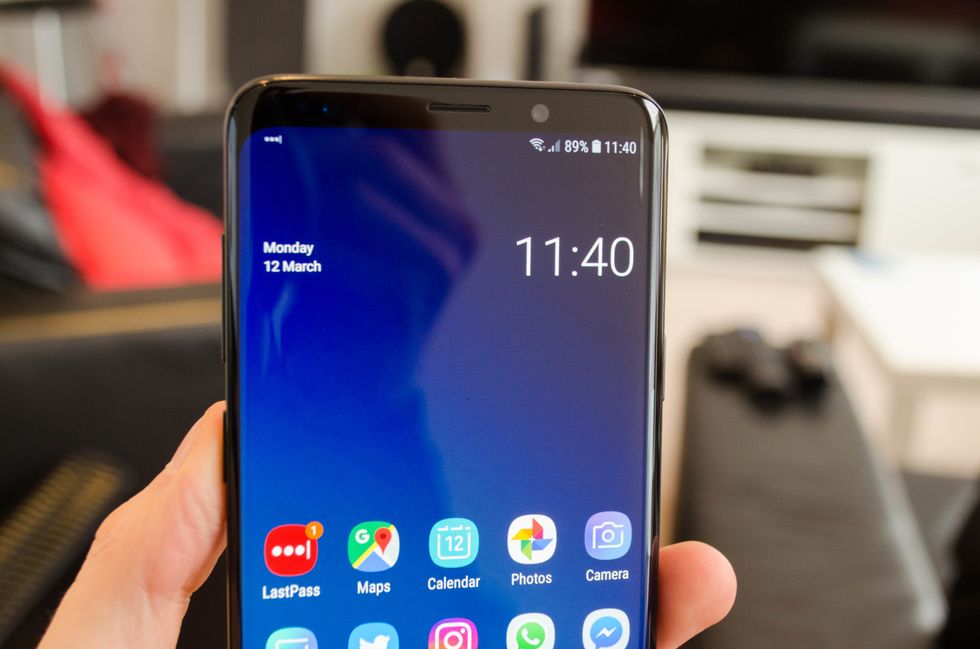 Slightly smaller bezels are the only visual difference between S8 and S9GearBrain
A welcome feature added to Android by Samsung — and new for the S9 — is Dolby Atmos, which broadens the soundstage and uses the phone's dual stereo speakers to create some impressive results. Of course, this isn't even close to the Atmos you can create with a home cinema system, bouncing sound off the ceiling to create a sphere of noise, but honestly we have been impressed by the Samsung's efforts. We rarely watch video on smartphones without headphones, but this has changed while using the S9.
For those who want to know exactly what's inside their smartphone, the Galaxy S9 and S9+ are sold in the US with a Qualcomm Snapdragon 845 eight-core processor, while in Europe the phone - as tested here - uses Samsung's own Exynos 9810 eight-core chip. The S9 is sold worldwide with 4GB of RAM, while the S9+ has 6GB. For the first time, both phones has dedicated RAM for the camera, which snaps 12 photos every time you press the shutter button, then quickly works out which is best and discards the rest.
Samsung Galaxy S9+ review: Verdict
The Samsung Galaxy S9 is a truly exceptional smartphone, but beyond improved low-light photography offers relatively little for S8 owners to upgrade to. If you are new to flagship smartphones, fancy a change from iOS, or are using a Galaxy S7 or older, then you will be blown away by the S9 and S9+. They blend great design, performance, software and camera features into a handset which is one of the best around.
But if you currently have an S8 then this isn't the huge step forward you might have been hoping for. The camera's low-light skills are superb, but do you really spend most of your time taking photos at dusk or in dark rooms? If not, then this strength falls into the background.
The S9 is still a thoroughly good phone, but not a show-stopper and we wonder if it will look quite as good once Google and Apple counter it later in the year.
Pros:
Great design, albeit a familiar one
Superb low-light camera performance
Improved fingerprint reader
Cons:
Feels very similar to the Galaxy S8
Contains unnecessary duplicate apps
AR Emoji and slow-motion video feel like gimmicks
The S9 is priced from $719.99 unlocked, while the S9+ starts at $839.99. Both go on sale on March 16.
Like GearBrain on Facebook