Samsung has announced its second smartphone to feature a folding screen. Called the Galaxy Z Flip, the handset was shown off at the company's Unpacked launch event in San Francisco.
The phone wasn't much of a surprise. Not only did images leak extensively throughout the technology pass in the weeks leading up to the big launch, but Samsung itself revealed the phone with an advert aired during coverage of the Oscars.
Taking the shape of a reimagined flip phone (just like the new Motorola Razr), the Galaxy Z Flip has a 6.7-inch, AMOLED display on the inside which folds opens and closed. The screen has a resolution of 2336 x 1080 and a pixel density of 425 per inch.
On the outside sits a camera and a much smaller screen, used to display the time, date and notifications. Swiping at this 1.1-inch OLED screen (with a 300 x 112 resolution) can accept or reject incoming calls.
It can also be used as a tiny viewfinder when taking selfies with the rear camera (when the fold is folded closed).

Said to be made from "flexible glass", consumers will hope the screen of the Galaxy Z Flip is more resistant to damage than that of the Galaxy Fold, which suffered from multiple hardware failures when it launched a year ago.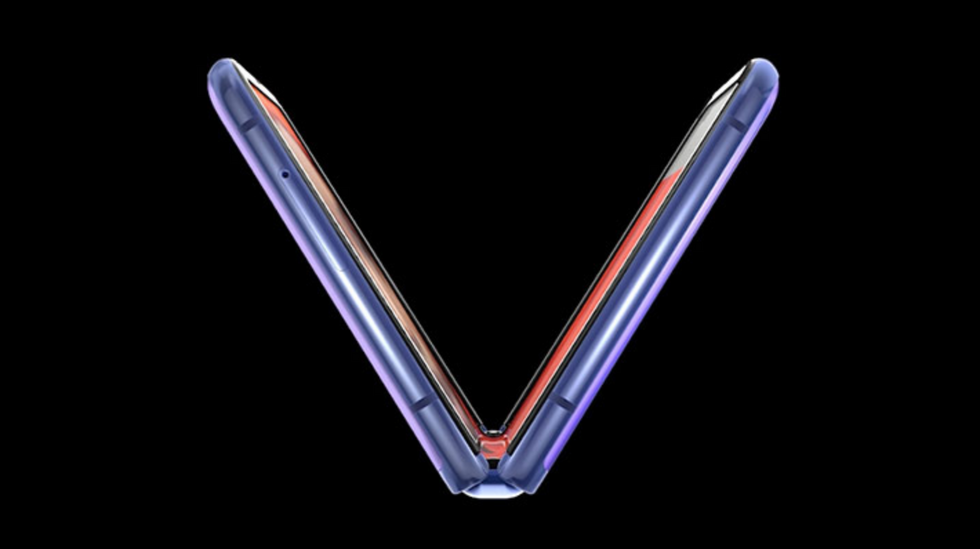 Galaxy Z FlipSamsung
Where the Galaxy Fold was more like a regular sized phone which folded open like a book to become a tablet, the Galaxy Z Flip is a normal sized phone that folds in half horizontally to help it slip more easily into your pocket.

The Z Flip is available in black, purple and, in select countries, gold.
With regard to toughness, Samsung says the Z Flip can be opened and closed more than 200,000 times without being damaged. Samsung says it has created a new type of hinge to stop particles from getting inside and causing damage (as happened with the original Galaxy Fold).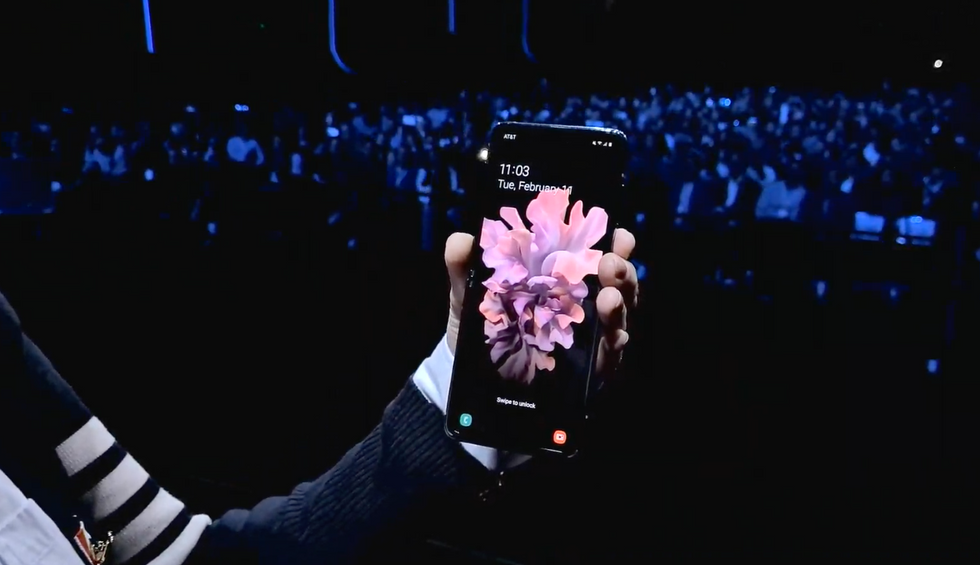 The Z Flip has a 6.70inch display when folded openSamsung
Samsung demonstrated how the Z Flip can be sat down while open, then used to take photos without needing a tripod (great for long-exposure nighttime shots). The phone can also be used as two separate screens, a feature Samsung calls Flex Mode. For example, a YouTube video can fill the top half the screen (when partially folded) while the lower half can be used to type out a comment for the video.

Samsung Galaxy Z Flip: Camera
The Z Flip's rear camera system includes two 12-megapixel sensors with wide-angle and ultra-wide angle lenses, the former with optical image stabilization. The front 'hole-punch' camera has a 10-megapixel sensor.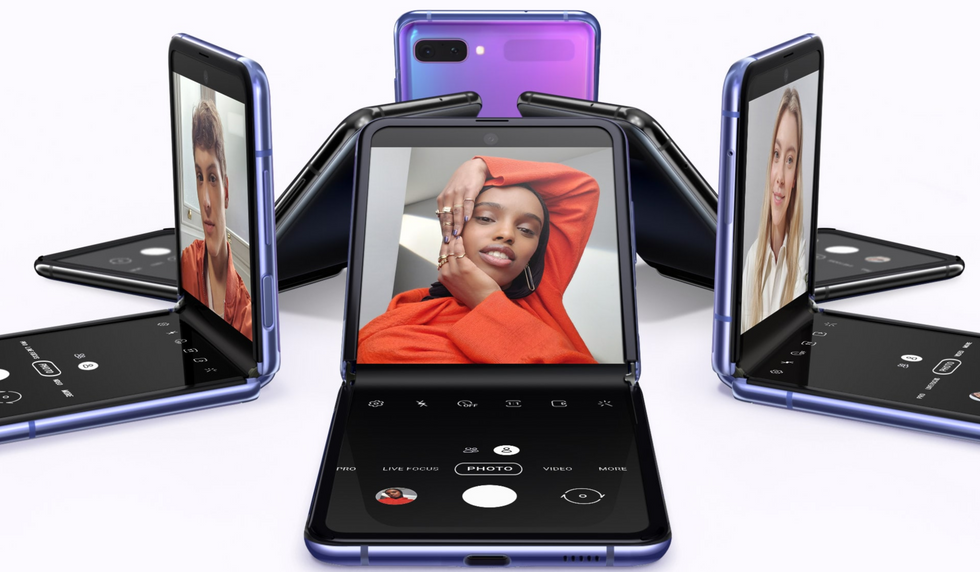 'Flex Mode' turns the Galaxy Z Flip into two, four-inch displaysSamsung
Samsung Galaxy Z Flip: Price and release date

The Galaxy Z Flip, which has 8GB of RAM, 256GB of internal storage and a 3,200 mAh battery, goes on sale on February 14 and is priced in the US from $1,380. Only the black and purpose versions will be available at launch, with the gold model coming to select countries at a later date.
"At Samsung, we were encouraged by the excitement for the Galaxy Fold. The Galaxy Z Flip is an important next step as we look to build the foldable category by bringing to consumers a new form factor, new display and most importantly, a new kind of mobile experience," said Conor Pierce, Corporate Vice President, Samsung Electronics UK&I. "With Galaxy Z Flip's unique foldable design and user experience, we're redefining what a mobile device can be, and what it enables consumers to do."