Like GearBrain on Facebook
Updated on August 15, 2017
Pros: Easy installation, no fees or subscriptions, nice designs, built-in alarm sensors, set access codes and voice controlled. Compatible with Android and iOS devices.
Cons: back of lock (Alarm Assembly) is too big, remote access limited unless you connect to hub or purchase Schlage Sense Wi-Fi Adapter.
As the smart home market continues to expand on the consumer side, we find one of the first connected devices purchased is a smart lock. Though these devices may vary in design, technology and functionality, they are becoming more of a necessity when building a smart home system. After looking at the market and answering the five questions you need to know before you buy a smart lock, we found Schlage Sense smart lock to be one of the best on the market. Here is our review.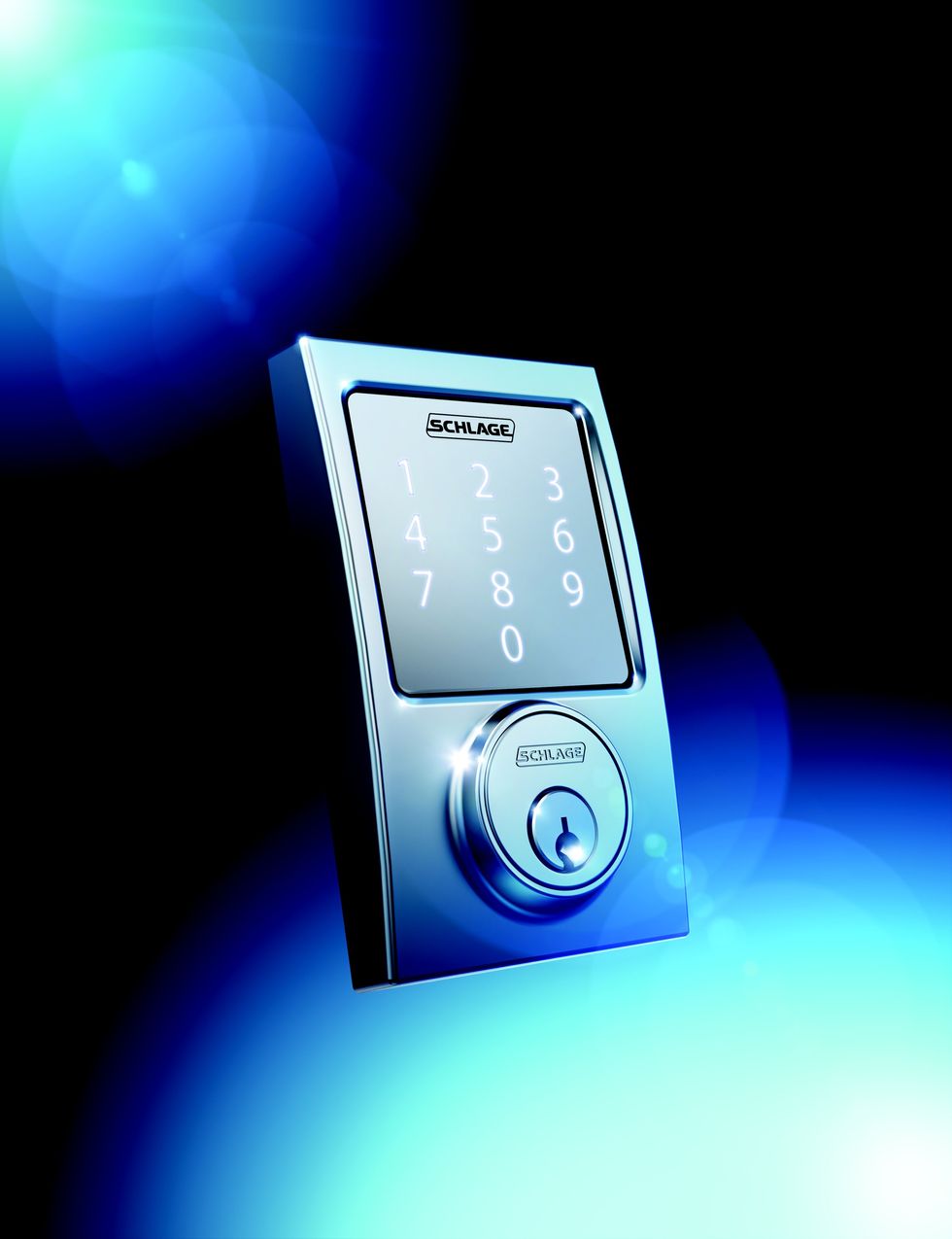 Getting started
For our test, Schlage sent over to us their new Sense Smart Deadbolt Smart Lock, a Bluetooth-enabled lock. We un-boxed the unit which came with a front unit, back unit, 4 AA batteries, parts for the door lock, instructions and a User Guide. Once we got everything out of the box, the first thing we did was download the app. We found the app a much better guide than the printed one that came with the lock. In fact, the videos on the app are excellent at helping you install the Sense smart lock.

To download the app, you must go to the Apple App Store or Google Plan for Android Devices. Note: Sense smart locks use to only work with iPhones, iPads or iPod Touch. In August, 2017, Schlage made their locks compatible with Android devices. Sense is also compatible with connected hubs, like Apple HomeKit which we will get to later in the review. Keep in mind when you are in the App Store, there are two apps for Schlage Sense: Schlage Sense app and Schlage Electronics How-To app. Download the Schlage Sense app. The Electronics app is good for support. For our test, we used the iOS app.
After downloading and opening the app, we, at first, came across a basic licensing agreement which we thought was interesting. We haven't seen this with other smart lock setups. The agreement focuses on your rights as an owner of the smart lock.
The app will walk you through the tools you'll need, and even those tools to avoid. One of the tools not to use? A drill. It can tighten the lock too much, could causing it to not work properly.
Once we installed the lock, the app walked us through updating our firmware. Without the right version, the lock might not work correctly—so don't skip this step.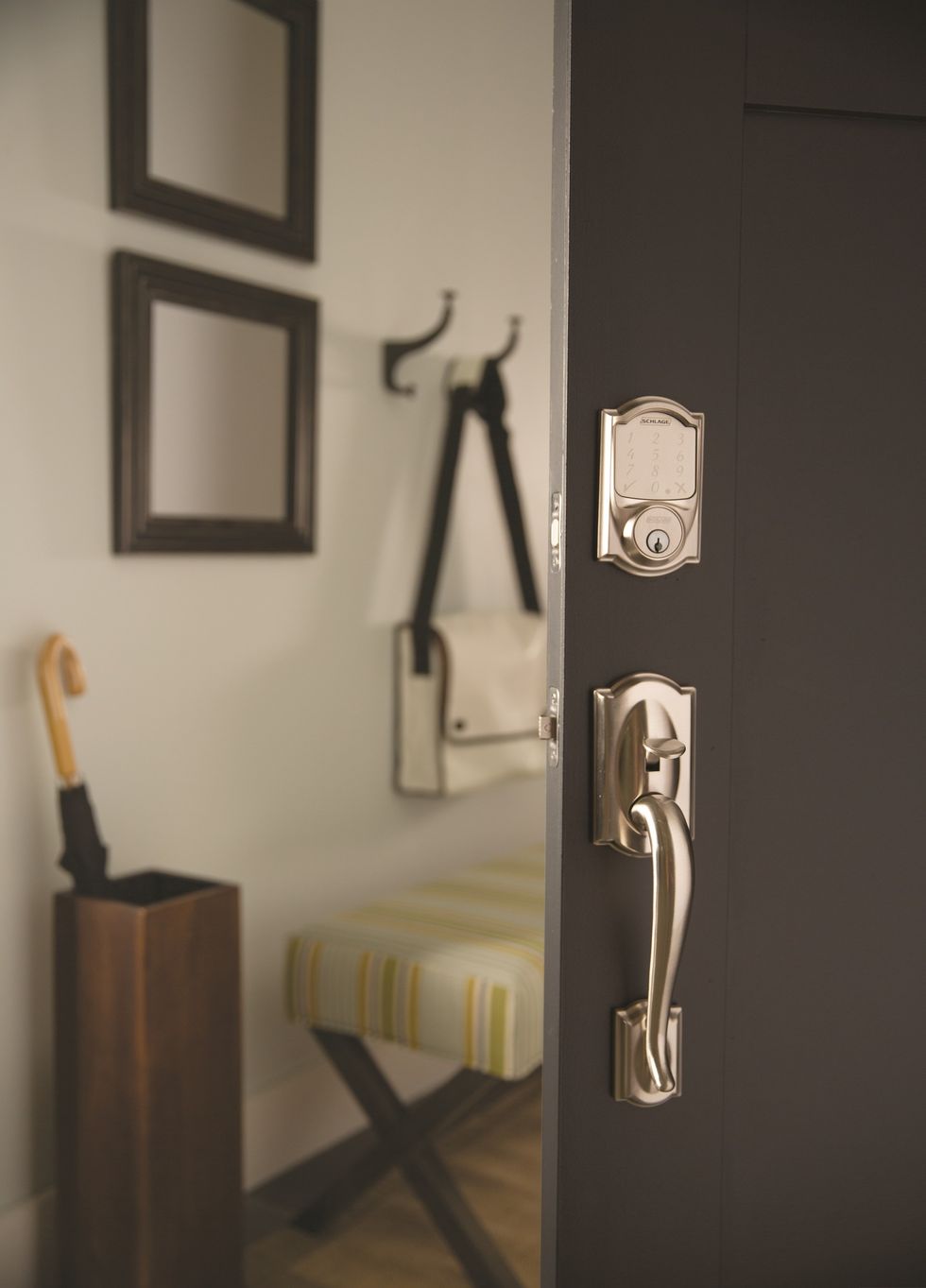 Features
During our review, we found several ways to control your Sense Smart Lock. Besides using Bluetooth on your smartphone to lock/unlock your Sense, you can also use Apple HomeKit. In Apple's new iOS 10 update, you can securely control any "Works with Apple HomeKit" accessory. Schlage Sense is one of those accessories.
We added the Schlage Sense to our HomeKit app and tested opening and closing the smart lock. You can also use Apple TV to control the device. Everything worked fine if we were within range of the lock. If you want to have remote access from anywhere, you will need to connect your Schlage Sense to a third-party home automation system. Most smart lock manufacturers charge extra for remote access directly from their mobile app. Schlage doesn't offer remote access from their app. Many of Schlage smart locks work with third party home automation systems like Samsung's SmartThings and Iris by Lowe's. However, at this time, Schlage Sense only works with Apple HomeKit and it's free.
Since Schlage Sense can be integrated into Apple HomeKit, it can also be controlled by Apple's Siri. With the popularity of Amazon's Echo among consumers and many of them using Amazon Alexa to control their smart home accessories, having Siri control your devices is a good thing. It will allow you to use Siri the similar way you would use Alexa without spending $180 for an Amazon Echo.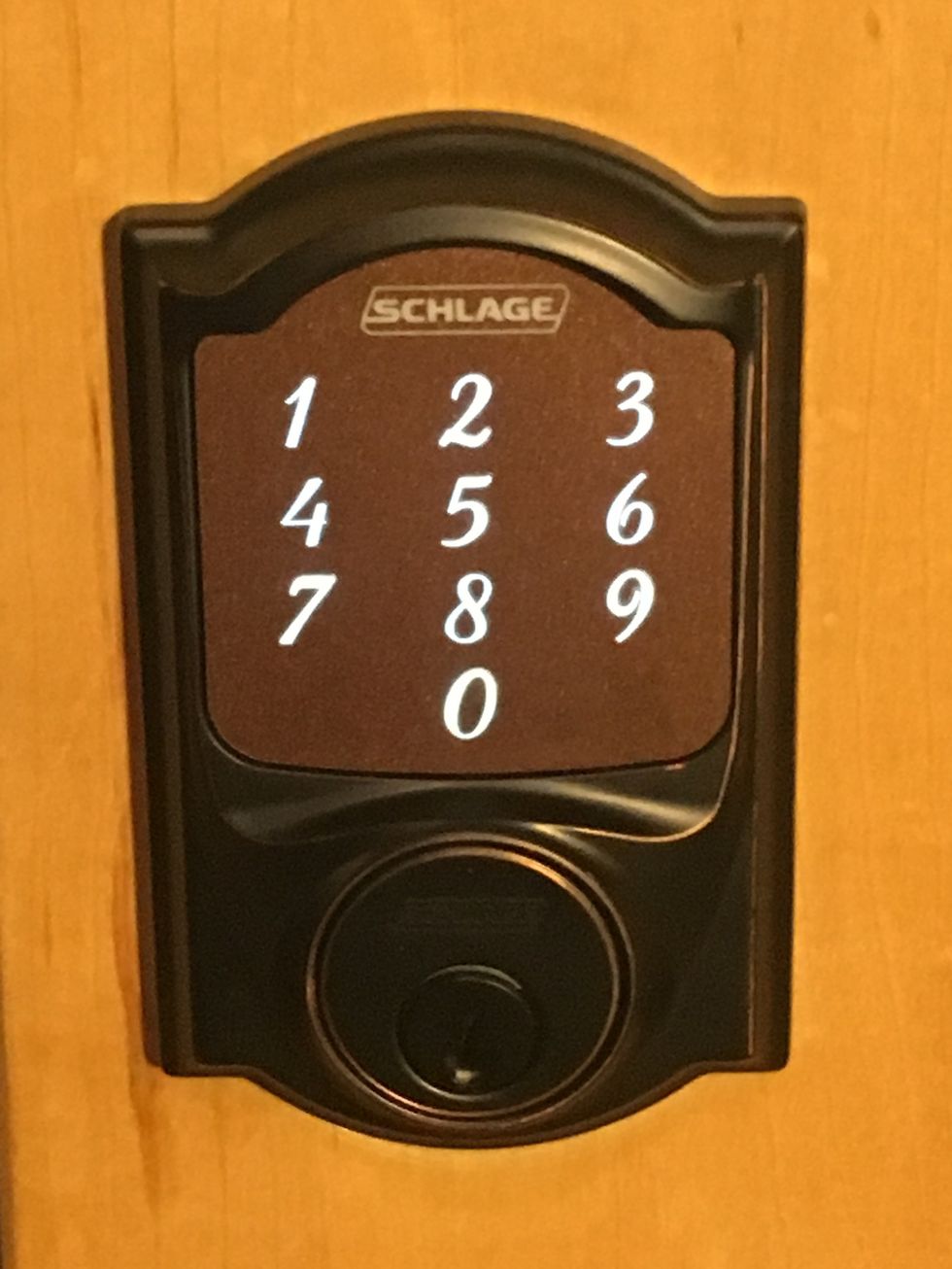 In addition to the HomeKit integration, here are some of the other features Schlage Sense offers:

Illuminated touchscreen for keyless entry
Set access code schedules for family and friends to enter. 30 access codes is the memory capacity.
No fees or subscriptions
High industry rating for security and durability (ANSI/BHMA Grade 1)
Number of designs to choose from to fit your décor
Control while away from home using Apple TV or HomeKit. Note for Apple TV control, you need to have your TV within 40 feet of the lock.
Built-in alarm sensors. This can help sense potential attacks and issue alerts. Need to set this up via the app.
Dimensions: Interior: 2.1" x 3" x 8.2"; Exterior: 3" x 5"
Limited Lifetime Mechanical Finish Warranty
Door thickness: 1 3/8" to 1 ¾"; thick door kit extension 1 7/8" to 2 ½"
Regarding the styles or design, Schlage offers handsets in various types for you to choose. You can get a contemporary or traditional trim with satin or nickel finish. But if you are not sure which one is right, no worries. Schlage offers you a product and style selector on their site. It will help you choose the right knob, lever, handle set or deadbolt lock for your door.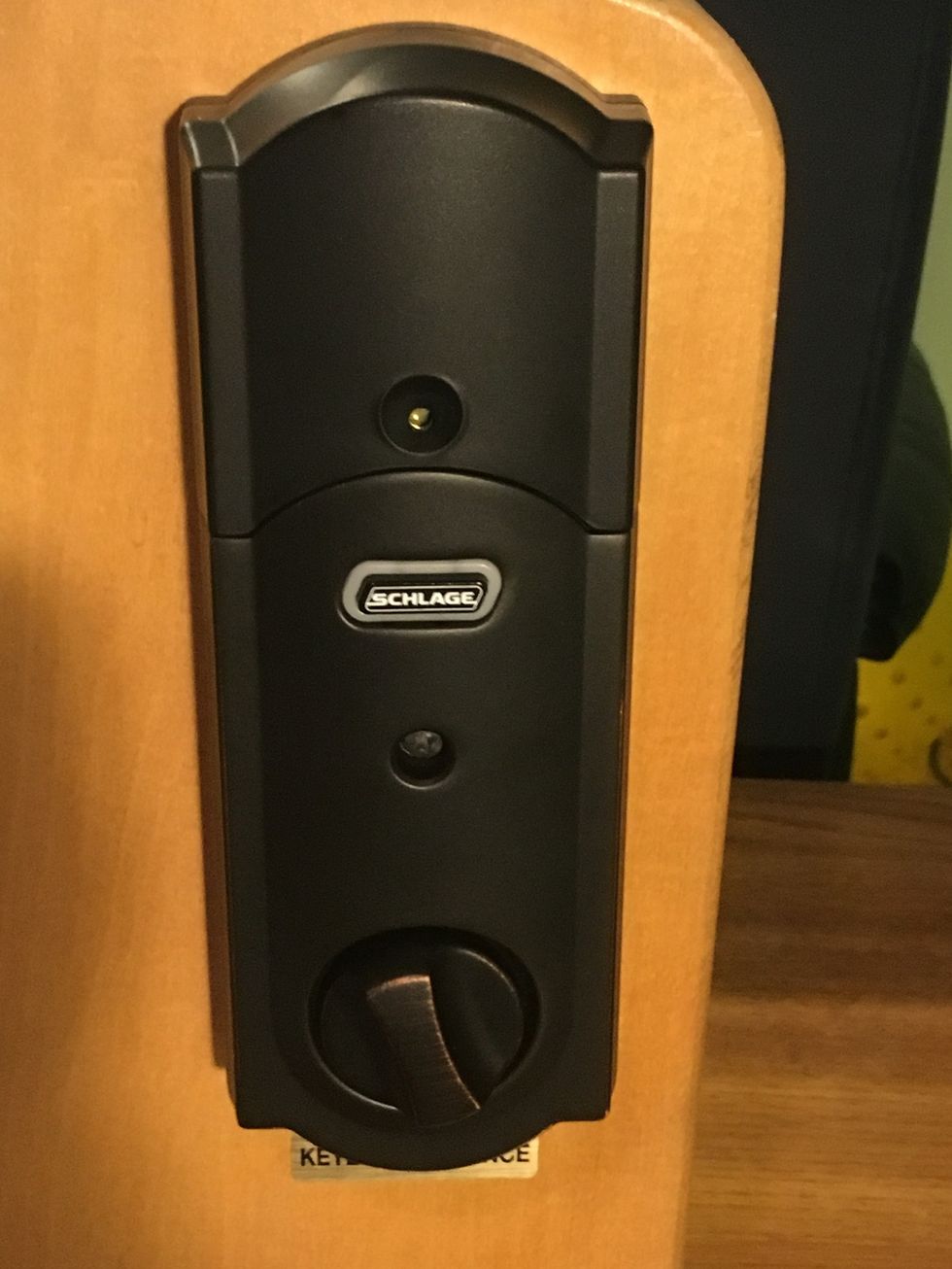 Where to Buy

Schlage Sense has a retail price of $229 and is available online at Amazon.com, Build.com and Apple.com. You can also pick one up at retail locations like Home Depot, Lowe's and the Apple Store.
Summary
Schlage Sense is one of our best smart locks. It's manufactured by a company that has over 100 years of experience in producing quality door locks. It performs its core functions very well and is easy to install. There are no hidden fees which is common in a lot of smart locks today. You open it remotely from anywhere if it's connected to a third-party home automation system (HomeKit) or you purchase the Schlage Sense Wi-Fi Adapter. And lastly, you get up to 30 access codes to use for friends and family to gain access to your smart home.
We think this smart lock is a good choice for individuals who are looking to build a smart home and are on the Apple ecosystem. If you have a second home and want to grant access to workers or renters, this smart lock would be one you need to consider buying. This lock can also be good for small businesses to use for employees to gain access during off hours.
Overall, Schlage Sense is a good smart lock and one you should take a good look at if in the market for a smart lock. We are happy Schlage has integrated their Sense smart lock with Android smartphones since not everyone has an Apple product to control their smart home devices.
If you need help installing a smart lock, you can visit HomeAdvisor.com to find a trusted local professional to help you.
From Your Site Articles
Related Articles Around the Web
Like GearBrain on Facebook