Like GearBrain on Facebook
A new generation of smart locks that has built-in Wi-Fi for remote operation —instead of forcing you to buy an add-on module — is a positive step forward for consumer convenience. Yet when you buy a lock that includes Wi-Fi, you expect to get a raft of advanced features that take advantage of this upgrade. That's the promise of the new Schlage Encode Smart Lock. We'd hoped for more. (Review updated September 15, 2021.)
What the smart lock can do
Schlage Encode (BE489, $249.99) builds-in Wi-Fi for Alexa and Google Assistant voice control (but not Apple Siri), which is cool and often handy. Encode also can be paired with Leviton Decora smart in-wall switches and smart plugs as well as select Ring security cameras, Ring Video Doorbells and Ring Alarm systems. I live in an apartment so can't install a Ring Video Doorbell to test this functionality. But according to Schlage, you can lock, or unlock the door, through the Live View feature in the Ring app. (Update: we recently tested this feature using a Ring Video Doorbell 4 on our test house and we were able to unlock the Encode smart lock from the Ring Live View app.)

The Encode Smart Wi-Fi Deadbolt has two styles, with four different finishes on each: matte black, satin nickel, aged bronze and bright chrome. Pictured here are the two styles (Camelot and Century) in both satin nickel and aged bronze.Schlage
Encode, however, doesn't include geofencing features, such as auto locking or unlocking based your proximity, functionality you get with not-so revolutionary smart locks — without built-in Wi-Fi — such as the varying versions of the pricier Yale Assure SL.

For buyers fearful of too many smart lock auto features, however, Encode is a simple, no-frills choice with a variety of physical and wireless lock/unlock options that's relatively easy to install at, considering its build quality, a reasonable price.
Ergonomics/Installation

As with most smart locks, Encode is available in a variety of designs and finishes: the classically flourished Camelot and the sleeker, squarer modern Century design come in matte black, bright chrome, satin nickel and aged bronze.
Taking Encode out of the box, you'll find a 3- by 5.5- by 2.2-inch rear battery/thumb turn component, along with a 3- by 5- by 0.9-inch out-facing touchscreen keypad. You'll also get a necessary lock bolt, jamb plates and screws hardware, plus four AA batteries rated to last about six months of normal locking/unlocking of Encode — and about half the life of similarly AA-powered smart locks.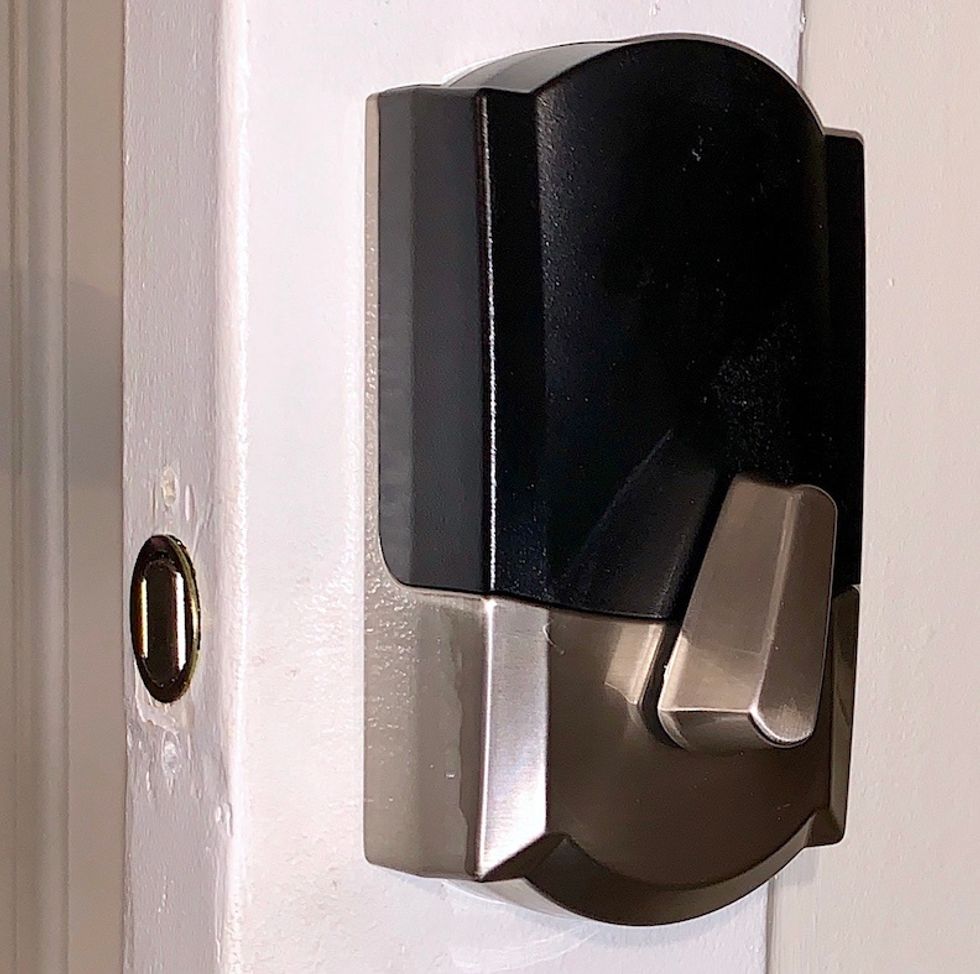 The back of the lock on the Schlage Encode Smart Wi-Fi Deadbolt, features a typical knob, to lock or unlock the deadboltGearBrain
Experienced DIYers can layout the included printed Quick Start manual for installation guidance, while beginners should follow online video-illustrated instructions. The top sheet instructs you to go to a Schlage web address, but these installation instructions are actually in the Schlage Home app, which I didn't discover until later.
To install, lay out the pieces on a small tabletop, or top step of a step ladder, fetch a Phillips-head screwdriver and you'll get the whole business installed in 15-20 minutes, tops. You even get a circular bolt guide in case your door bolt plate isn't recessed (mine isn't, as you can see in the photos). You also get extra-long reinforced three-inch screws for the door jamb strike plate, designed, perhaps, as an extra physical barrier in case someone tries to bash in your door.
Once you've physically installed Encode, though, you get no further instructions on what to do to set up the lock for its smart operations. We weren't even told to download the Schlage Home app, which would have been helpful as this is where the on-screen manual should have been located. Do be aware as well that there are multiple Schlage apps in the Apple or Google Play app stores – more than a half dozen "Schlage" apps listed, actually. You want Schlage Home.
Before I realized I needed to start with the Schlage Home app, I had trouble setting up Wi-Fi and the Alexa skills and performing a firmware update. (You'll learn from my error.) At Schlage's suggestion, I factory reset the Encode and started from scratch – with the Schlage Home app – and that worked. There, you set up the lock and connect to Wi-Fi, and the app makes sure everything is working. I then went to the Alexa app and set up the Schlage skills, and everything worked as designed – except for one thing.

Even though I encountered notices on how to connect the lock via HomeKit and Siri voice control, Schlage informed me that the Encode does not work with Apple TV or Apple Home kit at this time, without a timeline of when or even if that connection will eventually come into play.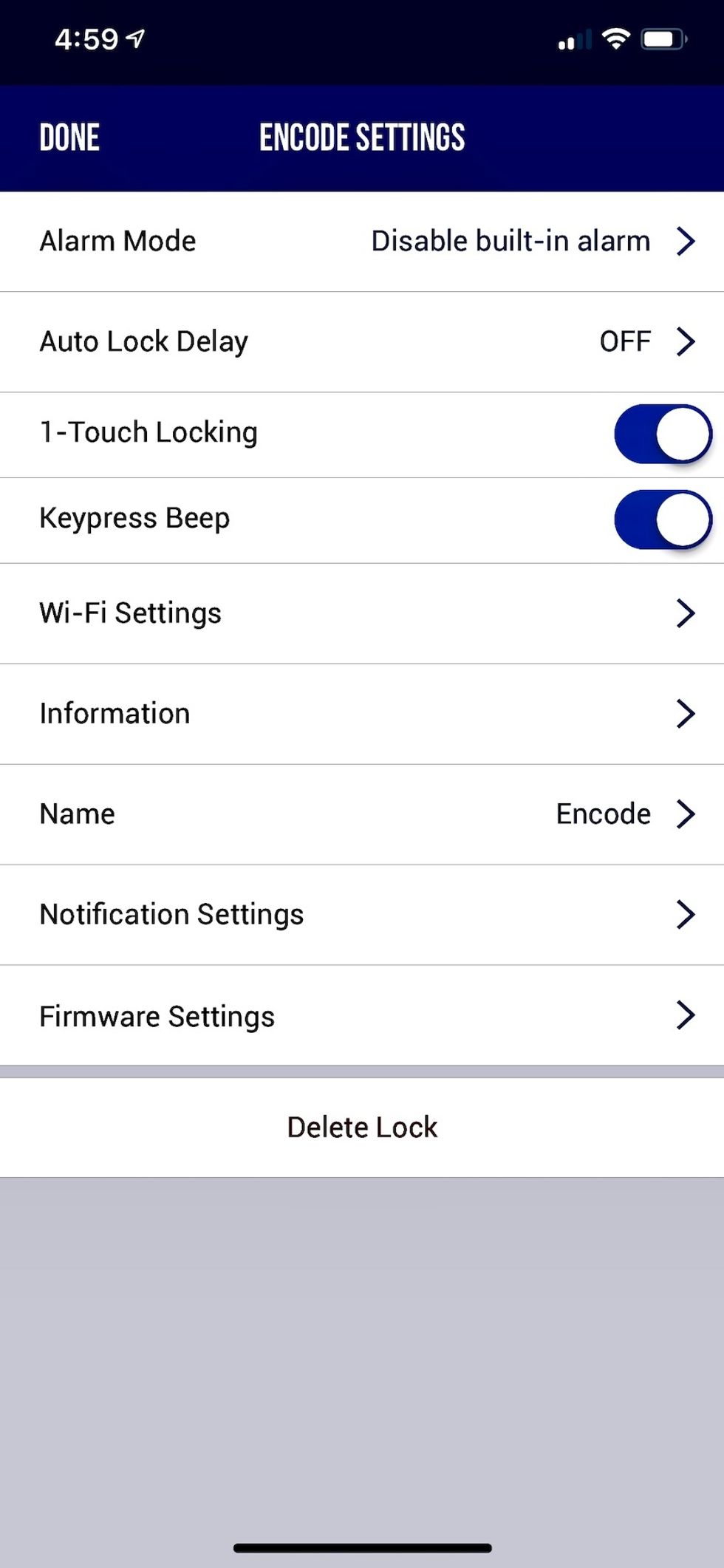 In the Schlage Home app, you can manage details such as one-touch lockingGearBrain
Operation/Performance
In addition to tapping the prominent red/lock icon and green/unlock icon on the Schlage Home app splash screen, Encode includes a variety of alternate lock and unlock options:
Lock and unlock with a physical key (one key is included), which also operates the lock, and can be used if Encode's batteries die
Lock via Alexa (and unlock) or Google Assistant voice command
One-touch locking via the touch keypad lock icon
Lock and unlock via a customized PIN code on the touchscreen keypad
Encode's touchscreen, with the numbers embedded under the surface, is designed with some security in mind. For example, it may make it more difficult to detect fingerprints than a blank touchscreen such as on the Yale Assure SL, as some thieves can examine a blank touchscreen to discern where your fingers have been, to help narrow down your potential PIN combo.
You can set up the Alexa app to enable voice unlock through the Alexa app, which isn't as unsafe as it sounds – after the unlock command you have to intone a 4-digit code.
Within the app settings, you can also turn the one-touch lock feature on and off, make the keypress make an audible beep when pressed, or turn this off, and set an auto-lock delay off or on for different periods including 15 and 30 seconds, for one, two or four minutes, handy if you just want the door to lock behind you without tapping or keying.
Tapping the lock/unlock icon within the app also works when you're away from home, thanks to Encode's built-in Wi-Fi. Encode also has an alarm that goes off if someone tries to force the lock. I'm told the siren is deafening; just how deafening I declined to discover.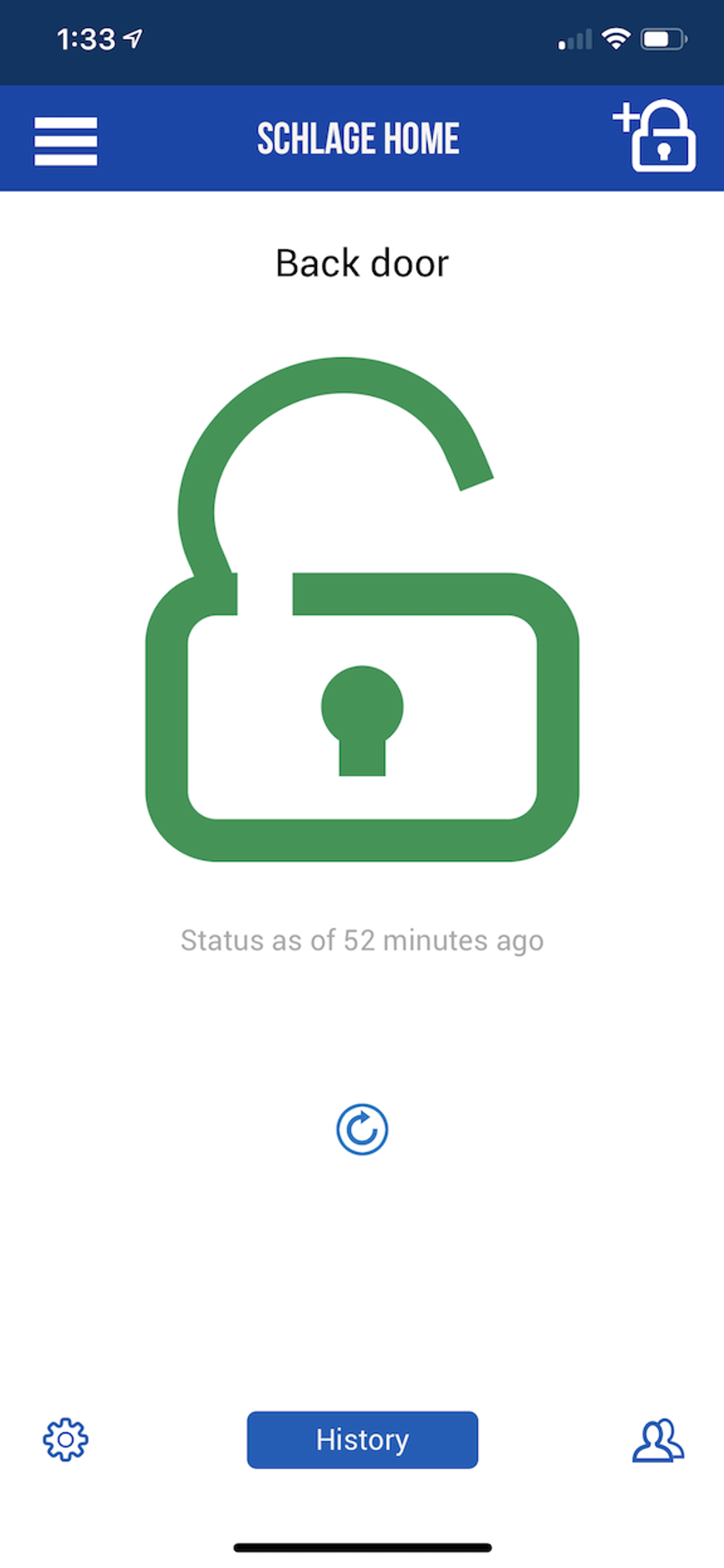 The Schlage Home app can send notifications and quickly alert you to the status of your Encode lockGearBrain
With large numbers embedded in the backlit touchpad, tapping out a PIN code is extremely easy. Once I managed to get Alexa properly enabled, voice-locking was quick and easy with only the normal command-to-action pregnant pause.
As noted, what you don't get is geofencing or proximity open options, handy if you often arrive home with arms full of groceries and lacking a free hand for tapping or keying.
Also as noted, Encode's 4 AA batteries are rated to last around six months, where most 4 AA-battery-powered smart locks operate for a year. We wish Encode had included an LED light to visually alert you when it's time to install new batteries. You will get an app notification, but you could easily miss in the routine of your daily life.
As with most smart locks, Encode lets you monitor its activity, and can send customizable notifications when it's been locked or unlocked or when a guest code is used. The lock also has an activity log, which can be read to see when the lock has been accessed.
If you get lots of Amazon deliveries but would rather not have boxes piled up outside your door, or would rather them be left safely inside, the Encode is also Amazon Key compatible, and available in an Amazon Key camera/lock bundle ($299.99).
Encode adds one more bonus: it is the only consumer smart lock we've encountered that carries the strongest ANSI/BHMA (American National Standards Institute/Builders Hardware Manufacturers Association) Grade 1 rating, usually reserved for commercial applications. All other smart locks carry more consumer-intended Grade 2 ratings. Encode also carries the top ANSI/BHMA Grade AAA rating for security, durability and finish.
Summary

Encode isn't the first smart lock that seems to have different locations for its physical and wireless set-ups, even though Encode has built-in Wi-Fi. Still, adding an initial suggestion to first download the Schlage Home app, then include instructions there for physical, wireless, and then voice installations, would be a nice add for the less technically savvy during set-up.
Once you do figure out how to get the Wi-Fi and voice features working, Encode operates just as you'd like, with a minimum of fuss and smarter command than your old dumb lock. Schlage's brand name and Encode's unique Grade 1 rating also provide a comforting level of assurance essential for secure home peace of mind, arguably the most important aspect of any front door lock, dumb or smart.
Pros:
Built-in Wi-Fi/Bluetooth
Amazon Alexa, Google Assistant voice command
Commercial Grade 1 lock
Cons:
Confusing wireless/voice assistant set-up
No geofencing or proximity unlock
No HomeKit compatibility/Siri voice command
Check out The GearBrain, our
smart home compatibility find engine
to see the other compatible products like
Google Assistant
and
Amazon Alexa enabled devices
that work with Schlage Encode Wi-Fi Smart Deadbolt Locks.
The 5 Questions to Ask Before Buying a Smart Lock - GearBrain www.youtube.com
Like GearBrain on Facebook